2008 Honda Odyssey
User Reviews
Average Ratings from

13

reviews
Performance:
Appearance:
Build Quality:
Overall:
Review Highlights
Click to filter reviews below
Displaying 1 - 10 of 13 2008 Honda Odyssey reviews.
elerbyit

writes:
2008 Honda Odyssey
Review
Pros
Pros — DVD, Navigation, Fun to drive, Comfortable, Tons of storage, Customer service from Honda dealer #1, the send a survey after your service.
Cons
Cons — Now I drive a Minivan that I cannot find a fault with. Research the extended warranty before going to the dealer. Borhman Autoplex in Las Cruces tried to sell me an extra 3 year 36,000 mile warranty for over $1,200. I found the same plan 6 year 80,000 mile online at Bernardi Honda for less than $700 http://www.bernardiwarranty.com/

Outstanding — 2008 Odyssey one year no problems. Never thought I would buy a van, I'm a truck guy and diesel mechanic. My original search was for a Toyota Sequoia or 4 door Tundra. If gas mileage is an issue those two just will not due. I bought the Odyssey with Variable Cylinder Management VCM, smartest thing I ever did. VCM allows the engine to run on 3-4 or 6 cylinders. I drove 1,700 miles from New Mexico to Florida at about 27mpg. On the 1,700 mile return, drove well into the night, stopped at a rest stop reclined the seats all the way back and slept like a baby..best seats ever. I hate to say it but I love the Odyssey. Extremely Roomy, DVD and Navigation system are an added bonus. Wireless headsets for the kids to watch movies while you listen to XM radio is #1. There are 110 outlets to charge phones. Use laptops, or keep video games charged. Tons of storage behind the third row seat, under the middle seat and a huge compartment in the floor between the front and second row seat. 2008
Primary Use: Family transportation
Looking for a Used
Odyssey
in your area?
CarGurus has
23,967
nationwide Odyssey listings starting at
$1,350
.
YourGain

writes:
2008 Honda Odyssey EX-L
Review
Pros
You CANNOT beat the comfort and convenience.
Cons
I cannot think of a reason not to own one if your a family. Maybe not to buy one if your single!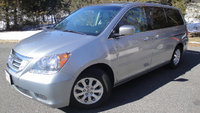 This Vehicle Is Well Worth The Money Considering The Options & Convenience Your Getting For The $. — Performance: It rides like a rolling movie theater! Smooth & Comfortable. Build quality: Second to none! Appearance: Is really nice and aerodynamic. Saves on gas with a system that shuts down to four cylinder on the highway. It is fun to drive as well. Pretty peppy compared to other vehicles in its class. The cost to own is very very very fair and reasonable. Its trouble free.
Primary Use: Family transportation
Jacob42ATL

writes:
2008 Honda Odyssey EX-L w/ DVD
Review
Pros
Didn't "want" a minivan but the benefits of the Odyssey outweighed my initial concerns. Something that we hadn't originally considered was the ability for our kids to get in/out of the vehicle on their own, without stepping down (from a higher SUV). Also, the sliding rear doors meant no more dings into the neighboring car. The seats fold in several directions allowing a great deal of flexibility for either more passengers or more gear.
Cons
Road noise. The Odyssey is great for reliability, adaptability, comfort and many other things, but the trade-off is road noise.

Great Family Vehicle — We love the flexibility of this vehicle, as it adapts to passengers and cargo on a minute's notice. You'd be surprised what you can fit in the Honda, once you lower or move seats around. The road noise on this vehicle is pretty substantial so if you're looking for something quiet then this is not for you. But if you need to get kids safely to school, allow for an extra passenger (or 3) from time to time, transport kids and their gear to all sorts of sports activities and occasionally make a longer trip, then this vehicle fits the bill.
Primary Use: Family transportation
comgoog3

writes:
2008 Honda Odyssey EX-L w/ DVD
Review
Pros
Fun to drive, amazingly stable, great brakes, reliable, surprisingly fast.

Great Family Car — For a minivan it has lots of power, and it's even got a sense of style. It's more fun than some BMW's I've driven in the past. We've put 250,000 miles on it and it still feels brand new. I wouldn't want to drive it to the bar, but if you have a bunch of drunk friends you can fit them all in. (or your kids, or the grandparents, or your bridge club, etc.) It's fairly noisy at highway speeds, and the driver side you can hear engine more-so than on the passenger side. It's almost impossible to get into trouble hurling it around corners. The feeling of the hydraulics stepping in is odd however, and feels disconnected somehow. Overall I really like this car, just wish it wasn't a minivan.
Primary Use: Family transportation
Jeff

writes:
2008 Honda Odyssey LX
Review
Pros
Lots of room inside and cool electronics
Cons
It's a Honda - There are no negatives other than the image.
Obligatory Family Truckster — Hey - I have 3 kids - I had to get one. It's a well-built, ergonomic family truckster that seat 8 and room for their "stuff" . It's not bad to drive and has lots of gadgets to keep you entertained while you get where you're going.
Primary Use: Family transportation
scrapbook43

writes:
2008 Honda Odyssey Touring
Review
Pros
Excellent family van. Holds 8 passengers and has a lot of storage room.
Cons
Braking system takes time to get used too during quick stops.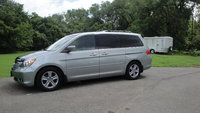 Lots Of Room — I have had several mini vans and the Honda Odyssey is by far the best. The touring model has tons of options, many of which I have not learned to use because I am not that savy with technology. My family is able to travel with 7 passengers very comfortably for long road trips with plenty of room for us and storage. Gas mileage is average to above average on long trips. Acceleration is good. Did not have any repair costs other than basic maintenance expenses which were average. Overall we are very pleased and would recommend a Honda van.
Primary Use: Family transportation
Tammy

writes:
2008 Honda Odyssey LX
Review
Pros
DVD, Video Games, Comfort, Lots of storage, seating, appearance, easy to drive
Cons
mine doesn't have electronic tailgate :/
I Love My Odyssey — Never thought I would be a van girl, but at this point in my life I LOVE my Odyssey!!! Very Roomy! Has DVD and plugs for video games! Fits my large Britax car seat comfortably. Lots of storgage! Fun and easy to drive! Wish I would have bought one sooner!
Marcela

writes:
2008 Honda Odyssey LX
Review
Pros
roomy, comfortable, drives smooth
Great! — It's sooo roomy... drive nicely and is super comfortable. Any mom out there should be driving one of this... at the begining I always thought... I'm so not driving a mini van!!!... they are for big mamas with lots of kids... etc, we all have ideas about our cars... anyway, after driving it and owning one for just a few weeks I don't know how did I live without it before! I love it!!!
Douglas

writes:
2008 Honda Odyssey Touring
Review
Pros
Large, features, safety, design, layout of instruments and buttons, fit and quality
On Our 3rd Year And Both Front Axle Assemblies Had To Be Replaced — For the most part, our Odyssey has been trouble free or the problems that have occurred were covered under the warranty or the dealer chose to cover the items. We've paid about $800 out of pocket servicing the van since we purchased it. We've had a recurring issue with the power steering (makes an odd noise and sometimes goes out - dealer has done the resevoir but not the pump, extended warranty provided by Honda on the pump), brakes make noise at low speeds (been refinished, adjusted and re-set multiple times but problem comes back) and we recently had to replace both front axle assemblies. The last one really concerns me. I've owned multiple vehicles through the years and some with as many as over 150,000 miles on them. I've never ever had to replace a front end axle assembly in my life and I own a 25 year old Porsche that's been raced! While the van looks and feels like a Honda, it is clearly not engineered like the other Hondas. I really do not expect to keep this van past 5 years or 60,000 miles for fear of major mechanical problems involving the transmission or drivetrain down the road. I've owned Hondas all my life. The Accord is a tough car to beat, extremely reliable and easy to maintain. This minivan takes a beating with three small kids. We are completely dependent on it at times. However, the issues above are safety issues and I am constantly concerned that something will go wrong while my wife is driving it. We may have a bad one and others may be better but Consumer Reports rates the reliability worse than average and I think that is quite accurate. If you buy one, try one that is not the first model year of a complete redesign. Try a 2009 or 2010 if you can afford it. I am sure some of these bugs are worked out in those vehicles.
Primary Use: Family transportation
Displaying 1 - 10 of 13 2008 Honda Odyssey reviews.
Looking for a Used
Odyssey
in your area?
CarGurus has
23,967
nationwide Odyssey listings starting at
$1,350
.