2008 Honda Accord
User Reviews
Average Ratings from

63

reviews
Performance:
Appearance:
Build Quality:
Overall:
Review Highlights
Click to filter reviews below
Displaying 1 - 10 of 63 2008 Honda Accord reviews.
Jimmy

writes:
2008 Honda Accord EX-L
Review
Pros
Very comfortable, quick but not too quick, reliable as a Swiss watch, handles great, very good visibility, very luxurious.
Amazing Car For Its Price. It Is Every Bit As Good As Most Cars That Are Twice Its Price. — This is my first car. I got it at age 19 on May 4, 2012 and have owned it for four months as of this review (August 30, 2012). It was under $20,000 - and may I add in pristine condition with 48,905 miles. For the price of a new Ford Focus with cloth seats and basic equipment, I have a much larger car that has luxury features such as heated leather seats, dual zone climate control, a six disc CD changer, room for five in first class comfort. The interior is very well finished with metallic plastic accents and soft touch materials. The trunk is large. How did they fit Cadillac size room and a roomy trunk into a midsize package? Despite its large interior and small exterior, this is an extremely safe car. It would seem that a car this large inside would need a large exterior with lots of metal to make it safe. The novel body structure - called ACE - makes this a safer car than its size would suggest. There are airbags everywhere - no matter how you might get hit, there's an airbag (or two or three) to cushion the blow. It has great handling and a strong engine to limit the likelihood of a crash. It handles like it's on rails. It has a 190 hp 4 cylinder engine - unless you really like to go fast, the 4 cylinder is enough. The brakes are amazing - it can stop in a very short distance, yet even slamming on the brakes, it is smooth. The car looks great - I get tons of compliments on it. I know that being 19 with a car this nice requires me to be generous in giving rides (If I didn't want to give lots of rides, I wouldn't have gotten a car this nice).
Primary Use: Family transportation
Looking for a Used
Accord
in your area?
CarGurus has
62,095
nationwide Accord listings starting at
$900
.
arunsun

writes:
2008 Honda Accord LX
Review
Pros
Spacious interior, great gas milage, reliable.
Cons
Its winter so heated seat would be nice!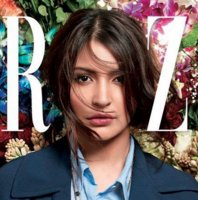 Good — I like Honda Accord in general. All the features are great, its affordable luxury car. I never had any problems with this car. It has a great gas milage and is very reliable. If I had to get a new car it would be 2015 Honda Accord.
Primary Use: Commuting to work
3xwheathen

writes:
2008 Honda Accord EX-L V6
Review
Pros
Very smooth power, and plenty of it. Handles great for a family sedan.
Cons
The brakes squeak, and the originals did not last long. The ECO mode is not smooth when driving at 35 to 40 mph. The leather material does not live up to the Honda quality.

Overall Great Value — The brakes squeak, Honda would not do anything and we replaced on our own. The leather seat material is marginal, Honda said nothing they could do. However, we lover the power, handling, styling and comfort. Although there are some things we had issues with overall it is a very solid car.
Primary Use: Family transportation
Ian

writes:
2008 Honda Accord LX-P
Review
Pros
5-Speed Manual
Interior volume
Quality fit and finish
Dashboard is relatively simple to get used to even though it has many buttons scattered about.
Cons
Dash may be too overwhelming for some with its array of buttons.
Why Would You Even Consider The Camry... — Test drove this car. It was a LX-Premium version of the Accord Sedan with a 5-Speed manual. The car was responsive especially with the control of a manual transmission where the full potential of the car can be unleashed over an automatic. Also drove an automatic coupe version and it was not as responsive as this car off the line. The clutch was also very easy to engage and the shifter switched between the gears with ease. This car also has ample space in front and back although the front may not be as spacious as the coupe. I am over six feet tall and it is not easy to find a car where I can fit confortably in the back seat with enough room when the front seat is all the way back. This car offers enough space. This car is tuned with the driver in mind. It makes having a family sedan an enjoyable experience with sporty characteristics. It has the tight handling and dynamics of a 2008 Chevrolet Malibu, Nissan Altima, or Mazda 6 conbined with the road manners of a luxury car. Unless you want to fall asleep at the wheel due to how boring your car is to drive and how dour it is in appearance then buy a Camry otherwise the Accord is one of the top choices for a family sedan. Another car worth considering is the new Chevrolet Malibu when considering the Accord. It is a substantial vehicle that can compete with the best in its class. Yes people, come out from under the rock you have been living under for years and finally realize that the Americans make great cars!
Justin

writes:
2008 Honda Accord LX-P
Review
Pros
Looks sharp, fun to drive.
Cons
The interior seems cheap. The seats are nice and comfy but the look and feel of all the plastic just makes the inside feel like a much cheaper car.
Fun And Roomy. Good Car For A Family. — We chose this car mostly because of its consumer reports test. It was ranked as one of the most solid and dependable cars ever made. After the first test drive, i was sold. With gas prices the way they are, the gas mileage i get (anywhere between 28 and 32) is a welcome bonus. We bought in December, and ive loved it ever since.
gkim

writes:
2008 Honda Accord EX V6
Review
Pros
Comfortable and at the same time powerful ride. Very spacious. Up till 90/100 miles per hour it runs totally under control but beyond that fear creeps in. So far I have am getting good miles/gallon. Most mechanics know their way around this car so it was convenient to take this car to the repair shop down the street.
Cons
Shocks in comparison with American brands such as old Buick are not that great. After experimenting I realized that when I play MP3, the music system sounds way better than it sounds on radio.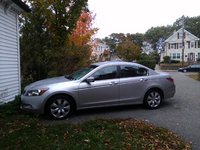 Power, Luxury, Comfort And Full Value For Money, All At The Same Time — Maintenance is cheap and fuel economy is good despite being 6 cylinder. Its a beautiful car overall except shocks. Unfortunately I drove classic Buick and that ruined it all. If you drive this car with patience, you will be on Eco mode most of the time which means better fuel economy. I am never happy with any car in terms of blind spots but that is just me.
Primary Use: Commuting to work
marblej

writes:
2008 Honda Accord EX-L
Review
Pros
Comfortable ride, plenty of cabin space, "affordable luxury"
Cons
Everyone and their auntie has one.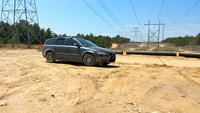 The Ultimate In A Sensible Daily Drive — This was the first, and only Honda I have owned; it was the filling in a "Volvo sandwich." This Accord EX-L had all the options and was very nice, practical car... (I bought it used traded it in for a Volvo V50 T5 after only 2-years). Ride Quality - The Accord is a noticeable step up from the Civic. Smooth and comfortable. Handling - A ton of power steering, not a lot of road feel. Cabin - I would say that interior finish is comparable amongst all Honda vehicles at the EX-L level. Plenty of room... my wife and I are both slim and felt somewhat lost in the front seats. Perfect for portly American backsides! Fuel Economy - If gas mileage is what your are looking for, the Civic is the way to go. Given the MPG I got in the 4 cylinder Accord, I should have just gone for the V6. Power - The 4 cylinder always felt under powered, especially merging onto the highway here in the Boston area... I should have just gone for the V6. Braking - I highly recommend braking early and avoiding the need to rely on the ABS. I hope it was just a flaw with my car, but under heavy braking The ABS was a bit alarming, it was loud and rather violent.
Primary Use: Commuting to work
maksimus39

writes:
2008 Honda Accord EX
Review
Pros
fuel economy, reliability

Nice — new Accord style, space inside, fuel economy, great during the winter with winter tires, good handling, cargo is small,back seats should be 40/60, after 105000 mil still having original breaks, this is my 3 Honda accord , good experience ,
Primary Use: Commuting to work
Mahdi21

writes:
2008 Honda Accord EX
Review
Pros
apearance and the quality of interior is good with it price
Cons
the shoes of brake and drum wheel
Its Car — i like the appearance of the car and the quality of it which come with its good price . it cost 84000 DHS . Its fun to drive it . the accerlation its good and handling is good also . gas when u fuel by 90 dhs it can continue 6000 Km at the traffic and 8000 Km in highways the problem the shoes of brake and the drum wheel
joshuadeboer

writes:
2008 Honda Accord EX
Review
Pros
VTEC engine, alloy wheels, sunroof, 6 disc cd changer, dash display is awesome.
Cons
Every once in a while I hear a shaking or rattling noise in the sunroof.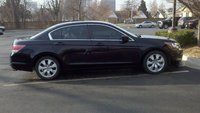 I'm Looking To Sell This Car Asap. I'm Asking Below Retail To Quickly Sell It. — I purchased this car new in 2008 and have been very happy with the car. I love the look and quality of the car. I average 28-30 mpg on the highway and it's lots of fun to drive. The 4cylinder I-VTEC engine is very quick and accelerates rapidly onto the highway. I love the 6 disc CD changer and I also love the fact that I have airbags all around me. Front, side of seat, and side curtain airbags extending to the back passengers. The cost to own this car is relatively low and I enjoy the maintenence minder system showing me my oil perecentage i.e. 100%, 75%, 15%. Honda recommends changing the oil at 15% which is every 4-5K miles.
Primary Use: Commuting to work
Displaying 1 - 10 of 63 2008 Honda Accord reviews.
Looking for a Used
Accord
in your area?
CarGurus has
62,095
nationwide Accord listings starting at
$900
.