2008 Chrysler 300C SRT-8
User Reviews
Average Ratings from

11

reviews
Performance:
Appearance:
Build Quality:
Overall:
Review Highlights
Click to filter reviews below
Displaying 1 - 10 of 12 2008 Chrysler 300C SRT-8 reviews.
chryslerman

writes:
2008 Chrysler 300C SRT-8 Base
Review
Cons
that it doesnt have great power

Awesome — this is the car ive always wonted toget ever since i first saw so when i got it was the happiest day of my life to finally get it after saving up for 2 year i turned 17 i went out and bought me a jet black chrysler 300 with 22'in chrome rims and ive never niglected my car befor its just perfect
Primary Use: Commuting to work
Looking for a Used
300C SRT-8
in your area?
CarGurus has
99
nationwide 300C SRT-8 listings starting at
$11,990
.
Patrick5324

writes:
2008 Chrysler 300C SRT-8 Base
Review
Pros
A car that handle your family, that is so sharp, you'll get looks from everywhere, this car is FAST, REAL Fast, top speed 173, from the factory, check them out on UTUBE
Cons
Gas milage in town about 15 mpg, highway about 19, sometimes a litlle better. The tires spin easily with out trying, it begs to be throttled !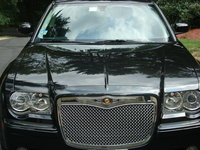 Awesome, Fast Car, Can Hold 5 People,plus Inside And Out....outstanding! — The SRT8 Chrysler 300C SRT* is an awesome car, its very fast, very fast ! It rides like a sports car, great handling, hugs the road, as you step on the accelerator, you will feel like the cars in the 60's and 70's. Fast with loads of torque. The seats hug you just right, the SRT8 logo right into the seat, it is a beautifull car in and out. When you look inbetween the spokes of the mags, you see awesome large, shiney, break calipers, with slotted rotors for extra cooling, the braking system is so good, you stop so fast, you will need to look in the reveiw mirror to make sure you don't stop to quick, others have no idea how quickly this car car be slowed down, with just an easy touch of the break pedal.....
Primary Use: Commuting to work
Mark

writes:
2008 Chrysler 300C SRT-8
Review
Pros
It IS everything, power, control, a bevy of great options, and of course Classs!
Cons
Brakes (easy remedy though)
Mopar Or No Car.....chrysler And Family Created A Masterpiece With This One. — Power to SPARE! A phenom on the Highway (with the right tires), the two-tone leather/suede interior front and back is very comfortable. The console controls are within a nice reach from the driver and the built in hard drive/computer with Boston Audio, makes for easy to switch tunes while driving. Hard drive with 14GB of memory can be used to store photos right from your digital camera and display them on the console monitor or even use one for your console wallpaper, as well as store almost endless amounts of music files! Bluetooth headsets for the kids allow them to listen to their favorite DVD while watching from the back seat on the rear 9 inch monitor (comes with A/V inputs for an extra...?) Multiple Displacement Engine uses only 4 of 8 cylinders at lower speeds, but, with the power this beast holds I don't believe it uses only 4 cyls. very often. EVERYthing is automatic, window wipers are adjustable but so far (living on a rainy west coast island) I've rarely had to touch the wiper switch, the harder it rains the faster they wipe. In cruise control if you approach a slower moving vehicle, the 300 will sense the distance of the slower moving car and adjust speed and braking so that your vehicle remains within a safe distance. The auto high beam system is very accurate, the left/right back up sensors are bang on and make backing up at night looking thru the dark tint no problem. The amount of extras this car has is ridiculous but every feature makes it that much better, the only thing it doesn't have (in my own opinion)is a heated steering wheel! The "Auto-Stick Manual Shift Program" allows you to drive in Automatic transmission or electronically shift clutch free by "slapping" the stick either left or right. The 5.7 litre V8 is not unfriendly on gas, but obviously it's not the most efficient, this makes for a nice but short highway drive to a gas station with much lower prices than the rest! The price tag was 35,000 (canadian) but oil changes are free for life, and with every change the other fluids get topped off and a general inspection report are done. This car handles like a dream, runs like a dream, and it's overall appearance is like high end 'Butch' yet classy and elegant....If I could create a new Genre/Class of Automobile, This car is what I would consider LUXURY MUSCLE, I love it and after driving this car for almost a year now, it would be Impossible to ever have to "Downgrade" to a vehicle without all the options and performance of this black beauty.....there's one brake that squeals at certain slow down speeds but that is apparently caused by the pads (not being of a higher end quality at the moment) Next step will be to add the Cross Drilled Brembo Rotors, and top quality pads, it is a large car and takes a little bit to slow it down, other than that I give this car a 9 out of 10....
Primary Use: Family transportation
Kurtis

writes:
2008 Chrysler 300C SRT-8 Base
Review
Pros
brilliant looks driving and engine hmm.......
Cons
bit heavy and pricey
I Once In A Life Time Oppertunity — you all should like this car is exillerating i love itand will recemend this to a frien that needs it for alsort like work and getting from a - b and also for a really good ride on the motoway lovly........
Primary Use: Sport/fun (spirited driving, track racing, off-roading, etc.)
Azmir

writes:
2008 Chrysler 300C SRT-8 Base
Review
Cons
there was no negative aspects
Awesome — its a beast of a car, excellent drive all round, looks like a million quid would look, although the car is massive, the 3l engine allows it to pick up speed very fast. obviously i have to say the sound system inside s the best i've seen and it is off the hook
Jesse

writes:
2008 Chrysler 300C SRT-8 Base
Review
Pros
very nice appearance, big optional 19'' or 20'' stock rims, great sound system, roomy
Cons
Gas isn't to bad for this car but it might be for some, interior could be better would love to see it in 2 tone, could use more space in trunk area, some dealerships offer the fog lights as "optional"
Kimani

writes:
2008 Chrysler 300C SRT-8 Base
Review
Pros
Thats its my baby and i love it till the end
Cons
That every other car has a green eye on it bcoz its too hot and so they get jealous
Its All That You Ever Dream About! — The music system will blow you away, its got amazing speed, it has a sporty side of it, its even easy for freshers in the driving department....as usual alles automatic and well refined, its a reccomendable birthday gift from our lovely boyfriends:)so you high spenders who wanna blow her away, i got the answer...this chrysler babe....i'd reccomend a convertible though but its a hott babe!!!
Susanna

writes:
2008 Chrysler 300C SRT-8 Base
Review
Pros
Fast, fun, comfortable, roomy
Cons
Eats gas, tires, and brakes
Displaying 1 - 10 of 12 2008 Chrysler 300C SRT-8 reviews.
Reviews From Other Years
I'll Miss It...
This car was the compromise between family and cargo room vs what I wanted in performance. The ex wanted a big grocery getter while I wanted something with decent power and good looks. Even with a 1... Read More
Black Beast
This car was truely a BEAST - 6.1L SRT engine with KN cold air intake, magnaflow midpipes, no cats, and a custome dyno tune to bring it all together for just over 400hp at the wheels. Zero to 60 times... Read More
Read all

13

2007 Chrysler 300C SRT-8 reviews
Rare, Fun, And Very Exciting To Own And Drive!
I love how Chrysler and SRT has combined the luxury of the Chrysler 300 and the performance of a solid muscle and sports car. You get the best of both worlds with this vehicle! if you get the chance t... Read More
Solid Car
This car is so fun to drive each day. You can point it where you want to go and it gets you there right away. This is the best car I have driven all my life. It's sporty, but at the same time classly ... Read More
Read all

19

2006 Chrysler 300C SRT-8 reviews
Sweet Ride!!
Jus plain love the car, tons of power, tons of space, loads of class!! LOL and enough room, big enough for the family to enjoy a nice long ride!!! Verry happy with the fuel milage for the size of the ... Read More
Chrysler = Transmission Kaput
It has a lot of power and looks mean. It's perfect. It's value has completely tanked since the spike in gas this past summer and am now upside down in my loan. It is a dream on long car rides and i... Read More
Read all

3

2005 Chrysler 300C SRT-8 reviews
Looking for a Used
300C SRT-8
in your area?
CarGurus has
99
nationwide 300C SRT-8 listings starting at
$11,990
.