2008 Chevrolet Uplander
User Reviews
Average Ratings from

7

reviews
Performance:
Appearance:
Build Quality:
Overall:
Review Highlights
Click to filter reviews below
Displaying all 7 2008 Chevrolet Uplander reviews.
Jamhemp

writes:
2008 Chevrolet Uplander LS
Review
Pros
It holds all family members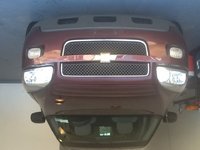 Ideal Family Vehicle — I love the ability to carry passengers one day and the next to load up at BJS with tons of groceries without a problem. Even the other day I went to Home Depot and bought shelves and it fit without a hitch.
Primary Use: Family transportation
Looking for a Used
Uplander
in your area?
CarGurus has
1,230
nationwide Uplander listings starting at
$1,365
.
an672

writes:
2008 Chevrolet Uplander LT Ext
Review
Pros
Nice large vehicle with tons of cargo and passenger room with excellent gas mileage compared to SUV's of a similar size . Lots of power in the 3.9L V6. Great value. The LT model has all the bells and whistles. Built very well.
Cons
No fold in floor rear seating so on moving day you may need to pull out the rear seats for over sized items. You will need some muscles as the seats are pretty heavy.

Great Value, Solid Build, Very Practical For The Family Yet Easy On The Budget. — Great value for the money. You will easily pay thousands less for one of these than you would for a similarly equipped minivan from one of the other top minivan makers. With the seats out the ext van will fit a full size couch and the lift gate will close.
Primary Use: Commuting to work
Dkshaffer

writes:
2008 Chevrolet Uplander LT Ext
Review
Pros
I like the gas mileage and it handles good. The DVD player is great to keep the kids entertained. The wireless headphones are also a great accessory. There is room for our kids and room for all the things we carry along on trips.
Cons
The brakes squeak, even though we carried it to the local Chevrolet dealership and they checked the brakes and said they were ok. Only the passenger side rear door is motorized and can be opened remotely. It appears to have been originally equipped for both doors to be motorized, but a previous owner disabled the driver rear door.

Overall It Is A Good Vehicle. — I like the gas mileage on the two long trips we have taken since we have owned this van. Would be nice if it was a little smoother ride, it is not as bad as some vehicles i have rode in though. It handles good and the wireless headphones with the DVD player are great for the kids. They can listen to their movie while parents talk or listen to the radio. The biggest down side is the brakes squeaking. We had them checked by the Chevrolet dealer, and we were told they are fine.
Primary Use: Family transportation
Michael

writes:
2008 Chevrolet Uplander LT Ext
Review
Pros
Is eventually reliable (IT'S ALSO GREAT IF YOU LIKE THE DASH TO LIGHT UP LIKE A CHRISTMAS TREE)
Cons
transmission/AC compressor/ Tie rods/ CB joints creak like crazy And much much more for the price of a car that's not a lemon BUT WE GOT ONE ANYWAY LOL
Fix The He@@ Out Of It And It May Run Somewhat Okay — This car is good for a GM but it has had so many problems over the first 2 years and WERENT covered by warranty You cannot accelerate fast as the tranny will clunk and pop out of gear (merging onto hway) Also the transmission went at 21,000 km's (Never raced) AC Compressor blew at 10/000 kms and was 400$ to fix Steering column had to be replaced needed numerous shop work at AppleWood Chev as every frikin light wsent up on the dash for no reason even as of today there is still always a message on the dash saying Traction control off and the blown tire light is always on and says "Righ Rear Tire Check" When it was actaully the right FRONT tire Any way it seems after you fix it enough it pretty much is reliable. Engine Runs VERY STRONG but transmission is very weak YOU LET GO OF THE ACCELERATER AND IT JERKS BACK like putting a manual car from third to first gear
Primary Use: Family transportation
Luc

writes:
2008 Chevrolet Uplander LT Ext
Review
Crap — More problems than I wish to list. Constantly at the shop for repairs. It was a total lemon. It's a fleet vehicle and unfortunately, the others had the same problem. Very happy they've discontinued it. Now we can get Caravans.
Primary Use: Utility (towing boats, transporting cargo, etc.)
Robert

writes:
2008 Chevrolet Uplander LS
Review
! — Very handy, quite quiet for this type of car nad quite comfortable. Average performance and medium fuel milleage. The appearance is average as one would expect from a mini-van. The Quality is good. Overall I give if 3 stars over 5
Primary Use: Commuting to work
Jonathan

writes:
2008 Chevrolet Uplander LS
Review
Pros
Powerful engine, cheap to buy, easy to clean
Cons
Very badly built, realibility issues, none of the seats can't be flattened into the floor
A Normal Van With A Whole Host Of Problems... — The Chevrolet Uplander/Pontiac Montana are GM's minivans. They're both exactly the same with no differences between the two badges. These vans are on the cheap side, the problem is you'll be in for a bit of a surprise. To drive the Uplander is givena 3.9L V6, this does make the Uplander very powerful given its price range. Its not a slow van in terms of a straight line. To turn its surprising that it does turn rather well but it rolls quite badly so its unadvised. The steering however is dull and lifeless. The interior is not luxurious at all. It is actually very cheaply designed and very conventional. None of the seats can be flattened into the floor, if you need trunk space you'll need to remove the storage pieces in the rear. The build quality however is another story, many Uplanders/Montanas are badly built. The cup holders often fail to slide out or in, the sliding doors do get stuck if built poorly, interior pieces are often loose. While this isn't the worst built GM product, it comes close. The Uplander/Montanas are not reliable either. Common areas of problems lie in the traction control, tire monitoring system. Transmissions also contribute to this van's reliability problems. You may get a Uplander that doesn't stay in the shop at all, but most likely it will be there often. Overall this is a cheap van with nothing special other than its massive array of problems.
Displaying all 7 2008 Chevrolet Uplander reviews.
Reviews From Other Years
Van Body On Truck Chassis
I've enjoyed my uplander over the years. Used for transporting building materials to the family across country. Haven't had any real problems with the vehicle. Would purchase again if Chevy had contin... Read More
A Comfortable Sunday Drive.
My favorite feature is easy access for everyone. I have owned vans that only had one slider and that made it difficult for some folks, this van is very easy to get in and out of. One thing I don't lik... Read More
Read all

3

2007 Chevrolet Uplander reviews
Awesome Inexpensive Reliable Vehicle For Large Family's
We love that the seats are oversized and comfortable. It wasn't difficult to fit any car seat in the vehicle and the latch system was easy to use. Our number one thing that we love is that it is rel... Read More
Very Nice
Not enough power things. All in all it is a great family car with a lot of very convenient options. Handles and rides great. Lots of leg room. Sits high off the ground. Lots of power. Rides smooth.... Read More
Read all

11

2006 Chevrolet Uplander reviews
Excellent Vehicle
Braking and handling are great. Acceleration is above average. Fuel economy is better than I expected. The seats fold down and can be removed easily. The traction on slippery roads is very good. Its a... Read More
Great Family Van For Any Road Trip Or Trip To The Grocery Store!
I like the van. Handles well. Drives well. Keeps the kids occupied with the DVD system. Is very smooth and great for long and short rides. I've had very few repairs, like brakes, and they were in... Read More
Read all

7

2005 Chevrolet Uplander reviews
Looking for a Used
Uplander
in your area?
CarGurus has
1,230
nationwide Uplander listings starting at
$1,365
.