2008 Chevrolet Malibu
User Reviews
2008 Chevrolet Malibu
Review Ratings
Average Ratings from

29

reviews
Performance:
Appearance:
Build Quality:
Overall:
Review Highlights
Click to filter reviews below
Displaying 1 - 10 of 29 2008 Chevrolet Malibu reviews.
Paul

writes:
2008 Chevrolet Malibu LS
Review
Pros
Looks, handling, gadgets
Looking for a Used
Malibu
in your area?
CarGurus has

72,632

nationwide Malibu listings starting at

$1,500

.
Kyle4801

writes:
2008 Chevrolet Malibu LT2
Review
Pros
Really sweet looking, luxurious!
Cons
4-cylinder engine, low ground clearance
Mom's Car — Performance is somewhat listless, but 0-100kmh is about 7.9 seconds. The build on it is really quite solid and nothing like many older Chevs before it. Build, schmuild, it looks like a budget BMW on steriods! Yet, it's really cheap to drive, if not fun, but it's an awesome car!
Jonathan

writes:
2008 Chevrolet Malibu
Review
Pros
Great interior, build pretty well, one of GM's best cars in a long time
Cons
4-cylinder engine is a bit slow, styling issues, not as cheap as it used to be
A Nice Surprise From Gm...is It Too Late? — Before this car came along, I knew what to expect from most of the American car makers. Lots of power, very cheap interiors, inconsistent build quality and very conventional. This is the first time I actually think GM has made a very good car, its not great as in an epic sort of way but this was long overdue...30+ years in fact. To drive its satisfactory, not all too exciting but not refined to the point that driving got boring. The 4-cylinder engine is not all that quick but doesn't feel as slow as an Avenger or Fusion. The interior is where GM really put its attention, it seemed someone at GM realized we spend more time inside than looking at the outside. There is plastic, but in a Toyota-like style managed to make it integrate very well with the interior design. The chrome pieces are very nicely done. The dash is purely electronic so it seems invisible until its on while GM used some nice colours to go with it. Its these small touches I liked a lot, the auto tranny's shifter for instance has little lights that turn once you set the gear lever where you want it. Big difference from the Impala which relied on the dash to tell you, GM designing that car didn't even have the decency to label P, R, N, D, etc. As for assembly, this is one of the few times where most of the cars are assembled quite well and quite consistently. Still not as nice as Lexus in Japan, Mercedes or Audi but far more competitive with Toyota. To buy, this is a rarity but its not cheap. It costs less than the Fusion and Sebring but it also is more expensive than the Altima. This time your actually buying some quality instead of getting ripped off. Its decent with fuel, never seemed to be an issue. On the looks, this car has a pretty boring front end. The side profile is probably the best part since it sports chrome in the right places something few do at this price range. The rear is where I don't really like it, the tail lights don't look good and don't suit the car. This is probably the only GM product I think is worth recommending. Those who are disillusioned with GM in the past but willing to try once more should take a look at this car. I hope this car sets the standard for GM, they all have to be as good or better than this. Anything less is going back to the bad GM cars that call for the company to collapse.
Bebe8

writes:
2008 Chevrolet Malibu LS
Review
Pros
feel very safe in this car

Love The Car — The car handles great has good acceleration, it is a very sound car built for saftey, there are no rattles or squeaks, the car is nice to look at inside and out and gets really good gas milage. We are just very happy with our choice in cars!
Primary Use: Commuting to work
88si

writes:
2008 Chevrolet Malibu LTZ
Review
Pros
good engine, the car has been reliable, styling.
Cons
still not as good as some imports.

A For Effort, B+ For Result — i tested this in the large group that i tested when i bought my accord. i think that the car was a pretty good car and it ranked pretty high on my list. it was pretty fun to drive, but not as much as the accord. i was impressed, but the accord (and altima) just appealed more to me. but, hey, consumer reports says the car's reliable so that's a plus.
Nick

writes:
2008 Chevrolet Malibu LS
Review
Pros
Sound quality of the radio
2008 Chevrolet Malibu Was Terrible. — This was a rental car that I ended up using when I went on a company training trip. The power was dreadful, the seats were cheaply made, the radio reception was terrible, the ride was uncomfortable, and the overall experience as one that I do not wish to repeat. Performance: Sluggish, brakes were not very responsive, and the handling was sloppy. Build Quality: Poorly built. The only thing that was nice was the sound quality of the radio when it was working. The check tire pressure light was on constantly, even when the pressures were checked multiple times. Appearance: Nothing special. The design causes terrible blind spots while driving. Cost of Ownership: Thankfully I do not own this vehicle, but the average gas mileage that I got for my 225 mile trip was 26.7 MPG. Fun Factor: Not fun.
Jessie

writes:
2008 Chevrolet Malibu LT
Review
Cons
really is nothin wrong with it
Is A Great Car To Have Never Will Let U Down — doesn't have any problems for me runs really nice never had a problem starting in th winter only problem is changing the rear lights u change one the other goesb its a really good car to drive though good car
Primary Use: Commuting to work
vedek

writes:
2008 Chevrolet Malibu LT2
Review
Pros
Smooth, quiet, roomy, luxurious

Chevrolet Has Finally Done It Right And Built A Car Which Anyone Can Afford, And Its Quality! — I just bought a Certified Pre-Owned 2008 Chevrolet Malibu LT2. My Mother owns a 2008 LTZ and loves it, I can understand why. It is smooth, quiet, luxurious for the price, roomy and good gas mileage. Mine came with a 4 cyl. Engine, which suprised me.
Primary Use: Commuting to work
DCRealEstate

writes:
2008 Chevrolet Malibu LS
Review
Pros
very Roomy, Runs Great, very reliable, great Gas Milage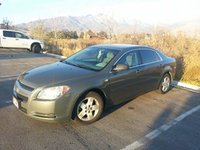 Greatguns8

writes:
2008 Chevrolet Malibu LS
Review
Pros
Nice overall. Beats imports for comfort and style.
Cons
Can't complain about anything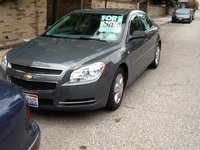 Great Midsize Car. — More features on base model, like heated mirrors, would have made it more competitive with camry, but it's good as-is. Very quiet, quick in the city, solid brakes, nice feeling of switches. Standard radio has good sound. Power seat-height adjustment, auto headlights, computerized oil life monitor, and illuminated interior door handles are nice touches.
Displaying 1 - 10 of 29 2008 Chevrolet Malibu reviews.
Looking for a Used
Malibu
in your area?
CarGurus has

72,632

nationwide Malibu listings starting at

$1,500

.