2008 Chevrolet Impala
User Reviews
2008 Chevrolet Impala
Review Ratings
Average Ratings from

42

reviews
Performance:
Appearance:
Build Quality:
Overall:
Review Highlights
Click to filter reviews below
Displaying 1 - 10 of 42 2008 Chevrolet Impala reviews.
NFaoliu

writes:
2008 Chevrolet Impala SS
Review
Pros
Tons of cargo space, LS4 V8 with Displacement on Demand, 303hp and 323 ft-lbs of torque, 18" polished aluminum wheels and stealthy SS badging, Stabilitrak and Traction Control, remote start, and Battery Rundown Protection.
Cons
LS4 V8 mated to a problematic 4T65-HD Automatic Transmission, Nose Heavy with Understeer, and Back Seats could've had more space.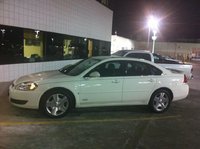 Not Exactly The Total Package, But A Competitive One! — Since the Impala SS was reintroduced in 2006, it has since gone under the radar. The mighty Impala SS impact on the market was minimal but mainly due to the failing Impala lineup. Chevorlet did make some good honest changes for the SS model which was only produced from 2006 through 2009, making them a diamond in the rough. First we start with the real money maker, what the SS badging is all about; the all new LS4 V8 with Displacement on Demand. With 303hp and 323 ft-lbs of torque, the Impala SS shines in straight line performance with a 0-60 sprint of 5.5 seconds and a 1/4 mile leap of 14.0 seconds @ 100mph. It simply walks away from Charger RTs but doesn't quite keep up with the 365hp 2010 Taurus SHO. The power is all there and it will spin the wheels even in stock trim! One of the more negative critiques for this car is the wrong wheel drive layout. It is Front Wheel Drive, and is probably the most powerful front wheel drive car on the market. This left fans of the SS model Impala disappointed and confused. While this is an awkward decision by GM, the 2006-2009 Impala SS is a product of the times, right before and during the height of the 2008 recession. General Motors, Chevrolet's parent company, was one of the corporations bailed out by the Obama Administration in 2010, during the Automotive Industry Crisis. As strange as a V8 with 300hp in a car with front wheel drive sounds, it was the best GM could do at the time. One must wonder, was it decisions like this that helped lead to their downturn? There are some side effects due to its overpowered V8 and front wheel drive layout. The Impala SS suffers from tremendous torque steer; Make sure the wheels are straight before you hammer down the accelerator. Chevrolet did implement some key driver aids like Traction Control and Stabilitrak, because after all the SS is still a FAMILY sedan - emphasis on family. The onboard computer does a great job managing the power and stability of the car at all times. This has brought great comfort and easy driving during adverse weather like rain, snow, and ice. Braking leaves much to be desired and only after a couple errands the brakes do become spongy. Speaking of shopping, this car has the biggest trunk I've ever seen and if that's not enough, you can fold down the backseats and have almost as much cargo space as a station wagon! No complaints here, except that I can't help but feel the extra trunk space cuts the back seating a little short of on par with the Charger and Taurus. Now we come to my biggest concern with this car... while we can all compromise a little space here and there and 300hp with FWD layout, one thing that haunts this car is the 3 speed transmission with a 4th gear for overdrive. The Impala would've benefitted greatly from a 6-speed automatic and that alone could've produced even better straight line performance and better economy. There also has been outcry in many of the Impala's online communities about the reliability of the transmission. GM has been using the Impala's chassis since the '80s and typically a V6 is fitted into the engine bay and mated to a 4 speed transmission called the 4T65. In some cases, like the previous generation Impala SS, the V6 may be supercharged with 240hp and 280 ft-lbs of torque (GM considers this the maximum load the transmission can handle reliably). This time around, GM neglects the supercharged V6 and instead shoves the LS4 V8 into the engine bay and mates it to the same 4 speed transmission meant for the V6, claiming they made additional modifications to help it cope with the 63 extra horsepower and renamed the transmission "4T65-HD," the added HD designation means "heavy duty." Unfortunately, the reliability based on this transmission seems to be hit and miss. If you're in the market for an '06 to '08 Impala SS, it is highly reccomended you get at least a powertrain warranty before signing the dotted line. The other thing about this car is the emphasis on fuel economy... I'm driving around a 5.3L V8 that is associated with the Super Sport insignia, why is fuel economy so important? Nothing in the digital display has anything to do with performance, it's all fuel economy. Why? Chevy claims its capable of 28MPG on the highway and about 20MPG in the city. I use mine for a daily driver and commute on the highway for 48 miles a day, that's to and from work. I'm an aggressive driver and I stay firmly in the passing lanes and occassionally do hit 100mph+... what does my gas bill look like? Well, its around $35 a week with premium grade gasoline! Oveerall, I'm happy to own this car. While some say it lacks general focus, I'd say "Quick, look again!" before leaving them in the dust. It lives up to the SS badges, being the quickest and fastest SS since the '60s. The 18" polished aluminum wheels (rated at $200 a peice) are absolutely beautiful and the car is very subtle and mature. It can blow the doors off many coupes and sport sedans but still offer an adult experience at an affordable price. The Impala was never meant to be a track car, it has no business with Brembo brakes and bodykits. The Impala SS is a great family car that offers a very mature driving experience, but also can be as fun and as quick as a Cobalt SS. Its a cruiser at heart and this car was designed around that very premise and it doesn't really disappoint. Its a decent throw back to old times and proof that simple and straight forward still has a place in the market.
Primary Use: Commuting to work
Looking for a Used
Impala
in your area?
CarGurus has

59,240

nationwide Impala listings starting at

$1,550

.
Scott

writes:
2008 Chevrolet Impala SS
Review
Pros
Interior styling and size as well as power
If You Need A Sedan Or Like Sedans, This Is An Appropriately Priced Vehicle With Good Power And Grea — Good acceleration for a sedan. Nice rims, leather, and sound. Bad torque steer. Heated seats come in handy in winter. Remote start is nice in both summer and winter and automatically turns on defroster or air conditioning. Overall, I love it!
Primary Use: Commuting to work
Danny

writes:
2008 Chevrolet Impala LT
Review
Pros
very spacious and still gets good fuel economy
Cons
wish Flip-N-Fold Rear and ABS/Stabilitrak came standard on all models
Has Plenty Of Space When You Need It And Great Fuel Economy When You Don't Need It — overall spacious interior and trunk, although it could use more rear legroom and larger trunk opening. I like the front floor space of a three passenger seat. The engine has good acceleration and handles reasonable for everyday driving. Despite what most say, the build quality is good. The mode selector on the HVAC control could be designed so that it is easy to tell which mode one selects. For a full-size car this car gets good fuel economy especially on the highway. It would be good if Anti-Lock Brakes came standard on all models, on the other hand there is more underhood space, so it is easier to do maintenance especially doing brake fluid exchange. The car is comfortable for road trips or driving around town.
Primary Use: Commuting to work
NIck

writes:
2008 Chevrolet Impala SS
Review
Pros
Unheard of acceleration from a family sedan in this price range.
Cons
I fell bad for my tires :) and wish it had auto. climate control.
Pat

writes:
2008 Chevrolet Impala LT
Review
Excellent — Have never been unhappy with my purchase of my Impala. Great gas mileage and smooth ride. Have never been stranded, my car has never broke down. I enjoy the onstar tool. It is comfortable to ride in. I would recommend this type of vehicle to my friends and family.
Primary Use: Commuting to work
Scott

writes:
2008 Chevrolet Impala SS
Review
Pros
Power, Roomy, Comfortable, Price
Cons
Looks, Still heavy, Wrong wheel drive.
08 Ss, Bland Buisness Cruiser Or Sleeper In Disguise? — 2008 Impala SS, mine came with the Heated leather seats, otherwise its just the 'basic' SS, no sunroof or bose stero. Now, Performance, one cannot ask more for then what the SS gives, 303 HP standard out of the V8, its very peppy and I can say she has no problem getting you to 60 in under 6 seconds. Downfall, is the torque steer apparent from the FWD application, everyone wishes this car was RWD, but the FWD does have its advantages for northern winter driving. Build Quality, I would rate average to above average, I know some SS owners who have a bit 'rattly' of interior, personally mine is just fine, I think it varies, but its definitly not a constant build factor for interior parts, exterior wise, no complaints. Apperance, well its about as boring as boring gets for general looks, but I prefer it that way, this car can scream down the highway but thanks to its non-attractive looks, even the cops don't seem to give this car much attention. Ownership costs, so far maitenance has been nothing more than needing new rotors/brakes as the stock rotors are definitly not built to stop 4000lbs of american steel on hard stops constantly, generally aftermarket rotors fix this problem pretty easily. Gas mileage for me, averages 18-20mpg city, and up to 32mpg highway, thanks to the DOD on the V8. Fun factor, The V8 sound and the power behind this car adds to the fun-factor 10 fold once you drive this car, she does have some body roll in her, for anyone who buys an SS I would HIGHLY recommend the addition of STB bars and braces for the STB bars.
David

writes:
2008 Chevrolet Impala LT
Review
Pros
good fuel economy, handles well, roomy interior
Cons
missing cup holders, base stereo kinda lacks...
A Pretty Sweet Ride — This one of the oly cars I like. Its very roomy, has good performance and fuel economy. Im not a huge fan f the color (white) but hey its still a good looking car. The interior is nice and spacious and the trim is classy, but kinda lacking in the cup holders area, it only has 2... all in all a great car
DALLASCARCREDIT

writes:
2008 Chevrolet Impala LTZ
Review
Pros
Great handling and smooth acceleration
Cons
I don't have 2 of them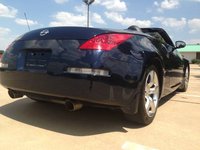 Great Sporty Gas Saver With Excellent Handling And No Road Noise — This is absolutely one of the cars that gives the most bang for your dollar. Smooth acceleration with the look that everyone loves! The interior room is superior and the acceleration is awesome. This is a very quiet interior rides I have ever been in.
Primary Use: Family transportation
eghtftmxcn

writes:
2008 Chevrolet Impala SS
Review
Cons
something up with this TC/stabiliTrac issue. semi-common in 07/08 chevrolet, multiple models

Sexy Black On Black And A Nice Purr — recent problem surfaced. service traction control, service stabilitrac, harder shift first and second gear. Dealer dumbfounded. Recently took to dealer as it was happening, scanned for codes and found some. Car is fun to drive. Nice power and handling plus lots of space to satifsy the middle aged family hauler.
Primary Use: Family transportation
Zak

writes:
2008 Chevrolet Impala SS
Review
Fun 2 Drive And Very Comfortable . — Just got my 08 Impala SS, and I'm loving it. The performance is excellent, the 5.3 V8 really moves this family sedan. I would have preferred a rear wheel drive V8, the front wheel drive takes some getting used to when you put the pedal down, but very fun 2 drive.
Primary Use: Family transportation
Displaying 1 - 10 of 42 2008 Chevrolet Impala reviews.
Looking for a Used
Impala
in your area?
CarGurus has

59,240

nationwide Impala listings starting at

$1,550

.