2008 Chevrolet HHR
User Reviews
2008 Chevrolet HHR
Review Ratings
Average Ratings from

30

reviews
Performance:
Appearance:
Build Quality:
Overall:
Review Highlights
Click to filter reviews below
Displaying 1 - 10 of 30 2008 Chevrolet HHR reviews.
jdebaker

writes:
2008 Chevrolet HHR Panel LS
Review
Pros
Quick response (either from a dead stop, OR while on the highway), tight steering, STABLE SUSPENSION - D E P E D A B L E !!!!! .. starts no matter what the weather. Head Room - I'm 6' tall with no problem getting in/out. HATE my wife's car for that very reason. Cargo room is great - 57 cubic feet behind the seats, you won't find anything with this gas mileage that has that kind of space.
Cons
Noticed the ride is not as smooth when no weight/hauling supplies in the back, which is normal for any vehicle of this type. 2 seater - not a family sedan, but it will haul your kids' stuff to college and back and then some!.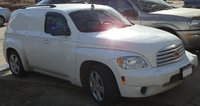 One Of The Best — Over the years I have owned and drivin full sized trucks, suv's, and cars, including classic -powerful muscle automobiles. If it's domestic, I've probably driven / owned it. The HHR Panel model is hands down one of the best cars I've ever owned. I travel for work (need to haul supplies everyday), where SAFTEY, dependibility, storage, and great gas mileage are a MUST. This wagon has far exceeded my expectations. Not only does it deliver everything I ask, IT IS A PLEASURE TO DRIVE! With more than enough get up and go, for the highway, or aggressive traffic situations. 2 lane highways @ 55 mph she gets 34 avg mpg. With interstate driving at 70 mph is around 29. That is impressive with a load of about 800 lbs. (Maximum load limit is 900 lbs). When I say STABLE SUSPENSION this is why...** Rear suspension has independent torque arms (Not coil springs that sag over time) - the bonus here is you can load the back any way you want, and needent worry about having the weight evenly distributed, because the torque arms automatically compensate! These are solid - well built cars. It will be a very sad day indeed, when I'm forced to buy something different. THE HHR PANEL IS A PERFECT FIT ! I liked it so much I bought another one!
Primary Use: Utility (towing boats, transporting cargo, etc.)
Looking for a Used
HHR
in your area?
CarGurus has

4,929

nationwide HHR listings starting at

$1,500

.
Buh

writes:
2008 Chevrolet HHR LT2
Review
Pros
Fun to drive, plenty of pep, handles well, all the gadgets one could want.
Cons
Not the biggest interior but still very roomy for how small it is. Maybe
wish there was an AWD version but I don't really need it.
Fun, Utilitarian, Comfy, Economical — What a fun, great looking ride! 30+MPG, leather heated seats, moonroof, traction control, stabillitrack, ABS, AC, 260 watt Pioneer stereo with sub, iPod integration, PW, PDL, Remote Start, Cruise. The steering wheel is amongst the best I've ever personally owned, leather wrapped with controls for Cruise and stereo on the wheel. Handling is excellent, car is easy to drive with magnetic variable assist steering. Breaking is good with 4-wheel ABS, 2.4L engine returns over 30MPG on the freeway and a minimum of 22MPG in town. The stereo in the LT2 package is amongst the best I've ever heard in a factory configuration.
mikencolo

writes:
2008 Chevrolet HHR LS
Review
Pros
value for money, excellent fuel economy, good ride quality, great turning radius, many std options, good stock stereo system, lots of room, reliable
Cons
difficult to change front light bulbs or air filter and if no running boards dirt roads will result in chips on lower 6" portion of front rear wheel wells.

Best Used Car Value For Vehicle Class — for two years had just our 350z and jaguar s to drive and use but interior room, fuel economy always just become to much of problem as well as needing a vehicle to go fishing with that i am not afraid of taking on mountain dirt roads. checked many vehicles found this one to have rated good quality, good mpg and best of all a low price for a good used one with very low miles. ours an 08' had 40k when purchased and paid less than 9k. the ride is very good, seats for 6'2" me, is great. it turns sharper, smaller radius than even my Z which was surprising. room is awesome, you can not only fold down the rear seats but also the front passenger. there is also a very large rear floor compartment too. i can't speak to the stock brakes as i always replace brakes of any vehicle i get w/ceramics but that said ours work just fine. on roads going 55 mph we get 40 mpg and in the city on avg 32 mpg. i was very surprised with the get up and go from the little 4 banger. from the top of the off ramp to the bottom it can easily merge with traffic, capable of 0-80 mph in that short distance. it is front wheel drive and does well on snow and ice. standard options even on the LS are many, pwr windows, tilt, cruise, pwr seats, pwr mirrors, air, etc. build quality isn't up to nissan stds let alone jaguar but still good especially when one considers the price paid. we have had absolutely no issues in the past year and half of owning it and highly recommend it to anyone who wants, needs a good all around vehicle that is priced below that of much of the competition.
Primary Use: Utility (towing boats, transporting cargo, etc.)
Jimmy

writes:
2008 Chevrolet HHR LS
Review
Pros
It's comfortable, roomy and it has a ton of cargo space!
Cons
It's a bit under powered...
It's A Definite Buy For Musicians Out There That Need Extra Space In Their Car! — This car is pretty much perfect for someone like me. It gets decent gas mileage for a mini-suv (it would be a bit better if it had a more powerful engine, as it is underpowered and thus has less fuel efficiency). It also has a ton of space when the back seats are folded down, which is great for traveling to brass quintet gigs with 5 stands, a chair, a tuba, a (french) horn (horn players don't like it when you call it a french horn because it was designed in Germany) and two HUGE folders of music...oh yeah, and a large cooler full of water, lunchables and beer.
Primary Use: Commuting to work
Heather

writes:
2008 Chevrolet HHR LS
Review
Great Family Car! — Great family car. Can handle the abuse for 2 children. Great gas milage. Good car to take on long family trips. Doesn't cost alot to maintain this car.Love the appearance of the car. All around a great car. Love love love it!
Primary Use: Family transportation
Tom

writes:
2008 Chevrolet HHR LT2
Review
Pros
Gas Mileage - Looks - Draws Attention
DrRon17

writes:
2008 Chevrolet HHR SS
Review
Pros
Styling, power, highway fuel economy
Cons
Poor traction in snow for FWD car.

Fun Car To Have! — Combines fun and practicality. It has storage space, power, and good highway fuel economy. The SS models look fierce, or as my uncle who sold me the car would say, "ornery" haha. I bought mine with 33k miles 1.5 years ago. The only thing that has needed fixing is a bracket in the sunroof (kinda expensive). Other than that, the car has been very reliable.
Primary Use: Commuting to work
RLRHHR

writes:
2008 Chevrolet HHR SS
Review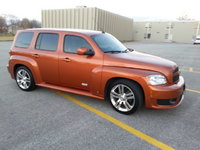 Very Dependable, Good Performing Car. — This HHR SS has been great for me and the family. Good performance, good fuel economy, and very versatile for carrying large items, luggage, and groceries. I did not like the ESC system. On windy days, it tries to over-control the car; I simply turned it off when driving during high winds. Overall, great experience with this car.
Primary Use: Commuting to work
marvirtual

writes:
2008 Chevrolet HHR LT2
Review
Pros
Fun to Drive, Great Gas Mileage, Sun Roof, OnStar, Satellite Radio. Roof Rack, Comfortable Car
Cons
Smaller interior for family, Transported a wheelchair which was tight in the back.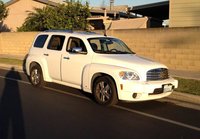 Great! — This has been our family car and it is great on gas and even has a trip monitor so that we can really extend our fuel mileage. The sound system is great, everything has worked fantastically! I would highly recommend this car to anyone looking for a simple, fun, car with good storage and great mileage!
Primary Use: Family transportation
Jim

writes:
2008 Chevrolet HHR LT1
Review
Pros
More roomy than you would expect. It is actually quite comfortable. Love the looks of this vehicle, a reminder of days ago.
Cons
If you are taller there is some issue with a blind spot, especially when you come to a stop light you have to look up and under...
Displaying 1 - 10 of 30 2008 Chevrolet HHR reviews.
Looking for a Used
HHR
in your area?
CarGurus has

4,929

nationwide HHR listings starting at

$1,500

.