Average Ratings from

13

reviews
Performance:
Appearance:
Build Quality:
Overall:
Review Highlights
Click to filter reviews below
Displaying 1 - 10 of 13 2008 BMW M6 reviews.
r1agar

writes:
Pros
looks, reliability, sporty daily driver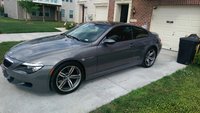 Fun Sporty Daily Driver — 400 to 507 horsepower at the push of a button. Totally stock. Sounds pheonominal. Handles corners like you're on rails. Just an exceptional car. Besides oil changes and tires, maintenance has been unnecessary. Highway mpg tops near 30, city around 15.
Primary Use: Commuting to work
YourCustomDJ

writes:
2008 BMW M6 Convertible
Review
Pros
Words cannot describe how it makes me feel.
Cons
BMW Dealers! Don't worry about maintenance costs. Find a good - NON dealer mechanic you can trust & you will soon find out it isn't all that bad.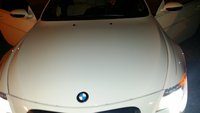 Sleeper — I love everything about this car. Even with the flaws that come with a crazy car like this, Bimmer Zone has an Answer for Everything. Someone already went through what you went through & resolved it affordably. All I can say is at the 3.5 year mark buy this car. Then put it through a NON dealer shop to find out every little thing that is wrong with it and take it to the dealer before the 4 year mark & get it fixed. Then ENJOY the heck out of it!
Primary Use: Sport/fun (spirited driving, track racing, off-roading, etc.)
closcer

writes:
Pros
Drivers car, if that's not your style look elsewhere
Cons
Bad mileage, no space, all out Indy car feel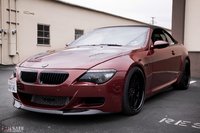 Love It But Only For The Purists — Power is thrilling, consumes oil like crazy, small, gas mileage is abysmal. Turns heads, v10 power at a 8200 rpm redline. With exhaust sounds like a dragon ready to set a town on fire. I look past the little things to me and take it for what it's worth, a super car that I own and enjoy despite its lack of tractability.
mxr8888

writes:
2008 BMW M6 Convertible
Review
Cons
Always worried someone is going to scratch it!

This Is A True Dream Car — This car handles like a dream, not to mention the neck jerk power from 60 to 120mph. Hit the M-button and wath them go backwards or just relax, Drop the top and cruise on a nice sunny day. Great Car.
Primary Use: Sport/fun (spirited driving, track racing, off-roading, etc.)
Steve

writes:
Pros
Blisteringly quick... great build quality... amazing engine...rare car to own, will be worth a fortune in 20 years..
Cons
No Autobahns close-by... very gutsy...would have been amazing with a double-clutch gearbox similar to the E92 on the S85 engine.
Steve - Bmw M6 — I've been driving BMW M cars for 4 years now and it would be difficult to think of driving anything else! The first M car was an E46 M3 Manual which is very nimble & has a precise feel... very quick, very reliable, great for every day. Moving up from the E46 M3 into the E63 M6 is a HUGE step change... I remember my first drive after I picked it up from Kent, I was on the M25 London Ring-road laughing very loudly at the BLISTERING acceleration from 60-100mph in 3rd gear! There is a slight snaking from the rear-end as it launches itself forward, so the wheel needs to be gripped very tightly! From 100mph its scary to think there are 4 gears to go in the 7 speed sequential gearbox... it will pull from 100mph in 4th, thru 120-140-160mph+ in the blink of an eye, there's no show of impedance from the engine... absolutely awesome! The brakes can be eye-popping slowing from those speeds... never have I experienced brake fade even on a really hard drive. You can make yourself and passengers feel sick quickly with acceleration & braking on country roads. Driving it around every day can be frustrating especially in the city - as you just want EVERYTHING TO MOVE OVER! This is a car that loves to be revved and needs to be driven on long journeys. It EATS motorways, there's nothing ever in my rear-view mirror on long journeys - not even Bentley ContiGT's... it is just very frustrating when people in cars with a 3.0 litre or smaller engine cannot understand why you're behind them at 70mph yaaawning... I'm so used to speed in the M6 now that it feels perfectly normal to drive at 120mph+ every time i get on a main road - without my heart raising a beat, but a huge grin as to how easy it is! The build quality is superb, the sound system is captivating and the gizmos like the Head-Up-Display, inflatable seat bolsters, M-button are great... the iDrive is brilliant to use and the Nav is very intuative... Just very frustrating not having Autobahns close by - and being £1.20 per litre for Super Unleaded at 11mpg !! This simply doesn't matter... every time I press that START button I get the same feeling as i did when I was a kid on christmas day! Amazing!!!
Primary Use: Sport/fun (spirited driving, track racing, off-roading, etc.)
Victor

writes:
Amazing. — its pretty amazing. every one should drive this car. strong braking. brisk acceleration. numb steering though. it needs to get better gas mileage. maintenance is constant. it is a beamer. its fun to drive. yes it is. apparantly facebook is telling me im poetic for writing this.
Primary Use: Commuting to work
Belal

writes:
Pros
accelerate incrediblly
Gorgeous — everything about this car is awesome....The interior is royal and the steering handeled very good. about the manual transmittion, you can easily shift geras and also you have tibtronic....in gereral, this car to is desighned for luxury and, if you want, to race but not regulary. Thank Youu
Praveen

writes:
Cons
There are no negatives
My M6 — I bought a Bmw M6 in this year . It is a superb car it is as fast a the wind . I have not serviced it since i bought ... It looks as if it was just bought . It s petrol consmption is very good.It s a great car to drive. It s the Ultimate driving machine.
Iurie

writes:
Dream Bmw — This is the most amazing sport car of medium class. It has an unique engine with 507hp and no turbo !!! This engine was the engine of 2005-2007, that's how those from BMW are working. This car is a combination of perfect materials and perfect structure, and it has a good price too.
Displaying 1 - 10 of 13 2008 BMW M6 reviews.
Looking for a Used
M6
in your area?
CarGurus has
454
nationwide M6 listings starting at
$22,995
.