2008 BMW 5 Series
User Reviews
2008 BMW 5 Series Review Ratings
Average Ratings
from 49 reviews
Performance:
Appearance:
Build Quality:
Overall:
Review Highlights
Click to filter reviews below
Displaying 1 - 10 of 49 reviews
1
2
3
4
5
Next
Gareth

writes:
2008 BMW 5 Series 535xi Sport Wagon Review
Pros
Amazing Twin Turbo Motor, 6 speed manual, x-drive=all weather capability, hill assist, plenty of cargo space for most purposes
Cons
Not the prettiest car on the road
The Perfect Car For Someone Who Doesn't Want Another Suv Or Truck. — My mom is currently leasing a 208 BMW 535xi sport wagon with a 6 speed manual and as someone who has been fortunate enough to have driven an E46 M3, been in a ride along in a highly modified Supra, and been in a few Porsche 911 Turbo's this car is surprisingly fun to drive. My mom is leasing this car with the sport package and the suspension is fairly stiff but the ride is not harsh at all. I've found myself on empty stretches of highway pushing this wagon into the 140mph range effortlessly. The N54 Twin Turbo in this car has plenty of power almost everywhere in the rev range. The boost from the turbos kick in down low in the 2000 rpm range and don't let off until well after 6,000 rpm's. It's very nice not to have to down shift in 6th gear to pass a slower car. I can't say enough about how great the mechanics in this car are, but it's a BMW, so you should expect the best. This is not the prettiest car ever built but it's nicer looking than most other sports wagons you will see on the road. In terms of interior the new E60/E61 5 series is not as traditional as the E39 which I am accustomed to. The interior is very nice in my opinion and the i-Drive is a very nice feature. If you can use an i-pod, you can use i-Drive, so I don't know why people dislike the system. All I can say is if you are trying to decide between an X5/X3 and something else, look at the 535xi. It has the same all weather abilities as an SUV with about the same storage capacity but appeals to those who don't want to drive an SUV and want something that is more like a car. For this, the %35xi Sport Wagon is the perfect solution.
Looking for a Used

5 Series

in your area?

CarGurus has

15,664

nationwide 5 Series listings starting at

$1,950

.
Michael

writes:
2008 BMW 5 Series 535xi Review
Pros
Performance balanced well with comfort. Sport, quality and luxury blended into a VERY sharp look.
Cons
...I can only think of the gas mileage.
I Have Never Driven A More Complete Car — Well, The twin turbo keeps its 0-100 in 5.2 sec-promise. Mine is white with white leather and it looks pretty sharp, I must admit. It simply drives like a dream. Extreme comfort without loosing the sensation of sporty and crisp reaction and performance. The palette of accessories is created under the philosophy: "If we can think of it, lets make it". It comes with a lot standard and the rest of it exists with guarantee. On the economic side. Well it is rather thirsty (<20 mpg if you do not drive carefully. A On the pros side (in the US at least) BMW USA has a 4 year zero cost service program included. We were also looking at Mercedes, Audi and Porche. None of these gave this option. I have never driven a better or more complete car. But it changed my driving pattern in the more aggressive direction :-)
Sami

writes:
2008 BMW 5 Series 535i Review
Pros
Engine, Handling, Brakes, Interior
Cons
None, potentially will upgrade to the 550i wheels.
Love This Car — Fantastic acceleration and good gas mileage. Absolutely no compromises. Handles great through the corners, setup for a little bit of understeer, but you can create oversteer with a little extra throttle. One of the best engines in the world...period.
fireman0175

writes:
2008 BMW 5 Series 535xi Review
Pros
mileage, quietness, handling
Cons
thigh support is too tight, maybe too much electronics.

I Would Find It Hard To Find A Comparable Model Where The Above Notes Last Past The First Two Years. — The handling is sharp and tight, the acceleration is superb. It is very quiet and not too smooshy. I like the Idrive. it is not hard to learn. 28 mpg on freeways at 70-80mph. BMW takes care of the maintence, but should provide more than one set of wiper refills per year in a temperate rain forest like Western Washington/oregon. yes, the car is fun to drive and so smooth!
Primary Use: Commuting to work
Stutattoo

writes:
2008 BMW 5 Series 550i Review
Pros
Aggressive looks, performance and handling.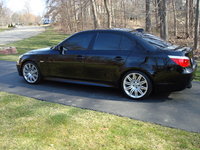 Very Pleased With This Model. — Bought this car used from a BMW dealership without it being certified pre-owned. This saved me about $3,000. It has nearly every option including the $4,300 M sport package. This is the 12th BMW I've owned in the past 15 years and the one I'm most happy with. (Still own my 2002 525i with nearly 200,000 miles on it) The 550i performs outstanding in every aspect. Its equipped with the automatic but when placed in manuel mode, comes off the line strong and shifts very smoothly. Handling is excellent as is the breaking. And compliments - get them every time I pull into a gas station, toll booth plaza or just stopped in traffic. The sport package sits low and looks very aggressive. Super looks, performance, breaking and not to bad on gas for such a powerful and heavy car. There's nothing negative about this BMW. Having two teenagers in the house it's the perfect car to transport them while still having a car with style, performance and safety.
Primary Use: Sport/fun (spirited driving, track racing, off-roading, etc.)
Henriette

writes:
2008 BMW 5 Series Review
Pros
speed, power, comfort and it is BIG!
Cons
heavy car...very family oriented
Large, Heavy, Slow To Start — Great performance. Accelerating greatly after 60mph. Bit like driving an armchair, however when you get up to higher speeds the car takes action and is the best place to be ever! It feels safe, quick, smooth and comfortable. It is roomy. Lots of space for all your kids toys, prams, food, and various needs! It took us all the way to Denmark & back from England without much trouble. It is a great family touring car, with incredible speed and power. It is fun to drive to a certain extent...but if you like the power of changing gears and racing at the lights...then this car is not for you!
Primary Use: Family transportation
Michael

writes:
2008 BMW 5 Series 535i Review
Pros
Power, Performance, Balance ride quality, Interior, Rear seat space
Cons
Stitch on steering wheel collects on the back, Computer system contolled by knob
Brilliantly Balanced: Power, Performance, Ride Quality — The BMW 535i is one sweet ride. The ride quality is balanced quite well with performance, never sacrificing power. The car is an experience to drive. It handles well, but the first gear ratio can create some tire spin out of a turn with so much torque. One of my complaints would be the stitching on the steering wheel. It collects on the back and feels as if it is coming undone when in reality the stitch is just left wide. It takes away from the crisp clean feeling of the rest of the interior. The other complaint would be how you control the computer/radio/communication system. There is a knob located near the mid-car armrest. It dials around, as well as having the ability to "bump" in the four cardinal directions. It is very difficult to change from radio to satellite to a CD or you iPod while driving. The tasks become dangerous. A touchscreen would have been a much safer choice.
GarrettWadford

writes:
2008 BMW 5 Series 550i Review
Pros
Sleek, Fast, Beautiful
Cons
BMW's can be expensive to fix if you don't take care of them
Best Car I've Ever Owned — I loved the handling, power and styling. Its an amazing car! I think that for the money this is the best sedan on the road. Fast, reliable and it definitely turns heads. The engine is powerful and the car hugs the road like no other BMW that I've owned and i have owned 12. This is the car if you are looking for performance and practicality in 1 vehicle.
Primary Use: Commuting to work
ironhell

writes:
2008 BMW 5 Series 550i Review
Pros
good engine, great looking car
Cons
not a v-10 :-) the iphone interface sucks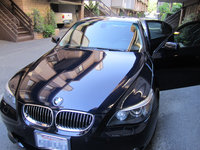 Understated & Subtle Elegance — Good low range torque, slick and understated. Very good sport sedan with a solid V-8. Very quiet interior - definitely a head turner. Great exterior color and really nice looking wheels. iDrive takes some getting used to and the LED screen is a bit dated
Cory

writes:
2008 BMW 5 Series 528xi Review
Pros
Handling, interior, space, engine
Cons
iDrive is a little unwieldy
Displaying 1 - 10 of 49 reviews
1
2
3
4
5
Next
Ask CarGurus about the 2008 BMW 5 Series
Average response time:
8.5 hours
,
# of BMW 5 Series owners:
9,412
Looking for a Used

5 Series

in your area?

CarGurus has

15,664

nationwide 5 Series listings starting at

$1,950

.