2008 BMW 5 Series
User Reviews
2008 BMW 5 Series
Review Ratings
Average Ratings from

60

reviews
Performance:
Appearance:
Build Quality:
Overall:
Review Highlights
Click to filter reviews below
Displaying 1 - 10 of 60 2008 BMW 5 Series reviews.
Gareth

writes:
2008 BMW 5 Series 535xi Sport Wagon
Review
Pros
Amazing Twin Turbo Motor, 6 speed manual, x-drive=all weather capability, hill assist, plenty of cargo space for most purposes
Cons
Not the prettiest car on the road
The Perfect Car For Someone Who Doesn't Want Another Suv Or Truck. — My mom is currently leasing a 208 BMW 535xi sport wagon with a 6 speed manual and as someone who has been fortunate enough to have driven an E46 M3, been in a ride along in a highly modified Supra, and been in a few Porsche 911 Turbo's this car is surprisingly fun to drive. My mom is leasing this car with the sport package and the suspension is fairly stiff but the ride is not harsh at all. I've found myself on empty stretches of highway pushing this wagon into the 140mph range effortlessly. The N54 Twin Turbo in this car has plenty of power almost everywhere in the rev range. The boost from the turbos kick in down low in the 2000 rpm range and don't let off until well after 6,000 rpm's. It's very nice not to have to down shift in 6th gear to pass a slower car. I can't say enough about how great the mechanics in this car are, but it's a BMW, so you should expect the best. This is not the prettiest car ever built but it's nicer looking than most other sports wagons you will see on the road. In terms of interior the new E60/E61 5 series is not as traditional as the E39 which I am accustomed to. The interior is very nice in my opinion and the i-Drive is a very nice feature. If you can use an i-pod, you can use i-Drive, so I don't know why people dislike the system. All I can say is if you are trying to decide between an X5/X3 and something else, look at the 535xi. It has the same all weather abilities as an SUV with about the same storage capacity but appeals to those who don't want to drive an SUV and want something that is more like a car. For this, the %35xi Sport Wagon is the perfect solution.
Looking for a Used
5 Series
in your area?
CarGurus has

14,992

nationwide 5 Series listings starting at

$1,500

.
fireman0175

writes:
2008 BMW 5 Series 535xi
Review
Pros
mileage, quietness, handling
Cons
thigh support is too tight, maybe too much electronics.

I Would Find It Hard To Find A Comparable Model Where The Above Notes Last Past The First Two Years. — The handling is sharp and tight, the acceleration is superb. It is very quiet and not too smooshy. I like the Idrive. it is not hard to learn. 28 mpg on freeways at 70-80mph. BMW takes care of the maintence, but should provide more than one set of wiper refills per year in a temperate rain forest like Western Washington/oregon. yes, the car is fun to drive and so smooth!
Primary Use: Commuting to work
Michael

writes:
2008 BMW 5 Series 535xi
Review
Pros
Performance balanced well with comfort. Sport, quality and luxury blended into a VERY sharp look.
Cons
...I can only think of the gas mileage.
I Have Never Driven A More Complete Car — Well, The twin turbo keeps its 0-100 in 5.2 sec-promise. Mine is white with white leather and it looks pretty sharp, I must admit. It simply drives like a dream. Extreme comfort without loosing the sensation of sporty and crisp reaction and performance. The palette of accessories is created under the philosophy: "If we can think of it, lets make it". It comes with a lot standard and the rest of it exists with guarantee. On the economic side. Well it is rather thirsty (<20 mpg if you do not drive carefully. A On the pros side (in the US at least) BMW USA has a 4 year zero cost service program included. We were also looking at Mercedes, Audi and Porche. None of these gave this option. I have never driven a better or more complete car. But it changed my driving pattern in the more aggressive direction :-)
Sami

writes:
2008 BMW 5 Series 535i
Review
Pros
Engine, Handling, Brakes, Interior
Cons
None, potentially will upgrade to the 550i wheels.
Love This Car — Fantastic acceleration and good gas mileage. Absolutely no compromises. Handles great through the corners, setup for a little bit of understeer, but you can create oversteer with a little extra throttle. One of the best engines in the world...period.
jbittick

writes:
2008 BMW 5 Series 535i
Review
Pros
Great handling; Smooth and Powerful engine; Built for handling winding roads at higher speeds. Navigation and Bluetooth
Cons
Tire maintenance. Front/Rear Parking sensors a nice feature, but would do better with a camera

Truly A Driving Machine.....with Some Slightly Above Average Maintenance Costs — Fun car to drive. If you're interested in a driving experience that includes both power and handling, this is the car for you. As intended, you will feel the road as the car is almost one with it. Enjoyable experience.
Primary Use: Family transportation
Joven

writes:
2008 BMW 5 Series 535xi Sport Wagon
Review
Pros
Subtle, Sleeper, Sensible, Superfun, and aweSome vehicle.
Incognito But Still A Blast To Drive... — Performance - above par. Quality - most exact specs of a car. Tight fit, no rattles. Appearance - sleeper and sensible. An acquired taste to like. Reliability - it has not disappoint me yet. Super fun to drive, versatile, spacious, and room for my dog.
Primary Use: Family transportation
calletina

writes:
2008 BMW 5 Series 528i
Review
Pros
Roomier than a 300 series. Love the looks I get driving it;) LOVE how reliable it is in handling and engineering- Fab. Safe in rain. Adjustments for various drivers are great. Gas mileage is great! 32.6 (when I stomp on it) to 33.4 avg. Better than the 535i and X-drive. Roomy for luggage and passengers. LOVE the heated seats. Love the AC and Heat system. The Cruise control keeps it dead on the speed selected. Lots of nice features and convenience. Not a Sonoma for fluff and such- but a true performance car with extras. Nice!
Cons
Physical DVD maps drive was intially problematic. Later models have integrated map drive. Few places to stow glasses, etc. Seat could have a bit more cusion in the base- I'm in mine 3hrs a day but its fine. Cup holders are not very ruggedly constructed. But I am neat and careful so they are fine. Speakers are okay but I wouldn't mind an upgrade. The Voice Nav doesn't recognize my accent so it isn't the best- needs a training option to teach the Voice my accent. AHah. Needs a cell phone dock. The BMW assist is Overpriced and for the number of uses I have had- AAA is the better choice.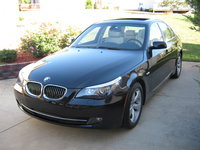 Lovely, Reliable Performance Machine! — I drive a LOT 1000 miles a week. And I finally feel safe and comfortable when I'm travelling. It handles great. It is very quick but not at jumping off the line from a dead stop. The trade off is I get GREAT gas mileage. The car is wonderfully engineered. And it is beautifully detailed inside and out. If you get one, get a cargo organizer for the trunk and get some storage for the interior if you carry a lot of things. I do get a little bit of aggression on the road. I don't drive aggressively but people get aggressive with me in the BMW. Interesting and true. I drove a 2011 528i for 2 weeks while my DVD was being swapped out. I do NOT like it as well as the 2008. I do like the Nav better but it's bigger, harder to see around it, feels wrong, the Cruise controls arene't like the 08- I don't like them. The 2008 is still sports-like. the 2011 is more luxury feeling. I prefer the smaller feel and sports handling of the 08. The Continental tires are not the run-flats and I am still putting miles on this original set at 89000 miles on the odometer. The run-flats are expensive and my friends have had to replace theirs at 30K miles. The MPG is higher with the Continentals too. I love this car.
Primary Use: Commuting to work
beanie

writes:
2008 BMW 5 Series 528i
Review
Pros
Wonderful car! The sports package makes this car a dream to drive. The bolsters, lumbar support and thigh adjustment in sports seats is incredibly comfortable. Always a pleasure to drive and fun. The average MPG of 24.5 is a wonderful plus. In summary main pros: German engineering, comfort, performance, above average MPG, certified warranty til April 2014 or 100K, Steptronic smooth transmission, headlights and beauty of the car.
Cons
Maintenance costs higher than domestic vehicles but well worth it to drive this terrific ar.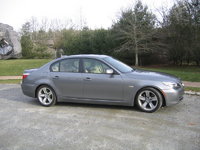 Beautiful Performance And Comfortable Vehicle. — I have nothing but praise for this car. I have had several 5 series and this is one is good as the rest. They have all been very reliable, well built, solid vehicles. What I really like about this one is the sport suspension and seats - fabulous. Enjoyable to drive and own.
Primary Use: Commuting to work
everettpage

writes:
2008 BMW 5 Series 535xi Sport Wagon
Review
Pros
very good in all weather conditions, handles well, very comfortable

Practical Yet Fun To Drive — wish it had a SMG transmission. shifts slowly in manual mode, but handles well and has good acceleration. Has excellent cargo space especially with rear seats folded down. The I drive is intuitive counter to popular criticism. I have a CPO and the warranty is excellent.
Primary Use: Commuting to work
Stutattoo

writes:
2008 BMW 5 Series 550i
Review
Pros
Aggressive looks, performance and handling.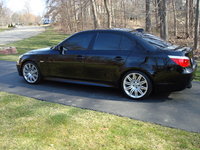 Very Pleased With This Model. — Bought this car used from a BMW dealership without it being certified pre-owned. This saved me about $3,000. It has nearly every option including the $4,300 M sport package. This is the 12th BMW I've owned in the past 15 years and the one I'm most happy with. (Still own my 2002 525i with nearly 200,000 miles on it) The 550i performs outstanding in every aspect. Its equipped with the automatic but when placed in manuel mode, comes off the line strong and shifts very smoothly. Handling is excellent as is the breaking. And compliments - get them every time I pull into a gas station, toll booth plaza or just stopped in traffic. The sport package sits low and looks very aggressive. Super looks, performance, breaking and not to bad on gas for such a powerful and heavy car. There's nothing negative about this BMW. Having two teenagers in the house it's the perfect car to transport them while still having a car with style, performance and safety.
Primary Use: Sport/fun (spirited driving, track racing, off-roading, etc.)
Displaying 1 - 10 of 60 2008 BMW 5 Series reviews.
Looking for a Used
5 Series
in your area?
CarGurus has

14,992

nationwide 5 Series listings starting at

$1,500

.