2008 BMW 1 Series
User Reviews
2008 BMW 1 Series Review Ratings
Average Ratings
from 31 reviews
Performance:
Appearance:
Build Quality:
Overall:
Review Highlights
Click to filter reviews below
Displaying 1 - 10 of 31 reviews
ptack

writes:
2008 BMW 1 Series 135i Review
Pros
Probably the most fun you can get from a new BMW for less than $50k
Cons
It's a weird cross between a true sports car and a luxury 4-seat coupe. It's redemption is the amazing engine. It's bane is the not so modest price.

Like A Rabid Bulldog Chasing A Mailman — Test drove both the 128i and the 135i. The 128 is a pleasant little semi-sports car. That's about the best I can say for it. The 135i, however is the main show. Just hit the accelerator and you hear this very satisfying growl just as you're shoved back in the seat by the resident 300 hp monster. This is a very fun toy to drive around, in fact, I was basically chortling the whole time I was driving it. It's a funny blend of serious performance, luxury and practicality. If this unique (odd?) mix of size, comfort, performance and price is in line with what you want, well there probably aren't too many other options, but who cares because you probably won't stop smiling after you drive one.
Looking for a Used

1 Series

in your area?

CarGurus has

2,775

nationwide 1 Series listings starting at

$12,900

.
Sridhar6

writes:
2008 BMW 1 Series 135i Review
Pros
Power, handling, braking, overall performance
Light Car With Turbo Charged 300 Hp Makes It Feel Like An M3 — This is a 2 door coupe with 3 liter inline 6 cylinder churning out 300 HP, and with it's light body weight the power to weight ration is incredibly balanced and makes this car feel like an M3. The steptronic paddle shift transmission is one of the best BMW had made and there is no turbo lag and the power is instantly transmitted to the wheels when changing gears. It's an awesome car to drive
Morgen

writes:
2008 BMW 1 Series 135i Review
Sexy And Loads Of Fun — Build Quality: Excellent. It has been two full years now, and no problems to report. Car Comparisons: Besides the 135i, I considered the Audi TT. Overall, the power/performance, styling, and quality/higher resale value won me over. Performance: There was a bit of an understeer issue in the beginning. (If you don't drive your car
Tony

writes:
2008 BMW 1 Series 128i Review
Pros
Fast, reliable, sporty, looks great, all in one little package
Cons
gas mile, nanny system (traction controls) are scary at times.
128i Is More Than Just A Daily Driver — Performence - Great acceleration speeds very settle until you reach 3000 RPM, it start to scream, gives you torques and power, great transitions. ABS works wonders, and handles great..other than the fact it understeered when i was driving 95 on the high way last week, front tire was about to slip and nanny kicked in create some what of a understeer. Build Quality - for premium package, you get boston leather and wood trims..seriously what else can you ask for. Appearance - for sure it's head turner, chick sucker. it'll get everyone looking at your car. Cost- 42k around would give you the same package that I have Sports Package Premium package Xenon lights Active steering Heated seats Ipod intergration Comfort access and bluetooth intergration. Fun Factor - it's really fun if you have long trip and you have a friend with a higher tier car you can chase around. i drove my baby chasing my friends M3, going almost 100 at times never reach over 3000 RPM. seriously it's a fun car. oh and it's a Rear wheel drive, some see it's fun thing some doesn't feel that way.
Michelle

writes:
2008 BMW 1 Series 135i Review
Cons
I wish it would get better gas mileage
I Love My 135i M Sport — This car is a rocket! It feels solid as a rock. Goes 0-60 in 5.1 seconds, so great to merge into L.A. traffic! The ride is quiet, even with the audio system off. I love the way it looks. This is a great introduction car to the BMW line. Fun, fun, fun, fun, fun, fun, fun, fun!
Tim

writes:
2008 BMW 1 Series 135i Review
Pros
EVERYTHING !!!

but....
Cons
-Cost even though advertised to be cheap, loaded is about $42,000.
-Almost everything on it is optional even more so with the 128i.
-Small back seat, but stand-able.
-Not bad but not good gas milage about 23 miles per gallon average.
Best Bmw On The Line-up — I drove this car at the BMW performance school and I have to say it was my favorite car there. Has the same motor as the 335i but drives totally different. It is a lot quicker and more agile. That 300lb/ft of torque really shows with the size of this car! When I was driving it i downshifted to second gear and it hauled ass all the way through! According to one of the instructors when drag raced against the M5 and M6 the 135i can hold its own all the way up to about 85 to 90 mph keeping right next to the M5's and 6's. Really I may be sounding very bias but I loved driving the car and since I drove it i miss it, i want to drive it again very soon. Overall great car, classic BMW: as balanced as can be. Period.
Alexander

writes:
2008 BMW 1 Series 135i Review
Pros
Looks, driving experience, fuel economy and "the feeling".
Cons
Electric window buttonpanel looks really cheap
Coolest Compact Car — Coolest compact car Great (basically carefree) engine and 6 speed gearbox. Impressive that the 2 litre engine is enviromentaly friendly (119gc02/km) and still puts out 143hp and alot of torque. Mind you that 143hp isn't that much of a wowfactor BUT it's a small 3door compact car with the same hp as most normal midsized cars so 0-100kph in 8.9s isn't that bad. And you get free parking! It certainly is the best performing car of all envirementally friendly dieselcars today. However 0-100kph in 8.9 seconds isn't enough to give it a full score on performance. Breaking is excellent and handling with the stiffened suspension that the M-sport package gives me is superb even with 5 people in the car. Can't really complain much about the buildquality. Neat and tidy, very... "german". My only complain is a small panel hosting the buttons for the electric windows. It looks like it comes right out of a Daewoo or other cheap car. I'm normally not really fond of the compact car look but BMW managed to make me buy theirs partly because of the looks. Looks great and stylish although I have my reservation about the backpart. The back looks good - for a compact car - however this cars beauty truly takes form when it's seen in the coupé version. Hence 4/5 on appearance.
JOSHUABUSTOS

writes:
2008 BMW 1 Series 128i Review
Pros
Great acceleration from straight 6. Excellent handling. Most people surprised by the power and excellent handling.
Cons
Sports car and you feel most bumps on the road.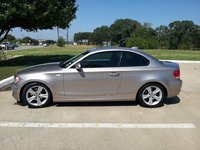 Best Sports Coupe In Its Class. — Completely lives up to BMW's reputation. Would buy this model again. Great handling and power. Best coupe in its class! Strong acceleration and braking. My wife has always wanted this car and it met/exceeded her expectations. Next time I will consider the 135 to see what the turbo charged engine does to this model.
Primary Use: Commuting to work
Jose Graciano

writes:
2008 BMW 1 Series 128i Convertible Review
Cons
Small trunk can't fit golf clubs
128i Convertible — BMW Quality and performance, just the right size car for 2 adults. The 128i has just the right amount of power and the transmission is superb. The top goes up and down nicely, I just wish you did not have to hold the botton down through out the process.
Primary Use: Family transportation
Justin

writes:
2008 BMW 1 Series 135i Review
Pros
Surprising performance car
Little Black Beast — Car is AMAZING! Performance is outstanding, and it is a BLAST to drive. Car looks menacing, down to the factory black chrome exhasust! Only drawback is once you get into the turbo's, it drinks the gas but the fun is worth it.
Primary Use: Sport/fun (spirited driving, track racing, off-roading, etc.)
Displaying 1 - 10 of 31 reviews
Ask CarGurus about the 2008 BMW 1 Series
Average response time:
8.5 hours
,
# of BMW 1 Series owners:
2,343
Looking for a Used

1 Series

in your area?

CarGurus has

2,775

nationwide 1 Series listings starting at

$12,900

.