2008 Audi A4
User Reviews
2008 Audi A4
Review Ratings
Average Ratings from

32

reviews
Performance:
Appearance:
Build Quality:
Overall:
Review Highlights
Click to filter reviews below
Displaying 1 - 10 of 32 2008 Audi A4 reviews.
David14614

writes:
2008 Audi A4 3.2 Cabriolet Quattro
Review
Pros
Styling, power and interior features are outstanding
Cons
Light colored interior, sound system ease of use, and oil consumption.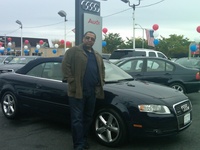 A Fun And Stylish Car With Smooth Power And Steady Handling. — Engine and transmission perform as well as the Mercedes Benz I've owned over the past several years. Other than minor surface scratches, the body was perfect. The overall appearance of the car is what sold us. Would have gone with a darker interior, but couldn't pass on the blue. Gas mileage is better than expected for a six cylinder all wheel drive. This car is a blast to drive. With that top down, pushing the six in this relatively small car even moderately, makes for an exciting ride. I recommend that everyone get a convertible at least once in their life if you can.
Primary Use: Sport/fun (spirited driving, track racing, off-roading, etc.)
Looking for a Used
A4
in your area?
CarGurus has

10,782

nationwide A4 listings starting at

$1,795

.
August_mck

writes:
2008 Audi A4 2.0T Quattro
Review
Pros
Great Handling and comfort
Cons
Buy the newer model its wider and has more room

Fun To Drive Quattro A4 — 2008 A4 has been a great car I would recommend to anyone,, I like the newer model because it is wider, probably buy a 2013 A4 quattro. Been a smooth experience and not that much maintenance or at least as much as I thought
dgolden1

writes:
2008 Audi A4 3.2 Quattro
Review
Pros
Extremely fun to drive, quick, very attractive, good fuel economy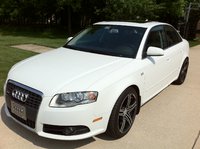 Awsome Car To Own- Conservative Transcending Sport Car! — Compact good car to drive in city! Very nimble and responsive handling, acceleration is impressive, especially in sport mode! Solid machine with great road feel. Quattro is the best AWD available in snow, rain and where-ever with low road noise, highest interior quality, with good fuel enonomy for a 3.2L. Absolutely a blast to drive and yields respect for having good taste in owning a well made, attractive sport car. Lastly, Audi service is one of the best and consumer friendliest I've expirienced!
Primary Use: Commuting to work
Charles1241

writes:
2008 Audi A4 2.0T Quattro
Review
Pros
Handling, Appearance, Styling, Quality, Cost of Ownership
Cons
Performance (only slightly)
2008 Audi A4 2.0t Quattro — 2008 Audi Model: A4 Trim: S-Line 2.0T Quattro Color: Quartz Metallic Drivetrain: 6-speed manual 2.0L 200 HP Optional Upgrades: Dual power seats Dual Heated Seats Bose Premium Sound System Bluetooth Average Cost (Gas Tank): $49.65 (Premium) Maintenance: Paid through 100k Pros: I simply love the car. Whether it's hugging a turn in the city, or letting loose on the highway, the car remains quiet, tight, and easy to handle. Unlike comparable models, Audi's real-time AWD hugs turns. The 60/40 front bias gives it a more drivable feel, while still enabling it to weave in and out of traffic. Little to no body roll (which was a huge selling point). The attention to detail both internally and externally leave no doubt that this car was designed with the driver as well as passengers in mind. (This is noticeable both in the front and rear passenger seats -- as each has plenty of room to relax). Cons: 0-60: 6.5 seconds (though in all fairness it feels faster than test numbers indicate) I'd recommend Audi to anyone in the luxury car-buyer bracket - It's a great value for the money, and is definitely one of (if not THE) most drivable vehicle on the road. A joy to own. Period.
Henry

writes:
Pros
LED lights, ride, handling and looks.
Great Car — Great car, looks and drives well..... This is a very good solid car that handles much better than it's predecessor. Extra's are quite expensive but the build quality is second to none. The LED lights are a must for this car as it makes it stand out on the road from the rest.
Aram

writes:
2008 Audi A4 2.0T Quattro
Review
Pros
All wheel drive. hendling, the look. the acceleration.
Awsome!!! — When I was looking to buy a car, I came across with Audi A4 Quattro... The car has a lexriuse look, and sport under the hood. its fun and easy car to drive. Drive the car, and you'll know the rest...
Primary Use: Sport/fun (spirited driving, track racing, off-roading, etc.)
Justin

writes:
Pros
it has a gr8 acceleration
The Car Is Expensive To Maintain......................but It Gives Gr8 Performance — the audi a4 has a great acceleration..... apart from this....it has a really classy look.....plus it has great re sale value and then you have the added fact that the car is highly upgradable..............its truely a dream car
Primary Use: Family transportation
truebuckaroo

writes:
Cons
tire pressure gauge bothers me

Good Gas Mileage And Performance — This is my 4th Audi and I love it. Very fast with superb handling especially at high speed not that I ever go over 65mph..wink wink. I love the style, a head turner. Too bad it doesn't come witht he LED lights like the 2009. The first time my wife drove it , she can't wiped her grin off her face and told me* honey, now this is a real driving machine"
Primary Use: Commuting to work
Steve

writes:
2008 Audi A4 2.0T Quattro
Review
Pros
Seamless style, Direct injection turbo power, slick 6-spd, quattro AWD
Cons
All season tires, sometimes-tricky 1-2 shift
A Competent, All-around Performer — In the summer of 2008, gas prices shot up to over $4.00/gallon for regular. When the transmission on the family's 1995 Audi A6 started to fail, my dad took this as an opportunity to decrease our family's gas bills by getting him out of our 2005 Jeep Grand Cherokee Hemi, and into something that gets better mileage. The man drives 20,000+ miles a year, so the car had to be comfortable. Our steep driveway as well our yearly and numerous trips to VT dictated that the car be 4WD. My dad was also looking to get back into a stick shift, no doubt steered by his enthusiast son. My dad had one brand in mind - BMW. BMW is a brand that signifies that you've arrived. Luxury, superb driving experience, and a good resale value make any BMW a good investment over time. My dad had also seen what a fantastic job my friend Gareth had done with his 2000 E39 BMW 528i that he started to consider a 3-series with xDrive AWD. Early searches led him to mostly 328xi models with automatics. The dealer then found an off-lease 2006 330xi with 8k miles and a 6-speed manual. I told my dad to wait on that deal. The BMW was bit too pricey at $34k, and Gareth and I had just been out cruising in Danbury when we stopped by the Audi dealer. I liked the improved B7 A4 styling (c. 2005) but was unaware that Audi had released the B7 Special Edition. It had a subtle-but-stylish body kit, sexy 17-inch wheels, just enough options to keep it from being a complete stripper, and best of all, the 2.0 liter turbocharged and direct-injected 4-cylinder. I told him he had to go check it out. The car pictured here is black on black and had no additional options other than the Special Edition Pkg, which came with 1-year free Sirius satellite radio, heated leather seats, 6-speed manual, 17-in Pirelli P6 all-seasons, and a sunroof. What made the deal sweeter was that the dealer wanted just over $30,000 for the whole thing. And my mom, who balked at the purchase of a "badge car," loved her old Audi and preferred the new Audi to the BMW. That just about sealed the deal. So (finally), what is it like to drive. Well, I never got to test drive the 330xi, as I was out of town that weekend, but my friends 528i is a slightly more engaging drive, despite being automatic. But the Audi is no slouch. It is very light on its feet, coupled with light clutch and shifter actions, and sharp steering. It also has a better ride, fuel economy (30+ mpg on the highway!) and the bad-weather traction of quattro AWD. The black interior accented with aluminum has a very austere German feel, much different than the warm beige w/ wood in the 1998 A4, but works very well I think. And with 9800 miles logged from June '08 - December '08, it has yet to put a foot wrong and my father has nary a complaint - only that my mom has abandoned her Mini Cooper S for the A4 as her winter vehicle of choice! Overall, it is a very competent car with enough space for 4 adults to travel in comfort. Audi's confident style, excellent build quality, and smooth dynamics make this car a perfect fit in the family.
Lee

writes:
2008 Audi A4 2.0T Quattro
Review
Pros
performance, handling, build quality
Cons
minor issues with interior conveniences
A4-ordable — The armrest is positioned poorly and obstructs the cup holder and accessory outlet. It is amazing car to drive, it handles extremely well, especially with the sport suspension package added. It can be chipped to gain 50 horespower. i can't seem to chirp the tires as the quattro drive stick s like glue!
Displaying 1 - 10 of 32 2008 Audi A4 reviews.
Looking for a Used
A4
in your area?
CarGurus has

10,782

nationwide A4 listings starting at

$1,795

.