2007 Volkswagen Jetta
User Reviews
Average Ratings from

49

reviews
Performance:
Appearance:
Build Quality:
Overall:
Review Highlights
Click to filter reviews below
Displaying 1 - 10 of 49 2007 Volkswagen Jetta reviews.
Nicole

writes:
2007 Volkswagen Jetta Wolfsburg Edition
Review
Pros
The look and feel of the car, honestly I love everything about my car.
Cons
The cost of upkeep of course! haha
Volkswagens For Life — Everything about this car is absolutely amazing, the performance is awesome, it drives great and especially for long trips it is so comfortable to be in. The appearance of the car is awesome too, I love its clean look inside and out. However it is quite expensive to own, if something goes wrong the part(s) is usually soooo much money :( but gas isn't so bad because it is pretty good on gas. All in all I love my car!
Primary Use: Family transportation
Looking for a Used
Jetta
in your area?
CarGurus has
33,928
nationwide Jetta listings starting at
$1,995
.
GKR

writes:
2007 Volkswagen Jetta Wolfsburg Edition
Review
Pros
I love the gas mileage, about 29 miles highway. Also the heated leather seats.
Cons
Not a heavy ride but I guess that helps on the gas mileage.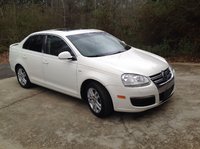 Very Reliable Car. — I have really enjoyed this car. It has great pickup & handles very well. Easy to maneuver anywhere. I love all the little extras that you get on a European car. The sunroof & the German technology are 2 of the other reasons I have really enjoyed owning this car.
Primary Use: Commuting to work
Michael

writes:
2007 Volkswagen Jetta GLI
Review
Pros
The GLI is fun in a practical package.
Cons
It has only 39K miles, but has spent more time in the shop than I'd care to admit.
Un-pimp Ze Auto — The GLI is a great daily driver for an enthusiast that is in the market for a sporty import four door sedan. If you've driven an EVO or WRX and didn't care for either, give this a try. The performance bar is lower, but the overall package is refined to a much higher standard. For example, the brakes are a little soft on initial application although they do just fine in daily commuting. I ran the car at Southwest International Raceway, Tucson AZ, several times last year and my best back to back 1/4 mile passes were 14.9@ 97MPH (uncorrected for DA), so the car feels quick, but not fast, certainly not in EVO territory. In daily driving applications the car comes into it's own. The steering is direct and quick. The handling/balance is very good for a sporty car based on entry level roots. It really hugs the corners, but does understeer at the limit due to it's FWD configuration and weight. However at 7-10ths it feels right. My highway MPG is 34-37 MPG...around town MPG really depends on your driving style. On dependability I recommend the extended warranty. My GLI has has had the following parts replaced under warranty; radio, AC compressor, MAF sensor...twice, side airbag sensor, trunk lid struts, fuel pump, and the check engine light came on twice last month only to go off all by itself. Bottom line...it's a fun and quick car with a GREAT interior, love the seats and flat bottom steering wheel, but it does suffer from typical VW build quality and slightly underpowered engines.
Primary Use: Commuting to work
Ian

writes:
2007 Volkswagen Jetta 2.5L
Review
Pros
It's fast, fun, handles well, comfortable, and gets respectable gas mileage
Cons
Some awkward seat adjustments, ugly rear spoiler, rear cupholders don't come standard
Volkswagen Has Got Me Sold. I'd Buy Another One In An Instant. — - My 2007 Volkswagen Jetta may be a base model, but it is definitely not a penalty box. It really is a great car and I'm glad I purchased it. I'll admit that Volkswagen wasn't even on my list. I was looking for American cars but on my way to a Chevy dealership I happened to see a Volkswagen dealership and decided to stop in. The dealer put me in a black Jetta with a 5-speed manual and only 31,000 on the odometer. I drove it for 5 minutes and immediately fell in love with the car. Performance is totally respectable for that 2.5L 5-cylinder motor under the hood. The car only makes 150 hp but it definitely feels much more powerful. I can do wild and crazy burnouts with both wheels spinning on command. Its engine noise is very different but sounds great. Gas mileage is also totally respectable. I'm averaging around 20 mpg in the city (my driving style is spirited so that's pretty good) and I get about 33 mpg on the highway at a steady 85 mph. The ride is a little stiff but it's supple enough to not be punishing. That stiff ride makes the car handle beautifully. The steering is practically telepathic and is weighted nicely. The 5-speed manual transmission feels great. The shifter feels great in the hand and feels good as you row through the gears. The clutch is a little bit tall for my liking but the pedal take-up is light and linear. The brakes perform and feel better than the brakes in my grandfather's BMW 328xi sedan. The styling of the exterior is handsome but a bit plain. Since my car is the base model it comes with 15-inch steel wheels with hubcaps which are boring but don't look too bad. I love the turn signal repeaters on the side view mirrors but I could do without the factory rear spoiler. The interior is very attractive with high quality materials. The blue and red backlit controls and gauges look great and the 10 speaker AM/FM stereo with a CD player and auxiliary input jack is loud with crystal-clear sound. The front seats have plenty of adjustment and the steering wheel both tilts and telescopes allowing anyone to get comfortable but some of the adjustments are awkward to reach. The car has plenty of headroom and legroom front and rear although hip room is a little tight since it's such a narrow car. This car must have been designed with performance in mind because the seats are incredibly comfortable and have tons of lateral support making them awesome for drives down my favorite twisty roads. The trunk is massive and the car won't tire you out over long distances making it a great road trip car. With regard to the interior my biggest complaint is the lack of rear cup holders. In order to get rear cup holders you must order the car with the rear center armrest. This is a major oversight in my opinion. I've never even heard of another car with upholders being optional. Cup holders are also really important for me because I'm always driving friends around and my rear passengers need them. So far the cost of ownership has been cheap, although I've only had the car for 2 months and 4,000 miles. The only thing I've had to put money into was gas. It's just a rewarding car to drive and I would recommend it to anyone.
Primary Use: Sport/fun (spirited driving, track racing, off-roading, etc.)
Nicole

writes:
2007 Volkswagen Jetta Wolfsburg Edition
Review
Pros
Amazing car! Love everything about it!
Lots of horsepower, comfortable, great in the snow (with snowtires) and I had a pretty serious accident and I walked away without a scrape! honestly THE best car I have ever owned!
Best Car Ever — If you are looking for a great car at a great price this is it! I have 160,000 miles on it and never a serious mechanical problem...great in the snow and great on gas....safe and reliable....plus it looks pretty good too! :)
Primary Use: Commuting to work
cynthia254254

writes:
2007 Volkswagen Jetta 2.5L
Review
Pros
Love the look of this car. Very comfortable ride
Cons
The price of having a key made for the remoteless entry.

Very Stylish, Very Dependable — What I like most is how this car handles on the road. Very comfortable ride. Very stylish for price paid for car. Volkswagens have a good reputation for long life and low maintenance if regular maintenance is maintained on car.
Primary Use: Commuting to work
Suans

writes:
2007 Volkswagen Jetta Wolfsburg Edition
Review
Pros
I bught this car used in October 2013 and I love it. It handles great, gets great gas mileage and it runs like a bat out of !!!! Love the automatic-standard option.
Cons
I don't have any idea about the cars maintenance history. I have had a couple of warning lights come on.

Best Car I Have Ever Owned. — I like the lines of the car. The Wolfsburg Edition trim package is exceptional. This is the 3rd VW I have owned. The first 2 were 70's era Beetles. They were very reliable and that influenced me in deciding to purchase this car.
Primary Use: Family transportation
BelAirCarGuy

writes:
2007 Volkswagen Jetta 2.5L
Review
Pros
Great handling car! Comfortable seats, with no fatigue on long trips. Firm ride, and plenty of room in the front and back for all people.
Cons
Nothing.....This is a great car

Great Car — I have owned two Jettas, a 2007 and 2009. Both are excellent vehicles. Good pep to the engine, but not too much so that young drivers can get in trouble. Great brakes with quick stops. The seats are firm, but very comfortable for a long drive. I routinely take this car on 3-4 hour drives with no fatigue or aching back. Gas mileage is good, with about 27 MPG in mixed driving and 32 MPG on the highway. Trunk is good sized, for the vehicles. A great car!
Primary Use: Family transportation
Jeff

writes:
2007 Volkswagen Jetta 2.5L
Review
Pros
Good all around driver.
Cons
If you want a sports car this isnt it. If you want a great every day driver with some good det up and go, don't hesitate to buy.
Nice Looking Commuter Car With Good Acceleration. — I love almost everything about this car. It has good acceleration. Good gas mileage. It looks good and the inside is very nice and has all the amenities you would hope for. It is not a sports car though. So, if you want something that accelerates like one I would recommend a GLI.
Primary Use: Commuting to work
pthm

writes:
2007 Volkswagen Jetta 2.5L
Review
Pros
good Fuel milage, fair power, smooth transmission (Manual), WARRENTY
Cons
needs a wee bit more power. RWD would have been nice too, and most definately a TDI would have been 10x better

Wunderba Auto, Good For A First Car — I love this car, I am a huge fan of german engineering, though I normally drive older BMWs I own 3 cars right now and the jetta is my daily. its got enough power to make me have bit of fun, could use a better tune though since the euro version is almost exactly the same mechanically but pushes 170hp and 190ft lbs of torque vs the US 150hp and 17Ft/Lbs of torque. I wish VW would have stuck with a more independent body style instead of merging into what everyone else is doing. but its to be expected from new cars
Primary Use: Commuting to work
Displaying 1 - 10 of 49 2007 Volkswagen Jetta reviews.
Looking for a Used
Jetta
in your area?
CarGurus has
33,928
nationwide Jetta listings starting at
$1,995
.