2007 Volkswagen GTI
User Reviews
Average Ratings from

68

reviews
Performance:
Appearance:
Build Quality:
Overall:
Review Highlights
Click to filter reviews below
Displaying 1 - 10 of 68 2007 Volkswagen GTI reviews.
aspect36

writes:
2007 Volkswagen GTI 2.0T Coupe
Review
Pros
Fun, small, and relatively quick. Handles nicely but still has a good amount of room to store stuff. Great head and leg room for tall people (I'm 6'3" and had tons of headroom)
Cons
Some maintenance quirks (high pressure fuel pump cam follower wear, factory recommended oil changes at 10k intervals when they should really be 3k intervals), slightly numb driving feel (but definitely still fun to drive)

Small, Fun, And Classy — I loved my MkV GTI. It was my first car and I bought it because I'm a fan of the styling, I like hatchbacks, and it's a very fun but refined car to drive. For someone without kids it has all the storage space you'll need (except if you need to move a mattress or something big like that). The short wheelbase and turbo 4 cylinder engine are a good combination, making the GTI very fun to drive and incredibly responsive to driver inputs. It also gets decent real world fuel economy, with my chipped car getting 28mpg city and 35 highway. It's reasonably easy to work on as well if you like to do your own maintenance, but you will need triple-square sockets if you want to do anything other than changing the oil or replacing the intake. Overall the interior is very nice and spacious with a good build quality. I had previously driven my parents' Honda Odyssey and Toyota Matrix, and the interior quality of the GTI far surpasses anything I could have expected. German cars are known for their fit and finish and the GTI doesn't disappoint. Visibility is also very good, with the c-pillars being the only real blind-spots. Keep in mind my car is the coupe version, so there will be different blind-spots with the four-door version. Styling of the car is good as well, with a semi-timeless look. The car is 8 years old at the time of this writing, but it still looks modern and classy. I can't say the same about the rest of the VW lineup from this year though, if that gives some perspective of my preferences. For instance, I would never own a MkV Jetta because I think the rear styling of the car is horrendous. I don't have any huge complaints about the car, with my only issues being the high pressure fuel pump cam follower and changing the oil. The HPFP follower is a metal cup essentially that follows a three lobe cam connected to the engine's cam shaft. It is part of the pump that pressurizes the fuel rails for direct injection. The follower's design is flawed, in that if it isn't routinely checked and replaced when wear is noticed it can blow up and destroy the camshaft in the process. This is obviously not good and costs about $2000 for parts and labor at a dealer. It is an easy thing to check, however, as I did at each oil change and never had any issues. This brings me to the next point of the manual stating oil changes only need to happen every 10k miles. This will decrease the life of the engine. Because it's direct injected it will burn some oil by nature of it's design, and the turbo itself uses engine oil to lubricate its bearings. By the time 10k miles roll around the oil will be in inadequate shape to properly lubricate the turbo, and the engine will be running very low on oil because of the natural direct injection burning process. That is why you need to change oil every 3k miles with full synthetic. This isn't cheap (about $50 if you do it yourself) but well worth it in the long run. Overall, if you're looking for a fun, quick, small, but practical car and don't have kids, then this car fits the bill. It gets good gas mileage, is well styled and designed inside and out, and will make you not want to leave the driver seat. Unless of course you test drive a MkIV R32, fall in love, and sell your MkV GTI and buy one of those.
Looking for a Used
GTI
in your area?
CarGurus has
4,218
nationwide GTI listings starting at
$1,599
.
swhiggins614

writes:
2007 Volkswagen GTI 2.0T Coupe
Review
Pros
Fun to drive, sporty, looks great, high quality, German engineering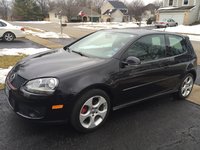 Awesome — Has been a great looking car from the day we bought it - inside and out. Still stylish and doesn't look out of date. Very high quality - German engineering is obvious. With 6 speed manual transmission and 2.0T turbo is a blast to drive.
Primary Use: Family transportation
Karl

writes:
2007 Volkswagen GTI 2.0T
Review
Pros
Sporty and easily modified to great benefit
Overall A Well Built Fun And Fast Car. — Performance now is very good, The best I have run with Bolt-ons and Revo STG2+ Tune is a 13.1@108 MPH I have coilovers waiting for Install but factory handling is above average for a sporty front wheel drive car. The build quality is Excellent Ive had 0 issues with any manufacturing defects or odd ball noises. Appearance is based on personal preference but I love the way this car looks especially after the FMIC, The cost of ownership is relatively cheap especial performing my own maintenance fuel mileage averages around 30 MPG combined Driving. And this car is a blast to drive, unlike many FWD vehicles this car will rotate if it is desired and is a blast to pull on v8 cars or many other forced induction cars on the highway.
Primary Use: Sport/fun (spirited driving, track racing, off-roading, etc.)
junkspeach

writes:
2007 Volkswagen GTI 2.0T
Review
Pros
Luxary, Quality, Sporty, Great for Road Trips
Cons
When the wipers are overloaded and they break due to snow you might wreck into people

Best Car I Have Ever Owned Period! — I WILL NEVER LIVE DOWN THE DAY I TRADED THIS GLORIOUS CAR!! Performance- Great numbers. Excellent Handling Build Quality- They thought about everything when they made this car. Auto down AND Auto up on all the windows. HID. Sirius Radio. Contoured wipers. Unique plaid design on seats. The glove box was also a fridge. Place for your sunglasses. Lots of cargo space. 6 CD changer. Highly modifiable. Cons would be if the wipers would fail if they were overloaded with snow and you would have to go to the dealership to fix them if you didn't know how. Also the seals in the turbo will blow after an ECU retune and will require a new turbo. Maintenance- CHEAP! Volkswagen will do all the scheduled maintenance up to 36,000 miles. Also they will fix most anything no questions asked while on warrenty. One time I came in and they completely replaced my key without me even asking just because they noticed the battery in the key was getting weak and that the key ring broke. Also volkswagen makes you feel like a KING! they send you calendars with you and your car in them, a free gti fast action figure, holiday cards, their own financing, and a dvd on your gti showing you the ins and outs along with comedic parodies. I miss VW. Fun Factor- The funnest car I have ever owned and I have owned sti's and evo's.
Primary Use: Commuting to work
Matt

writes:
2007 Volkswagen GTI 2.0T
Review
Pros
Total package for the sporty person
Get It! — Quick off the line w/ it's low end torque. Braking is good but fades over hard braking. Handling is top notch. Volkswagen build quality... need i say more? Very euro appearance which I love. Cost of ownership is PRICEY! Especially w/ the DSG model. $400 for a transmission flush from the dealer! Overall, this is a kick ass car to own and even more so if you get a reflash! stock: 200hp - 210lbs torque reflash: 260hp - 297lbs torque WOOT WOOT!
Primary Use: Commuting to work
Kevin

writes:
2007 Volkswagen GTI 2.0T Coupe
Review
Best Coupe Under 25k — Excellent perfomance, fast on the curves, good grip and fun to drive! The accelaration is awesome, that sound of the turbo is cool, the gear box is smooth and short, and the design of the seats is very racing! front bumper has a relly aggressive look. MPG highway is good.
Nathan

writes:
2007 Volkswagen GTI 2.0T Coupe
Review
Pros
Fun and sporty with space
Fun Car — A few mods really wake up this car. The car is fun to begin with. Handles well, looks great, interior is stylish and the engine is fantastic. Really enjoyed the power and handling, the 6 speed stick shift is fantastic and there was never a bad moment spent behind the wheel.
Primary Use: Commuting to work
tammaro

writes:
2007 Volkswagen GTI 2.0T Coupe
Review
Pros
Great handling and power. Sporty little hatch with cargo space to haul.
Interior is spacious and build quality is beyond other cars within it's class.
Cons
Maintenance cost for any German car seems to be a little above average - But well worth it!

Sporty; Fun; Practical — THis car was by far my favorite car that i have ever owned. It's hatch provides ample space for all your daily needs. THe fuel efficiency is very good as well. More importantly, it's the most fun when driving around a twisty back road. The handling is excellent and the power feels strong for a little hatchback.
Primary Use: Commuting to work
Ong

writes:
2007 Volkswagen GTI 2.0T
Review
Pros
Awesome handling and lotsa torque yet comfortable if you wish to cruise along the highways...
Cons
Having not enough compartments for storage - Its a hatchback.
My Red Hot Wheels — Performance - good acceleration whenever i need it...a lot of power is available at my disposal. Braking is just as good. Handling is one of the best feature of this car. Build quality is not as i expected due to the roof lining problem at the sunglasses holder and the gearbox panel's black coating is too easily come off if scratched. It is a very fun car to drive.
Primary Use: Commuting to work
Marc

writes:
2007 Volkswagen GTI 2.0T Coupe
Review
Perfect Car For Roadtrips — Overall very fun car, loved the handling, style, features and options, would have kept the car for a long time but got stolen. Power and handling, very fun to drive and reliable despite what people say about VW cars. I loved my GTI
Displaying 1 - 10 of 68 2007 Volkswagen GTI reviews.
Looking for a Used
GTI
in your area?
CarGurus has
4,218
nationwide GTI listings starting at
$1,599
.