2007 Subaru Impreza
User Reviews
Average Ratings from

61

reviews
Performance:
Appearance:
Build Quality:
Overall:
Review Highlights
Click to filter reviews below
Displaying 1 - 10 of 61 2007 Subaru Impreza reviews.
Gabriel

writes:
2007 Subaru Impreza WRX
Review
Pros
Power, performance, driving pleasure
Cons
looks arent for everyone.
06-07 Subaru Wrx — Great car, quality built with nice interior and trim, very practical with a great sound system and a very nice security system to match. The performance is amazing the AWD system works wonders, launching the car even in the wet is great fun! the car itself costs about $35,000. Insurance can cost abit depending on your previous driving history. otherwise GREAT CAR!
Looking for a Used
Impreza
in your area?
CarGurus has
10,273
nationwide Impreza listings starting at
$1,495
.
Sherif

writes:
2007 Subaru Impreza 2.5 i
Review
Pros
Performance, build quality, sporty driving, lots of fun
Cons
Fuel consumption quite high
Subaru Impreza 2007 — Taking a turn in an impreza is an event you will never forget, I have taken steep S shaped turns at 100 KM/H and on the highway taken turns at 190 KM/H, steering performance is a dream. The car is as stable as they come, I have reached the magic number of 200 Km/h and left the steering wheel and the car kept going in a straight line. Acceleration is it's best feature it has to be said, the car is pretty heavy (1.3 tons) and the engine is a 1.6 liter 100 bhp boxer engine, not very much horse power but very tourqey, going up a hill is like going down one, you don't feel the difference, with A/C is like without ... Sound isolation is quite good, it's no Merc. but it isolates the exterior sound to a great extent, also isolation from the road is nice, the suspension system works well to deal with all the bumps and ditches of the lovely Cairo roads. The sound the car makes is one of my favorite things about it, a melody of power and engineering, not too loud but loud enough to stand out in the crowd. Some people don't like it's looks, personally I think it is one of the most gorgeous cars out, very appealing to me, aggressive and yet streamline. Fuel consumption is not that great though, because the car is so heavy and only 1.6 liter it consumes alot of fuel and I guess the fact that it is an automatic adds to that. It does about 34 KM to the gallon or 170 KM / 20 KM (Safi7a) or 21 MPG which ever you wanna know :) When you drive this car aggressively for the fun of it then you really start understanding what a scooby is all about, the car responds to your every move instantly and always has enough torque when you need it .. It's always a good sign when you miss your car when you don't drive it too often, sometimes you just feel like going for a drive, not going anywhere, just for the passion of it (Of course no traffic would help alot!)
FOGeologist

writes:
2007 Subaru Impreza 2.5 i
Review
Pros
This car steers telepathically - it's quick and capable. The motor is torquey and beautifully balanced, and wants to rev to the moon. For an all-wheel-drive vehicle, the car gets great mileage; I am getting 27 mpg in town!
Cons
It's a little small for putting folks in the back seats. Room in the rear is a touch less than I'd hoped for.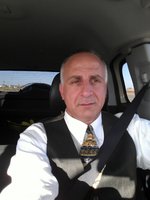 An Amazing, All-wheel-drive Beauty. — I've owned many cars over my driving life, and have not had one that handled better that wasn't a sportscar. This includes two BMW coupes! The motor is torquey, the engine makes manly grunting sounds, and it's reliable and clean. The interior is a little dull but functional, and really, really clean.
Primary Use: Commuting to work
wclinger

writes:
2007 Subaru Impreza 2.5i Hatchback
Review
Pros
appearance, AWD- probably best part about the car, handling, uniqueness- don't really see them on the road, reliable
Cons
obviously non-turbo I find 170hp to be a little light for me, interior styling is drab, fuel economy i felt should have been better

Great Starter Subaru — I went with the impreza because living in a mountainous environment (albq. NM) and going skiing often I find myself more often than not especially during winter on snowy/icy roads. The AWD on the impreza was definitely my biggest reason for getting it plus the reputation and coolness/uniqueness factor of the Subaru line of cars. After much deliberation I purchased an 07 impreza hatchback. I opted for the 2.5i because I really could not afford the wrxs or stis and I felt it would get better gas mileage. So far I've been happy with it. I purchased it used, it had about 45k miles on it when i got it. I've put about 6k on it in the last 7 months. No problems so far. Though my AC seems to be weak. Anyways love the look of the car. Plan on doing some exterior mods and such. Biggest complaint...umm probably the power. I know I shouldn't be complaining cause its not turbo charged but i honestly thought it would be a little faster. Sometimes especially when i have the AC going and i'm merging on the highway accelerating pretty fast the car lags kinda of a pet peeve of mine. Also the epa gas mileage for the 07 2.5i I believe is around 25-27. I'm pulling 22 to 23 tops which I'm a little disappointed about but whatev. The handling is awesome. I've used the AWD a little bit in the rain and planning on using it to its full potential this ski season. I hope to hold onto this car for a few more years then upgrade to wrx or sti. I recommend this car to those who want AWD and yet don't desire the turbo's subaru offers.
Eli2007wrx

writes:
2007 Subaru Impreza WRX TR
Review
Pros
quick, agile, good in all seasons even without snow tires, below average ownership costs
Cons
a few rattles here and there as they get older, noisy motor (its no german luxury car)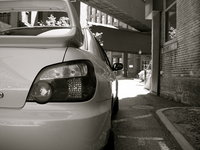 Ive Owned Two So Far. Two Big Thumbs Up. The Wrx Gets Better And More Reliable Every Year — Performance is above average. Ive never been stranded by this car. Styling is great, always gets the right kind of attention. Cost of ownership has been very low, no unexpected repairs or maintenance. The cabin is a little loud on the highway and over the years a couple rattles in the dash have developed, but with creative use of weather stripping the rattles can stop. All in all, this is such a fun car to drive. In fact, this is my second WRX that ive owned. the first was a 2003 with almost the same modifications. After i sold that one to buy a 2000 S4, i had to have my subaru back. Such a great car with an awesome community for help on NASIOC.com
Primary Use: Commuting to work
Doug

writes:
2007 Subaru Impreza 2.5 i
Review
Pros
Utility, fun to drive, AWD, reliable
Cons
Could be more powerful
Little Red Wagon, Big Possibilities — My little red wagon. No other car in it's class offers full time AWD, and the utility of a rear wagon hatch. Not the most powerful engine, but enough power to get out of its own way, and pass a few folks on the highway with relative ease. The fuel economy is a decent 25 mpg combined city and highway, and can get over 30 on long road trips easily. It's fun to drive through twisty roads, and gets me and my stuff where it needs to go.
gardner12

writes:
2007 Subaru Impreza 2.5 i
Review

2.5i — awesome car love the AWD the only disappointing thing about the 5i is that it is a little underpowered if this Subaru came with stock 210 hp this car would be amazing 40 extra hp would really make this car a above and beyond all the other performance cars in its class such as the Mazda series or Mitsubishi lancer
Lee

writes:
2007 Subaru Impreza 2.5i Special Edition
Review
Pros
Great handling, good cargo capacity and a large tailgate opening
Cons
??? still working on this one :)
Dog Mover/grocery Getter — For the right kind of buyer, the Subaru Impreza SE can be an excellent choice among compact cars. The AWD system provides extra traction in slippery conditions, excellent handling, and offers a high degree of versatility and performance. It is a true drivers car.
Andy

writes:
2007 Subaru Impreza WRX
Review
Pros
Power, cargo space, looks.
Cons
fuel mileage could be better, I could use more rubber on the tires (low-profile not good for much more than pavement.
Pocket Rocket For Anyone! — What can I say? Subaru reliability that has been proven for decades and a rock-solid drivetrain the bring a smile to my face every time the boost kicks in. The cargo space is amazing and road trips are very comfortable even for my larger-than-average frame.
Brandon

writes:
2007 Subaru Impreza 2.5i Special Edition
Review
Pros
Symmetrical AWD, long lasting, beautiful car
Cons
A little on the heavy side, could use an extra few horses
It's What Makes A Subaru, A Subaru. — For living in the middle of New England, also known as Subaru Country, this car really holds its own. The base model Impreza isn't known for it's road gripping performance, as it's known for being a solid, take on anything, go forever type of car. It still makes great use of Subaru's Symmetrical AWD system, getting it through even the worst weather New England has to offer. I've had the car almost 2 years and haven't had any mechanical issues. In fact, I haven't had any issues at all. It's a well-built car that I'm sure will last for many years.
Displaying 1 - 10 of 61 2007 Subaru Impreza reviews.
Looking for a Used
Impreza
in your area?
CarGurus has
10,273
nationwide Impreza listings starting at
$1,495
.