2007 Pontiac G6
User Reviews
Average Ratings from

54

reviews
Performance:
Appearance:
Build Quality:
Overall:
Review Highlights
Click to filter reviews below
Displaying 11 - 20 of 54 2007 Pontiac G6 reviews.
SC_Mark

writes:
2007 Pontiac G6 GT
Review
Pros
Fun to drive. Great stereo. Great leg room. Plenty of cargo room.
Cons
Not great fuel eco. Steering wheel controls seemed cheap.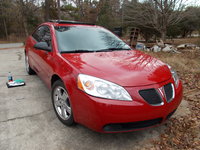 Overall Good Car That's Fun To Drive. — I would recommend this car to anyone looking for a sporty, reliable sedan at a lower price. Never had any issues with the car other than the steering wheel controls were not aligned right and I couldn't get them back in place, but they still worked.
Primary Use: Commuting to work
Looking for a Used
G6
in your area?
CarGurus has
6,085
nationwide G6 listings starting at
$2,500
.
Nina

writes:
2007 Pontiac G6 GT Coupe
Review
Pros
Sexy design, great special order (from the factory) 17" rims, sticky Continental tires, nice chrome accents, quick ride w/o the gas-guzzler tax, safety up the wazoo, responsive braking and steering, American, head-turner (I've gotten a TON of complients), flexible side mirrors ( I totally slammed into one of those shelves at a Starbucks drive thru and it didnt do any damage), drives nice, hugs road curves like none other, very spacious for a coupe,
Cons
the air compressor gave out on me after a little over a year...i have a 5 yr/100,000 mile warranty so I didn't have to pay for it, but the dealership I took it too 2x were lazy jerks. I took it to Wakefield in Spartanburg and they treated me like royalty. I got a nice 06 grand prix for a rental (really nice car! I recommend it!) and they fixed the problem. My driver side vanity mirror broke, so i got that replaced...and not due to over-use, so don't get any ideas. I had a leak in the sunroof that leaked after it rained for like 7 days straight...it pissed me off but it did rain a lot...
Quite The Looker...needs A Few Upgrades — 3.5L 224 hp,seats 4 ppl, 23-29 mpg Can I be bias in a saying that this is one of my favorites? I can't say my auto resume is impressive by any means, but I've seen and ridden in my share of nice vehicles. Being an avid reader of both Car & Driver and Road & Track magazines, I can safely say I have an above-average knowledge of cars. From a professional venue, this car has been proven to be faster than the new mustang gt (that really doesn't say much about Ford) while sporting a lower horsepower figure than the not-so-impressive pony. It's safety features are superb for a lower priced vehicle and its sexy swoop of a body has been heralded to turn heads. She's not a 36 24 36 like a corvette, but Pontiac didn't disappoint. Braking is excellent and road-hugging ability gets a check-plus...we can express the gratitude to the sticky Continental tires which the G6 sports handsomely. Now from the personal experience side of the car. I believe this venue has a bit more edge and less bias...and you'll understand why. First, safety. I had a 2006 metallic blue g6 gt (same model as my current 2007, but had less hp). Four months after the purchase date, I crashed it. Imagine this for me...going 55 mph on a rural four-lane highway (the posted speed limit, mind you), you lose control and start fish-tailing crossing over all lanes then slamming into a solid 20 foot high embankment, flipping backwards then rolling four times before finally coming to a rest upside down. It's not a good sign when your grill is in your dashboard. After waiting 45 minutes to finally be pulled from the driver seat, you are able to survey the wreckage. The whole front is missing it's pretty face, but in return you see the solid once-hidden bumper that kept your knees from being pounded into the dashboard. The still upside down vehicle is being supported by roll bars hidden within the top panel and is not buckling at all by the 7,000 some pounds pressing down upon it, and even the driver window is completely intact despite the roller coaster spin, and the passenger window was only busted by your friend who kicked it open to escape a possible inferno (i just filled up at the gas station). You realize that you're sunroof was open when the crash occurred and could have easily been the gauntlet to your head...but once again, thanks roll bars. All air bags were fully deployed on impact and were now resting deflated and dusty. After that, you and your two friends realize you walked away from that with not only a few bruises, but another day of life. Okay, so maybe that was a little dramatic. But it was a reality for myself. That car saved me. Second, performance. I've talked to people with their WRX's, mustangs, wrx's, dodge whatevers, civics, celicas, and whatever wanna-be race cars. All of told me that after hitting 110 mph, their vehicles start to shake like Hurricane Katrina is biting at their rubber. Well one beautiful, sunny day, I attempted to out-drive a V8 Dakota whose cocky driver was basically harrassing me. So to avoid his obnoxious antics, I took my car up to a justifiable 131 mph. My car only goes up to 140. Did she shake? No. Did she squeal under the pressure? No. Did she flutter left or right under the pressure of undercarraige airflow? No. She drove like she does at 45. Smooth and sure. Now, all you daredevils out there, I'm not telling you this so you can take your experimental joyrides in your G6 because YOU WILL get one of four things: 1. arrested for endangering fellow commuters 2. 6 points or more for wreckless 3. upside down in a ditch after flipping 37 times 4. death. So do me a favor, and don't pull a stunt like me. So take a professional driving experience class if you have that need for speed.
Sarah

writes:
2007 Pontiac G6 GT Convertible
Review
Cons
Gas guzzler...V6 engine
Fun Car, But If You Are Looking For A Real Fuel-efficient Car, I Would Aviod The V6 — Great car...a lot of fun. Obviously more fun in the warmer months when you can put the top down and cruise, but it is good for the winter months as well, with the seat warmers and great heating system. Love to take this car to the beach!
Primary Use: Sport/fun (spirited driving, track racing, off-roading, etc.)
biobecca

writes:
2007 Pontiac G6 GT Convertible
Review
Pros
Great looks and is fast and fun.
Cons
It's not a BMW 135 ...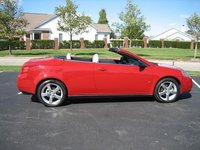 Have Really Enjoyed Owning This Car. — Love the appearance and functionality of the convertible. Good pick-up and fun to drive. Top mechanism works very nicely and is well made. Would be nice if gas mileage were better, but it has a 3.9 V6. Low maintenance. Interior comfortable with leather. Great sound system/speakers. Trunk has lots of room when the top is up, so it is good to haul stuff. Rear passenger seats are comfortable and good for people and pets (small/med dogs).
Primary Use: Commuting to work
Ahm432

writes:
2007 Pontiac G6 GT
Review
Pros
Practical and nice overall
Cons
Had to get brakes once a year due to poor quality parts.

Pretty Good Car. — Looks cute. Drives nice. Could use better quality parts. We have had to get brakes every year since we bought it. Highway mpg is great. City not so good. Comfortable seats. Nice power features and satellite radio. Handles well. Seems like the headlights are dimmer than most other cars I've drove.
Primary Use: Family transportation
Andrew

writes:
2007 Pontiac G6 GT
Review
Pros
quick, good handling, comfortable, plent of room
Cons
not that great on gas
.. — it has amazing pickup and cornering. havent had any major problems with it as far as mechanical issues. white exterior, tan ineterior with black trim. 6 disc cd changer. really enjoy driving it. gets only about 20 miles to the gallon which isnt that good for a car, but im not complaining about it too much. came stock with chrome pontiac rims.
Kristen

writes:
2007 Pontiac G6 GT
Review
Best Car I've Ever Had — This car is AWESOME!!!! Remote start, heated seats, sunroof... What more could I ask for? Even though it's a 4 banger, it still has get up and go. Great looking car on inside and outside. I couldn't think of a better car.
Eddie

writes:
2007 Pontiac G6 GT
Review
Pros
Affordable, nice ride, easy to drive.
Cons
Could get better mileage, little stiff on bad roads (you can feel the bumps)
Sexy And Practical — This is my fourth Pontiac. I actually wanted a BMW, but I can't afford it yet. Rather have some extra cash then working for my car... know what I mean? Anyhow, I love my car. It's easy to maintain, easy to drive and comfortable for my daily commute or those drives to visit family. Having a V-6, as opposed to my Pontiac Grand AM which had a 4 cylinder, gets up and boogies. No worries about merging onto the freeway, or passing when I need to. It's get decent gas mileage.
Mark

writes:
2007 Pontiac G6 1SV
Review
Cons
The sound system i have installed is BANGING
Take Car Of It Like My Baby — how fast it accelerates with an amazing boost while overtaking other cars and the control of the wheel. gas mileage: acceptable considering that its a 3.5L V6 appearance: with a nice wash and a nice buff to the rims with the lip gloss, it looks fast and beautiful. fun factor: this car is amazing and the speed is speechless.
Primary Use: Commuting to work
jtomasb

writes:
2007 Pontiac G6 Base
Review
Pros
I love everything about it
Cons
I hate nothing about it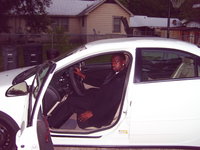 Displaying 11 - 20 of 54 2007 Pontiac G6 reviews.
Looking for a Used
G6
in your area?
CarGurus has
6,085
nationwide G6 listings starting at
$2,500
.