2007 Mazda MAZDASPEED6
User Reviews
Average Ratings from

18

reviews
Performance:
Appearance:
Build Quality:
Overall:
Review Highlights
Click to filter reviews below
Displaying 1 - 10 of 18 2007 Mazda MAZDASPEED6 reviews.
MikeJones83

writes:
2007 Mazda MAZDASPEED6 Sport
Review
Pros
Performance provided in a sedan package is like no other. Has the room you need for family or friends and fun driving ability when you want to let the windows down and floor the gas!
Cons
More maintenance then other vehicles. Must keep an eye on everything engine and transmission related all the time.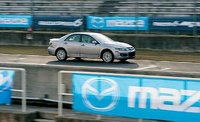 If You Maintain It... It Will Last... — The speed6 is a sedan that lets you enjoy driving a little more. You can keep it stock or unleash power and potential with a few modifications. But keep the oil changes very regular and maintain the car so that it will continue to provide years of enjoyment. If you don't keep an eye on it, then "zoom zoom boom" will happen! This car can be a daily driver, show car, track car, or combination of all. Anything you want to prepare it for it can handle. With less than 11K total cars made, half of which i'm sure are wrecked already, this car will be in high demand over time!
Primary Use: Sport/fun (spirited driving, track racing, off-roading, etc.)
Jdebbas

writes:
2007 Mazda MAZDASPEED6 Sport
Review
Pros
Speed and handling. Sounds MEAN!
Cons
Only decent Gas Mileage.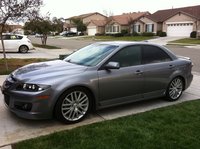 Fun — This car handles better than any car I've driven. Makes my dad's 3 series feel soft. Very fun to drive fast, but even better up in the hills. I am 6'3'' and I fit great. Still has room for the car seats and kids.
Primary Use: Commuting to work
Brandon

writes:
2007 Mazda MAZDASPEED6 Grand Touring
Review
Pros
Power, Braking, Handling, Fuel Efficiency, Reliability, Styling and Interior features, Price
Review Of 2007 Mazdaspeed 6 — Price: Dealer sticker was 39,900 CAD. I received a grad discount of 500, an "AWD Promotion" rebate of 1250 dollars and X-Plan pricing becasue of a relationship Ford Motors has with my employer a thte time. Performance: Acceleration is what you would expect from a 270hp AWD car - 1/4 mile in 14.0, 0-60 in about 5 seconds and pulls to 140 kph in a few seconds more. Braking 60-0 in 121 feet (best in class) with electronic brake force distribution and huge 126/12.4 inch electric boosted discs. Handling is phenomenal and even when the tires let go the dynamic stability control starts mapping torque and braking to the wheel that need it to keep you going the way your wheel is pointing, all in the blink of an eye. Build Quality: with 45000kms on it I have had no problems at all aside form one - the rear differential whined since I bought it when driving between 70 and 78kph. It was annoying. The dealer replaced the whole rear differential unit under warrenty, no quyestions asked (a value of about 5000 dollars in parts and labour). Other than that its been flawless. Appearance: to ones taste of course. I like it, but hey I bought it so I'm biased. Interior features are up there with something that costs 20,000 dollars more. Cost of Ownership: Depends how you drive it but I get about 9L/100km in the city ("spirited" driving) and about 7.5 - 8.5 on the highway @ 110 - 120 kph. at copnstant 70kph it'll do about 6.5 L/100km. Overall it gets great mileage regardless of how you drive it - particularly for an AWD 270Hp car. Like most AWD cars it is hard on tires. Expect to get about 15,000kms out of a set of tires with a wear rating of 140. Fun Factor: lets just say it can get you in trouble pretty easy. Without a doubt this car has got to be the best winter driving machine out there. With 4 wheel traction control, limited slip, and active torque mapping, electronic brake force distribution and the yaw sensor to allow the car to adjust for understeer and oversteer automatically - you have no excuse to not keep 'er between the ditches.
Eric

writes:
2007 Mazda MAZDASPEED6 Grand Touring
Review
Pros
Handles great, rides great, accelerations like nothing in its class.
Cons
Guzzles gas for a 4 cylinder at 25mpg highway. 18" tires aren't cheap.
Best All Around Car For The Buck — There aren't too many things I don't like about this car. Awesome acceleration, great handling, and great brakes. The ride is firm for aggressive driving but doesn't beat you up on long drives. Pluses on the GT model like heated leather seats and mirrors make this car comfortable on long drives, but the seats aren't quite as gripping as the Speed3 or competitors seats so aggressive driving may throw you around a bit. The AWD is awesome in the snow. However, Mazda equips this car with Potenzas, which under no circumstances should be used in snow. If you live in an area that has "wintry" conditions, you're going to need to invest in a set of winter tires.
badtotten

writes:
2007 Mazda MAZDASPEED6 Grand Touring
Review
Pros
The 2.3 L Turbo at 274bhp is AWESOME! Loads of torque, quick and the all wheel drive corners like it's on rails. Most fun I've had driving next to a Porsche.
Cons
The transfer case for the all-wheel drive had issues. I just replaced it with the most recent revision (12th) and it is solid now.

Awesome Drivers Car — If you enjoy driving and are looking for performance at a reasonable price, then this is the car you have been looking for. Leather trim, heated seats, Bose sound system and Mulholland Drive is just what this car was made for. The seats have great lateral support and you can feel the G's in the corners.
Primary Use: Family transportation
Jdebbas

writes:
2007 Mazda MAZDASPEED6 Sport
Review
Pros
True sports car with room for the family. Fast, fun and reliable. Beautiful design and great quality.
Cons
Only decent gas mileage. It's too fun to drive fast, so mileage suffers.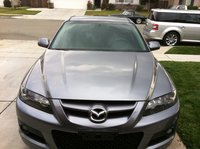 Great Drivers Car! — If you like to drive, this is the perfect car. Great torque power in all six gears. It's very fast and comfortable, but it really shines on a twisty road. Handling and steering are near perfect. Only car I've ever owned that made me smile every time I drove it.
Primary Use: Commuting to work
Jeff

writes:
2007 Mazda MAZDASPEED6 Grand Touring
Review
enkiddu

writes:
2007 Mazda MAZDASPEED6 Sport
Review
Pros
Great acceleration and handling. Very fun to drive, and am never worried due to sure handling and awd. Great sleeper look and rarity adds to value.
Cons
Powerband drops a little bit early and the clutch takes some getting used to. Gas mileage leaves some to be desired.

Absolutely Love It. — This is a great all-around car. The rarity and sportiness of this sedan make it a success. Easily modifiable for good gains. Good car for the price if you can find one. I don't understand why the current Mazda 6 doesn't include a Mazdaspeed trim.
Glen

writes:
2007 Mazda MAZDASPEED6 Grand Touring
Review
Mazdaspeed6 — My car is awesome i get it in october hell ya the car is fast and can pull really good the sound is amazing and the speakers bump the cost is ok gets good gas milage and very fun to drive i cant wait until to get this car hell ya
Eric

writes:
2007 Mazda MAZDASPEED6 Sport
Review
Pros
Acceleration is amazing
Cons
Gas mileage not what you would expect
Handels Better Than Anything Ive Ever Driven And Flat Flys — Great fun car with tons of power and torque. AWD is nice and handling is retarded good. Gas mileage is something to be said even though its a 4cyl turbo 6spd manual. I love the mazda quality its not cheap and plastic like most cars these days
Primary Use: Commuting to work
Displaying 1 - 10 of 18 2007 Mazda MAZDASPEED6 reviews.
Reviews From Other Years
Love This Car!
This is a sports car wearing a family sedan's clothing. It flies under the radar, and it flies quickly. The steering is very quick and precise, the power is ample and addictive, the grip is phenomenal... Read More
Zoom Zoom For Real!
I just bought this Mazda Speed6 over the weekend and I'm just getting used to it. First impressions of the car, HOLY COW this is a Mazda?!?! I'll write more as soon as I have more input! Zoom Zoom fo... Read More
Read all

38

2006 Mazda MAZDASPEED6 reviews
Looking for a Used
MAZDASPEED6
in your area?
CarGurus has
73
nationwide MAZDASPEED6 listings starting at
$4,900
.