2007 Mazda MAZDASPEED3
User Reviews
2007 Mazda MAZDASPEED3
Review Ratings
Average Ratings from

38

reviews
Performance:
Appearance:
Build Quality:
Overall:
Review Highlights
Click to filter reviews below
Displaying 1 - 10 of 38 2007 Mazda MAZDASPEED3 reviews.
Paul

writes:
2007 Mazda MAZDASPEED3 Sport
Review
Cons
The suspension is rough if you're not used to a firm ride.
Two Years Later Its Still The Best Deal In Pocket Rockets Around — This car is pretty much the best combination of performance and utility you can find for the price, at least it was in 2007. The interior is designed to a standard expected in cars in the near-luxury segment. It is very fun to drive for a front-wheel drive car.
Primary Use: Commuting to work
Looking for a Used
MAZDASPEED3
in your area?
CarGurus has

458

nationwide MAZDASPEED3 listings starting at

$5,800

.
pjholn

writes:
2007 Mazda MAZDASPEED3 Grand Touring
Review
Pros
Boot space, power, rear legroom, sound system, space and torque.
Cons
Plastics used on dash board, rattle inside driver door, pointless alarm(too quiet)

Fun Car To Own With Good Interior Space, And Excellent Power — The performance is excellent with good power and a excellent level of torque. The Mazdaspeed3 also accelerates well and manages to cope with the high levels of toque, this gives it good straight line speed, making it feel more like a muscle car. The Handling is only OK, it has an attendance to understeer at moderate speeds, although I give credit to the Mazdaspeed3's stability through corners as the body remain flat and quite stable at most speeds. The limied slip differential also works very well. Steering seems sharp, accurate and well weighted, but could offer a bit more feel, so you know what's happening at the front end. The brakes are good and brings the car to a halt quite quickly, they never seems to fade or feel overworked when being worked hard under constant heavy braking. On another note the brake pedal does feel a little soft at times and could be more responsive, and the brakes a little sharper. Build quality isn't bad but then it isn't good. The dash board and glove box coverings tends to scratch easy as cheap plastics are used. My drivers door rattles when the music is cranked up, and the driver seat lumber support does work as the acceleration pushed the mechanism back in the seat again (too much torque:). However on the plus side the leather seem good quality and everything is put together tight and neat including the exterior trim. The paint work is glossy and has a smooth and luscious finish to it. The Mazdaspeed3 looks mean and sporty yet tidy and scuttle from the outside. Xenon headlight and led tail lamps are standard on GT models, and these enhance the appearance of the Mazda, especially at night, but the xenons are aim too low for good "down the road visibility". On the inside the dials are pleasant, with warn amber and blue neon lights which enhances night time driving. The dash is simple and everything is neatly laid out, and overall is a fun place to be. Navigation controls are easy to use but takes time getting use to, and a nice feature is the way the navigation screen fold into the dashboard when not in use. The large 7" screen make information clear and easy to read and POI's can be retrieved quickly. The BOSE 222 watt sound system is good at all volumes and has great realistic bass (not window shattering), vocals and instruments sound good and clear with good timbre. However the system lacks low volume bass and all volume mid-range. Servicing is a good price when compared to cars, such as the Golf R32. Gas milage is not brilliant, but then it is a sports car so high MPG highway or city is not to be expected with a car like this. However it isn't pocket braking. Overall the car in fun the drive and has been a pleasure to own, with good rear legroom and a smooth and stable ride. The Mazdaspeed branded seats are also excellent. Mazda has a good dealer network with good customer service and support.
Primary Use: Family transportation
RWilliams411

writes:
2007 Mazda MAZDASPEED3 Sport
Review
Pros
Amazing Versatility; Bang for the Buck cannot be beat; Absolutely trouble free; great power/handling; great for small families (2 or less kids)
Cons
"Sport" seats not as comfortable as the "Grand Touring (leather)" seats; Factory exhaust a bit numbing on long drives at a constant speed; blizzaks are a must in winter; premium only gas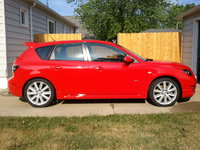 Best Car For The Money, Hands Down. — My 2007 MS3 has been trouble free since the day I bought it. I've fit an amazing array of things in this car, from a push mower (new in box) to all the supplies needed for a 4'x8' sandbox (read: 6 4x4x4's and 6 4x4x8 timbers, along with all the tools/hardware...except the sand). This car rocks. The most money I ever spent on maintenance, rather, the ONLY money spent on maintenance was for the recommended service milestones. This car hasn't given me a singe issue/problem in nearly 3 years of ownership (& 50k miles). Aside from being able to haul things that would otherwise require a truck, getting nearly 30mpg on long trips, and having a car that can comfortably fit my wife and two daughters (and all the "necessary" items they pack), there is no car that can touch it's performance for the money. Now, I'm not saying you can't buy a faster car for the money, but you can't come remotely close to one that does everything this little wagon does for the money. The 2.3L direct inject engine has a K04 turbo that hits full boost very fast, and very low. While it will run out of steam up top, accelerating and passing are of no concern...and stopping is worry free as well. Very long life on the factory pads and no squeeks either. Turn-in on the car is relatively crisp and understeer is surprisingly mild for a FWD car. It's balanced well, and an upgraded rear sway bar is a cheap and easy part to install which will further improve turn-in and reduce understeer. I could go on all day. If you're in the market for an affordable (under 20k) car that can haul most things a truck will and can put a smile on your face (or your family's) when you want it to...look no further.
Primary Use: Commuting to work
Jordan

writes:
2007 Mazda MAZDASPEED3 Grand Touring
Review
Pros
Turbo, handling, braking, headlights, etc.
The Best Car For The Money — This car is great! Superb acceleration (0-60 in 5.9 and 1/4 in 13.9), rides on rails, and stops on a dime. Build quality is amazing with Bose speakers, HID headlights, LED taillights, leather seats, leather wrapped steering wheel, and many more features. It is a sleeper to most, but those who know cars know that this baby moves! The bright red is a real head turner and the 18 inch wheels look very nice. Gas mileage is rated at 20 city and 28 highway. This car is a blast to drive!
Primary Use: Sport/fun (spirited driving, track racing, off-roading, etc.)
John

writes:
2007 Mazda MAZDASPEED3 Grand Touring
Review
Pros
Power, handling, and price.
Cons
All or rear wheel drive would be nice. I'm sure I'll take it back when winter rolls around
Mazdaspeed3 Was Made For Me — Total blast to drive. Completely civilized until I don't want it to be. A little scary, so I'm taking it slow. Loaded with options, and makes 30mpg if you take it easy. When you don't, it will dive into corners, and explode out of them better than any front drive out there. Also, its got plenty of room for my golf clubs, so that's neat.
Ian

writes:
2007 Mazda MAZDASPEED3 Sport
Review
Pros
quick, handling, interior, roomy
Cons
torque steer, shifter is vague, needs a little more off the line
2007 Mazdaspeed3 Sport — Fast and roomy for a little wagon but ahhh the torque steer sucks. You don't see too many like the Hondas all over the place so for that it is nice. Creeks abound but the interior is nice quality. The whels get dirty quickly. I could use another 30-40 horsepower to shut up the Sti and Evo guys.
Nicole

writes:
2007 Mazda MAZDASPEED3 Grand Touring
Review
Pros
Speed!, body, sound system, interior, wheels
Cons
the only think I don't like is the color. Not my fav, but it's growing on me
I Love Drivin This Beast! — This is my first stick that I've ever owned and driven. I love how the body looks. Never thought I wouuld like a hatch like this. A lot of space even though it looks like a small car. I love how clean the interior looks. The system is nice too. Bose speakers, 6 cd in dash changer. It handles nice. I like how I can easily pass people and weave in and out with ease. I'm no pro at driving a stick though. I'm still learning lol
nobodyspecial

writes:
2007 Mazda MAZDASPEED3 Grand Touring
Review
Pros
grip. power. tons of cargo and seating room...like an SUV. everything really.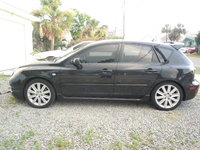 Best Car I've Ever Owned — This has been a really great car. I have had no issues with it for the 40k miles I have owned it. I performs extremely well....better than I had expected. Just a joy to drive. Put the back seats down and the ample cargo space allows me to fit skateboards, guitars, amps, work equipment, etc....pretty much has the space of an SUV. Me, my girlfriend and the three kids ride in it comfortably every day. Just a great all-around car. Wish I could've afforded to keep it.
Primary Use: Family transportation
Justin

writes:
2007 Mazda MAZDASPEED3 Grand Touring
Review
Pros
Overall its a great car to drive and Mod...I'm going to be keeping this car for along time
Mazdaspeed3 Review-2007 — Performance- The first time I drove this car it blew my mind at how much power it has. The designers at Mazda made an awesome car with so much potential, I mean they even left the OBD-II port open, as if they want you to tune it!!! Build Quality- The car (mainly the engine and transmission are bullet proof)( no, not literally bullet proof), just built very well. The only major repair (knock on wood) that I have had to do was the VVT (variable Valve Timing) actuator. This caused a very loud noise on (cold) start ups. If this wasn't fixed it could cause the engine to throw the timing chain (well you know the rest after that) (new engine etc $$$$)- cheap fix coast around 800$ (only paid 300, the dealer picked up the rest) Note: if your 2007 or 2008 is doing this on start up GET IT FIXED ASAP!!! Appearance- I love the looks of this car, its a "Hot" hatch that has really nice lines and doesn't smile like (genpus, gen 2 for you noobs) everywhere you take it. Cost of ownership- cheap, keep up the general maintenance (oil changes etc) and its a cheap car to own. Gas mileage is around 25 highway 17 or so in city (mine is usually a bit worse because I really like to get on it (especially on on ramps) the turbo sound is awesome (once you replace the factory (plastic piece of crap) other then that a very cheap car to own. Fun Factor- Yes!! Its a very fun car to drive. It corners like non other (it feels like your brain is being ripped out through your ears)(like any other Mazda) and (since I'm in to tuning) very affordable aftermarket parts and lots of variety to choose from.
Primary Use: Commuting to work
Maranda

writes:
2007 Mazda MAZDASPEED3 Sport
Review
Pros
Can be used as a family car.
Displaying 1 - 10 of 38 2007 Mazda MAZDASPEED3 reviews.
Looking for a Used
MAZDASPEED3
in your area?
CarGurus has

458

nationwide MAZDASPEED3 listings starting at

$5,800

.