2007 Mazda MAZDA6
User Reviews
Average Ratings from

36

reviews
Performance:
Appearance:
Build Quality:
Overall:
Review Highlights
Click to filter reviews below
Displaying 11 - 20 of 36 2007 Mazda MAZDA6 reviews.
Brianna136

writes:
2007 Mazda MAZDA6 s Sport - Value Edition
Review
Pros
Gorgeous apperance, performance.
Cons
The maintnence can get a little pricey.
Brianna's Car — I have a Mazda 6 and I absolutely love it. I have the more pricer version which includes scotch guarded seats, V6 engine, and many many more other features. This car has amazing performance. The body style is sleek and gorgeous. When you wax it, it makes it look smooth as a bullet. I would recommend this car to anyone who wants good quality, performance, and a gorgeous apperance.
Looking for a Used
MAZDA6
in your area?
CarGurus has
15,098
nationwide MAZDA6 listings starting at
$1,999
.
David

writes:
2007 Mazda MAZDA6 i Sport - Sport
Review
Cons
could have a higher top speed and a little better gas mileage.
A Fan Favorite — Performance - has great acceleration for a four banger. But it has low top speed for a car in its class. great build quality. Loooove the styling of the appeareance. Very fun to drive, and great for those windy mountain roads. Pretty decent gas mileage, when it's driven appropriately for fuel economy.
Ryan

writes:
2007 Mazda MAZDA6 i Sport - Sport
Review
Pros
Drives very well and looks sporty
Cons
wish the acceleration was faster in the automatic setting
Sweet 6 — Handles extremely well on the highway! The acceleration is descent in the automatic, but much better in the manuel trans. from the tech-tronic transmission. Gas is the best because its a 4-cyclinder. Lots of space for comfort in the car.
Primary Use: Family transportation
Jesse

writes:
2007 Mazda MAZDA6 s Touring
Review
Pros
Clean, sleek lookin' sedan with lots of options
Cons
Lack of power for what's advertised on a V6
More About The 2lo 6 — This is my latest purchase, Mazda6 GT V6 2007. This car comes fully loaded with BOSE system, 6 CD changer in dash, leather interior, heated seats / mirrors name it all, climatronic climate control,electronic tinted rear view mirror and more. The V6 is ok, far from being a quick V6 when you compare with the competition and quite a gas guzzler. Overall it's ok to drive, very smooth. I owned a 2006 Mazda3 GT just before and I got this 6 as an upgrade, also knowing that Mazda's are very reliable cars. They are fun to drive and they offer a lot of options for what you pay. Repair wise, aside from a cracked oil pan from being low ... can't say nothing. The added mods are as follow : Full TEIN basic coilover kit, CF eyelids, wingless, shaved door moldings, tinted windows, ORION sound system, 18 inch Enkei LS/5 with 215/40/18 akina ST-09 tires now changed, 6000K front HID with JDM yellow fog lights, brand new JDM front lip ( at the paint shop ) I also had clear sidemarkers, full Magnaflow dual catback but had to remove them cause of tickets and stupid MTL laws. That's about it for my 2LO Mazda6.
Primary Use: Commuting to work
Safoo

writes:
2007 Mazda MAZDA6 s Sport Wagon - Touring
Review
Pros
A huge step up from the compact segment
Handling
Space
Cons
Fuel economy
Corrosion - RUST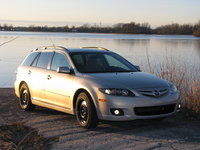 Family Has The Space And Daddy Has The Pace! — Bought a 2007 sport wagon a couple of months ago. Upgraded from a Focus sedan to the big family 6. When I started looking for a new/used car I didn't have the 6 in mind, in fact I was looking for a ford focus wagon. I'm very glad I found the 6 wagon! It is costlier to run, but it feels and looks like such a better car...(my Dad actually congratulated me on finally buting a "real" car|) The 6 cyl ford lump is a PIG on gas. Ok so not all the fault lies with the engne. The car asks do be driven quickly, handling tight curves and momentum shifts with aplomb. I really enjoy driving alone in this car. The family has all the space they need as well, even the dog! Although I keep the big furry critter's rides to a minimum as I have the tan cloth interior/black dash and the tan stains very easily. I could have chosen a darker colour scheme but the tan/black combo feels special. Very impressed with the vehicle so far... reliability??? we'll see. If you love driving & can afford the gas, I would reccomend this car! Update April 2012, Back brakes were sticking, cailipers seized, replaced at dealership. Front brake pads will need replacing in 2 months or so. Since switching to the summer tires i have noticed what could only be described as sensitivity to road crown angles, or slopes if you like. Always wants to pull gently in the direction of the angle. When you find a truly flat road, you sure know it. Might have something to do wit the tires being nearly finished, (michelins) but really noticable none the less. Will be looking for a new set of tires for next year. Can;t decide on what brand yet... choices choices.. Anyway still enjoying the 6 wagon. Now let's see if we can improve the fuel economy! Update November 2012, no repairs since last update. Car is now on winter tires and the ride is better for it. probably due to the existing summer tires being finished. Fuel economy improves when I "force" the transmission into a higher gear when driving at in town speeds. Thought I'd bee using the manual shift for the sport angle not the fuel economy one, but the transmission seems to like to stick to a lower gear when a higher one is available. Still loving the car, June 2013... RUST!!! It was always rumoured that Mazda had terrible rust issues well, I'm starting to see it in my 6. Under the rear driver's side wheel well and at the bottom of the back hatch door. Frustrating to say the least. I have sprayed it with anti-rust (Krown) and that was before I noticed therust. Mazda Canada basically laughed at me, even thoughthe car was just out of it's warranty (1 month). Now I'm going to have to find $$$ for the repairs, done properly... I have switched over to new summer tires and what a difference, that touchy steeriing feel has all but dissapeared. Very satisfied with teh car, just the rust is scaring the heck out of me...
Patrick

writes:
2007 Mazda MAZDA6 i Sport - Touring
Review
Pros
Great gas mileage, built well.
Cons
Nothing that I can think of...
Sporty, Nice Looking Awesome Car. — The mazda six has great gas mileage and handles very well, even in bad weather. The build quality has been great thus far and the only thing that I've had to replace is the battery (*crosses fingers*). Appearance is great, I'm always getting comments.
Primary Use: Sport/fun (spirited driving, track racing, off-roading, etc.)
pengel81

writes:
2007 Mazda MAZDA6 i Sport - Sport
Review
Pros
The MAZDA6 is a great looking car. It's perfect for someone who likes a sporty look yet needs to be practicle. The intererior is well laid out and comfortable. There is plenty of leg room in the back seat. The car handles well in all conditions.
Cons
If your looking for power than this is not the car for you. Although the 2.3L 4cyl engine has good passing power, your not going to be smoking your tires off the starting line.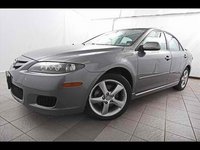 Very Enjoyable Car That Has Been As Dependable As A Car Can Possibly Be. No Regrets Owning This Car! — I can honestly say there is nothing I dislike about this car. For someone with a family having a sports car is not always practicle. I wanted something sporty. The MAZDA6 delivered on everything I wanted; sporty, reliable, afforable, comfortable, good on gas. I couldn't ask for anything more.
Primary Use: Commuting to work
jcars

writes:
2007 Mazda MAZDA6 i Sport - Sport
Review

lbaker0120

writes:
Pros
Gets going when you need it to. Handles well. Decent gas mileage (around 30-33 on road trips). Fits more than you can imagine!
Cons
Tires are expensive.

Alfred

writes:
2007 Mazda MAZDA6 i Sport - Value Edition
Review
Cons
if you want simple and sedate
Wish I Had More Motor Thats What I Get With A 4 Cyclinder — Fun to Drive, Does not go Fast enough I want 280mph, not 137mph. Gas mileage holds around 28-29 mpg Some parts are cheap but overall it is great. Looks good and handles like a dream with the S Drive Yoks
Primary Use: Commuting to work
Displaying 11 - 20 of 36 2007 Mazda MAZDA6 reviews.
Looking for a Used
MAZDA6
in your area?
CarGurus has
15,098
nationwide MAZDA6 listings starting at
$1,999
.