2007 Mazda MAZDA3
User Reviews
2007 Mazda MAZDA3 Review Ratings
Average Ratings
from 66 reviews
Performance:
Appearance:
Build Quality:
Overall:
Review Highlights
Click to filter reviews below
Displaying 1 - 10 of 66 reviews
Dennis

writes:
2007 Mazda MAZDA3 s Sport Hatchback Review
Pros
The dual automatic shifttronic transmission can help you save some gas.
Cons
Could use a little more horse power.
You're Wasting Your Time Driving Anything Else! — The Mazda 3 comes with eveything you could ever want in a car. The 3's looks turns everyone's head when you drive by. Your friends will wish they had one. You'll be confident entering the highway as you accelerate smoothly with torque to spare. The 3 handles with quick response to your every demand especially when taking turns at above average speeds. The mazda 3 is equiped with ABS breaking that comes in handy when having to come to a sudden stop which will not lock up your breaks causing you to skid out of control. The interior of the mazda 3 is very impresive with its seek design and carefull attention to leg and head room. The seats are designed to keep you snugged in during aggressive driving and loose when cruising around town. Has a 25-31 mpg on the highway and 21-24 mpg in the city.
Looking for a Used

MAZDA3

in your area?

CarGurus has

24,322

nationwide MAZDA3 listings starting at

$3,300

.
Lalo

writes:
2007 Mazda MAZDA3 i Sport Review
Pros
Fun, great handling, nice interior, 4 cyl, looks good.
Cons
maybe the price, maybe
Mazda 3 Sedan — The seating position is a little bit high if you compare to the height at which the dashboard is located, makes you feel really tall. The transmission is great, short gear shifts, very accurate when shifting gears. Acceleration is great (2.0), handling even better, suspension is just wonderful. Very fun to drive, I wasn't able to test it thouroughly but I think it's a great car. Maybe a little expensive if you compare it to other small sedans out on the market, but I would totally recommend this car to anyone.
netvoyager

writes:
2007 Mazda MAZDA3 s Grand Touring Hatchback Review
Pros
Quick, reliable,sporty, and has a ton of storage space. It's a five door!
Cons
Light weight causes it to be pushed around in stiff cross wind.

Great Little Hauler — Nothing I don't like. Reliabllity is awesome! This car has performed every function we have asked of it. It has lugged us to Florida three times and was packed solid. Mazda's are strong, well built cars. You won't be disappointed!
Primary Use: Family transportation
Jose

writes:
2007 Mazda MAZDA3 s Sport Hatchback Review
Cons
Its only built for speed
Excelent Car — I like the overall acceleration, and breaking, i don't like its torque it needs more if you ask me. I also don't like the fact that its ride height, its to low and were i live the streets don't help this fact. But its really fast, has a very good acceleration, is comfortable, very stable and has good gas mileage.
Primary Use: Commuting to work
Yogavaran

writes:
2007 Mazda MAZDA3 s Sport Review
Pros
Smooth running and built quality. Love the tiptronic gear box!
Cons
Can't think of any at the moment:)
Simply Love It!!! — Had a VW Bora Manual previously, obviously loved the car. Though I should say with standard 2ltr enjine pickup is pretty slow (from complete stop). With Mazda 2ltr I don't see this issue at all:) Just enjoying it! Its tiptronic gear box is commentable for those who loves manual driving pleasure.
Michelle

writes:
2007 Mazda MAZDA3 i Touring Review
Pros
Smooth looking and sporty
Cons
no aircon for the rear passengers
2007 Mazda 3 — I love my Mazda 3 it's very sporty and it is black. Mazda 3 drives well and has unreal power when you need it. Mazda 3 is really economic on petrol. Mazda 3 has 6 stacker and has ipod so can listen to your tunes as you cruise. UNREAL car.
Paul

writes:
2007 Mazda MAZDA3 i Sport Review
Pros
Suspension, Drive Train, Euro-sytle, Driver comfort adjustments, Horizon headlights, MPG, Trunk and lid, Able to Tune and Trick Durability in collision (yep, happened) Bang For The Buck!
Cons
That stupid "Wood strip" should match the color of the car. Road noise (expected with price range), rear seat leg room.
Zoom-zoom In The Motor City. — This car has won me over and away from domestic gas hogs. True red is the sharpest color in mazda's line up and turns heads. Mine is a 5 speed trans with 2.0 DOHC, a winning combination. Around the Detroit area this car is nimble enough to avoid all the pot holes and quick enough to manage a "Michigan Left" on Woodward during the rush. Buy this car and don't be afaid to rip into it... you won't be disappointed. As far as Interior, while it is comfy, keep in mind that it is an entry level sedan. There is that "Plastic-Feel" to closing the door but very smart lay out and the little extras make up for it.
Bill

writes:
2007 Mazda MAZDA3 s Sport Hatchback Review
Pros
Great handling and performance for this class. Classy interior design. Sporty outlook.
sscielzo

writes:
2007 Mazda MAZDA3 s Grand Touring Review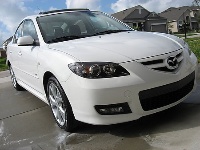 Drove It, Loved It, Now I Own It! — The Mazda 3s GT gives you more for about 21K than any other car, period. It is a pure pleasure to drive, slow or fast, and the car's looks are aggressive, yet soft so that it appeals to both genders. And man, can it handle! What an amazing suspension system. The car corners like if it were on rails! And the braking is eye-popping! The acceleration is decent, and feels great anywhere above 3000RPM. Definitely zoom zoom worthy! Again, we're only talking about 21K here. As far as comfort and safety goes you can check on the mazda website, since the list never ends. Just know that there are airbags all around the car so that in case of accident you end up envelopped like in a little cocoon. The leather is awesome, with front seat warmers, climate control, computer trip, Bose sound, wheel controls, mp3 player attachment, etc... the list goes on and on. Well, to me it was a no brainer: I bought one! In this segment the Mazda 3s GT has NO competition.
Owner for 0 years, 4 months
Miles Driven per Year:10,000
alusainc

writes:
2007 Mazda MAZDA3 i Sport Review
Pros
Love the handling, the gas mileage, the fact that people love the way it looks (especially older women....not sure what that's about), the reliability and the low cost of maintenance.

Fantastic Looking Car That Holds Its Value — I bought my 2007 Mazda 3 in 2012 with 70,000 miles on it. It is in great shape, runs VERY well, and has been nothing but a joy to drive. I find it amusing that women over the age of 50 LOVE the car and always make of point of complimenting it to me. The best part for me is that I feel like this car is a great investment since it has pretty much held its value for years. It's still a head-turner after 6 years, and it has wonderful gas mileage. This is definitely a keeper.
Primary Use: Family transportation
Displaying 1 - 10 of 66 reviews
Ask CarGurus about the 2007 Mazda MAZDA3
Average response time:
8.5 hours
,
# of Mazda MAZDA3 owners:
3,891
Looking for a Used

MAZDA3

in your area?

CarGurus has

24,322

nationwide MAZDA3 listings starting at

$3,300

.