2007 Lexus IS 350
User Reviews
Average Ratings from

11

reviews
Performance:
Appearance:
Build Quality:
Overall:
Review Highlights
Click to filter reviews below
Displaying 1 - 10 of 11 2007 Lexus IS 350 reviews.
blajoie

writes:
2007 Lexus IS 350 Base
Review
Pros
305 RWD Power.
Luxury Interior
Cons
Terrible in the winter/snow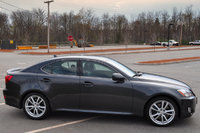 2007 Lexus Is350 — A Super fun car to drive. Insane amount of power available at any time. Super comfortable seats, technology everywhere. Rain sensing wiper blades, auto headlights. HID adaptive headlights (turns around corners). Heated and A/C seats. Will certainly return to the Lexus IS line in the future.
Primary Use: Commuting to work
Looking for a Used
IS 350
in your area?
CarGurus has
1,857
nationwide IS 350 listings starting at
$7,595
.
Santiago

writes:
2007 Lexus IS 350 Base
Review
Howard

writes:
2007 Lexus IS 350 Base
Review
Pros
Luxury with performance
Cons
If you really really like beemers.
Will Buy Again. Well, I Did Already. — 0-60Mph in 5.1 sec. very quick braking and nice handling interior luxury is superb. very nice built. I crashed one 2006 is350 with the car flip foward and landed in a ditch. Came out of the car with minor bruises. Purchase an 2007 is350 again since it is a great car. Lower maintenance cost compared to BMW and very nice dealership service as well. A lot of fun to drive the car
Primary Use: Commuting to work
Ryan

writes:
Pros
Very Fast, super quality will out last ALL U.S. and Korean made vehicles, by a decade AT LEAST
Cons
Great Japanese cars cause crappy american companies to fail
Lexus Is Sweet — The Japanses know how to build them. 300hp 0-60 in 5.1sec Percision construction, Sexy design, Excellent quality, launches like a rocket. Extremely user freindly, fully loaded with GPs and Mark Levinson sound system. Doesn't fall apart like Korean or American made vehicles.
Alex

writes:
2007 Lexus IS 350 Base
Review
Pros
Built like a vault, handsomely styled, quiet, luxurious, lots of power, handling is pretty good
Cons
tight rear seat, transmission in S is slow, stock bridgestone RE33 is crap, price (with options)
2007 Is350 — Performance - quick off the line with lots of power (306hp). handling is pretty good but not as good as the 3 series. Brakes is impressive, and suspension absorbs imperfections in the road well. Tires though, particularly the Bridgestone RE33 all season, are terrible. Road noise can be noticeable, and wet weather grip is crap too. Build Quality - Pretty much a rock solid car, though there are a few reports of dash rattles and moon roof rattles. Appearance - Beautifully designed, clean, simple, all around. Cost of Ownership - Gas mileage is decent, i get around 18mpg. First 5000mi service is free, but will cost you out the pocket after. Fun Factor - Its alright, not as engaging as lets say the 335i.
Kevin

writes:
Pros
Very comfortable, great drive, smooth ride
Cons
handling could be better
Great Car — The car is amazing. Lexus tried to make a sports sedan that could compare to the three series but instead they created a car that was more luxurious than sporty. Don't get me wrong, the car is plenty sporty, but if you want a sports car stick with the bmw but if not, the IS350 is DEFINITELY your best bet.
BlackBird

writes:
Pros
Love the design and everything in the car.
Cons
Performance is not that good
Lexu Is 300 Middle East Version — My car is cool and everything I like about it, but the sad thing that I don't like about the Middle Eastern version is that it can't be tuned and the performance is lower than the Japanese and American Version. Everything else about the car. The design, the shape the look it's all cool. I love the navigation system. It's all in touch screen, but the negative thing about it. If it fails then you have to replace it and if you have things stored in it. It will be lost. It's not just Lexus cars. Any car with a navigational system would fail due to unknown reasons. Even if you take a very good car about it! Car is allover is great. If you want one just go for it ;)
Will

writes:
Pros
Refined Power. Great Nav / HVAC Controls
Cons
Aux Input NEEDS To Control iPod/iPhone!!! Come on, Scion even has it!
Zain

writes:
Pros
When you pay for this car, you are paying for everything, name, peformance, luxury, technology and most importantly satisfaction. You normally dont get too much luxury with performance cars, just a basic car that goes fast, but with this car is the pinnacle of luxury and has great performance to go with it.
Cons
The engine gets very loud and there is very little space in the back
Its Like Sex... Except Better — This car literally redefined Lexus's image of just pure luxury cars. This car has speed, luxury, looks, great sound system due to mark levinson and reliability. Its not as fast as an M3, but it goes 0-60 in 5.3 seconds, its hard to stay at the speed limit in this car. For all you people who think Lexus is just luxury n has terrible performance... just drive this car.
automotive_consumerist

writes:
2007 Lexus IS 350 Base
Review
Pros
Sporty Design and feel. Very quick. 306 hp. Tons of available features. Toyota reliability.
Cons
Stiff suspension. Smallish back seat.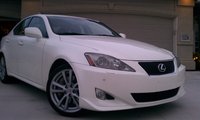 2007 Lexus Is350 Sports Sedan — Lexus brings style and power to it's IS350 sports sedan. Around town the the car remains composed and civilized, but put the pedal down and the IS350 puts it's 306 horsepower to good use. Hope you don't mind speeding tickets.
Primary Use: Commuting to work
Displaying 1 - 10 of 11 2007 Lexus IS 350 reviews.
Looking for a Used
IS 350
in your area?
CarGurus has
1,857
nationwide IS 350 listings starting at
$7,595
.