2007 Honda Civic
User Reviews
2007 Honda Civic
Review Ratings
Average Ratings from

135

reviews
Performance:
Appearance:
Build Quality:
Overall:
Review Highlights
Click to filter reviews below
Displaying 1 - 10 of 135 2007 Honda Civic reviews.
CJinSD

writes:
2007 Honda Civic 4 Dr Si
Review
Pros
Seats, shifter, quality, handling, low maintenance
Cons
Has a rear wing. Rear bumper is painted tissue paper.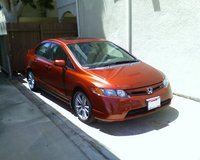 Like A Japanese E30 M3 — This car might not generate straight line numbers like its turbo competition, but it is fun and involving to drive. I've driven the Mazda and VW, and didn't think their seats or shifters were even close to those of the Honda. On the street, I can't even make use of the full performance of this car for more than a few seconds at a time, but it is always nice to have great seats, lag free throttle response, light weight, good gas mileage, zero defects, cheap maintenance, and build integrity. Why get a maintenance headache, laggy turbo in order to accelerate a bit quicker even less of the time? I've had this car now for almost 2 years, and so far it has needed two oil changes and a tire rotation. Other than gas, I think I've spent about $150 on it. Gas mileage is about 24 around town on crummy California gas and low 30s on the highway. Not exciting mileage, but I can't resist using wide throttle openings and high rpm while commuting. I've read criticism of the steering feel of this car in Car and Driver. Having come to this Honda because of the degradation of German quality and taste, I can only compare the steering to that of the BMWs, Mini Cooper, Porsche, Audis, Mercedes, and Jetta that I had before it. While you can tell that it is FWD when the pedal is flat in first or second, its steering is quick, nicely weighted, and never leaves me wondering what the front tires are doing. Also, the lack of torque relative to turbos probably also means that it won't need the front end work that people see in their second year of Mazdaspeed and GTi ownership. I'm very happy with this car. * - update: After more than 4.5 years, the Civic Si continues to give me good service. It still hasn't needed a single repair. The only expense worth noting has been a set of tires this year. When I bought this car, my intention was to drive it for a couple years and then probably go back to the Germans. instead, German cars get less and less interesting to me as an enthusiast and more and more focused on appealing to people who lease them for their status and gadgets. If I needed a new car now, the first one I'd test drive would be the new Civic Si sedan. I still drive it from time to time just for the joy of driving it.
Looking for a Used
Civic
in your area?
CarGurus has

65,297

nationwide Civic listings starting at

$1,595

.
Ryan

writes:
2007 Honda Civic 4 Dr Si
Review
Pros
Fun ride, comfortable room for four adults
Cons
Loud on the highway or accelerating, not the smoothest for long trips
Four Seater Go-cart, More Than Just A Toy — This thing drives like a go-cart with the accommodations of a mid size sedan. If you want something fun but still have room for the dogs/groceries/kids this is the car for you. With plenty of gas mileage without sacrificing space or performance, this mid 20's car is a dream on wheels.
Orion

writes:
2007 Honda Civic Hybrid
Review
Pros
Nimble, yet predictable handling, spunky acceleration/braking, GREAT GAS MILEAGE.
Cons
Well, it won't tow a houseboat... but WHO CARES?
A Great Car, And My Favorite For Many Years To Come. — Well, it's a hybrid, which means that under normal summer driving conditions (moderate A/C) it averages 45 mpg. Its lines are very clean, sleek, whisper- quiet, and it has a low ride height, and, while this may be problematic for certain parts of the country where no one knows how to properly resurface a road *cough-UTAH-cough* the car feels very intimate with the road in a way that doesn't feel intimidating. This car has a very broad torque curve, especially considering its 1.5 liter displacement, on account of the IMA (integrated motor assist, or the electric motor coupled to the crankshaft), so it has a nice touch of get-up-and-go, and yet the handling is smooth, predictable. Whether you're threading this car through slaloms at 60 mph or into a parking stall at 3 mph, you can be sure where the car is going with a more than adequate degree of certainty. This car brakes just fine, too, and every time you brake, the IMA recovers the kinetic energy by charging its battery. Now, don't get me wrong - there is no visceral, gut-wrenching pleasure in throttling this car past the triple- digit mark: Hybrids are meant for stamina. This car gives you the simple pleasure of driving a superbly engineered, comfortable ride - and not having to worry so much about the price of topping off at the pump. This car sports an 11 gallon tank that gives the car an average range of 450 miles, or about 7-8 hours driving time. This is the car Mad Max WOULD have driven, if given the chance - well, maybe that, a chip in the engine, twin turbos, and a supercapacitor rigged to the IMA...
Primary Use: Commuting to work
Ben

writes:
2007 Honda Civic Hybrid
Review
Pros
Great mileage, Good entertainment system.
Cons
No seat of the pants feeling, the steering is too responsive at high speeds, don't take your hands off the wheel.
This Is A Great Commuting Car, But Don't Expect To Win A Race. Against Anyone. — Besides an utter lack of acceleration, this car handles itself like a ultralight sports car. It handles brakes decently and handles phenomenally for a stock sedan. The civic is built very well, the break squeaks one in a blue moon, but only often enough to make you laugh. It hasn't needed any more than any more than the standard tune up in over 80,000 miles, including tires. Nice looking functional exterior, and a comfortable interior with gps system. The front bucket seats feel like you're sitting in a high performance race car. Great gas mileage, 39 mpg city, 42 mpg highway. The car has higher profile tires that are made to last.
Primary Use: Commuting to work
Daryl

writes:
2007 Honda Civic 4 Dr Si
Review
Best Value For The Buck — Very good acceleration, superb handling, liked the vtec, best track car i have had so far. Very fun to drive, fairly low cost, appearance is fairly aggressive with the body kit and rear wing. Like the vtec engine tune! Definitely worth it
Primary Use: Sport/fun (spirited driving, track racing, off-roading, etc.)
Jim

writes:
2007 Honda Civic Hybrid
Review
Pros
looks sharp and plenty of legroom, drives stable at 115 mph (only tried that once)
Cons
mpg, acceleration off the line
Maybe Not The Economical Hybrid, But — was hoping for more mpg get 35 hway, epa says 45 which is a little high. Slow off the line, but what can you expect from a 110 HP engine. Accelerates from 30-80 very quickly though. The interior is well planned with an mp3 jack, stereo-iintegrated bluetooth but a very weak stereo which I am upgrading soon.
Mandy

writes:
2007 Honda Civic LX
Review
Pros
Reliable, reasonable service charges, cruise control, AC, good power steering, great for parking with short nose and trunk.
Cons
Not excellent mileage on tank of gas, not a great deal of power available unless on open road. Acceleration could be better. Impossible for passengers to figure out door locks, no keyless trunk entry from outside vehicle. Bad blind spots around either side of windshield.
Shaunda

writes:
2007 Honda Civic LX
Review
Honda Civic — Its a great car. handles very well, fuel is great,great quality,has good performance,, Would not recommend for a family car it is just to small, It is fun to drive handles the road great. Just a very small car.
Primary Use: Family transportation
Richard

writes:
2007 Honda Civic EX
Review
Pros
I loved the styling over all!!!
Cons
A touch cramped in the back
My Favourite Car, And A Blast To Drive!! — It had great handling! Smooth and everything! As far as acceleration goes it was a touch sluggish due to being a 4 cyl. Very stylish over all! Loved the moon roof, and the digital speedometer! It was a blast to drive, and my friends and I always had a ton of fun!! As far as fuel efficient, it indeed was!
Primary Use: Commuting to work
Rathish

writes:
2007 Honda Civic LX
Review
Luxury Comes In Cheap — : ) - Gr8 Looks ! Sexy, Spacy & soft on gas! Unique - Digital speedometer. Lots of storage spaces. Gr8 ride assured. :( - Less clearence, Offroad?-A complete no no! Pricy spares, Suspension- not that great. Overall :- An excellent one to ride, an allrounder in its category.
Primary Use: Commuting to work
Displaying 1 - 10 of 135 2007 Honda Civic reviews.
Looking for a Used
Civic
in your area?
CarGurus has

65,297

nationwide Civic listings starting at

$1,595

.