2007 Honda Accord
User Reviews
Average Ratings from

65

reviews
Performance:
Appearance:
Build Quality:
Overall:
Review Highlights
Click to filter reviews below
Displaying 1 - 10 of 65 2007 Honda Accord reviews.
Stash

writes:
2007 Honda Accord EX-L V6
Review
Pros
Responsive quiet engine, great handling, comfortable interior, great looks, cool Moroccan Pearl (Red) paint job.
Cons
Cooling system tough to learn, speakers and stereo could be better

Could Be The Most Fun Car I've Ever Driven! — My last car was an AWD Subaru 4 cylinder with 175 HP, which was a great car, safe, but not fun to drive. This car handles like a Subie but has twice the oomph. Have to watch the speedometer constantly or use the cruise control or you end up doing 90 instead of 65. I like the way every thing fits together so well--all your needs met. Seems like a much more expensive car. Seats are comfortable, and love the dual zone air conditioning.
Owner for 0 years, 1 months
Miles Driven per Year:14,000
Looking for a Used
Accord
in your area?
CarGurus has
59,073
nationwide Accord listings starting at
$1,800
.
Briester

writes:
2007 Honda Accord SE V6
Review
Pros
Powerful, great fuel economy for V6, Comfortable, Handles like a BMW.
Cons
Stereo system substandard for this type of car, no xm, no mp3, no ipod connection, no midrange and stereo separation is not great.

I'd Buy It Again In A Heartbeat (but Wish They Had A Better Radio System For This Model) — This a fantastic car to drive either short sprints or long journeys. Acceleration is very impressive and brakes work very well without being too clingy. It handles curves like my BWM. It's a beautiful car to look at and even better in style then the 2008-2010 models. Solid build. The only issue I have is the basic stereo with 6 CD changer is poor in sound quality. Also, they need to shock resist the CD's better because it tends to skip when I hit bumps in the road.
Primary Use: Family transportation
hillbillson3

writes:
2007 Honda Accord EX-L
Review
Pros
Great reliablitiy its a Honda
Cons
limited space if over 6ft. Price is high on these things bought it new.

Over Priced But Great Reliability — Rather drive a full size buick and have the extra leg room with a family that has over 6ft people. And still get the mileage out on the road. But if you want high price and dont care for the leg room etc. great car handles well drives fine a little rough ride compared to my buick park ave. though.
Primary Use: Commuting to work
Tiffany

writes:
2007 Honda Accord EX-L V6 w/ Nav
Review
Pros
I love my car. Drives great, stylish, reliable.
Cons
The gas mileage could be slightly better.
AFreddy

writes:
2007 Honda Accord Special Edition
Review
Pros
Body style, room, trunk space, acceleration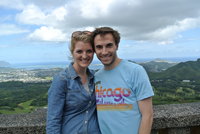 Solid Car With A Stellar Reputation — The 2007 Honda Accord has been a really great car for me. I wanted a car with a stellar reputation and that's this car I own has lived up to that reputation. I get numerous compliments on it for the style, acceleration, spacious back seat, and huge trunk.
Primary Use: Family transportation
AFreddy

writes:
2007 Honda Accord Special Edition
Review
Pros
The Honda Accord is very easy to maintain. We love how spacious it is and how solidly it is built
Cons
The turning radius isn't the best. It is a full-size sedan, not a compact, so perhaps that's part of it.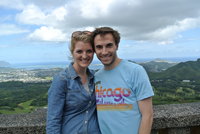 Great Balance Of Style, Performance, And Reliability — I really like the space in the back seat. We often have friends or coworkers in the back seat and they always rave about how nice it is in the back. We also like the storage capacity of the trunk - it is huge! We love this car and haven't had any troubles maintaining it - very worry free!
Primary Use: Commuting to work
garrison_sj

writes:
2007 Honda Accord EX
Review
Pros
Handling, fuel economy, and reliability. Easy 30+ MPG. Spent no money on the car other than tires, brakes, and fluid changes. Amazing value and a well packaged daily driver.
Cons
The 4 cylinder could use a little more low end torque. There's a million of them out there, so you will blend in unless you modify the styling.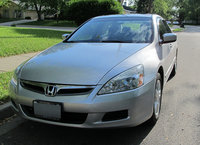 Safe, Efficient, And Fun (with A Manual). Great Value! — This car is a model of packaging. There is no wasted space inside or out. You feel this in the handling of the car and how easy it is to access the controls and storage areas in the cabin. There are cleverly designed and well placed storage spaces throughout the cabin. Honda makes the best manual transmissions in the industry and this car exemplifies that work. It has a GREAT ENGINE NOTE. It sings as you wind it up to 6800 RPM and nail the upshift. Honda engineers did well to silence any harshness to the engine sound and eliminate any annoying vibrations in the cabin. I enjoyed how engaging my daily drive is and appreciated the low impact to my wallet at the gas pump. The ride is firmer than many sedans, but it's never harsh. The trade off for that firmer ride is great handling and less body roll. The car goes where you put it, without drama and eventually oversteers if you push it real hard. The steering weights up nicely at speed, helping you keep the car straight. I enjoyed driving this car. In the looks department, the car doesn't scream performance. Instead, you get a classy, understated look with dimensions that are clearly no larger than they need to be. It wasn't a car I would sit and stare at, but there were times I smiled as I walked away from it. The car blends in and I never had any trouble with the police, even with my spirited driving style.
Primary Use: Commuting to work
Jonathan

writes:
2007 Honda Accord EX
Review
Pros
overall very low maintenance. just wear and tear items brake pad/rotors. smooth ride as well.
Cons
once had to unlock the car climbing through the trunk. for whatever reason the door locks didn't work and i couldn't unlock the car with the key.
Love This Car — I bought this car with 46k on it and now has over 120k. most of the was highway miles. when i bought the car, it was in the showroom and they needed a jump pack to start it. i knew that the battery would need to be replaced and even asked them to test the battery. they tested it and said it was fine. however a few months after owning the car i had intermittent issues with the car losing power while driving.when i went to get my car inspected the shop said my battery was junk. so mad! have not needed any major work done however i just recently had the lower ball joints replaced at a shop because its very difficult to do. i did all 4 breaks recently, i have new calipers, rotors and pads.
Primary Use: Commuting to work
Billy

writes:
2007 Honda Accord Value Package
Review
Pros
Speed & acceleration
Solid Car — NIce car. Fair amount of torc for a mid level car. looks more like a feminine car than the older models like the 2001. Gets decent fuel economy and hasn't had any necessary repairs done to it. Brakes are solid so you can stop on a dime. Interior is nice but isn't as feminine as the exterior. Radio isn't great but it is stock. Overall this car can be beaten, but isn't bad at all. It's great to put the pedal to the medal when you hit the highway.
Ayman

writes:
2007 Honda Accord EX
Review
Strong Accord — v. good accelearation ABC breaking it dont need maintenace >>> but it consume gas alot >>> its nice in both interior and exterior its faster than camry and lancer GT and civic i like to drive it but not in high speed till 160 km
Displaying 1 - 10 of 65 2007 Honda Accord reviews.
Looking for a Used
Accord
in your area?
CarGurus has
59,073
nationwide Accord listings starting at
$1,800
.