2007 Ford Focus
User Reviews
Displaying 11 - 20 of 125 2007 Ford Focus reviews.
Steven

writes:
2007 Ford Focus ZX4 SE
Review
Pros
Great milage, solid car. Trunk much larger than I expected, and 2 adults can comfortably ride in the back seats.
Cons
A bit noisy, could definitely have used some better shielding from engine compartment.
A Great, Inexpensive, American Sedan, With Some Thoughtful Features — Hasn't given me a moments trouble, other than regular maintenance. All the features like cruise control, power windows/moonroof etc. all work flawlessly. As I mentioned, the passenger space has a bit of road noise and hum from the engine, but not a deal breaker by any means. You want a comparable car with better shielding, be prepared to add 5k to your price. You can't go wrong with the 07-08 Focus sedans and hatchbacks, but stay away from the wagons. They are not built from the same chassis, and only share a few body parts with the rest of the line. As a result the wagons looked promising, very comparable in size to the volvos and volkswagons, but they are tinker-toy junk with horrendous repair records. Milage averaged around 27, and it handled well for a front engine/drive car with so little weight in the rear. Did OK in snow with good snow tires, but under-steered badly when the all-seasons were left on. Never felt any issue on roads that were only wet. Repair costs the few times it was required were rock bottom, with parts always easily available. Over all a nice, tight, little sedan, with decent looks, solid reliability record, and very fair price.
Primary Use: Family transportation
Looking for a Used
Focus
in your area?
CarGurus has

59,622

nationwide Focus listings starting at

$1,200

.
Danyel

writes:
2007 Ford Focus ZX5 SES
Review
Focus On A Focus! — Handles better than a Volkswagen. Trust me, I've driven a lot of cars. Performs like a sports car, but has plenty of room for lots of stuff. Overall cost is very low. I drive very aggressively and get over 25mph. My Focus is so fun to drive, that when I send this one to car heaven I'm planning on getting another!
fast

writes: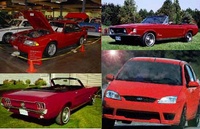 I Love It, An All Around Great Car--sporty, Cool Looking, Agile, Afordable And Fast. — I have the 2007 ST, it is not the Euro spec ST (as in Volvo 2.5 turbo), but it's powered by Mazda developed (2.3). Its power and specially low rpm torque is more than adequate, better still can be easily improved. The car handles great and is very comfortable to drive at high speeds. It's very stable and responsive (the euro spec ST & SVT heritage helps here). Brakes are also very good with 4 wheel disk and ABS. The winter package adds traction control & heated seats (toasty). The optional Sony speaker stereo w/ the sub sounds great. Overall I found the car very well optioned for the price. It's a normal every day car, but they don't have to be boring. This one is surely not--I look forward to drive it as much as possible!
Owner for 1 years, 0 months
Stanley

writes:
2007 Ford Focus ZX4 SE
Review
Pros
Fuel econmy, Driving pleasure, Stability, Look and feel, Luggage space
Enrty To Executive With Still A Lot Of Sportyness — The car drives like a dream, if feels stable, safe and at the same time very sporty and aggressive! The style of the wheels complement the curves of the body. I have been doing about 9.5 km/l since i bought it, did approx 4000km's. The interior is very executive but at the same time also a bit plain, it doesn't have leather seats as you would come to expect from this model. Being a tiptronic also helps especially when you sit in traffic, there the car really drives smoothly.I would recommend buying one.
Lola

writes:
Pros
since purchased new, mostly regular maintenance, nothing major
Cons
The window crank handles to roll windows down are in the opposite direction, than any other vehicle I have seen.
Very Reliable — 170,000 kms and still original rear brakes, maintenance wise, regular oil/filter, check brakes twice a year, check over once a year, very reliable vehicle. Vehicle fun to drive. Have had no check engine lite come on. Would like to trade in on recent model year. But not sure with all the technology on vehicles today.
Primary Use: Commuting to work
Nick

writes:
2007 Ford Focus ZX4 SES
Review
Pros
gas mileage, quick, sturdy
Mah Car — its a great car for the price the only thing i don't like is the traction control and the high armrest makes it hard to shift gears sometimes. handles great can max out at 180 before fuel stoppage. well built 80000 clicks ad no problems only transaxel fluid was replace for a better ride.
Primary Use: Commuting to work
Anne

writes:
2007 Ford Focus ZX5 SES
Review
Pros
speed, stability, fuel effieciency
Cons
it wasn't available in white when i bought it
It Rocks! — Euro feel inside and out with comfort and stability. The turbo charge gives you the right amount of speed when you need it. Enjoy driving on the highway at 6th gear. A full tank costs me less than a thousand bucks, and runs me at least 450 kms. Very spacious for both passengers and boot space. I love this car.
Primary Use: Commuting to work
Jeremy

writes:
2007 Ford Focus ZX4 ST
Review
Cons
None that I can think of.
Great Fun And Space For 3 Kids Too :) — Loved this car. Notice the "past tense" there ;) Now hankering after something...*ahem*....quicker? Never needed fixing - apart from the on going noisy gearbox which they can't seem to pin-point! 24 mpg avg. Easy on tires. Cheap servicing! Fantastic aggresive styling.
Primary Use: Commuting to work
Adrian

writes:
2007 Ford Focus ZX4 ST
Review
Pros
Sound of the exhaust
Great Car, A Classic For The Future — Great sound from the Volvo sourced 5 cylinder, performance is staggering. Build quality is good for a Ford, no qualms so far. Looks the part in Electric Orange, a bit leary. A bit thirsty, but who cares, better than a Nissan Micra at 0 to 60 in 4 hours! 0 to 60 in 6.5 secs - and with a growl from the twin exhausts.
Primary Use: Sport/fun (spirited driving, track racing, off-roading, etc.)
Eric

writes:
2007 Ford Focus ZX4 SE
Review
Pros
Generally a great car to have.
Cons
The seats are quite firm.
Understated Car — Solidly built Ford. Thick sheetmetal and very reliable car. It has a german-Ford feel. For long travels, it can be uncomfortable due to the firm seats. Nice scratch resistant dashboard although the plastics feel abit cheap. The suspension is also very good. Fuel economy is great at around 8kms/liter
Primary Use: Family transportation
Displaying 11 - 20 of 125 2007 Ford Focus reviews.
Looking for a Used
Focus
in your area?
CarGurus has

59,622

nationwide Focus listings starting at

$1,200

.