2007 Chrysler Pacifica
User Reviews
2007 Chrysler Pacifica Review Ratings
Average Ratings
from 11 reviews
Performance:
Appearance:
Build Quality:
Overall:
Review Highlights
Click to filter reviews below
Displaying 1 - 10 of 11 reviews
1
2
Next
lisaolof

writes:
2007 Chrysler Pacifica 4 Dr Touring S Package Review
Pros
The way it handles the road, and the comfort.
Cons
There is no reason to avoid this car!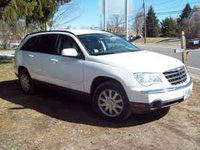 Love It!! Wish I Was Trading It In Toward A 2010! But...they No Longer Produce Them. — LOVE IT!! Wish I was trading it in toward a 2010, but they don't produce them anymore. This is the BEST car I have ever owned! It is so dependable, strong, safe. Awesome to drive, holds the road better than you can imagine. Anyone that I've ever talked to that owns(ed) one, has nothing but good things to say about it. If you've never owned one...maybe it's your time!
Primary Use: Family transportation
Looking for a Used

Pacifica

in your area?

CarGurus has

3,103

nationwide Pacifica listings starting at

$3,499

.
Michael

writes:
2007 Chrysler Pacifica 4 Dr Touring Signature Series Review
Pros
ride, preformance,space, options list
Cons
blind spot, realiability?, sat nav
Ull Never Guess — Well heres the DL. I do have to say man what a great car. it seats 6 people comfertably. You can get basically a power everything (tailgate sunroof driver and passangere seat) and the list keeps going. On the 07 and 08 modles the last ones made are availible with a navigation and backup cam. The backup cam is an AMAZING feature considering that this car has a blindspot the size of texas. It also has parktrons which use a sonar system that much like a bats (the animal) to help see if there is anything behind you. As for the navigation if you can figure out how to use it it can be handy. However, its under the spedometer(which tells you how fast ur going) which when ur driving can be very distracting espacially at night we usually turn it off. The back seat is what i think just as comfertable as the front with captains chairs that recline as well as make a fore and aft movement like that of the front seats.Also like the first row seats the 2nd row seats are heated (or can be). The third row seats are accepting but not inviting however its very easy to stow or open. BTW this car has AN AMAZING STERIO. This car has great preformance its quite fast especially for its size. Consumer reports gave it a test say 0-60 arrives in just 8.6 seconds.Then they went on to the reliability which apparently is the equivlent of a mercedes. To tell you the truth that is literally what this car is.In the two years we have had though we have had NO problems so if ur thinking for this as a second car that will be just driven around every once an a while then great. This car get average gas milage its not great however its no honda civic.
Garth

writes:
2007 Chrysler Pacifica 4 Dr Touring AWD S Package Review
Cons
Rear Visibility / Resale

A German Engineered Safty Cage For Your Family — This is a great car. It is roomy, comfortable, stylish and reasonably fuel efficient. The 2007 and 2008 models had an optional 4.0 L which is a solid performer when combined with the six speed automatic. We bought ours secon hand with less than 20,000 miles. It is an AWD touring model. The only complaint we have is that when we brake hard at a traffic light the transmission sometimes gets confused on the down shift and causes a clunk in the differential. It is noticeable but only happens occasionally, Chrysler offers a flash for the transmission to address this. We had it done and it does still make an occasional noise. this is one of the first cars that was designed by Diamler. It has out tsanding safty ratings and offers the best roll over rating of any 4WD SUV (4 Stars). It is notable that it also earns a five star rating in all other crash ratings. This car comes factory equipped with a Sirius satellite radio and has plugs aplenty for your kids electronices. With snow tires it is a snowmobile. It is not the easiest to service and the spark plug change as well as the cam shaft belt is "major surgury". At a 75,000 mile interval, that is not the end of the world. The rear visibilty "sucks". Look for one with the optional rear view camera. Stability control is a great feature but when it waers out, I see parts prices of $ 1,100 plus installation, so prepare to open your check book.
Primary Use: Family transportation
Jack

writes:
2007 Chrysler Pacifica 4 Dr Limited AWD Review
Pros
nice overall package
Cons
just when Chrysler got this car right they scrapped it - 2008 was the last year :(
Pacifica - A Damn Good Family Car — a solid car for sure - this Chysler Pacifica replaced an 04 Acura MDX which I had thought was one of the better cars I have ever owned - my wife liked the Pacifica even better - cool things like rear seat heaters & a power liftgate and the new 4.0L motor w/6 speed auto combo really works well together!
Ellen

writes:
2007 Chrysler Pacifica 4 Dr Touring Signature Series Review
Pros
nice car and an excellent drive, very comfortable
Chrysler Pacifica — I like this car especially fully loaded like ours but with gas prices would love to trade it in. this car has a spacoius interior and i love the third row seating it helps when you cart your kids friends around with you. :O) I would recomment the Pacifica to others for sure.
Andres

writes:
2007 Chrysler Pacifica 4 Dr Touring S Package Review
Best — Lovelly SUV, great handling, interior room is fantastic and is right on the money. It's very quiet you don't feel speed nice to go over limit, serious problem for radars, you can get speeding tickets. Had all the gadggets, sat radio, sun roof, and 7 pax seats.
Primary Use: Family transportation
PUNXYPHIL09

writes:
2007 Chrysler Pacifica Review
Pros
comfort, style, safety
Cons
tranny blew at 74,000

Sno Fightin' Pacifica — We live in a rural area of PA. and get our fair share of snow. This car goes up our 420 foot,45 degree incline driveway in a foot of unshovelved snow with ease. This vehicle is solid. I'd like to get a second one for myself, my wife uses this one. Alot of bang for the buck.
Lisa

writes:
2007 Chrysler Pacifica 4 Dr Spring Special Edition AWD Review
Pros
Heated leather seats,3rd row xtra seating, luxury ride
Cons
It can be a gas hog.
Pacifica Rocks — This is my second Chrysler vehicle and both have been a real dream! This pacifica rides like a dream and for a large car it get decent gas milage on the highway. It has all the bells and whistles and they work quite well. Dvd, multi CDs, heated seats and so much more!! I LOVE this Car!
Logan

writes:
2007 Chrysler Pacifica 4 Dr Touring T Package Review
Pros
Saftey, design, drive, materials used... almost everything
Cons
Cargo room when 3rd row seating is being used!
The Car That Chrysler Should Have Kept! — This car is a solid car and the smoothest drive I have ever experianced in anyother car I have driven. The 4.0L gives it plenty of power to get on the freeway qiuckly or to have a great drive up Vail Pass! As far as room goes I am torn. I love the passenger room for all 3 rows but I hate the cargo room... there is not much at all! I feel great about the safety ratings on it (no doubt that is a direct reflection on Benz as they codesigned this car with Chrysler). So far quality seems to be okay I have had to take it back to the dealership to have the tranny reprogramed. I average about 20mpg on this car. Overall a fantastic car! Great answer to NOT having a mini van or an overwhelming SUV. Great design, easy on they eyes, drvies fantastic, safe, and luxuary with out the steep price tag! Sad that Chrylser discontinued!
Benjamin

writes:
2007 Chrysler Pacifica 4 Dr Spring Special Edition AWD Review
Pros
Good mpg for the type of car, quiet ride, good performence, optional DVD for passengers
Cons
Cannot think of any at this time
Quiet An Comfortable Ride — I test drove this for my mom and I liked it a lot. It was very quiet the performence was great and the best of all if you have kids the option DVD player is great. The picture is crystal clear and the sound is amazing. The gas mileage is rated fairly decent at about 23 mpg.
Displaying 1 - 10 of 11 reviews
1
2
Next
Ask CarGurus about the 2007 Chrysler Pacifica
Average response time:
8.5 hours
,
# of Chrysler Pacifica owners:
549
Looking for a Used

Pacifica

in your area?

CarGurus has

3,103

nationwide Pacifica listings starting at

$3,499

.