Average Ratings from

13

reviews
Performance:
Appearance:
Build Quality:
Overall:
Review Highlights
Click to filter reviews below
Displaying 1 - 10 of 13 2007 BMW Z4 reviews.
Rebecca975

writes:
2007 BMW Z4 3.0i Roadster
Review
Pros
The looks, handling, the feeling when i speed!
Looking for a Used
Z4
in your area?
CarGurus has
1,296
nationwide Z4 listings starting at
$5,850
.
Hjalti

writes:
2007 BMW Z4 M Coupe
Review
Meet Uma — It is an amazing drivers car that compliments you every time you push the limits. But it will bite if you switch off the DSC so be careful. It is every bit that beast it looks like haha. On the negative side it´s an expensive 2 seater that is not very frugal.
Abdalla

writes:
2007 BMW Z4 3.0si Roadster
Review
Pros
evrything especially the softtop
Nice :) — this car is my favourite bmw has made this car to show the world that nothing is impossible shda3wa! when yu want to buy a carthink about that car gonna express you some how cuz it is ur choice so be smart,thinkabout it and i hope the best and good luck
Chesney95

writes:
2007 BMW Z4 M Coupe
Review
Pros
Power....and lots of it!!

Absolutely Love The Vehicle — This was and has been one of those vehicles that I always wanted. When it first came out, I would go tot he dealership and sit in it. I finally got it. I don't get to drive it often (1500 miles in 1.5 years) but when I do, I love it.
Primary Use: Sport/fun (spirited driving, track racing, off-roading, etc.)
Shaun

writes:
Z4 Coupe - Sex On Wheels. — Amazing pull from the low end torque while. Quick acceleration. Can hold it's own against cars with 30 more horsepower. Brakes are insane. Ultra sticky handling. Impeccable quality on the interior and exterior, excluding the cup holders (not European design). The interior and exterior are beautiful, subtle curves on the inside, radical aggressive on the outside. Surprisingly fuel efficient with an observed 25mpg city and 32mpg hwy. 42mpg at 45mph in 6th. Warranty covers everything as far as maintenance including oil. Car is ridiculously fun to drive as a daily driver, only issue is easy to get reckless.
Emma

writes:
2007 BMW Z4 M Roadster
Review
Pros
Speed, raod handling, looks, hood folding speed.
Bmw Z4 No Doubt About It! — The only downer is room is limited (boot and seats) however is does give you an excuse not to give lifts ;) I will say its road handling is brilliant at any speed. MPG is not great, but its a sports car so its whats you expect. I could go on and on about its positives, just read any review. But I will finish with, its an absolute thrill to drive.
Marcelo

writes:
2007 BMW Z4 M Coupe
Review
Pros
Focusing on driving is my favorite kind of meditation.
Cons
Gas milieage? Buy a Prius.
From All The Cars That I've Owned, This Is My Favorite. — Some people would say that this or that car have better handling, but actually controlling the somewhat brute behavior is one of the things I love the most about this car. Disengage the DSC and you better be really focused. I absolutely love the looks, and the fact that there are only 1800 or so in the US also adds a certain glamour to it. :)
merchantdan

writes:
2007 BMW Z4 3.0i Roadster
Review
Pros
Very roomy, ease of entering/exiting, extremely responsive engine and transmission. Great appearance (attracts onlookers) with its classical lines. Sound system with ten speakers yield superb sound whether using the AM/FM radio or CD's. Seats are very comfortable and leg room is plentiful.
Cons
The Low ground clearance design requires that the vehicle stay mostly on paved roads (i.e., no aggressive off road trips).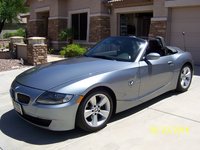 One Sweet Ride! — From the get go this has been a wonderful vehicle. Looks great, performs flawlessly. There are very few competitors for this particular model. Great view from the drivers seat, there are no blind spots per se. Even though this is a high performance vehicle it delivers great gas mileage. It's rated 20 MPG in the city and 30 MPG on the highway. I have experienced better than the 30 MPG on long trips (i.e., more than 200 miles). This vehicle was built to last. No vibration, no rattle, no sounds that are not supposed to be there. The automatic top opening/closure is smooth and quick. The trunk (i.e., boot) storage is much larger than you might expect. Easily consumes enough luggage for two people for a week. You feel very safe in this vehicle with all of its airbags and solid construction.
Primary Use: Commuting to work
Bob

writes:
2007 BMW Z4 3.0i Roadster
Review
Pros
Acceleration, Handling, Braking, Looks
Great Fun Car — Judy rented this car for my birthday in 2007. THANK YOU - JUDY. Great acceleration, handling, braking and great looks. GREAT FUN to drive. I got it up to 120 momentarily on the 71 heading to Liz' with Bobby as shotgun. It didn't take much to get it there when we came up on other cars and necessity required to slow down to a snails pace - 80. Paddle shifters were a gas. Able to change handling from Normal to Sport. In the Sport mode the ride was quite harsh - but that is what you get when you want great handling. The rag top works very simply. Easily able to have a conversation with my daughter at legal speed on the freeway with the top down. Lots of FUN. Thanks again!
Thomas

writes:
2007 BMW Z4 M Coupe
Review
Pros
Good quality, smart LCD panel, comforable sit, good performance, fit roads in Hong Kong
Cons
the big butt of Z4 need to go to lose some size
First Impression And Owner Feels — When you first sitting in the BMW Z4 without sitting in any super car, BMW Z4 will amaze you with it quality interior, your can find BMW selling you is not the brand, but is the good quality BMW offer, you can find leather everywhere in the interior, smart control panel on the steering wheel, quite comfortable sit, and the smart light system in your feet steping area. I remember that first time I sit in the BMW Z4 and driving the steering wheel, it gave me a good impression on its brand and the quality, the acceleration is quite good, LCD panel and the rolling control offer you a user-friendly control on the different system setting of the car. Ths size of the Z4 is so fit on the road in Hong Kong, if you like a sporty car, Z4 will be your next. Z4 allow you to take this baby to show off in your working area witn no problem on tiny road driving, but if you take it to market to buy food, I dont know what will be like. Maintainence is not expensive compare to other sport cars, BMW offer user a quite good services and repair plan. Customer services in the show room is great too, salesperson is friendly and even though you want to try different model before you purchase one, they will let you to do so.
Displaying 1 - 10 of 13 2007 BMW Z4 reviews.
Looking for a Used
Z4
in your area?
CarGurus has
1,296
nationwide Z4 listings starting at
$5,850
.