Average Ratings from

19

reviews
Performance:
Appearance:
Build Quality:
Overall:
Review Highlights
Click to filter reviews below
Displaying 1 - 10 of 19 2007 BMW X5 reviews.
Hilary

writes:
Pros
interior space, handling
Cons
gas mileage is not spectacular
Nice Sedan In An Suv Body. — Wanted to get a smaller SUV but did not want to get some poor handling truck. The X5 has room for 2 adults and 3 kids (plus a third row that can handle 2 more kids). As such the car is great for carpooling. The nice part about the car is that while it is an SUV it also handles very nicely and the interior is nicely done. Overall it feels like a luxury sedan.
Looking for a Used
X5
in your area?
CarGurus has
11,014
nationwide X5 listings starting at
$3,977
.
Aston_Martin_2005

writes:
Pros
Handling is second to none for an SUV. Great power for a normally aspirated SUV. Luxurious. Love the heads up display.
Cons
Expensive service cost.

An Suv That Drives Like A Car. — Shockingly good handling when coupled with the adaptive suspension. Plenty of power from the 4.8L V8. Truly easy to live with on a day to day basis. Head up display option is a must! Will not buy another BMW or indeed another SUV without this feature. Have stopped looking at the speedo and very handy for the navigation as next turn instruction is also projected. Still irritatingly slow iDrive. Interiors is luxurious and use of soft plastic moulding. Pretty decent sound system. Bluetooth connectivity is not bad. Seating is comfortable with lots of adjustments for front seat. Perforated leather for heat and cool function. 3rd row seats folds into floor and really is OK for only small children. Cargo space is average. After 5 years old, there was significant failures in the adaptive air suspension. We had a particularly bad run with all 4 shocks failing within a 2 year period. Replacement was very costly as you can imagine. The vehicle is great when it is fully functional, but reliability is a significant concern. Despite the failures, we did end up trading it in for a new model 2015 BMW X5, but on a lease. We would only consider a BMW under full warranty.
Primary Use: Family transportation
Mercy

writes:
Pros
It is a beautiful and conveniet SUV. Very reliable with a powerful motor.
Cons
Low fuel economy and high cost maintenance.
I Look Good In This Bmw Suv — Great buy! I love it! I can go everywhere comfortable and safe. It feels good on the road. Sounds like a Porsche. The sport package add stability and great look. I will strongly recommend this BMW SUV. Looking forward to many years of fun with my BMWX5 4.8i
Primary Use: Family transportation
Samuel

writes:
Pros
handling, interior, head up display, exterior (except for the plastic)
Cons
slight rattle in the trunk (easily fixed), black plastic bumpers, back up camera (night)
Bmw X5 4.8i (e70) — I got this SUV when it first came out back in the summer of 2007. Since it was the first round of production some glitches/problems are inevitable. This SUV has amazing handling, probably the best handling SUV out there. The acceleration is above average, but is no ML65 AMG or Cayenne GTS. The ride quality is can be adjusted between sport mode and normal, riding on 20's and having a stiffer suspension you expect to feel a bit more bumps on the road. Although I didn't go for the third row seat, I saw it at the dealership and I is absolutly useless unless you are 3 feet tall. The head up display is really neat, it shows speed, cruise control, and directions on the windshield; so that you can keep your eyes on the road. The rear camera is good during the day, showing turning lines which are super helpful. When it gets dark out, the camera becomes really blurry. In my mind, I think that the X5 has the nicest interior compared to its competitors and a monkey can figure out iDrive. Overall I really enjoy driving this SUV eventhough I can see the gas gauge go down every time I get excited.
sefann

writes:
Pros
Very stylish looking car and once you are in you get a commanding view of the road. Start up and you immediately feel the power. Very comfortable. No shaking or vibrating at high speed like most cars I have driven in the past. Navigation is a major plus. Panoramic sunroof is simply breathtaking. BMW service people treat you like a king when you bring the car in. Would recommend some kind of warranty to help with repairs when necessary.
Cons
Fuel economy could have been better. But of course that was not the focus of cars in 2007. That said it is still better than my old fold.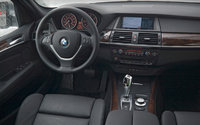 Amazing Ride — There really isn't enough words to justify this car. The entire series seems to get better with every model. Just on performance alone the car beats any other in its class. Braking and handling makes it feel more of a sports car than a heavy SUV.
Primary Use: Commuting to work
jake247365

writes:
Pros
Power, handling,style, comfort, tons of options, panaramic roof, and performance.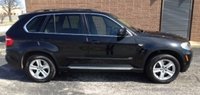 Best Driving Suv — This SUV has excellent performance and drives like a dream. Great styling and the panoramic roof is a must have. Leather seats are comfortable and wear well. Easy to see out of and rear view camera makes it a breeze to park and backup.
Primary Use: Family transportation
Vesa

writes:
A Good Looking Sav — Not so fast as e39 M5 but much more space. Good choice for family. Top speed is enough but acceleration should be better. Maybe I must tune this car a little bit. Few more horsepower could make good for performance.
Primary Use: Commuting to work
stevewales

writes:
Pros
Power, Speed, Suspension, Braking, Engineering, AWD, Styling, Interior features, Sound System, HUD, Navigation, family and cargo space
Cons
the A/C does not get cold enough; air vent controls break easily and are crazy expensive to repair; iDrive is easy to use, but too simplistic vs. competitors

2007 Bmw X5 - Excellent, But Not Perfect — I traded in a 1991 Ford Explorer so you might laugh at the comparison -- there is none, obviously. This BMW X5 is a pure dream to drive. It's like it's always waiting to take off, which is frustrating when you're stuck in traffic. But when you hit open highway and can put this marvel to the test, it's fantastic. Go get one. Update: 2013.05.20 Have owned the X5 for 1.5 yrs now and while it is still very fun to drive and the build quality exceeds most other cars, a little of the shine has warn off with small wear and tear items costing far too much to repair. My CPO warrantly also just expired, under which I was able to get several key repairs done for almost free, so the next 6-12 months will be eye-opening on cost if anything goes wrong. Will update again in a year or less.
Primary Use: Commuting to work
Robbie

writes:
Awesome — A fantastic drivers car with exhilarating performance,tremendous handling, all the practicalities of an SUV, great build quality, loads of gadgetry, down side a bit heavy on the juice around town, but good on a long run. Overall a great fun drive with the practiclity of a safe family car.
Primary Use: Family transportation
Adeline

writes:
Pros
it's spacious and luxurious
Cons
too expensive and consume too much gaz
I Love My Car — I love my car it's great i can seat 7 peoples and have the DVD for Joseph and a panoramic sunroof it's a nice car. It consume too much gaz and it's is expensive but I love the handle that it have and the space in it. Too much proble with the electronic
Displaying 1 - 10 of 19 2007 BMW X5 reviews.
Looking for a Used
X5
in your area?
CarGurus has
11,014
nationwide X5 listings starting at
$3,977
.