2007 Audi S6
User Reviews
Displaying all 4 2007 Audi S6 reviews.
eedoub

writes:
2007 Audi S6 5.2 Quattro
Review
Pros
Beautiful, Full of Technology, Powerful, Reliable, AWD, A beast in the snow
Cons
I always want it to look nice, takes a bit of work to keep it looking perfect. Gas mileage could be better, but hay-it's a V10 Lamborghini engine. It's best to have a set of winter tires as well.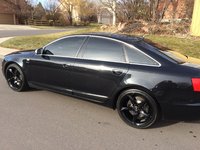 Badass — I love this car!!! Gets many compliments, very fun to drive, very safe to drive. The V10 has a ton of torque, the car is about 5000 lbs so it is a very very sturdy car. Plenty of room for 5 adults comfortably.
Primary Use: Commuting to work
Michele

writes:
2007 Audi S6 5.2 Quattro
Review
Pros
It's very hard to reach any limit...
Cons
Maybe is not for efverybody... could be dangerous...
The Cavalry Is Coming !!! — Coming for a smaller but still powerful 4.2 S4, even if still AVANT version, I find this one being more roomy inside and more powerful in within... It's quite difficult to keep calm so many power horses...
Crosby

writes:
2007 Audi S6 5.2 Quattro
Review
Pros
Lamborghini inspired V10, No lack of HP, Gorgeous inside and out, Extremely comfortable for the long trips, Holds four normal sized adults with ease, MMI is very intuitive to use.
Cons
Automatic, Heavy, Understeer easily provoked.
Audi S6 5.2 Quattro — Great car for those who entertain or drive people around a lot. The V10 is very gutsy and has great pick-up, although it feels very restricted. The car becomes more lively in second gear and seems to accelerate with a ferociousness once it gets above ~5200rpms. The car is very heavy (my guess is about 4200lbs unladen) and can be felt when pushing the car hard, both in braking and turning. Once again Audi's Quattro is very confidence inspiring, and their 40:60 split helps dial out some understeer, although it still can be provoked easily. The interior is where this car really shines, though. With bucket seats that give great support, and look great, your ass wont be moving at all once you go into the corners. Audi has also used neat little touches to the interior for at night. Such as lights that dimly light-up the other arm rests. Its the little touches like the aforementioned that helps keep Audi near the top.
knettix

writes:
2007 Audi S6 5.2 Quattro
Review
Pros
V-10 from a Lamborghini in a 4 door sedan! Exact and predictable power and steering. Thrilling torque.
Cons
Fuel economy is about 17.9 overall, this is not a real complaint considering it's a V-10. Adjustable suspension dampening would have been a bonus.

Black Tie Meets Black Belt — Great engine and superb build quality. I have owned many German luxury sedans but this is easily the best one I have owned yet. The Lamborghini sourced V-10 gives the thrill of an Italian supercar with the reliability of a German built sedan. Very precise handling.
Primary Use: Commuting to work
Displaying all 4 2007 Audi S6 reviews.