2006 Toyota Camry
User Reviews
Average Ratings from

24

reviews
Performance:
Appearance:
Build Quality:
Overall:
Review Highlights
Click to filter reviews below
Displaying 1 - 10 of 24 2006 Toyota Camry reviews.
pstence

writes:
2006 Toyota Camry CE
Review
Pros
Bought this 2006 Camry new and the only money I spent on her was for oil changes, Trans fluid change, battery and at the end an exhaust system. Great car. Got our money's worth and still was able to get a fair value on a trade-in.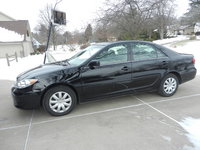 Camry Is A Great Car And A Great Value — All I had to do was change the oil regularly. No repairs to this car needed over the 9 years we owned it. Changed the battery and tires, oh and the brakes once I believe. Nothing negative to say about this car.
Primary Use: Family transportation
Looking for a Used
Camry
in your area?
CarGurus has
80,187
nationwide Camry listings starting at
$1,200
.
Joe_Jimenez

writes:
2006 Toyota Camry LE
Review
Pros
Very good handling car
Cons
For what the car is? I couldn't find any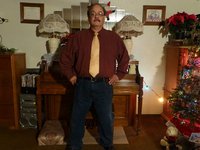 cnzama

writes:
2006 Toyota Camry LE
Review
Cons
Everything good with this car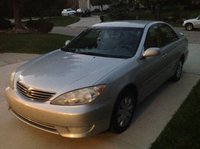 DenverLN

writes:
2006 Toyota Camry LE
Review
Pros
Safe, Reliable, Great gas mileage, Loads of Cargo Room, Clean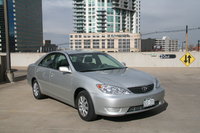 I Can Rely On This Car! — This car looks almost new inside and out. Smooth ride, easy handling, great visibility. Extremely reliable. Roomy interior. Amazing mileage. Virtually maintenance-free. I feel safe and solid on the road. Fantastic handling in all seasons. Great choice for students, families, commuters or anyone else!
RE

writes:
2006 Toyota Camry LE
Review
Pros
-Great to drive
-Comfortable
-Excellent gas mileage
-Reliable
-Practical
-My left ankle gets some exercise
Cons
-The 4-cylinder isn't very powerful
-This isn't a car you can brag to your friends about
I Would Be Happy To Own This Car. [edit - Now I Do!] — My cousin in Los Angeles let me test drive his new stickshift Camry a few years back, and it was one of the best cars I have driven in my life. It really ticks all the boxes: Roomy, comfortable, reliable, fun to drive, cheap to buy, cheap to run. Here is a quick rundown: Roomy: There is copious legroom front and rear, and the trunk is big enough for three or four medium-sized suitcases. Comfortable: The seats are supportive, and the ride is more cushioned than I would expect from anything less than a luxury car. Toyota have done what was once thought impossible: Great ride comfort with no accompanying compromise in handling. The interior is well-insulated from road and wind noise, which is still audible, but muffled. Reliable: Nothing has gone wrong with this car yet, and probably never will. It's a Toyota. Enough said. Fun to drive: Steering is precise and direct. The power assist provides just the right weight. This, combined with the poised handling, gives me the confidence to push the car a bit closer to the limit than I would normally be comfortable doing in a large family car. The Camry I drove was equipped with the standard 5-speed manual transmission. With an automatic, this car would actually be as boring as it looks. The gas, brake, and clutch pedals all feel linear. The clutch has a particularly long travel, which is great for smooth shifting. Cheap to buy: My cousin bought the car in 2007 for 17 grand. It was an incredibly good deal, partly because he haggled the price down, knowing the dealer was desperate to get last year's models off the lot. Even under normal circumstances though, the Camry is a great value, with better standard features than almost anything else in its class. Cheap to run: EPA mileage figures are 21 city, 30 highway, but my cousin claims he gets significantly more than that. Wow. Now for the downsides: The best way I can describe the 4-cylinder engine is "adequate". It's not going to knock your socks off, but it gets the job done. That's fine by me--I get more of a thrill from saving money at the pump than racing between the lights. Seen on its own, the Camry is pleasant to look at, but it doesn't stand out from the crowd. It is so common that you can't drive a mile in most towns without seeing at least twenty of them. It has become the quintessential boring car, in the eyes of the public. And yet, I find myself drawn to its unassuming image. Maybe I just like the idea that no one will ever suspect how much fun I'm having!
Primary Use: Family transportation
Brian

writes:
2006 Toyota Camry LE
Review
Pros
Fuel economy, build quality, reliability.
A Great Car. — I absolutely love the fact that it is very well-built, and even though it's a Japanese car, it's built right here in America. My Camry has much better fuel economy than my previous car, the Pontiac Grand Am. I would highly recommend this car to anyone.
Primary Use: Commuting to work
mookie1177

writes:
2006 Toyota Camry XLE V6
Review
Pros
Camry is a smooth ride. Quiet and coasts nicely on freeways. A full size sedan with plenty of room.

Most Comfortable & Practical Sedan You Can Buy. — Appearance wise, I have a phantom grey pearl. It's a really nice color and goes really well with the color of the rims. People think the Toyota design is too plain. But if you're looking for a simple and refined car, this hits the spot. It's actually appealing to look at in it's simple way. The Camry is really a reliable car. I haven't had any trouble with it. The trunk space is huge. I can fit large stroller + luggage.
LetsCelebrate

writes:
2006 Toyota Camry LE
Review
Pros
This is a super fuel effecient car. It's great to drive and handles with ease.
Cons
It is a 4 cylinder. I went down from a V6 to this and was told I wouldn't notice the difference. I still miss my V6 and that's what I'm going back to. I know I will lose the mpg's to get what I want however.

Super Fuel-effecient, Easy-to-handle Car — This has been a super car for the 5 years I've had it. No regrets. We had an SUV when our kids were home, then when they moved out we went back to a car. Now they're both married and our extended family has grown so I'm moving up to an SUV again. I will miss my trusty Camry.
Primary Use: Commuting to work
Mariel

writes:
2006 Toyota Camry LE
Review
Pros
comfortable and good gas mileage ratio
Toyota Camry — I love this car! It is very comfortable to drive in long rides, I used to drive 80 miles a day and it basically drove himself with the cruise control. It has a great gas mileage ratio. Never had to take it for repairs in three years except for rutine maintenance. It is a great car to go to work every day and it looks very elegant. I do not have any complaints about its performance.
retiredfornow

writes:
2006 Toyota Camry LE
Review
Pros
Consistent 35 mpg city and highway
Cons
Noisier than I like but overall good value for the money,has side airbags

35mpg Is Great But Quality Is A Little Sub-par For Toyota — No problems since new until last month at about 25000 miles. Had to replace the computer which I have never had happen in any car before even post 100,000 miles which I usually exceed before replacing cars. Fortunately was still under warranty or would have run $800.00+ per the dealer.
Owner for 1 years, 6 months
Miles Driven per Year:13,000
Displaying 1 - 10 of 24 2006 Toyota Camry reviews.
Looking for a Used
Camry
in your area?
CarGurus has
80,187
nationwide Camry listings starting at
$1,200
.