2006 Scion xA
User Reviews
2006 Scion xA
Review Ratings
Average Ratings from

13

reviews
Performance:
Appearance:
Build Quality:
Overall:
Review Highlights
Click to filter reviews below
Displaying 1 - 10 of 13 2006 Scion xA reviews.
Sean

writes:
2006 Scion xA Base
Review
Pros
Cheap, Fun, Edgy, Economical.
Love It. — Performance: I would have to say that I enjoy the overall performance from my vehicle, it has great handling, fun to drive, and was definitely a good buy fora college student. Build: The only repair that I did have to do on the car so far was to get new rotors, but that was easily fixable. Appearance: I love the exterior of the car, though I hope to myself get tinted windows I couldn't be happier with the 'edginess' this car seems to have. Cost of Ownership: The gas milage in mine is absolutely fantastic, driving manual with highway driving I get around 40MPG, and around town I usually get 36 - 38 MPG. Excellent.
Primary Use: Commuting to work
Looking for a Used
xA
in your area?
CarGurus has

250

nationwide xA listings starting at

$3,600

.
Cj

writes:
Pros
comfy for long commutes
Nice Car To Drive In — great speed, looks small but fits five people. silver black on the outside, inside soft black seats, fold down back seats for bigger trunk. can play i-pod blast it to bout 60. can drive to Michigan and back with a little stop.
Primary Use: Commuting to work
Josh

writes:
Pros
I love the iPod connection and the gas milage is great.
Cons
Looks a little goofy to some, but I love it
elocs

writes:
Pros
Peppy, fun to drive; on those back highways you can power into the curves because it handles so well. Great gas mileage with lots of storage room with the back seats down.
Cons
Can be a noisy drive on rough roads, a/c sucks the power when running on high.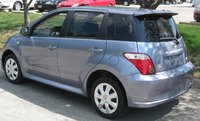 Fun And Peppy Car To Drive With Great Gas Mileage. — My 2006 Scion xA is a Release Series 3.0 and only 2100 were made. Mine is badged 1047 of 2100. It has a Kenstyle body lip kit only available on the RS 3.0 as well as the Stingray Metallic Blue which was only available on the RS 3.0 xA. It is a fun a peppy car to drive, handles well on those highway curves, has great gas mileage and can park anywhere.
Primary Use: Commuting to work
Chris

writes:
2006 Scion xA Base
Review
Pros
Smooth Ride, Awsome Gas Milage
Wonderful Scion — This car get about 31mpg in the city and that is me not being easy on the throttle. Has some decent pick up for only 101hp but very light and nimble. Great build quality and spacious. Low maintenance. All you have to do is oil change oil change and oil change.
Annie

writes:
2006 Scion xA Base
Review
Pros
38 MPG - What more can I say?
Cons
Small engine - only 1.5L
Girls Just Want To Have Fun — The car is fun to drive overall, but the handling could definitely do with improving. I must say that I am spoiled with my previous car being a MINI Cooper S and that had amazing everything! But overall, I am happy with this car. It does 38mpg and is good to run. It has some fun features and I can definitely personalize it which is a plus.
Holly

writes:
2006 Scion xA Base
Review
Pros
Excellent mileage, has required no repairs in 2 years of ownership(purchased new)
Cons
Not as much space as some other vehicles, but so what!
Oooo La La — I LOOOOVE this car. It gets fantastic gas mielage- averaging at least 30 mpg! I loved it from the first moment I saw it. Her name is Darling Darla and she is a DIVA! She is sooo much fun to drive. She handles like a dream and can scoot into ANY space, no matter how the idiots in the surrounding spaces have parked.
Elizabeth Ashley

writes:
2006 Scion xA Base
Review
Pros
38/40 mpg.....good stock system...nice rims that I bought when I got the car :)
Cons
it looks small from the outside.....its deceiving though
I Loovve This Car So Much :) — my scion..the Xa is the best investment I've ever made...its cute..like ma..haha....good on gas and big enough for me and my pup. Plus just found out the Xd is the new Xa so yeah its kinda special...also like me :) I highly recommend Scions to anyone looking for a car they dont have to fix everyday....like a volkswagon I used to own..haha....plus its a toyota...u know it will run for ever!!
El

writes:
Cons
Not capable of moving big stuffs; small backseat space (but who cares while I am the only person in car all the time?) XD
Jenna

writes:
2006 Scion xA Base
Review
Pros
cute, reliable, great MPG and it was CHEAP!!!!
Cons
kinda slow when you have 5 people, 1 dog and are trying to accelerate up a hill :-) We drive in the right lane much more than we used to... lol
It Gets Over 30 Mpg! — cute car that is fun to drive and faster than you would think. we love to shove all of our kids in the back and go for rides with the windows down and the radio blasting. The kids actually love this car even though they are snuggled closely in the back. No complaints, believe it or not. (..but yet they would complain when we had a DVD player in the car. Go figure..)
Displaying 1 - 10 of 13 2006 Scion xA reviews.
Reviews From Other Years
Great For Your Pocketbook!
I like everything about this car except its lack of comfort for long trips. I haven't driven it more than an hour one way on more than one occasion, but I am used to cruise control. The front seats h... Read More
Solid Economy Vehicle For Single Owners Especially In An Urban Setting
Overall I am pleased with the vehicle. The good fuel economy and low maintenance have made for low vehicle expenses. It is an easy vehicle to do the routine tune-up work on. It is a fun vehicle to dri... Read More
Read all

9

2005 Scion xA reviews
Not That Bad A Car...
This is a very easy and fun car to upkeep. it doesn't have lot of power, but if it did, I can't say I would be here. It's a sharp looking car but it's on the cheap side when it comes to the build. ... Read More
Read all 2004 Scion xA reviews
Looking for a Used
xA
in your area?
CarGurus has

250

nationwide xA listings starting at

$3,600

.