2006 Pontiac Grand Prix
User Reviews
Average Ratings from

43

reviews
Performance:
Appearance:
Build Quality:
Overall:
Review Highlights
Click to filter reviews below
Displaying 1 - 10 of 43 2006 Pontiac Grand Prix reviews.
pennhound

writes:
2006 Pontiac Grand Prix GXP
Review
Pros
Fun driving car. Endless V8 power for street driving.
Cons
Higher than average maintenance costs for domestic car.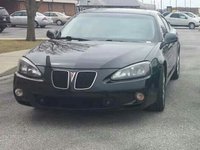 Knight In Shining Armor — OEM tires are sized different front to rear so that conventional tire rotation is not feasible. Minor repairs have been minimal;p. Pontiac crammed a lot of horsepower into a V6 engine compartment. Overall this car has definitely been a satisfactory experience.
Primary Use: Commuting to work
Looking for a Used
Grand Prix
in your area?
CarGurus has
3,843
nationwide Grand Prix listings starting at
$1,988
.
Stuff1025

writes:
2006 Pontiac Grand Prix Base
Review
Cons
I don't complain much...

WxManII

writes:
2006 Pontiac Grand Prix GXP
Review
Pros
It's unusual. It's powerful. It's gonna make you smile!
Cons
If you're looking for a gas-sipper, move on, this ain't it.

Makes You Feel Like The Meanest S.o.b. On The Road. That V8 Rumbles Just Right. — I got this as a replacement for a 1998 Monte Carlo Z34 that met an early end after encountering a patch of ice on a New York hillside road. It was shopping mainly for Mustang GT's, 2006-2007 Monte Carlo SS's and the odd Charger R/T. This thing caught my eye in a dealership parking lot and when I saw the V8 badge thought at first I was looking at a GTO. I had no idea that they had shoe-horned a 5.3 V8 into a Grand Prix! What I like about the car... Power. Loads and loads of power. 303 hp in stock trim, plenty to use during the stoplight to stoplight "show and tell" sessions. The amenities in this car are well thought out. Heads Up Display that gives you the vehicle speed, gear selected (when in manual shift mode), warning messages, all kinds of information, with even more on the driver's information center in the console. Wheel-mounted paddle shifters (might be better placed on the steering column, but still.. at least they're THERE), 6 CD Monsoon stereo system, leather wrapped steering wheel, leather seats, moonroof/sunroof, flip down rear seats for expand trunk storage, AND the front passenger seatback folds FLAT so you can carry up to 9ft long items! Oh... did I mention this thing has POWER? Yeah, I thought I might have. It's applied through the front tires folks. That's my only complaint. This much power needs to go to the rear wheels. Fancy engineering and fatter tires up front than in back, however, help keep it all manageable. Displacement On Demand helps keep this V8 from drinking TOO much fuel, but only on the highway. In town, it's a thirsty beast! And those tires bring me to the major downside. Tires are expensive for this beast, they are NOT rotatable, and if you drive this in a spirited manner, you'll be buying lots of 255R45/18's!
Primary Use: Commuting to work
6 of 7 people found this review helpful.
You don't find this review helpful
AmennRa72

writes:
2006 Pontiac Grand Prix GXP
Review
Pros
It is a great Car beside regular P.M my car has deliver as advertise,Feels,Looks and overall performance I wouldn't trade for for anything. She is My Baby. I've had plenty of other cars and makes but Pontiac did really good with this one.Pontiac 4 Life.
Cons
Not to many I can say but they should have gave the the passenger the same treatment and made the seat power. But love the flip down front seat for more cargo space :)

Reliable And Powerful — I like everything about this car from Performance,Looks and Gas economy it was build to please its owner and drives. One thing dough, the competition did not know what was coming for them when Pontiac release the 2006 Grand Prix 5.3 L 303 HP 453 pounds of torque all american muscle. There was no Sedan out there that could have competed to its top performance and great handling of the roads as the 2006 Grand Prix GXP . Wide track system that can manage any curves like its on rails. and with its sophisticated system in gas economy that can Provide Displacement on Demand. Sincerely,Pontiac4Life
Primary Use: Commuting to work
Mark

writes:
2006 Pontiac Grand Prix GXP
Review
Pros
this car was a west coast car as i call them has so much power have had it to 142 and still had pedal to go but i ran out of road missouri is hilly and curvy handles real well at any speed nice look to it all leather love my car
Cons
having problems with warning lights coming on is the only bad thing i can tell you
When This Motor Gos I Will Drop A New One In It — this is my first pontiac and i always new they were nice but until i bought this one i did not know just how nice and how much power they had i wont go back to anything else i promise that
Primary Use: Commuting to work
Chris

writes:
2006 Pontiac Grand Prix GXP
Review
Pros
Fun to drive, performance, and pratical
Cons
Cost for front tires, gas mileage
Steep Price For A Grand Prix But Worth Every Penny — Love the Performance, Handling, and Braking of the GXP. The Brakes did make noise with the stock pads and had alot of dust. There is a low dust AC Delco pad avalible that doesnt sacrifice performance. The gas mileage is 16 city 26hwy but thats to be expected with a 5.3L V8. I have been able to get 30mpg interstate... I do wish the styling was a bit more agressive. I need a ram air hood in my opinion to get a great pontiac muscle/performance car. It does use an odd size front tire which makes them expensive to replace, Be ready to spend $500-600 for 2 front tires.
Primary Use: Commuting to work
VehicleInformationResources_Chris

writes:
2006 Pontiac Grand Prix GT
Review
Pros
Great amount of power is available with the Naturally Aspirated 3800 V6.
Excellent GAS Mileage for a 3.8L engine. Have routinely averaged on highway 30-40+ MPG for long distances; speed, traffic, terrain, and weather depended.

Great handling.

Amazing braking brought the car to a full stop in under 1 car length from 40 mph under emergency braking conditions. (ABS Fully locked)

Fold flat front seat really comes in handy when transporting long materials (such as lumber) With seat folded have easily fit 12 foot long 2x4's in the car with the trunk closed

Front racing inspired Bucket seats Extremely Comfortable (Leather option) First coment when ever anybody gets in the car. These seats are amazing!

Car Handles diving in snow with LOT of tire spin though.

Great Sound System (clear, loud, great bass) Radio antenna is hidden in back window (no need for worrying about taking off the antenna at the car wash)

Large trunk. Trunk hinges are located in the jam between the trunk lid and body of the vehicle. NO long arms to support the trunk lid that take up space when closed.

Computer is Extremely easy to navigate
Cons
Side mirrors Ice easily (should have been heated - i just have a can of deicer in the car)

My car only has the enhanced traction system would recommend the upgrade of traction control (too much torque on take off causes you to burn out a lot).

Doors open into hood. the One inch gap between the door, windshield and hood likes to gather ice preventing the front doors from opening when the car is iced over. Ice is easily removed with fingers or melted with deicer

Lacking Rear Windshield Wiper

Back seat leg room. (I'm tall so the driver seat is pushed way back) Great for 3 people. I only transport 3+ individuals on occasion, Plenty of room though for short drives (under 2hrs)

Excelent Car — I would Highly recommend this car. No Car currently on market can compete with what Pontiac Grand Prix provided for the price of (mid 20K) The car represents what Pontiac is known for "Performance at a reasonable price" Even Though it is a FULL SIZE car I know it can give many 6 cylinder mustangs a run for their money. (Even with the smallest engine GM put in the vehicle) Handling is excellent especially for a full size!!!!!!!
Primary Use: Commuting to work
Chip

writes:
2006 Pontiac Grand Prix GXP
Review
Pros
Fast, and a surprise to others.
Fun To Drive Despite Older Platform. — Lots of fun to drive, and I love the color. Surprised a few folks with how fast this car really is. Interior design left some things to be desired, overall cheap feeling despite a few nice details. Don't miss the red gauges.
Primary Use: Commuting to work
Dorian

writes:
2006 Pontiac Grand Prix Base
Review
Cons
They stopped making it.
Good Car — It's pretty quick. It's a great car, pretty good-looking and spacious on the inside. Plenty of trunk space too. It's fun to drive, practical, and not too expensive. The only unreliable part is the plastic heater hose bypass elbows cracked and leaked out coolant, causing the heater to not work, then the engine to overheat. I replaced them with aluminum ones, so I shouldn't have that problem again. I get excellent fuel economy, up to 33 mpg when I drive carefully.
Primary Use: Commuting to work
Displaying 1 - 10 of 43 2006 Pontiac Grand Prix reviews.
Looking for a Used
Grand Prix
in your area?
CarGurus has
3,843
nationwide Grand Prix listings starting at
$1,988
.