2006 Mazda MX-5 Miata
User Reviews
2006 Mazda MX-5 Miata
Review Ratings
Average Ratings from

28

reviews
Performance:
Appearance:
Build Quality:
Overall:
Review Highlights
Click to filter reviews below
Displaying 1 - 10 of 28 2006 Mazda MX-5 Miata reviews.
Pat

writes:
2006 Mazda MX-5 Miata Touring
Review
Pros
Pretty much everything
Cons
Optional 2.3L upgrade like on the Mazda3
The Mx-5 Miata Mk3 Is Just That Amazing — This car is one of those cars that makes you want to take the back roads to where you're going. She begs for curves, twists, and roads that are barely patrolled by cops. The performance for such a small car is amazing (given the car weighs just over 2,400lbs). I have the automatic which I didn't want at first but the thought of a RWD-stick-shift car in the winter wasn't too amusing to me. It has the manumatic transmission which means one awesome thing, paddle-shifters! The auto is nice though if you feel like being lazy haha. Cost wise, it's not bad. The Premium gas and synthetic oil was a little different to switch to after using regular unleaded gas and regular oil in my previous car, but if treated right, these cars will easily hit 300,000+ miles. Feed her the right stuff and she'll please you in ways that your girlfriend only wishes she could. I love the looks of the newer style Miatas. Bigger, safer, better accents, and the fog lights are all a nice touch. The trunk size isn't bad (I honestly expected smaller). Good luck fitting in some golf clubs though. Just put the passenger in the trunk and the golf clubs in the passenger seat. They most likely won't understand, but other Miata enthusiasts will haha. As far as fun factor goes, it's right next to a Porsche Boxster for me. There's nothing like dropping the top and taking her down a windy road on a nice sunny day with the music turned up a bit. I have had quite a few complements at parks, gas stations, etc and it gets eyed up quite a bit. I highly recommend getting a Miata. It's like a little go-kart for the road and will definitely put a smile on your face.
Primary Use: Commuting to work
Looking for a Used
MX-5 Miata
in your area?
CarGurus has

2,556

nationwide MX-5 Miata listings starting at

$1,995

.
Michael

writes:
2006 Mazda MX-5 Miata Grand Touring
Review
Pros
Great Car, Great trow back looks, Great handling, Great gas mileage, Cheap maintenance,
Fun car to drive.
Cons
Convertible top showed excesive wear in the first year of ownership, covered under warranty and I think ended up being a recall later.
Great Little Modern Day Miata / Mx-5 — We traded our Jeep Cherokee for this car, and had a blast during our ownership, really didnt cost much for upkeep, how ever it was only 6 months old when we purchased it. It was the first year of the redesign for the MX-5 and they definitly did a great job. Mazda has always been on point with the MX-5 and I'm sure the following gen. cars will continue to carry on the car and driver as one, passion. I personally liked the first gen miatas better but thats just my personal preference. Overall one of the best sportscars hands down.
Primary Use: Commuting to work
djbeeze

writes:
2006 Mazda MX-5 Miata Grand Touring
Review
Pros
Absolutely fun to drive and own. I never get tired of it. Very reliable. Looks great even after 7 years - the style is timeless. No regrets with this car.
Cons
The convertible top is a little rattly when closed. Sometimes when I corner hard and brace myself on the center console, the windows go down because that's where the window controls are!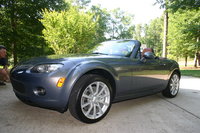 Of All The Cars I've Owned, This Is My Favorite Car — This has been a great car that continues to hold its appeal. I never get tired of it. Of course, it can't do everything well (i.e. it is not great for long drives) but for my daily commute (30 minutes each way), I love it. The manual convertible top literally takes about 6 seconds to put up or take down. I like the ragtop and find it more convenient than the hard top convertible that came a year or two after I bought this car. I'm not especially fond of the gearing; I think sixth should be more for cruising and run at lower RPMs.
Primary Use: Commuting to work
Benjamin

writes:
2006 Mazda MX-5 Miata Touring
Review
Pros
Good looking, surprisingly roomy, surprisingly comfortable, can be fun to drive, weel engineered soft top.
Cons
can be dull to drive, thirsty engine, not made for long highway trips
2006 1.8l Mx5 — The engine can be as agreable and fun than dull. At high rev, it become fun to exploit, but driven "with reason", the lack of torque make it dull to drive. And also, the fuel consumption is too high. OK, it's supposed to be a sport car, but it's also very light and not so powerful. Road handling is fun but the Yokohama tires are a piece of crap. Look is a key point. Built quality is good. Previous MX5 generation proved to be reliable. I'm expecting the same for mine. It's not so cheap to own used, but as it keeps it's value very well, I should get my money back when I'll sell it. The maintenance is not overpriced but the fuel consumption is too high. Manual soft top is a masterpiece of engineering. Up or down in just a few seconds. It is much roomier that expected.Even if it's just a two seater with a small boot. But it's not surprising when you own a roadster. It's also much more comfortable than expected. The only weak point is the noise at highway speed. Or the wind if you're top down.
CEWJR

writes:
2006 Mazda MX-5 Miata Grand Touring
Review
Pros
Looks/Handles/Accelerates like a real "sports" car. Although shunned by most, the door mounted bottle holders are perfect. Soft top.
Cons
Door mounted lock switches should be moved near center window switches.

How Giving An Opinion Can Change What You Consider A Great Sports Car. — Car reviewed: MX-5 GT AT. Drove this car with "Manumatic" to review it for my 66-year young mother. Being an ex-road racer and die-hard Porsche man, I was really skeptical. WOW!!! This little car delivers crisp/precise handling. The chassis/suspension gives ample communication. The engine's power band is wide, but keep it there, 4k+, if you want to go "fast" and yes, this car is plenty fast for public roads. The MX-5 Miata is more about "Dynamics" and less, a lot less, about drag/ego/idiot street racing. The brakes are fade free with excellent modulation. DSC really works and will keep most out of trouble on the street. The automatic transmission "Manumatic" was the biggest surprise, offering complete control of the power band with solid, lightning quick up/down shifting; a very nice unit, given the pricing point. The steering wheel mounted "shifting paddles" are perfectly placed, better than some F1 units, IMHO. Interior noise is low, considering it's an ultra light street convertible. At 6' 180lb's, I fit just fine, though this area is really shape dependent. Gauges and interior controls are well place (move door lock switches next the center mounted window switches). Manual top works great, real smart design. Great fuel mileage!! In short, a well rounded, solid sports car and a great value. That's why "I" bought one.
Owner for 1 years, 0 months
Miles Driven per Year:3,000
JHarrison123

writes:
2006 Mazda MX-5 Miata Grand Touring
Review
Pros
NEW AND IMPROVE!
The 2.0L 4cylinder engine! Very nice! plenty of power, good on gas, great looks, a little more room, I am 6'3'' so it is hard for me to get in some of these cars.
Cons
Not much, I hope the next generation will be a little bit bigger. I look forward to the scion convertible, if they ever come out with it.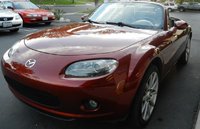 Mazda,"still Rock-in It!!! — I already said it all! It is an amazing car, so much fun to drive with the top down, actually enough room in it, it is definitely fast, get out of the way pass people. It is the only car I felt comfortable to pass people on the freeway
Primary Use: Sport/fun (spirited driving, track racing, off-roading, etc.)
albcorpcars

writes:
2006 Mazda MX-5 Miata Base
Review
Pros
Excellent handling curves, and grabs the road like no other car i had before
Cons
A couple of more inches on the inside will be perfect

Unforgettable Ride — What i like the most about this is what i mention all this time the capacity of this convertible to handle the road at high speeds, and how safe i feel when i drive it. Many times i drove with my wife with me and she is amaze how constable it is to drive it anywhere.
Primary Use: Sport/fun (spirited driving, track racing, off-roading, etc.)
bat2000

writes:
2006 Mazda MX-5 Miata Grand Touring
Review
Cons
hard suspension and not a car for distance travel unless your under30 and fit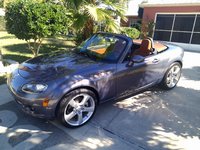 Must Have "second" Car — I like the evolution on this car, would love to get rid of the roof storage and make it a bigger interior and maybe even up the interior luxury option so the car can look like the classy roadster that it is.
Primary Use: Sport/fun (spirited driving, track racing, off-roading, etc.)
drthwing

writes:
2006 Mazda MX-5 Miata Base
Review
Pros
A Miata is the most fun per pound you can buy in America!
Cons
It's a California car, that's for sure. Don't expect it to enjoy driving in the snow

I'll Never Love Another Car Like My Miata — I grab every chance I get to drive the small country & mountain lanes with my top down. Even in nippy weather, if the sun's out I'll just crank up the heat and put that top down. One of the things I like best is that the ragtop is NOT automatic. I can put it up or down in a matter of 1 or 2 seconds and can do it even going along at 30 mph. I like some more expensive convertibles better than the Miata, but having to come to a dead stop, put the brake on and wait 12 seconds while the motorized crank raises or lowers the top is a deal-breaker for me.
Primary Use: Commuting to work
Joshua

writes:
2006 Mazda MX-5 Miata
Review
Pros
Quick, very nimble, surprisingly inexpensive.
Cons
Some girls call it "cute" instead of sexy, and sportscar insurance rates.
A Must-have For Many Racers, A Beautiful Cruiser For Less-competitive People. — I purchased this car partially on a whim and partially to get out of a Ford with serious electrical problems. Performance-wise, the motor is extremely potent for an unmodified 4-cylinder, pushing enough power to light up both tires on a rapid launch on dry pavement. The car loves corners like soul mates, happily throwing in with a responsive wheel, and the slight oversteer is very easy to control as you apex through it. Exterior is beautiful, and turns heads when cruising through town. Interior is purely plastic, but that is unimportant the moment you drop the top. Cost-wise, the car is quite a bit more than what I'm used to- it requires 91-octane minimum, but I've had no problem averaging 30 MPG when I can keep my foot off the floor. This car is truly fun, but the family man (which I am not one, fortunately) may be unhappy about the lack of a back seat, or the somewhat-limited visibility when the top is up. This is not a family car, but if you don't have need for much cargo space or can afford a second car, this one will prove quite reliable for that lingerie-clad mistress of a car, whether you autocross, road race, or simply want something fun and sexy to run around town. (Ignore the other racers that scoff at its "cute" look, they are just jealous.)
Primary Use: Commuting to work
Displaying 1 - 10 of 28 2006 Mazda MX-5 Miata reviews.
Looking for a Used
MX-5 Miata
in your area?
CarGurus has

2,556

nationwide MX-5 Miata listings starting at

$1,995

.