2006 Mazda MX-5 Miata
User Reviews
Average Ratings from

28

reviews
Performance:
Appearance:
Build Quality:
Overall:
Review Highlights
Click to filter reviews below
Displaying 1 - 10 of 29 2006 Mazda MX-5 Miata reviews.
JHarrison123

writes:
2006 Mazda MX-5 Miata Grand Touring
Review
Pros
NEW AND IMPROVE!
The 2.0L 4cylinder engine! Very nice! plenty of power, good on gas, great looks, a little more room, I am 6'3'' so it is hard for me to get in some of these cars.
Cons
Not much, I hope the next generation will be a little bit bigger. I look forward to the scion convertible, if they ever come out with it.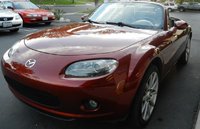 Mazda,"still Rock-in It!!! — I already said it all! It is an amazing car, so much fun to drive with the top down, actually enough room in it, it is definitely fast, get out of the way pass people. It is the only car I felt comfortable to pass people on the freeway
Primary Use: Sport/fun (spirited driving, track racing, off-roading, etc.)
Looking for a Used
MX-5 Miata
in your area?
CarGurus has
2,449
nationwide MX-5 Miata listings starting at
$2,995
.
albcorpcars

writes:
2006 Mazda MX-5 Miata Base
Review
Pros
Excellent handling curves, and grabs the road like no other car i had before
Cons
A couple of more inches on the inside will be perfect

Unforgettable Ride — What i like the most about this is what i mention all this time the capacity of this convertible to handle the road at high speeds, and how safe i feel when i drive it. Many times i drove with my wife with me and she is amaze how constable it is to drive it anywhere.
Primary Use: Sport/fun (spirited driving, track racing, off-roading, etc.)
bat2000

writes:
2006 Mazda MX-5 Miata Grand Touring
Review
Cons
hard suspension and not a car for distance travel unless your under30 and fit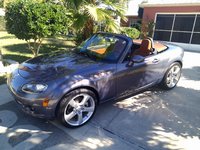 Must Have "second" Car — I like the evolution on this car, would love to get rid of the roof storage and make it a bigger interior and maybe even up the interior luxury option so the car can look like the classy roadster that it is.
Primary Use: Sport/fun (spirited driving, track racing, off-roading, etc.)
Joshua

writes:
2006 Mazda MX-5 Miata
Review
Pros
Quick, very nimble, surprisingly inexpensive.
Cons
Some girls call it "cute" instead of sexy, and sportscar insurance rates.
A Must-have For Many Racers, A Beautiful Cruiser For Less-competitive People. — I purchased this car partially on a whim and partially to get out of a Ford with serious electrical problems. Performance-wise, the motor is extremely potent for an unmodified 4-cylinder, pushing enough power to light up both tires on a rapid launch on dry pavement. The car loves corners like soul mates, happily throwing in with a responsive wheel, and the slight oversteer is very easy to control as you apex through it. Exterior is beautiful, and turns heads when cruising through town. Interior is purely plastic, but that is unimportant the moment you drop the top. Cost-wise, the car is quite a bit more than what I'm used to- it requires 91-octane minimum, but I've had no problem averaging 30 MPG when I can keep my foot off the floor. This car is truly fun, but the family man (which I am not one, fortunately) may be unhappy about the lack of a back seat, or the somewhat-limited visibility when the top is up. This is not a family car, but if you don't have need for much cargo space or can afford a second car, this one will prove quite reliable for that lingerie-clad mistress of a car, whether you autocross, road race, or simply want something fun and sexy to run around town. (Ignore the other racers that scoff at its "cute" look, they are just jealous.)
Primary Use: Commuting to work
djbeeze

writes:
2006 Mazda MX-5 Miata Grand Touring
Review
Pros
Absolutely fun to drive and own. I never get tired of it. Very reliable. Looks great even after 7 years - the style is timeless. No regrets with this car.
Cons
The convertible top is a little rattly when closed. Sometimes when I corner hard and brace myself on the center console, the windows go down because that's where the window controls are!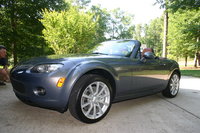 Of All The Cars I've Owned, This Is My Favorite Car — This has been a great car that continues to hold its appeal. I never get tired of it. Of course, it can't do everything well (i.e. it is not great for long drives) but for my daily commute (30 minutes each way), I love it. The manual convertible top literally takes about 6 seconds to put up or take down. I like the ragtop and find it more convenient than the hard top convertible that came a year or two after I bought this car. I'm not especially fond of the gearing; I think sixth should be more for cruising and run at lower RPMs.
Primary Use: Commuting to work
VHice

writes:
2006 Mazda MX-5 Miata Touring
Review
Pros
Excellent sports car. Fun to drive.
Cons
Not a family car or space for hauling. Strictly a sports car.

Great For Road Trips And Just Having Fun — Sound system is great. Handling on the road is great. It gets great gas mileage and it is just a fun car to drive around. All the controls are on the steering wheel and the stick shift is smooth. Very low maintenance sports car.
Primary Use: Sport/fun (spirited driving, track racing, off-roading, etc.)
tkfuchel

writes:
2006 Mazda MX-5 Miata Club Spec
Review
Pros
Great handling, no over or under steer. Amazing zip under 90. Top speed has been 105. Breaking great. body weight is low to the ground adding to handling. Great looking car.
Cons
You don't expect these in this car, but here goes. It is not a high-permormance engine and top speed is 105. Space is limited but better than expected. Trunk storage is limited, but not bad for a car this size.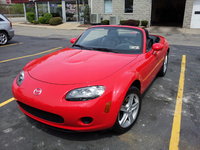 I Love This Car. — This is a great car. When it is time to replace it, I'll buy another one. I've had more powerful cars and more luxury cars but none that I have enjoyed more. The biggest disappointment comes when you get where you are going. You don't want to end the trip. A sheer joy to drive.
Primary Use: Sport/fun (spirited driving, track racing, off-roading, etc.)
Majwood

writes:
2006 Mazda MX-5 Miata Base
Review
Pros
Outstanding handling and reliability.

Super Value — This car is a California Highway 1 driver - outstanding! With the 5-speed manual trans I get 34 mpg on the highway. It has respectable power for accelerating and passing and great stopping power. It is a very fun car to drive.
Primary Use: Sport/fun (spirited driving, track racing, off-roading, etc.)
Ashwin

writes:
2006 Mazda MX-5 Miata Sport
Review
Pros
I like the engine beyond 3,500 rpm, I love the 6-speed gearbox, the steering, the fact that it's RWD and so responsive to every driver input.
Cons
I wish it was a non-convertible hardtop coupe, I wish it had no AC, no stereo, no speakers, no radio, no CD player, no air bags, no no electric window on driver's side... all this to lose even more weight and become even more light-weight than it already is!!
The One Car That Delivers Most Fun With Least Cost Of Ownership — Most fun one can have in a car with least cost of ownership… I'm not a motoring journalist but I think I can be a good one. I'd love that job of endlessly driving all new cars but it also comes with having to type endlessly as well. Because I'm not good at typing up a review in 2 minutes, it'll come when I have some (lot) more time. After a very long time... Finally, after a few months, and after being motivated by a dear friend (who said I was very talented in this area and that I was wasting it by not trying), I've managed to allot some time and energy to this rather boring task of typing up a review about my superb little car - 2006 Mazda MX-5 Sport. So, if you've reached thus far, that means you don't have anything better to do and I will try to make sure that your time here has been worthwhile (or so you'll think). A word of caution: I may use a lot of clichés. Performance: Although it may only have a 170 horsepower (don't write in to complain; 166 bhp for 2006 automatic transmission and all models since 2007) 2.0 Liter In-line 4-cylinder engine, if you manage to change gears quickly on the super slick 6-speed close ratio gearbox, you will leave most other road users behind at a signal. Partly, this is because of a total lack of weight, (lighter cars accelerate quicker; only lighter cars available in US are Lotus Elise and Exige) and partly because of Variable Valve Timing. The job of VVT is to alter the timing of intake and exhaust valves at about 3,800 rpm, beyond which, you will feel an invisible push like you've been caught in a sea-wave, unless you're used to driving cars that cost more than twice as much as this one does. Did you know that the Mazda Miata/MX-5 is the most popular car in the weekend racing scene anywhere in the world? And it is the bestselling 2 seater convertible sports car in the world, in the history of automobile!! Brakes are phenomenal this side of carbon ceramics. They are steel disks on all four corners and have excellent feel, while not biting too quickly. This means, they are comfortable during normal everyday use as well as being more than sufficient (coupled with ABS) when it really matters. And because this car is so light weight, the momentum is not carried much far when you brake. Handling is epic as well. There are three factors working in conjunction here. One: The optional sport package (Bilstein shocks, Sport tuned suspension and Limited Slip Differential) is definitely worth if you want to race. Two: Near- perfect weight distribution (advantages of rear wheel drive) means near- perfect balance while cornering. Three: Again, lesser the weight, lesser the centrifugal force that pulls the car out of its track while turning. Even during normal driving, you can feel the laser sharp steering without a trace of under or over-steer. You can, if you want, break the rear tires free and manage a glorious power- slide, by applying too much power or by lifting off, and feeding in some opposite lock. When I power-slid this car for the first time in my life, this car did not make me feel like I'm ham-fisted (either that or I mastered power-sliding just by looking at youtube videos of others doing it). It flattered me, made me look like a hero (girls don't admit it but I think they secretly admire men who can power-slide). Build Quality: I've had this car for a few years now and the only repair it ever needed was one of the spark-plugs had a loose connection. But because of the hard suspension, the car rattles over bumps. Although these little sounds makes you think that something is falling apart, everything continues to work like a charm and nothing is broken. Even so, these rattles are definitely unnerving and concern-causing, making you keep your fingers crossed, wishing for that legendary Japanese reliability to be a reality and more than just a legend. Appearance: Should I comment on something as subjective as looks? I guess I can give my opinion of it with the obvious risk of looking like a queer (I assure you that I'm completely straight). For most people, the 1st and 2nd generation Miatas looked cute and hence feminine and in turn connected all the males driving it, to gay community. To me, there is nothing wrong with cars that look cute. I liked the looks of those very much. This 3rd generation styling is a trial to dissociate those views. I think it worked and I still like it a lot. To make the car look masculine, the Japs have gone to the Germans for styling the front end. Enough said!!! Cost of Ownership: It's simple physics actually - less weight means not much power required to make it move; therefore less gas consumed. It's not very expensive to maintain either. You will not regret it for any reason if you bought this car. Fun Factor: As I said, it is the most fun once can have in a car with the least cost of ownership. Yes - you can have more fun in Porsche, Ferrari or Lamborghini - but think of what your expenditure is going to be. So I'll save my change, if you please, for a Porsche later in life. Damn! I wish either of two things to happen - 1. Mazda, if you're reading this, please make a non-convertible, hardtop, coupe version of MX-5 and lose that grinning face of post-2008 models. 2. Or somehow I find many millions...
Primary Use: Commuting to work
Jay R

writes:
2006 Mazda MX-5 Miata Touring
Review
Cons
needs bigger engine a 2.3 liter tubro or 3.0 liter super charger
Perma-smile — This car is fun to drive! Performance is outstanding with a few mods here and there. Quality for the price is hands down no comparison. Styling with mods and tweeks here and there is a head turner. ZOOM-ZOOM my fellow Mx-5 owners
Primary Use: Commuting to work
Displaying 1 - 10 of 29 2006 Mazda MX-5 Miata reviews.
Looking for a Used
MX-5 Miata
in your area?
CarGurus has
2,449
nationwide MX-5 Miata listings starting at
$2,995
.