2006 Land Rover LR3
User Reviews
2006 Land Rover LR3
Review Ratings
Average Ratings from

15

reviews
Performance:
Appearance:
Build Quality:
Overall:
Review Highlights
Click to filter reviews below
Displaying 1 - 10 of 15 2006 Land Rover LR3 reviews.
pmccaw21

writes:
2006 Land Rover LR3 SE
Review
Pros
The cargo space versatility is great, and the 3rd row seats fold right out of the floor if you need seating for 6 or 7 passengers. From a driver's perspective, I really like the upright seat position, and the responsive steering.
Cons
Expensive to fix so make sure to have warranty coverage, and mpg is average, but comparable to most other SUVs that will compete in it's class.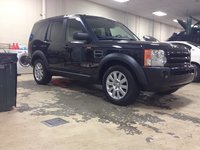 Land Rover Lr3 (2006 Model) — The vehicle has luxury status, and is a great 4x4 machine. Comfortable 3rd-row seating is difficult to find, especially with seating that can stow in the cargo area. Driving this vehicle has always provided a safe and reliable ride in all weather conditions.
Primary Use: Commuting to work
Looking for a Used
LR3
in your area?
CarGurus has

423

nationwide LR3 listings starting at

$8,450

.
Joshua

writes:
2006 Land Rover LR3 HSE
Review
Pros
Stunningly GORGEOUS, has 4 wheel drive settings for every different type of environment.
Cons
brakes have been giving me some trouble but that is easily fixed and a nitpick.
Perfection — When it comes to perfection in an SUV the Land Rover Discovery 3 TDV6 HSE is it. it has a 4.0 turbocharged V6 engine for GREAT performance. it has four-wheel drive for every type of environment that 4 wheel drive is needed for. it is stunningly gorgeous inside and out.
Harris

writes:
2006 Land Rover LR3 SE
Review
Pros
Great offroad and fulltime use vehicle
Cons
boxy masculine outlook
Perfect Luxury Suv For Terrain, Snow, Dirt, And A Full Time Vehicle. — the acceleration on the 06 LR3 can be slow in the comfort mode but if u really want a quick head start at the red light u can shift it into the sport mode and it'll race the rpm to increase the acceleration speed. the overall quality on the car is beautiful. the craftsmanship and quality can be told to be a true luxury suv. the quality is no different than the range rover sport 06 besides the design and performance. the seven seat passenger seats are very comfortable and the third row seats provide a leg room slip in for 2 full sized adult seats. the exterior styling can be quite boxy but for a guy its a great masculine look. the offroad features and air suspension offer a lot. this car does guzzle up gas. i get about 12 mpg local/highway. i put premium gas into my baby so maintenance can be quite high. the car is a very heavy vehicle making it very sturdy. overall i definitely recommend this SUV over the mercedes ML and volvo XC90.
Primary Use: Commuting to work
Kaspar

writes:
2006 Land Rover LR3 SE
Review
Pros
Huge, decent mileage, off road capacilities
Cons
Plastic bits "protecting" the undercarriage
Ample Of Space — The car is huge (at least according to European standards) nad you will have no trouble transporting almost anything. 7 seater a must. Diesel engine not the fastest around but gives adequate push for the nearly 3 ton car and the mileage is really good considering. Seating space is excellent (even in the 3rd row). And it actually can be taken off road (most plastic bits below the car will get torn off during first 100m though).
dial1010usa

writes:
2006 Land Rover LR3 V6
Review
Pros
3rd seat good for family.

Ok Suv — Gas mileage is so bad, tank full of gas gives around 225 miles which cost around $70. Its a heavy duty SUV but i'm not buying anymore of this. If you don't mind paying for gas, it is ok then. I have this SUV for almost 9 years and its ok vehicle.
Primary Use: Commuting to work
Finkpad

writes:
2006 Land Rover LR3 V6
Review
Pros
Love the bodywork styling, comfortable ride, great for roadtrips and one of the most comfortable cars to drive if you're over 6' tall.
Cons
quirky electrical problems, expensive maintenance from LR specialists, air suspension failed twice plus multiple starting failures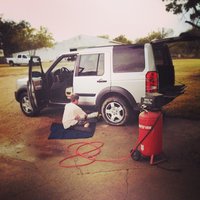 Landrovers Have A Reputation For A Reason — The LR3 is a great car and I really want to love it a lot.... but I just cant. It's been unreliable and quirky during the 18 months I have owned it -- Leaving me broken down on multiple occasions and not counting the costs of rental cars after its refused to start, has cost me over $10k in maintenance fees. Not only is the LR3 expensive to fix... but after its back from the visit to the local LR Dealer... its great again... until it breaks down *AGAIN* :( I used to own a Lanrdrover Defender 110 Crew Cab and after 3 years of ownership and nothing except an occasional oil change I was reading the reviews of Landrover unreliability with shaking my head thinking these negative reviews were "nonsense" from disgruntled owners. Moving to USA and buying the LR3 has changed my mind. I'm now in the ranks of the officially "disgruntled owners". Not only has the car been horribly unreliable, but after driving it across the USA (CA to SC) during the course of a year and it breaking down on a near weekly basis -- and being worked on by 3 different LandRover dealers and 3 different *LR Specialist* garages -- I have read just about every review of the LR3 online and since starting to blog about the car problems, I receive emails from many other owners with similar problems. If this car worked well I would officially love it: I like the looks, its comfortable, great for road trips, roomy and powerful on road and off. Maybe its just my particular model of the LR3 that is haunted with Gremlins... but if I wasn't upside down on the car loan I would have sold it long ago Caveat Emptor. UPDATED: NOV 2013. Car broke down again with major electrical failure. Recovered to Dealer who said ECU needs replacing along with battery and possibly wiring loom. Good bye Boris the Landrover... its off to the great scrapyard in the sky.
Primary Use: Commuting to work
Fort_Myers_Auto_Mall

writes:
2006 Land Rover LR3 SE
Review
Pros
Excellent Family Car. Great turning radius.

Perfect Family Suv — Love heated seats. Highest heated seat I have yet had in a car. Love the turning radius. Handles great. Love the size, lots of room for luggage and kids. Interior good. I would highly recommend this car for any family. Fun to drive.
Primary Use: Family transportation
Austin

writes:
2006 Land Rover LR3 HSE
Review
Cons
The back is alittle weird looking. (haha)
My 06 Lr3 — Traded in my 2008 pathfinder for this bad boy. Love the speakers there amazing, not very fast but I got it because it's 4X4 is freaking sweet! it can drive on any surface. also it's big enough to haul my friends around in.
Primary Use: Commuting to work
Matthew

writes:
2006 Land Rover LR3 SE
Review
Cons
1.97 m high in low mode carparks a little hard
Blody Huge Great Off Road Huge Power For Heavy Car — i have the special edition with the v8 it has great power never been boged do loads of off roading towed out so many cars it is not funny. Is practicaly indistructable air suspention is awesome to get old preople in and out. olny problem i have ever had was compressor blew and it was fixed free under warenty and i have roof racks which are 1.97 when it is lowered so some car parks i can not fit into. GREAT CAR
Dave

writes:
2006 Land Rover LR3 SE
Review
Pros
Its a Landrover, no more words need writing !
Cons
If you dont have "green blood" dont bother buying 1
The Best 4 X 4 X Far — Best vehicle up to now I have ever owned, bring on Discovery 4 !, preformance enhanced with a chip makes it the best alround vehicle, build quality is what you come to expect from Landrover. Stunning looks, anybody thinks it looks like a taxi see me afterwards, cost does not matter "its a Landrover", and its just FUN FUN FUN. As James May said on "Top Gear" about a tingle sensation (Yepp)
Primary Use: Utility (towing boats, transporting cargo, etc.)
Displaying 1 - 10 of 15 2006 Land Rover LR3 reviews.
Looking for a Used
LR3
in your area?
CarGurus has

423

nationwide LR3 listings starting at

$8,450

.