2006 Honda Civic
User Reviews
Average Ratings from

119

reviews
Performance:
Appearance:
Build Quality:
Overall:
Review Highlights
Click to filter reviews below
Displaying 1 - 10 of 119 2006 Honda Civic reviews.
ebtek

writes:
2006 Honda Civic LX
Review
Pros
This Civic is the most cost efficient car we have owned. It will get around 38 mpg. It's reliable and drives well.
Cons
We haven't experienced any cons yet. For our families needs, we were wanting a larger sedan.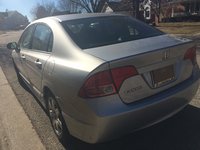 Our Awesome Go-cart! — We love this car! It has both a sporty stylish look, but is also very practical in its gas efficiency. The overall handling is well this car drives is smooth. We feel extremely safe driving it. We would purchase one again at a later time.
Primary Use: Commuting to work
Looking for a Used
Civic
in your area?
CarGurus has
64,309
nationwide Civic listings starting at
$1,450
.
Rex

writes:
2006 Honda Civic GX
Review
Pros
Great Handling -
Cleanest automobile combustion engine on the planet, engine is said to go 500,000 plus miles
Once a year oil change
Cons
Honda has the cng high and low pressure filter maintenance schedule wrong. When purchased in 2006, their existence was not even disclosed!!
Very Green Car — If you commute or live near CNG public stations - this is the car for a daily commuter in that it drives at direct cost of 4.7 cents per mile versus a Truck or van at 16 mpg burning regular petrol gas at say 4.25 average over the next ten years - not likely - try 6.00 If you drive 12,000 miles per year this equates to a savings of (.266 - .375 per mile direct cost) - $2,628 - $3,936/year - 40 years of driving thats 105,120 - 157,440 savings Put this monthly savings of 219 into an interest bearing account of 7% for the same 40 years = $578,187
Primary Use: Commuting to work
kipandgina

writes:
2006 Honda Civic EX
Review
Pros
Great on gas, sharp looking.
Cons
Pulley tensioner may go out on certain vin numbers and if your local repair shop doesn't pull up the TSB and get it straight to Honda, it could be a costly fix with a new engine replacement.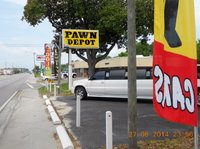 Reliable — I love the gas mileage, handling, looks and reliable for the most part. I did have to put a new engine in due to a mistake that my local repair shop overlooked, but since then it has ran great. I recommend it for first time buyers and those who travel a great deal.
Primary Use: Commuting to work
txgal83

writes:
2006 Honda Civic EX
Review
Pros
GREAT gas mileage - 33 city/38 hwy, clean, well-maintained, and a sporty ride
Cons
Low to the ground, so hard to get out of for an old lady.

Sporty Ride And Great Gas Mileage! — I loved the economy aspect...better gas mileage than I expected and I love that it's a 4-door, too, with reasonable leg room in the back PLUS a nice sized trunk! We just put window tinting on it a few months ago, and it we really loved the way that cooled down the car in these hot summer months.
Primary Use: Commuting to work
David

writes:
2006 Honda Civic EX
Review
Pros
Excellent handling, good fuel economy, excellent build quality, comfortable interior
Cons
Noisy, brakes and engine only adequate, unexciting
2006 Civic Ex Manual Sedan — The Civic is a very pleasing and practical economy car, but no more. Straight-line performance is adequate. The 1.8- liter engine needs to be kept above 3000 rpm for best results, although with a 6800 rpm redline it's pretty flexible. At town speeds below 50 mph, there is rarely a power deficit, but you will wish for more power on the interstate, especially above 80 mph. The 5-speed gearbox is good, with a relatively positive feel and low effort but long shifter throws. It does not match up to the 6-speed available in the Si. The clutch has a very short travel, which results in some rough starts until you get used to it, but is low-effort enough that stop-and-go is easy. Handling is the car's strongest attribute. The steering is extremely light, but precise and communicative. The suspension offers excellent body control through bumps and a taut, but not harsh, ride. Like any front-drive car, consistent understeer is the only thing happening at the limit, but if you drive at the limit you should not have a Civic. The stock Michelins are biased toward a soft ride and should be replaced with something better, although I have not. The excellent handling and lightweight feel make the car very satisfying in city traffic. I notice this most when I drive rental cars; after my Civic, they always feel heavy, ponderous, and reluctant to change direction or stop. As usual with economy cars, there is a fair degree of both engine and tire noise on tap, although wind noise is unusually absent even above 80 mph. Braking is adequate with the 4-wheel discs on the EX. (I would not want to buy an LX with its rear drum brakes.) The pedal will fade with repeated hard stops, and the ABS kicks in a bit too quickly. The interior is quite roomy for this class. Seats are firm and fairly comfortable, although not up to the standard of the Accord/TSX/TL. The interior materials are good for the class, but cannot match up to those used on larger and more expensive cars. As is typical of Honda and Acura, interior parts have a lightweight feel that may bother those used to Mercedes-Benz solidity (for example), although the actual build quality is good and the parts are very durable. My car has an unfortunate rattle from somewhere in the moonroof area which I have been unable to isolate but feels otherwise very solid. Thoughtful Honda touches include plenty of closeable storage, two power ports, and a well- placed auxiliary input (right next to one power port; EX only) for the stereo. Strangely, there is no sunglass holder. The moonroof (EX only) only slides; it does not tilt for ventilation. The driver's seat is height-adjustable and features adjustable lumbar support. The two-level dashboard is the car's most controversial feature, but I like it. I love the digital speedo above the wheel, although a redundant analog speedo would also be helpful. The large central tach is nice as well. Secondary controls are typical of Honda in that they are relatively intuitive but feature many buttons and look a bit cluttered. The gas mileage is quite good. Tanks have ranged from a low of 19 mpg (1- or 2- mile city trips for the entire tank) to a high of 42 mpg (driving at 50- 55 mph on the highway). Typical mileage in my almost all city driving is about 27-28. The car has required no unscheduled maintenance and only two oil changes as scheduled maintenance. I would definitely recommend the Civic to someone looking for a driver-centered economy car, provided they understand it is not a luxury or sports car and will not feel or perform like one.
Sherman

writes:
2006 Honda Civic DX Coupe
Review
Pros
-Looks excellent
-Performs excellently for what it's intended for
Cons
-Front wheel drive
-Little crevices that pocket water, so that after I wash my car and think I'm done the drying stage, more water leaks out.
-May draw police attention
-I'm afraid to park this in the shadier parts of town. To me it looks too good.
Hot Commuter — I bought this car with the sole intent of commuting. I figured that if I'm going to keep something for a really long time, I might as well customize it. Aside from the aerokit (skirt package), I was not satisfied by what HFP (Honda Factory Performance) had to offer in terms of parts upgrading so I looked around myself for my own cosmetic upgrades. I thought the HFP spoiler was more than ugly, so I got installed an aftermarket one. I didn't feel like paying for overpriced and average looking HFP wheels, so I found some aftermarket ones as well. Put that all together and I got one hot SEMA Civic inspired ride. Even though I occasionally take it autocrossing for fun, I am satisfied with it's performance as a commuter vehicle and feel no need to upgrade the suspension, drivetrain or engine. Having the guts of an Si would be nice, but I don't feel like paying for 93 octane in this day and age. Overall, I cannot think of any other car that I'd prefer to have. This car is the one for me.
Marcel

writes:
2006 Honda Civic EX
Review
Pros
attractive, solidly-built
Cons
Initial price, simple mp3 player
Maintaining A Solid Reputation — I have driven this car for nearly three years and over 60,000 miles and it still feels new--it is a very solid car for a non-luxury make. While the engine is small, (1.8L,140hp) the manual transmission allows this car to get up to speed when it needs to. The small engine also leads to great mileage -- as much as 38mpg for straight highway driving although I typically average in the mid-30's. Best of all, after three years, I still have trouble taking my eyes off this car.
Imtiyaz

writes:
2006 Honda Civic LX
Review
Pros
accelaration, looks and mileage
Cons
low height, hits curbs and rear split foldable reqd

Goo Buy And Cost Effective Too. — Acceleration is best in class,after 3 yrs still no squeaks, only plastic stuff like armrest lock and visor problem. looks wise is fantastic,mileage is above average and ofcourse fun to drive.I like it.Only drawback is no split fold, and front is too low, hits the curb or pavement while parking.
Primary Use: Family transportation
MMELO

writes:
2006 Honda Civic Hybrid w/ Navigation
Review

Awesome — The car is great especially for commuting to & from work. its also compact so you can squeeze into places easily. The drive is awesome, you can speed up quickly, just watch yourself because before you know it you'll be driving 20-25 miles over limit & not notice!
Primary Use: Commuting to work
Kyle

writes:
2006 Honda Civic EX
Review
Pros
Safety and fuel-efficiency.
Cons
Hand-break intrudes on leg room.
Safe, Fuel-efficient, And Sleek. — Overall I am very pleased with my car. We were able to get it for the invoice price. The car boasts a number of safety-related features which I am very happy with. For example, the speedometer is right below the horizon. Side-impact airbags are also standard, which is nice. Good gas mileage too - 32 city - 38 highway. The look is also very sleek, which is always good in my book. The only thing I don't like is the hand-break design which intrudes into the leg-room of the driver when activated.
Displaying 1 - 10 of 119 2006 Honda Civic reviews.
Looking for a Used
Civic
in your area?
CarGurus has
64,309
nationwide Civic listings starting at
$1,450
.