2006 Ford Mustang
User Reviews
2006 Ford Mustang
Review Ratings
Average Ratings from

132

reviews
Performance:
Appearance:
Build Quality:
Overall:
Review Highlights
Click to filter reviews below
Displaying 1 - 10 of 132 2006 Ford Mustang reviews.
David

writes:
2006 Ford Mustang GT Premium
Review
Pros
Fabulous looks, fabulous noise, immense fun, but comes with the usual Muscle car baggage.
Cons
Occasional squeaks and rattles.
If You Want A Fun Second Car, Look No Further. — Launched in late 2004, the S197 Mustang replaced the 11 year old SN95 model, and relies heavily on styling cues from the 64-70 models. The retro styling captures the classic pony car shape and brings it bang up to date. This treatment is carried over to the interior as well, with the symmetrical dash layout and large chrome ringed instrument clusters. Premium package cars have aluminium trimmed dash, and selectable instrument illumination, which is a nice touch. Unfortunately, being American, interior build quality is not up to European standards. It looks fantastic, but there are some annoying squeaks and rattles, and materials feel cheap. Front seats a superb however; extremely supportive, comfortable and look great. Drivers seat is fully electronically adjustable, but lacks a memory function should be car be shared with another, which is annoying. Still, it gives you a chance to play with it. Rear seats are even more comfortable. Very deep buckets cosset you in place, and make you feel almost enclosed in leather. There is a caveat to this rear seat comfort though, and that is it comes at the expense of rear legroom. Considering the Mustang is almost the same size as a 7 series BMW, there is practically no rear legroom if the front seats are moved more than three quarters back. Equipment levels are good, but not astounding. There is no sat nav as standard, so most sat nav users will have to re familiarise themselves with their brains. Air conditioning is standard, but not climate control. There is the usual fuel and trip computers, and diagnostic information from a deceptively simple looking interface. Rather than all this information being relayed via a large TFT screen in the manner of ze germans these days, Ford have retained the retro aesthetic and instead used a vacuum florescent display embedded into the instrument cluster. For me, this is a plus, as there is nothing visible to interfere with the retro look of the dashboard. Ford's rather dubiously named "Shaker 500" sound system's quality far outshines the ingenuity of whoever named it however. It's a 6 disc auto changer CD/MP3 player wired to a host of amplifiers that drive a 6 speaker system. The doors contain 7 inch subwoofer enclosures that produce surprising amounts of sub bass. Mid and treble units are mounted high in the door frames for good sound imaging, and the rear shelf speakers are almost irrelevant due to not being able to fit human beings on the rear seat, but the 6x9 design works well and rounds off the soundstage nicely. You had to wait until 2007 for a line level input for a separate MP3 player though. As I live in the UK, one slight problem is the US FM radio, which tunes in different frequency steps and hence can't get all stations. I for instance can not get my local FM station, but as it is truly awful, I can live with that. It can get all BBC stations, and classic FM, so all is well in my world. Yes, it's left hand drive. No, this is not a problem. If you are scared of left hand drive you have no business being behind the wheel of a muscle car. There are companies out there who can convert it RHD for an exorbitant fee and leave you with a ruined car with terrible resale value and dubious safety. Your choice. The GT variants have a 4.6 litre all alloy modular V8, and new 3 valve cylinder heads and variable cam timing. Ford claims 300bhp/320lb/ft torque, and a rolling road session confirms this to be slightly conservative with a measured 308bhp and 329lb/ft. Considering the 4600cc capacity, this isn't exactly ground breaking. Give 4.6 litres to Audi or BMW and they'll hand you back 400bhp. However, the way this power is delivered almost makes up for this. Sensible gearing, and a 3.55:1 final drive ration makes the Mustang feel very strong indeed. The obligatory 0-60 is dealt with in a little over 5 seconds and 13 second quarter mile times are easily achievable. The torque curve is smooth, and the Mustang pulls strongly in every gear, even the extremely tall 5th gear. There is a 4.0litre V6 available, but you'd have to be misinformed if you buy that, as the economy figures are almost the same as the V8, and you only get 220bhp. It's a Muscle car, and a muscle car should have a V8. Fuel economy is not great, as you'd imagine. If you're concerned about fuel economy, don't get a Muscle car. However, it will return 16mpg urban if you're careful, and if you're very careful you can see 30mpg at a steady 65 or so. Is that why you'd buy this car though? Really? Power is fed through Tremec's 3650 5 speed box. This gearbox is... crude if I'm honest. There is gear whine evident in all gears except the 1:1 ratio 4th, and at low speeds there is drive train clatter if you're less than careful with the clutch. All in all, the drive train feels a little truck like compared to European offerings. The gearshift is fairly short however, and has a very precise feel that reminds me of the Borg Warner T5 fitted to the 2 wheel drive Sierra Cosworth (a box it shares it's heritage with). The shift from 4th to 5th is ponderous however, but as the 5th gear's ratio is insanely high, any spirited driving will preclude it's use anyway. This car really needs a 6 speed box, which was addressed in the 2010 model. The ride is surprisingly firm for an American car, but sill decidedly on the soft side. Huge anti roll bars front and rear keep body roll in check, but the suspension is not really supple enough to deal with lateral bumps and pot holes, crashing over them and transmitting everything back into the cabin. This is not a sophisticated set up. Which leads me to the most contentious issue with the new Mustang: The rear suspension. Yes, it's a live axle. This is not the big problem people who believe Top Gear would have you think it is. There is a reason it has a live axle: It's a Muscle car. Like all muscle cars, straight line acceleration, and drag racing is part of the car's heritage. Ford have fitted IRS to the Mustang before with the SVT Cobra having fully independent rear suspension, so it's not as they can't. Apparently, Ford polled a great many Mustang enthusiasts what they wanted, and this was the answer. A live axle increases unsprung weight, which is normally a bad thing so far as handling is concerned, but for off the line acceleration in a RWD car, it's actually advantageous. Of course, Ford did save money by not fitting IRS. It is however, a three link system with panhard rod and 22mm roll bar, so most of the time, you wouldn't be aware of the fact that it's sunning with it's shoelaces tied together. only on lateral bumps, mid-bend will you feel it's shortcomings. Handling is surprisingly good, with masses of grip from the Pirelli P Zeros and the car informs you well as you approach the limits of that grip. While it is a live axle, the GT has a limited slip diff, so there is no tyre smoking histrionics while applying the power in corners. Take liberties with it however, and you'll find the car swapping ends in short order. It is no track weapon, that's for sure, but I have had track time with this car, and it can be hussled into corners briskly. At 3400lbs, you'd notice if it ran over your foot, but when you consider the size of this car, that is actually not that heavy. Helped by the all alloy V8 and alloy bonnet, weight is kept to a minimum and the first thing that struck me about this car was how well planted it feels, with a responsive turn in. As is usual with American cars though, the steering is a little over assisted, and hence numb. Brakes are strong, but fade very quickly if you take it to a track. In fact, after one day at Mallory Park I needed to replace my callipers as they'd seized. This is typical of Ford: They always give very mean helpings of brakes. For road use however, they are more than up to the job, with a good pedal feel. They are progressive and fairly soft at the top of the travel, but toughen up as pressure is applied resulting in a great "feel". The car has been incredibly reliable (excluding the brake problem caused by track abuse). Other than scheduled service items, the car has needed nothing during the 12,500 miles I've had it. So those are the facts, but driving a car is so much more than a collection of statistics. Some cars just transcend such things, and the Mustang is one of these cars. No, it's not a particularly great car when compared to European cars, but there is no European equivalent, and the Mustang should not be measured by this yardstick. It's a muscle car, and muscle cars are designed to look fantastic, make a great deal of noise, and go about their business with as much drama and pantomime as they possibly can. If you want refinement, then buy a Mercedes. If you want your face to ache with grinning all day, buy this. No other car I've ever been in has the road presence this does. The noise is fabulous, and the whole experience is simply so much more than driving a car. Coupled with the heritage of the breed and the Hollywood hall of fame factor, suddenly it all starts to make sense. If you're a middle management type who plays golf and discusses property investment at dinner parties, you'll hate this car, so move along... the Germans can sort you out with something more pretentious. If you have even a hint of petroleum in your veins though, you can't help but love this car despite all it's shortcomings. It's crude, it's simple, noisy; has a cramped interior and an interior made from some pretty awful materials, but it simply doesn't matter. If all you are aware of when driving whatever car you have now is the quality of the plastic the dash is made from, then... well, there you go.
Primary Use: Sport/fun (spirited driving, track racing, off-roading, etc.)
Looking for a Used
Mustang
in your area?
CarGurus has

27,177

nationwide Mustang listings starting at

$1,495

.
Nicholas

writes:
2006 Ford Mustang GT Premium
Review
Pros
Excellent car with a few minor setbacks
Cons
Interior needed more attention, front fascia could be nicer
2006 Ford Mustant Gt — * Performance - 330HP/300 lbs of torque stock GT... nuff said * Build Quality - great frame and engine * Appearance - fastback retro look really sets this car apart, only grip I had was lack of modern technology in the interior * Cost of Ownership - gas was decent for a GT, 20 mpg hw, 16 city * Fun Factor - I had a lot of fun with this car, if gas wasn't so high and I lived down south I would have kept it... not fun to drive in the snow...
Matt

writes:
2006 Ford Mustang V6 Base
Review
Pros
It's cheap, not slow and looks fantastic.
Cons
The build quality, although good is still not 100%.
Stays True To Mustang Lineage — Performance isn't a lot but it's enough. It's just fast enough to be fun. Build quality isn't quite German quality, but I do know it's a lot better than the older ones. The interior quadrupled in quality. ( I had a '97 Mustang that creeked rattled and moan inside) Appearence is a "to each his own" thing, but I think the car is beautiful. It's throw back, and modern all at the same time. The car's long sleek classy look defines it and sets it apart from the every day car, while still maintain some of the classic Mustang square body lines. Cost of Ownership is actually pretty low. The car it's self wasn't too expensive, and gas is about average, and so far I haven't had to put any money into extra maintenance, just he regular oil change and fluids, etc. Fun Factor, I would have to say is great. The car is peppy, it feels like it wants to go fast. It pulls in pretty much any gear, and will almost always grab second with minimal effort. I'd definitely recomend this car to a friend.
cmccullick

writes:
2006 Ford Mustang V6 Premium
Review
Pros
Great looking car, handles very well, and if driven right gets great gas mileage for a sports car!
Cons
The power is a bit disappointing (to be expected, it's only a V6), and the seats start to feel kinda hard if you're going anywhere long distance.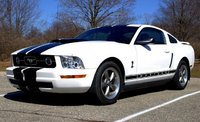 Head Turner — Overall with a couple appearance mods this car looks fantastic! The ride is very comfortable for the most part, but starts to feel a little stiff if you drive anywhere long distance (3+ hours). I use it as a daily driver and for fun on the weekends and if I'm driving nice I can get about 22 city and 28-30 highway using regular gas. There is little road noise but it is noticeable if the inside of the cabin is quiet. The acceleration is what you would expect from a V6 sports car, my dads 2007 impala can match it. The handling and braking however are steps above most cars, and I always felt very in control no matter what speed I was driving. Meitenance cost for me was low because I know what I'm doing and just do it myself, I could see it getting expensive if you hire everything out though. Overall it's a blast to own and drive!
Primary Use: Commuting to work
CampDaddy

writes:
2006 Ford Mustang GT Premium
Review
Pros
It is a solid and well made American muscle car with absolutely nothing to complain about.It gets fair to good gas mileage and has about anything you'd want in a daily driver with plenty of getty-up-go to boot. Power windows,great a/c ,beautiful leather interior,good stereo etc..what's not to like? up
Cons
none i can think of so far.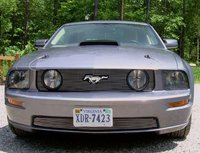 Pony Rides! — I like all American made muscle/sports cars but the Mustang has been the staple for many decades of sports car enthusiests. I am one of the millions who love the Mustang GT. I don't have anything bad to say about this one. The guy who had it before me had done some good performance mods i.e. high rise c&l intake manifold,c&l cold air intake,sct tune etc...and this little pony will kick his heels up and take you for a spirited ride anytime you feel like going for a 'pony ride'.
Primary Use: Sport/fun (spirited driving, track racing, off-roading, etc.)
Saif

writes:
2006 Ford Mustang GT Deluxe Convertible
Review
Sexy Wild Horse! — Performance: i love everything about it although its kinda stock. but i dont like the brakes at all. they are decent but when you are speeding and have to slow down, it will scare you. Build Quality: i just had to replace the alternator once. Appearance: its what i love the most about this car! you will understand why if you see the pics hehe. Cost of Ownership: depending on use. but at the end of the day, its something that i can afford. Fun Factor: this car is really really fun to drive!!!!!
Greg

writes:
2006 Ford Mustang V6 Premium Convertible
Review
Pros
It is fun and looks great
Love This Car — No heated seats. Tiny trunk (not enough room for two sets of golf clubs). Runs fast even though it only has the 4 litre V6. Great car. Turns on a dime. Not so good in the snow. Looks great with the top down.
Primary Use: Sport/fun (spirited driving, track racing, off-roading, etc.)
Okie_Kevin

writes:
2006 Ford Mustang V6 Premium Convertible
Review

Ford Absolutely Got It Right With This One. — I've really enjoyed this vehicle. I have owned Mustangs before but none have handled with such aplomb as this model. It's very quick for a V6 and nearly sounds like a V8. I bought the car used a year and a half ago with 10k miles on it. It now has 29k miles on it and I still look forward to any opportunity to drive it. I had to have a new top put on it as the adhesive was failing around the back glass. Ford replaced it under warranty. I've had no other problems with the car and look forward to having it for a long time. I still have people frequently telling me, "Nice car!"
Primary Use: Commuting to work
Ross

writes:
2006 Ford Mustang V6 Premium
Review
Pros
Its a Mustang. Fun to drive, gets plenty of looks and compliments while driving. Excellent cruising in style vehicle.
Cons
The sub-par interior materials quality exhibited on all pre-2010 model Mustangs and most Fords in general. New models across the board rival or better their Import competition.
All-in-all, A Good, Fun, Solid Vehicle With A Few Imperfections With Miles Of Smiles And Style. — Has a big V6 but could use more power for its size. Brakes are soft and not quite up to par. Differential is open and prone to slippage even on dry pavement. Back seat is negligible. Might as well be a luggage rack. Interior is a great design, but materials are hard. Center console hurts my knee while driving long distances. Shift lever looks a feels like it should be on a Power Wheels, not a Mustang. Transmission has good ratios and shifts smoothly, but a tad slow on the kick-downs for passing. OEM tires grip decently on dry pavement, but aren't that good on the wet and they roll a little too much, especially for a Z-rated tire. Live Rear Axle hops and shudders over bad pavement. Long, tall hood looks great but hinders visibility out the front somewhat. Automatic windows are a little touchy. Gas mileage should be better than what it is.
Primary Use: Commuting to work
Kenneth

writes:
2006 Ford Mustang V6 Deluxe Convertible
Review
Pros
Looks, comfort, ride and performance
Cons
Build quality, soft top roof markings
Mustang Sally (convertible) — Can't deny - this car is a 'looker'. Everybody comments when you get out of it - especially when the top is down on a sunny day. The car came in light leather and has a light tan roof - which was already discoloured when we purchased the vehicle. Although this is only a cosmetic problem it is annoying - the roof is marred by what look like oil or grease stains, caused probably by the stow away mechanism, inside the body shell. V6 performance is excellent and fuel economy is not as bad as I thought it would be. The vehicle is nice and quiet compared to other soft tops we have owned - and has a very solid feel. No doubt though - this car is one to be seen in.
Displaying 1 - 10 of 132 2006 Ford Mustang reviews.
Looking for a Used
Mustang
in your area?
CarGurus has

27,177

nationwide Mustang listings starting at

$1,495

.