2006 Ford Explorer
User Reviews
Displaying 1 - 10 of 24 2006 Ford Explorer reviews.
vern_moore95

writes:
2006 Ford Explorer XLT V6
Review
Pros
Great family car for transporting grands and friends to and from basketball games. It accommodates eight adults comfortably. Leather seats adds to the overall luxury of the car.
Cons
The V-6 engine's gas mileage in town wasn't the best, however, on the highway it was very good.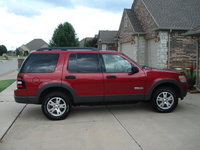 A Luxury Family Suv. — If I was in the market to purchase a family size SUV again, the Exployer XLT would be the car. This is from a person who has owned an Expedition and the smaller Exployer. The XLT is the car for my family.
Primary Use: Family transportation
Looking for a Used
Explorer
in your area?
CarGurus has

49,017

nationwide Explorer listings starting at

$600

.
DrJPB

writes:
2006 Ford Explorer XLT V6
Review
Cons
Cheap material used, light body, light plastic, etc.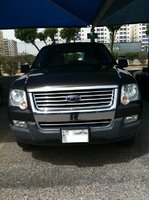 Not Much Satisfied, In Compare To The Older Models. — It was an upgrade from 1997 Explorer 4x4WD, as for the transmission, engine & mechanical overview, i would certainly give it priority, but as for the interior body & exterior body quality, it's very disappointing. Dash has hollow plastic parts, front & back bumper is hollow plastic, feels really cheap in compare to the older models. While driving, i can hear engine sound & air sound, which was the least i was expecting.
Primary Use: Family transportation
Thomas

writes:
2006 Ford Explorer XLT V6 4WD
Review
Cons
not having the more powerful engine.
The Best Explorer/suv Ever Built. — The 2006 year was a milestone for the Ford Motor Company with the redesign of the Ford Explorer line of mid-sized suvs. I had a 1998 V8 Explorer before this car came into my life, and I can not see what I ever saw in the old one. The designing on the interior is awesome (looking much like the F-150's) and the exterior is beautiful. The drive is completely smooth and Ford did an excellent job reducing the noise of the cabin almost to an inaudible amount on the highway. Safety is a must too. The Explorer comes with RSC which basically gives you stability in sudden turn scenarios, and has one of the best airbag systems in the industry. I would recommend this car to anyone who wants to enjoy driving and wants the best suv on the road. If you drive this car, you will never be able to drive another main brand suv again.
Steve

writes:
2006 Ford Explorer XLT V6 4WD
Review
Pros
Very comfortable SUV. Has enough power with the V6 to tow our camping trailer. We have the third seat option and while they are only good for children we have 7 grandsons that we help haul around to school, soccer etc and it woks fine. Visibility is generally good though the rear headrests create blind spots that you have to watch out for. AWD and 4WD is good for everything but real trail work. With no skid plates I won't take it where I used to take my 4 Runner without a second thought.In heavy snow, mountains and wet it is a stable and safe SUV.
Cons
Little repairs that shouldn't happen. Replaced Radiator at 45 k. Some under hood insulation and seals have come loose and had to be refitted.
Well Balanced Suv — The overall competence of the Explorer is what we appreciate most about it. Taking grandsons on all day excursions, a day trip to Tahoe or pulling our trailer camping it just gets the job done with little fuss. It is very comfortable. I am over 6'1" and 215 and the seats are comfortable and supportive. Having the radiator issue was frustrating on a modern vehicle at such low mileage. I was very surprised at the compact turning radius. It does it give it capabilities on Forest service roads that I like. If it had skid plates it would be perfect.
Primary Use: Family transportation
Patrick

writes:
2006 Ford Explorer XLT V6 4WD
Review
Pros
Has a nice sound system
Great! — Great acceleration and braking for a SUV. Has not need repairs. Exterior looks great, interior could have some re-modeling. I have been averaging around 17.5 MPG! It is very fun to drive, especially off of the road! Get it. You won't be disappointed!
Primary Use: Sport/fun (spirited driving, track racing, off-roading, etc.)
Dan

writes:
2006 Ford Explorer XLT V8
Review
Pros
Excellent tow vehicle, lots of interior space and comfortable for long trips
Cons
If you don't need the towing capacity mileage is a consideration. Vehicle has a couple of annoying things in 2006 the front door handles were in a awkward position (changed for 2007) Throttle response is abrupt at low speed making it difficult to drive smothly in a parking lot.
If You Need To Take A Family Of 5 Camping And Tow A Boat, This Is Your Vehicle. — Performance the 4.6 is rated at just under 300 hp along with the six speed automatic makes for strong performing vehicle. Build Quality has been very good the SUV has 87,000 kms with no issues. With the switch to CUV the vehicle is starting to look dated but we are still happy with it's appearance. Cost of owner ship no maitenance except regular preventative. Mileage is what you would expect I commute 35 kms each way to work about half and half city highway and I get about 13 liters per 100 kms or about 21 mpg. As for fun it is obvioulsy not a sports car but corners and handles well with little body lean
Primary Use: Utility (towing boats, transporting cargo, etc.)
Dustin

writes:
2006 Ford Explorer Eddie Bauer V8 4WD
Review
Pros
Near Maintaince Free
Cons
Only one maintance issue
My Explorer — i love the heated seats! nice and toasty in the winter weather. the only thing i would change bout this Explorer is the Wheels and addition of Fords Sync/ Navigation system. The only problem i have had with my Explorer is, it miss fired once and fouled out a spark plug. other than Regular oil changes it has been problem free for 84000 miles.
Elizabeth

writes:
2006 Ford Explorer Eddie Bauer V6
Review
Pros
rides real well, American truck, very stylish
jan93551

writes:
2006 Ford Explorer XLT V8 4WD
Review
Pros
leather, power, 3rd row seating, great for towing
Cons
gas gets alittle costly

Love It! — love the car, great for the family lots of power great for towing our quads and seadoo's, smooth riding even over dirt roads, love the rear air and heat plus the sun roof.. roof rack makes for easy storage. plus the keyless entry is a plus.
Primary Use: Family transportation
BelAirCarGuy

writes:
2006 Ford Explorer Limited V8 4WD
Review
Pros
Smooth highway ride, very comfortable seats, both front and rear. 4WD is a big plus, and snow/mud/rain don't stop it! Handling is very good for a 4WD vehicle.
Cons
As with any 4WD, gas mileage is not great, but to be expected. 20 MPH on the highway is pretty good, but in straight in town driving, only get 10-12 MPG.

Black Beauty — Overall an excellent choice for a 4WD vehicle. Good size, not too big or too small. V-8 engine has plenty of power and the 4WD system works very easily. Comfortable vehicle for long trips on the highway. No bounce or jitter of some 4WD vehicles. I believe the independent rear suspension really benefits the overall ride and handling of this vehicle.
Displaying 1 - 10 of 24 2006 Ford Explorer reviews.
Looking for a Used
Explorer
in your area?
CarGurus has

49,017

nationwide Explorer listings starting at

$600

.