2006 Ford Escape
User Reviews
Average Ratings from

24

reviews
Performance:
Appearance:
Build Quality:
Overall:
Review Highlights
Click to filter reviews below
Displaying 1 - 10 of 24 2006 Ford Escape reviews.
cleothemuse

writes:
2006 Ford Escape XLT 4WD
Review
Pros
Comfortable ride, perfect height, good fuel mileage, plenty of pep
Cons
Gas gauge and pump cut-off are both wonky: gauge shows only 3/4 tank when full, cut-off shuts off gas flow before tank is full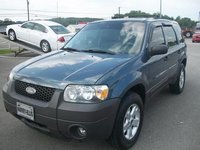 Small, Sporty, And Fun — Only complaints about this car so far are relatively minor ones: the stereo/CD player doesn't have an auxiliary input for MP3 devices, the gas gauge is off, gas pumps keep shutting off while fueling, and there are a few scratches in the interior paneling. I also miss the ability to make "Jeep turns". Otherwise, I LOVE this car so far... peppy, responsive, smooth ride, and good fuel economy. Both of my parents have ridden in the car with me now, and each is now considering making an Escape their next car!
Primary Use: Commuting to work
Looking for a Used
Escape
in your area?
CarGurus has
56,518
nationwide Escape listings starting at
$900
.
Matthew

writes:
2006 Ford Escape XLT 4WD
Review
Pros
very high up almost like driving a truck
Cons
they all should be 4 by 4 in stead of all wheel drive so you can change them in and out on the dash!
Five Star — Did not come with some features inside that i would have liked. for example north, south,east west display, temp display, fuel display, other than that perfect!! acceleration good braking ABS not to fussy, handing xcellent no repairs needed yet, couple os squeaks due to ground effects and acc, rattles none that i can hear, appearance outside excellent inside good not fussy on the colour, cost of ownership, got the jeep for a very xcellent price, gas mileage well its a v6 and the price of gas today well you know how that goes, maintenace cleaning wise alot of work to make it look good outside!, other than that same as any other machine
jerryak

writes:
2006 Ford Escape XLT
Review
Pros
Excellent acceleration!
Cons
A little loud with road noise.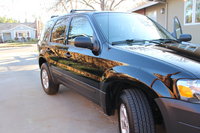 Overall A Very Good Car For Our Family. — Overall this was a good car. Good gas mileage. Excellent acceleration as well as quick pickup on the high end. The car held up well externally as well as internally. My biggest complaint about this car would be the road noise.
Primary Use: Family transportation
Cindy

writes:
2006 Ford Escape XLT
Review
Pros
Great gas mileage for an SUV
I Love It!!! — It is one of the best cars I have ever owned!!! It is roomy and is great for moving stuff. Lots of room for passengers as well as stuff. The stock sound system is awesome and the overall performance is outstanding!! I just love it!! You will too...I know it!
suptjud

writes:
2006 Ford Escape XLT
Review
Pros
Good power, handling and economy. My wife loves the car. What else can I say!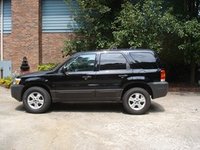 Works As Advertised. — I like the 2006 looks more than the newer models. My wife loves the visibility and nimbleness. Performance is adequate. Braking is good and we feel safe going down the road. We would definitely recommend this car to anyone looking for a compact SUV.
Primary Use: Family transportation
Sue

writes:
2006 Ford Escape XLT Sport
Review
Pros
Economical and AMERICAN made - support workers in our country.
Cons
Harder for older people to get in and out of.
Runs Great, Very Few Repairs, If I Was In The Market For An Suv This Is The One I'd Recommend. — Rides good for an SUV, pretty good on gas mileage. Not as comfortable as a luxury car but it will do. Only drawback is having to climb into the car rather than settling down into a nice seat. Back area is big enough to hold 4 sets of golf clubs without taking the big drivers out of the bags like I had to in my Taurus Wagon.
Primary Use: Commuting to work
Kevin

writes:
2006 Ford Escape XLT 4WD
Review
Pros
AWD system, cargo space, and dependability.
Cons
Engine power, mileage, back seat room and air flow.
A Dependable Car — It lacks desired horsepower, but makes up for it with its spectacular AWD system. It is probably the most bad weather dependable car my family has ever driven. It can take the worst winter road conditions and plow through them without missing a beat. It has ample room in the back end for luggage, and plenty of leg room in the front seats. The back seat lacks much leg room, and is not very comfortable for extended road trips. Its gas mileage leaves much to be desired as well as its engine power. The Escape, like almost all small SUV's in its class, lacks proper ventilation for the back seats. It is either freezing cold or boiling hot in the back while the front seat passengers must either freeze or burn up in order to get the air movement necessary to maintain comfortable temperatures in the back. It doesn't have the best sound system, but it doesn't lack quality. Overall, it is a good car if you need to go anywhere or get through anything. As a practical family car, or as a around the city car, it is not the best choice, but on those snowy and stormy days you'll be glad you have it.
steelemason

writes:
Pros
Car gets excellent gas mileage. Leather seats. Good cargo space. good leg room
Cons
paint color sea green. 2006 model.

Green 2006 Ford Escape. — This is a pretty good car. Has a little bit of speed in it. The Car overall is excellent but it does have a green paint job to it. Has 100,000 miles on it. Other then those set backs its still a 4/5 star car.
Primary Use: Family transportation
bygoneeras

writes:
2006 Ford Escape XLT
Review
Pros
Just a good serviceable car, low maintenance, 4cylinder aut
Cons
Design flaw in radiator location allows gravel to peck holes in transmission cooler. Consider installing a piece of expanded metal over that area and save yourself a headache if you drive through much gravel or construction.

Excellant, Serviceable, Everyday Vehicle. 200k Miles And Still Kicking. — I have no complaints with this car other than the layout of the transmission cooler. The hatchback is handy. Its not a large SUV, I've owned an Expedition, this one is just as good in its own way, certainly as tight, just not quite as heavy on the road and missing the third row seats. May be a little light in the back end if you are driving in in climate weather. This transmission has been pushed to the limit and is still tight. I cant imagine many better values out there for your money, short or long term.
Primary Use: Commuting to work
Cody

writes:
2006 Ford Escape XLT 4WD
Review
Pros
0-60, easy revving engine, and ability to activate fog lights with parking lights.
Cons
Long gears, which leads to slower acceleration, handling, noisy tires, loss of power above 75 mph when put to the floor.
An All-around, Quick And Durable Suv, Perfect For College! — The exterior is very clean, with little excess crap to take away from it. The only downside is the tall plastic cladding on the bumpers and sides of the vehicle. The interior is also clean, with cloth seats. The dash is kind of tacky, made of plastic. The visibility is average SUV, with typical blind spots, though they are not too large. Performance wise, this is a quick SUV for it's class. Under 10 seconds to 60 and well spirited enough for passing. Handling is only average. This is due to the fact that it IS an SUV, but the Continental tires are noisy around corners, love to squeal, and are just not that great.
Displaying 1 - 10 of 24 2006 Ford Escape reviews.
Looking for a Used
Escape
in your area?
CarGurus has
56,518
nationwide Escape listings starting at
$900
.