2006 Dodge Magnum
User Reviews
2006 Dodge Magnum
Review Ratings
Average Ratings from

27

reviews
Performance:
Appearance:
Build Quality:
Overall:
Review Highlights
Click to filter reviews below
Displaying 1 - 10 of 27 2006 Dodge Magnum reviews.
Norm

writes:
2006 Dodge Magnum R/T
Review
Pros
Performance, room, comfort
2006 Dodge Magnum — I looked for a gray Magnum for about 3 months. This one showed up on cars.com in 2008, listed as having 140 miles (!???). I called the dealer, he said it must be a type bbut the car was pretty clean. I went to look at it, and it did indeed have 140 miles on it! Still had the tags on the seats and the build stickers under the hood. It had been a dealer's demo just before he lost his dealership. So I got a new car at a used car price, with full warranty. Performance: The Hemi has a great sound and pulls hard in all 4 gears. Antilock brakes are harsh and take getting used too. In spite of the size, this car handles better than my Mustang. Build Quality: Not the greatest, but the dealer has been great taking care of some minor squeaks, getting the sunroof to stock creaking. Appearance: This is a love it or hate it car. People think it's a huge long wagon but it's an optical illusion. It's just 8 inches longer than my wife's Maxima, and I can U-turn easily in local streets. Cost: So far, it's been cheap to run. It gets 24 mpg on the highway, sometimes more on long trips. The variable displacement engine really works if you keep a light foot on the pedal. That's hard to do, it's a lot more fun to blow people off the road. Fun to Drive:? Hell yeah.
Looking for a Used
Magnum
in your area?
CarGurus has

1,048

nationwide Magnum listings starting at

$3,999

.
Gregory

writes:
2006 Dodge Magnum R/T
Review
Pros
Gobs of power. Dripping with ammenities.
Cons
A bit thirsty. Stock suspension was a tad soft.
Road Tank. — Muscle car for the modern age. Brute good looks with Hemi power to back it up. Lots of support in the aftermarket for those who like to mod. Sturdy platform. Solid feel. A great long distance cruiser, great at the stop lights as well. Not your moms station wagon!
Adam

writes:
2006 Dodge Magnum SRT8
Review
Pros
-able to carry whatever you need it to
-great for families and road trips
-has the speed, handling, and braking to get you to your destination
Cons
-styling could have more detail given to it
-could be better with gas
Very Amazing! — Sure the suspension is stiffer than the R/T model, but that only means that the SRT8 can offer you more enjoyment. The interior design looks great, and the stitched "SRT8" badge in the front seats only adds to the greatness. Exterior styling looks good although more could have been done to make this vehicle look more mean and powerful, after all it is an SRT8. Handling is great for a vehicle this size. Braking is really awesome since Brembo brakes are being employed on not just this, but the charger and 300c SRT8 models. And the star of the show, the 6.1L 425HP hemi is just pure greatness.
MattChalupa

writes:
2006 Dodge Magnum R/T AWD
Review
Pros
With AWD you don't need to worry about driving in the snow or rain.
Best option ever.
3.5 High Output engine
all repairs done per scheduler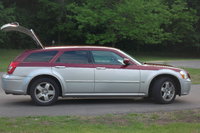 Fun Car — This is a fantastic car. Fun, safe, comfortable, unique and eye catching. I liked it so much I bought another. My second Dodge Magnum is a Hemi, AWD. I wanted a muscle car and am willing to live with lower MPG for the extra HP
Primary Use: Family transportation
cam092

writes:
2006 Dodge Magnum SE
Review
Cons
not as fast as I would like

Very Stylish And Great Mpg — Very good mpg. Very easy to find dealer and aftermarket parts. Tranny is reliable very smooth shifting has somewhat good acce. Can haul alot of stuff dont need a truck. Very stylish Very reliable no troubles. Is very spacious But needs more speed.
Primary Use: Commuting to work
scott64vair

writes:
2006 Dodge Magnum SE
Review
Pros
No other look like this on the road.
Cons
Underpowered with 2.7L

Overall Love It - 90k And Still Rolling — Great curb appeal, good ride, nice acoustics for larger sound system. Performance of 2.7 DOHC is adequate; top end is surprising. Interior rattles on rough roads. Had headlight service (polishing) done twice - original light lenses micro-crack and yellow. Added 18" 2009 Charger mags and 245/55 18 tires and it REALLY improved ride and cornering. Bolted up no issue. Gets 26 MPG on road; more fun to drive with larger wheels.
Primary Use: Commuting to work
Stylus_377

writes:
2006 Dodge Magnum SRT8
Review
The Review — the performance of this car is great, very fast for the amount that it weights. the car is very fun to drive i have absolutely no complaints about it except for the amount of gas it burns. overall good car.
Primary Use: Sport/fun (spirited driving, track racing, off-roading, etc.)
Rob

writes:
2006 Dodge Magnum R/T
Review
Pros
Fast, muscle car, HEMI, lots of room in the car.
Love It — The Magnum is a great car. I love driving it around town and it gets a lot of looks. It's a relatively affordable car. It's a blast to drive..even though I won't let many people drive it for that reason.
Primary Use: Commuting to work
Jonathan

writes:
2006 Dodge Magnum SE
Review
Pros
Looks menacing, large interior
Cons
Very slow, poor handling, very cheap interior, very heavy, poor value
A Car That Has The Looks But Fails To Live Up To Them. — Driving a regular Dodge Magnum is a disappointing experience. It actually looks quite good giving the image that its a powerful beastly car with some presence. Trouble is...unless you get the one with the Hemi V8...its rubbish. To drive a SE version you're basically driving one of the slowest cars ever made in the 21st century. Despite having the 2.7L V6 it just can't hit 0-100 km/h without taking about 12 seconds because the car is so heavy. The weight also has more consequences, the car is terrible at handling despite being RWD. For something that isn't as cheap as a econobox or even a mid sized car, this is embarrassing. Why Chrysler even allowed a V6 option for a car that is too heavy to make good use of them is confusing. The Magnum is the slowest car I've ever driven. The interior is just as disappointing as any modern Chrysler. Ergonomically its still the industry's worst, for someone as short as I am, the turn stalk is so low my knee blocks it from performing left turn signals. Like any current Chrysler the plastics are very cheap and disgusting to look at. The good news is the amount of space it provides. The amount of money you save from paying for a V8 Magnum you'll waste in straining every ounce of power the weak V6 tries to make push a vehicle too heavy for it. The car has also been canceled, its unlikely resale value is good at all. Its actually a better idea to get a 300 instead, that car is much of the same as this car but slightly better touches and much less weight. If you were wondering how this car drives, it might be better if you just didn't.
Thomas

writes:
2006 Dodge Magnum SE
Review
Pros
Great handling, get complimented on the looks all the time (blue collar types give it a lot of cred for some reason), Mercedes components and really just so far a great vehicle for the money.
Cons
Wagon back is smaller due to sloped roof and side walls impinging, after a year and a half the driver's door clacks when openen and closing (Volvo did the same but bolt replacement easy to fix, not as easy with the Dodge), HUGE tires cost plenty to replace, huge plastic light covers lose their luster in no time, interior a little cheasy, seats are a little on the firm side.
Only Car That Seems To Fit A Kid, A Booster Seat And A Baby Seat In One Row. — Versatile with good looks and excellent performance, I'm loving not having to worry about the front-end issues that plagued our FWD cars (talkin' about you, Volvo).
Displaying 1 - 10 of 27 2006 Dodge Magnum reviews.
Looking for a Used
Magnum
in your area?
CarGurus has

1,048

nationwide Magnum listings starting at

$3,999

.