2006 Chrysler Pacifica
User Reviews
2006 Chrysler Pacifica Review Ratings
Average Ratings
from 13 reviews
Performance:
Appearance:
Build Quality:
Overall:
Review Highlights
Click to filter reviews below
Displaying 1 - 10 of 13 reviews
Wayne

writes:
2006 Chrysler Pacifica Touring AWD Review
Pros
Comfortable, reliable, good leg room in all rows. Drives and steers like a sport sedan, very little body roll with out harsh ride. Styling is elegant, not flashy look at me.
Cons
Luggage volume almost zero with third row in use, and fuel economy isn't great.
Good Everyday Family Vehicle — With the third row of seats up, there is very little storage. Most days there are only four in the car, so the third row can stay folded....then there is lots of room. Power is adequate, but not great. The ride is very nice and there are alot of toys in the car. The DVD player is the only way to travel with kids.
Looking for a Used

Pacifica

in your area?

CarGurus has

2,918

nationwide Pacifica listings starting at

$3,300

.
Sarah

writes:
2006 Chrysler Pacifica Touring Review
Pros
the seats are very nice and no road noise at all
Very Good Family Car — fun car to drive although it is a gas guzzler performance is very good acceleration is very quick depending on how you drive it the cost of ownership wasn't that much its a very fun car to drive appearance could be better but other than that its a nice car
Primary Use: Family transportation
Ahmed

writes:
2006 Chrysler Pacifica Limited AWD Review
Ryan3171

writes:
2006 Chrysler Pacifica Touring AWD Review
Pros
Solid construction
+ Ride comfort on highway
+ Interior space
+ Crash-test ratings

Cons
Body lean in curves
- Engine noise during hard acceleration
- Automatic-transmission operation
- Instrument readability
- Hard to judge while parking

Not Bad For A Chrysler — I so love this vehicle...the exterior look, the roomy interior...very spacious and wonderful visiiblity..very quiet and solid and stable ride! The independent suspension smooths out bumps etc. Good sound system too
torch8026

writes:
2006 Chrysler Pacifica Touring Review
Pros
Leg room, reliability, maintenance-free, smooth ride, drivability
Cons
Power, rear visibility

This Chrysler Has Been A Great Car. — The reviews from the owners of 2006 Chrysler Pacifica's has been right on. It is a four star car. I've seen bad reviews for 04, 05, and 07 model years, but I have had no problems and haven't even replaced the brakes (77700 miles) yet. The Touring model is a great car for trips. It can seat six people and the second row has incredible leg room.
Primary Use: Family transportation
Natalia

writes:
2006 Chrysler Pacifica Limited Review
Pros
It fits more people than a car. Auto Manuel option makes it sportier than its sister the Town and Country. Very satisfied in that aspect.
Cons
Gas. It takes up a lot of gas, and my fuel gauge is broken or something. The sensor in the fuel tank is clogged or broken, so I never truly know when im low on gas, and i hate it. Sometimes it works, and sometimes it doesn't. Not a fan. Also the front seats, where they put the seat adjusters is not very logical. You have to reach forward on the door to adjust, and if you lay back far enough, you can't reach the controls. Not thought out. Also, I can never seem to sit up straight enough. Im short, and i feel like im always leaning back. Not comfortable
Not Has Amazing As I Hoped — Ive had the car for about a year now, and have already taken it on a lot of road trips. It has ran out of gas 3+ times now, because the fuel gauge is broken/clogged. Ive never heard of a car lying to you about how many miles until empty....until now. I like how its fun and not "mini van" and yet still holds all my stuff and my friends.
Primary Use: Family transportation
redlady

writes:
2006 Chrysler Pacifica Base AWD Review
Pros
leg room, head room, cargo space, general performance
Cons
HORN/ALARM SYSTEM goes off intermittently and dealer won't repair problem bec. of it being intermittent

We Are Bugged By This Horn/alarm Problem. Tired Of Driving A Car With No Horn- Dealer Won't Fix. — We like the head room and leg room. The car has helped us move our children in and out of dorm rooms and apartments. It drives nicely and we've had no engine or other perfomance-related problems. We dislike the horn/alarm system. It goes off intermittently and the dealer won't fix. Driving now with no horn due to problem.Only way to stop the sound is to pull fuse and horn module which leaves me without a horn. Unsafe!
Primary Use: Commuting to work
Todd

writes:
2006 Chrysler Pacifica Touring Review
We Like It A Lot — Super comfortable car, good gas mileage for the size of it, terrible blind spot. The car is very quiet, rides nice and is great on long trips. The two rows of heated seats are great, The stereo/DVD system could use some upgraded speakers and an amp. It is a little underpowered but it is a family car not a porsche!
Primary Use: Family transportation
Elisha

writes:
2006 Chrysler Pacifica Touring Review
Pros
It's the versitility of a van, BUT IT IS NOT A VAN! And it rides like a car...I looooooove my Pacifica!
Cons
No reason. It rocks! And after it's paid off, my baby's gettin' a Hemi! Yeah, you read that right! HEMI!
Someday, You're Gonna Cry 'cause It's Not Yours! — I love love love this car! For the longest time I was missing my Mustang. I went through several other cars-buying/trading-before I finally ended up with my Pacifica and I have yet to regret it! I have a new favorite! Don't get me wrong, still love my classics. Get's just over 20 mpg. Only issue I've had so far was of my own fault - had to replace one tire due to a screw, had another flat from a nail, and somehow managed to put a horridenous crack in a rim...All three in the first year I had it. What can I say...I have skills. LoL!
Primary Use: Family transportation
rdbdba

writes:
2006 Chrysler Pacifica Limited AWD Review
Pros
Comfort, Electronic Gizmos (radio, dvd player, navigation, etc)
Cons
Navigation disks are $200, slightly underpowered, wide vehicle (garage hog)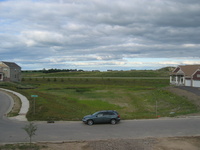 Reivew Of Chrysler Pacifica 2004 2wd And 2006 Awd — This is my second Chrysler Pacifica I owned the fledgling 2004 2WD, and now have the 2006 Limited AWD fully loaded with electronic gizmos! Performance on both the models is a little lacking in the power department, but if you put your foot in the pedal it will move. It's a fairly quiet and smooth riding vehicle which gives the illusion it's not moving very quickly even when it is. When I traded in my 2004 it had a leaking master cylinder (which I'm sure had been leaking for months and I just thought I had a bad cap) and I was told one of the rear shocks was leaking. My 2006 has not needed any repairs and at this point in time has 34k miles on it. I have driven this car on several long road trips between MN and IN, one with my mother and mother-in-law (yes I am crazy) but the Pacifica rides so well no one ever complains about road trips. I have to give it a 5 out of 5 for fun factor when you consider the rear seat passengers speakers can be muted when watching a DVD with the wireless headphones and the front passengers can listen to the single-CD player, radio, or SIRUIS through the front speakers at the same time. The hands free blue tooth interface works amazingly well also, I just wished it could use the address book in my phone instead of needing me to program one into the car. Gas mileage on the 2WD was about 2-3mpg better than the AWD model, I'm getting about 17-18mpg on average with a mix of city and highway driving when driving normal(not like a banshee or a grandpa). I have added optional accessories like the remote start with confirmation of start, molded mud guards, rain drip guards, the iPOD adapater (note it does not interfere with the Radio/CD/or DVD changer), the roof top carrier, all weather floor mats, chrome exhaust tip, and the rear storage liners and find all the accessories where simple to install and they all work great! The paint and finish quality of the 2004 held up to several harsh Indiana winters and summers and only required wax once a year, the 2006 is garaged but I must admit the heater in the Pacifica is very good (here in MN it hits -25 below actual temperature) and it takes only a few minutes for the cabin to be warm and the heated seats to be toasty even in these temperatures. The Pacifica is a heavy vehicle but it stops pretty well, it's not a sportscar, but handles and brakes like a large luxury car more than a mini-van or truck. The interior is quite nice with faux wood grain trim on some of the dash and steering wheel giving it a very luxurious look and the leather seats have a very nice feel as do the other surfaces in the cabin.
Displaying 1 - 10 of 13 reviews
Ask CarGurus about the 2006 Chrysler Pacifica
Average response time:
8.5 hours
,
# of Chrysler Pacifica owners:
613
Looking for a Used

Pacifica

in your area?

CarGurus has

2,918

nationwide Pacifica listings starting at

$3,300

.