2006 Bugatti Veyron
User Reviews
2006 Bugatti Veyron
Review Ratings
Average Ratings from

48

reviews
Performance:
Appearance:
Build Quality:
Overall:
Review Highlights
Click to filter reviews below
Displaying 1 - 10 of 48 2006 Bugatti Veyron reviews.
johansson1976

writes:
2006 Bugatti Veyron 16.4
Review
Pros
Brilliant engineering feats, massive performance and looks to die for.
Cons
Not everyone has Donald Trump's income.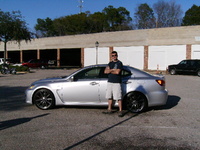 Bugatti Poised To Conquer — The Bugatti Veyron is remarkable. Let me start by saying that i do not own the car even though i wish i did. A friend of mine loaned it to me to take it out and see what i think of it. I've always had a deep admiration of the car but it's risen to new heights after being able to experience it first hand. There are many things running through your head when you open the door and take a seat inside on the sumptuous leather seats. For example you may think "what if i crash a 1.6 million dollar car?" which was my first thought. Once you get over the horrific thoughts such as this one, sheer excitement begins to phase through. Before I can drive, I have to become familiar with the car. I take a look around, shaking as though I'm on steroids. It's a great feeling. And quite frankly the setting is like something out of a storybook. Blue skies, sunshine, countless miles of empty Nevada highways... It's all too perfect. I finally manage to get control of my hand to push the start button in the center console. A faded buzz and then a thunderous long note followed by the sound of 1001 mad horses behind me. This car has the power to slow the earth's rotation. It will dust an Enzo without much effort. I start at a modest pace of 20 miles per hour. My buddy sitting next to me, the actual owner of the car, encourages me to "floor it." Well, why not? So following his request, I do so. 0-60 mph is rated at 2.46 seconds but it feels more like the time it takes for me to blink. The world becomes a passing blur. I manage to hit 150 in somewhere around 10 seconds. If that isn't thrilling and vaguely terrifying then I'm not sure what is. I'm also aware that if I wanted to, or rather if I had the balls to, I could take the chariot to 253 miles an hour. That's an absolutely horrifying prospect. I know speed well enough. My R8 gives me somewhat of an idea... but this is not fast. This is ridiculously, absurdly fast. After about a half hour of high speed motoring, we find a piece of civilization. The first thing we need to do is get gas. A crowd of motorists flip out their camera phones and start taking pictures. I don't mind. It gives me a sort of larger than life feeling. Obviously their attentions are aimed at the car and so are their phones but still. It's flattering. The car handles corners better than anything I've ever driven. It seems to defy gravity through them. It really is amazing. Add to that the fact that the car weighs more than my IS-F... and yet it's nimble. VERY nimble. Then there are the brakes. They're huge for starters. 400mm in the front. Just the calipers. They're smooth yet they have the stopping power of a brick wall. We've covered almost 300 miles within a couple of hours. It's now my favorite car. Theres alot to appreciate about it and it's very good at what it does. Parked in a public place, good luck getting to it within 5 minutes. It's a fantastic car with power to match and hopefully, people will see it in the same light that i do.
Savo90069

writes:
2006 Bugatti Veyron 16.4
Review
Pros
Perfectly engineered cruise missile with fighter jet reflexes.
Cons
Not having it earlier. This car is perfect.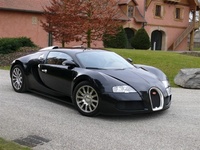 Brilliance. Redefined. — The Bugatti Veyron. Everybodys heard of it and probably at some point wished to own one. I've been given the amazing privelage of owning this car and no car has amazed me to the point that this one has. This is the finest piece of automotive engineering ever made by human hands. I remember the faithful day i paid a visit to symbolic motor company and stared this beast in the face. The first thought to cross my mind was "my god what a car." Needless to say i took it out for a spin around los angeles. I was changed in a way no car has changed me before. The engine is an 8.0L quad turbocharged W16, incidentally two siamese V8s connected vertically. The engine itself contains 10 radiators, about three times as much as any other car. The power output stands at 1001 brake horsepower at 6000 rpm and the torque at 922 ft lbs. at 3000 rpm. Although the car weighs in at 4500 lbs the immense power it is given through AWD and launch control enables it to reach 60 mph from standstill in 2.46 seconds, and 100 in 5.5 seconds. If a top speed key is inserted into a slot by the driver side door then the car's speed limiter is deactivated and its true potentail is unlocked. That potential is 253 MPH. In order to maintain such a high speed the car was given a dual clutch transmission, meaning that one clutch controls gears 1,3,5 and 7 and the second controls gears 2,4 and 6. The brakes fitted are 400 millimeters in diameter, the biggest on any production car. With brakes with so much power the car can go from 250 mph back to standstill in only 9.8 seconds. This car was speaking out to me and i knew at that point i HAD to have it. After mountains of insurance paperwork i was able to take the car of my dreams home to meet its garagemates. Not before taking it for a joyride of course. I took it from the dealership in San Diego with the biggest grin i've had for a very, very long time. So of course i take a stroll in my new car to los angeles. Im at a redlight. Cameras and phones flip out quicker than i can blink. The grin gets bigger. It's a perfect day for so much joy. The sun is shining and its about 90 degrees outside. No music though. Who needs it with an engine like that behind you? The light turns green. I ease in the pedal and i can see heads turning already and I can help but be delighted. It's time to pay a visit to rodeo drive. Filled with beautiful people and all the same beautiful cars. Unfortunately, they've been significantly outmatched in every sense. The grin is still there. I roll the window down at another stoplight. I hear someone yell "floor it!" Why not? With a crowd waiting to see the power in motion. Like requested, i floor it. All of a sudden the beautiful hollywood scenery has become a blur. I blink and look at the speedo. 70 mph. Mind you im on public roads. I slow down back to 35. With so much power at hand, im itching to release it. I head northbound on the 405 and now traffic is thinning as the daylight fades. Now or never. 3rd gear at 80 mph and i give it the beans. DEAR GOD! I look at the speedo : 120. 4th gear. I look again 150. 5th gear. 185. 6th gear. With fear of my insides getting crushed by the force of the acceleration, i ease off the accelerator and gently nudge the brake. It's been one helluva day. Satisfied, I head home, my life and sense of speed changed forever. I introduce the car to the wife and kids. They LOVE it. Probably more than any of the other cars we already owns. They take turns sitting in it and starting the engine and marveling at just how amazing a machine this car really is. The Bugatti Veyron is a very significant if not the most significant benchmark in the automotive world since the McLaren F1. And that, maybe, is a benchmark that won't be passed by for decades to come. Absolutely awe inspiringly brilliant.
Muhammad

writes:
2006 Bugatti Veyron 16.4
Review
Marvelous — perfect car having excellent control , safety and engine power. * Performance - acceleration, braking, handling = Excellent * Build Quality - Excellent * Appearance - ultimate aero dynamic shape * Cost of Ownership - expensive * Fun Factor - Unlimited * full of latest features state of the art design and interior
Primary Use: Sport/fun (spirited driving, track racing, off-roading, etc.)
Kanhaiya

writes:
2006 Bugatti Veyron 16.4
Review
Best Car — Performance fast car excellent brake and handling Solid car Excellent design. Cost alot and but it is a amazing car so noone will not denied this car. Erm petrol cost alot. New insurance or car maintence very expensive. Its fast and stylish, also expensive.
Primary Use: Sport/fun (spirited driving, track racing, off-roading, etc.)
Hernan

writes:
2006 Bugatti Veyron 16.4
Review
Pros
a lot of twisted heads
Cons
i you don´t have it can´t miss it
Power Indeed — the acceleration was extraordinary, the braking was precise and smooth, the handling was pretty obvious below 100 mph and never been driven above. this car have no repairs at all that can remember, only need some manteinance to keep it shinny and smooth. the interior and exterior styling was impecable until a crash on winter. I have to say this car is the best car experience you can imagine.
Primary Use: Commuting to work
racethis2007

writes:
2006 Bugatti Veyron 16.4
Review
Pros
Everything and more.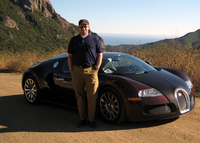 The Measure Of Things — The Bugatti Veyron 16.4 is the absolute best supercar built to date. It squeezes everything good in the car world into one beautiful machine. Lets start with performance. Two words : HOLY S***. 1001 bhp @ 6000 rpm. 0-60 is over in 2.4 seconds. 0-100 is over in 5.1 seconds. 0-124 in 7 flat. 0-186 in 17.1 and the top speed is a massive 253 MPH. The brakes are the largest and most powerful on any roadcar to date. 250 mph to a standstill will happen in 9.8 seconds. Now for appearance. This is the prettiest car i've ever owned and probably the best looking on earth. However the costs of ownership are a bit high. To replace a set of tires after the first promos Bugatti will send you will cost roughly 18 grand. To fill up is around 250 to 300 dollars while running on 11 mpg. The car is however extremely reliable as I've only had to replace the tires. once after blowing out the left two due to a field of broken glass on the highway. Whenever you step into the cockpit, you're automatically struck with a big smile on your face. The Veyron is a joy to drive and turns more heads then anything on the road. Once when I had parked it outside a relatives house when i came out about half of the neighborhood had drawn to confront the Bergundy and Black monster with cameras and cellphones. That had also put a huge smile on my face. When you start the car the earth stops spinning and before you know it everybody is staring. Buying a Veyron will be one of the best decisions you will ever make.
Connor

writes:
2006 Bugatti Veyron 16.4
Review
Fantastic — This car the bugatti veyron is the perfect car when it comes to the looks, power and overall popularity but the only disapointment is the space in the back for children and cargo for trips when all factors are put together it is fantastic
Primary Use: Sport/fun (spirited driving, track racing, off-roading, etc.)
Stephen

writes:
2006 Bugatti Veyron 16.4
Review
Bugatii Vayron — this car is awesome 2 drive but you need a road to your self because the acceleration is good and it cost about ova 1 mill i owned it for 2 yrs yes its a good car to drive. the styling of its its awesome and the interior is made by hand. the braking is good for the4 fastest car in the world
Primary Use: Sport/fun (spirited driving, track racing, off-roading, etc.)
Jake

writes:
2006 Bugatti Veyron 16.4
Review
The Speed — Like the acceleration, braking and handling. Hasn't needed any repairs. Love the exterior and interior. Gas mileage city s 8 and highway is 14. This car is an amazing ride. Allthough itis pretty expensive to keep around. Ya you wish ou had this car!
Primary Use: Sport/fun (spirited driving, track racing, off-roading, etc.)
Yasaal

writes:
2006 Bugatti Veyron 16.4
Review
Cons
Very difficult to handle
Fastback — Every thing is better . Difficult to handle . Gas milling is 1000 km . Not even a single dent on it . The appearance is very cool and rocking . It never needed repairs . Yes this car is very fun to drive but very carefully .
Primary Use: Sport/fun (spirited driving, track racing, off-roading, etc.)
Displaying 1 - 10 of 48 2006 Bugatti Veyron reviews.
Reviews From Other Years
Buggati Gold
This car is for the brave certainly packs a punch and whizzes round the Silverstone track in a quick lap time it really does go as I said not for the faint hearted I loved every second of it wow Read More
Improve Inner Spac
everyone loves it my girlfriend loves it the most performance is very good but this car isn't for off road interiors are excellent love them brakes are outstanding this car is fun to drive but... Read More
Read all

5

2008 Bugatti Veyron reviews
Looking for a Used
Veyron
in your area?
CarGurus has

1

nationwide Veyron listings and the tools to find you a great deal.