2005 Subaru Legacy
User Reviews
Average Ratings from

40

reviews
Performance:
Appearance:
Build Quality:
Overall:
Review Highlights
Click to filter reviews below
Displaying 1 - 10 of 40 2005 Subaru Legacy reviews.
m1westwood

writes:
2005 Subaru Legacy 2.5 GT Limited Wagon
Review
Pros
Fun, Fast, great handling Wagon with decent feature for the money
Cons
Turbo replaced twice, reliability

Gt Wagon Rules! — UPDATE 11/24/2014: The Turbo on this car blew at 70,000 miles and cost $3000 to repair. Just 12,000 miles later, the factory replacement turbo died. Ended up selling the car to Car Max. I have downgraded the review accordingly. I would not recommend getting one of these used, as there are documented problems with the turbochargers. ~~~~~~~~~~~~~~~~~~~~~~~~~~~~~~~~~~~~~~~~~~~~~~~~~~~~~~~~~~~~~ Original review This is a great compromise for a 30 something looking to not spend a lot of cash, but get a great performing car. The turbo 250hp engine is really nice, as are the sport shift and of course all wheel drive. I find the car very comfortable, but my wife gets a sore back driving it. this car has the biggest sunroof I have ever seen - great if you like sunroofs - it's almost like driving a convertible when fully opening - even the rear seat passengers see sky straight over head. H Here are some problems with the car: 1. there is a very well hidden button on top of the steering wheel column, which turns on the parking lights half way. I have no idea why you would want to do this. But one day, I got the car detailed, and the interior cleaner guy hit the button, turning on these lights. these are the only lights on the car that do not go off automatically when the key is out - and they are not brigh enough to notice on a sunny day. So I went home, parked, and the next mroning battery was dead. Luckily, my neighbor has Subarus, and told me what the problem was or I never would have figured it out. Every time someone cleans the car this happens, so watch out. 2. When you open the car doors, the front map lights do not come on - it is very dark in the drivers seat, so you need to manually switch them on at night to get organized before driving. 3. There is no way to turn on the center dome light from the driver's seat. this is a huge pain at night when the kids drop something and can't find it, and is something that constantly comes up if you have small kids. 4. I have had this car for a year and a half, and I drive hard and fast. The brake rotors have warped twice. the first time, the dealer resurfaced (turned) them, the second time they replaced all four. All under warranty - no charge. But, a car this sporty should have bigger brakes. Overall, I love this car. For the money, you won't find a better wagon.
Owner for 1 years, 7 months
Primary Use: Family transportation
Miles Driven per Year:17,000
Looking for a Used
Legacy
in your area?
CarGurus has
8,737
nationwide Legacy listings starting at
$1,521
.
Bertrand

writes:
2005 Subaru Legacy 2.5 GT Limited
Review
It's The Shiznit — It's a Subaru, that's not a WRX. It's still got a turbo, a manual transmission, heated seats, leather interior, can fit a lot of stuff in the back, has see through windows, sit down seats and anything else anyone would want in a car.
Primary Use: Commuting to work
Dorian

writes:
2005 Subaru Legacy 2.5 GT Limited Wagon
Review
Pros
Beautiful, fast, luxurious, very spacious with lots of cargo room, excellent handling characteristics, especially for a wagon, excellent braking with massive 12.4in rotors and 2 piston floating calipers stock, total sleeper (except for the wheels)
Cons
Crappy gas mileage (average 17), must use Premium gas only, expensive synthetic oil changes every 3000 a must
One Of The Rarest Subarus Made — 2005 was the first and only year that Subaru offered a Legacy wagon with a turbo and a manual transmission in the US. Apparently, there are only 1000 or so in the whole country. They come factory with 250HP/250 ft-lbs of torque, but with the STi longblock that comes stock, they are easily modified to a much higher number. Mine is lightly modified comparatively with ceramic headers, uppipe, downpipe, and a Stage 2 tune. This is good enough however to run with Corvettes and non-turbo Porsche 911's. It's a fantastic sleeper that no one sees coming.
Robert

writes:
2005 Subaru Legacy 2.5 GT
Review
Pros
everything other than the negatives
Cons
Premium fuel only car and no folding rear seat.
2005 Subaru Legacy Gt — Great acceleration after turbo spools up, great quality, no rattles, squeaks etc. the handling is pretty good - the factory Bridgestone tires are CRAP. Mileage it ok when you drive it easy - 10L/100km in the city, 8.5 to 9.0L on the highway. the premium fuel only sucks, but it's not mad.
Rkscuba1

writes:
2005 Subaru Legacy 2.5 GT Limited
Review
Pros
This car has been such a fun build project the last couple of years. It is reliable for all that has been done and accomplished. The guys over at BK Industries have been great through all this, and so much help. The car drives fantastic, is fun & sounds great. You can drive conservative, if you can keep your foot off the accelerator. I love that this car is low key and doesn't attract the cops....its a Legacy, not an Sti, Wrx or an Evo but just as quick.
Cons
Even with dampers on the coilovers turned to the softest settings, it's still a rough ride compared to stock suspension/normal cars.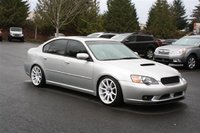 A Blast To Get In And Drive Every Week — This car is fun to drive, handles magnificent and still gets pretty good gas mileage. It is tuned for 91 octane pump gas. Even with 400whp, the car still gets decent gas mileage (19 city/ 24 hwy). I think that has surprised me the most. The 6 speed Sti transmission is a much better fit than the 5 speed that came with the car. The 5 speed clutch and tranny couldn't handle the engine power, so that's why the big decision was made to swap to the better transmission.
Primary Use: Family transportation
bwhitt

writes:
2005 Subaru Legacy 2.5i
Review
Pros
Very good dependable family or single person vehicle. Great on gas averaging about 26 city and 32 highway.
Cons
Not made for a big family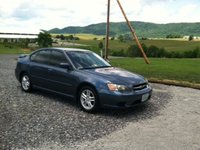 Awesome And Dependable — This vehicle is a great dependable car and very cheap on gas and is very clean. This car has limited space for a big family but is perfect for a small family or single person. Would make a great car for a college student of a work vehicle.
Primary Use: Commuting to work
clrndiu

writes:
2005 Subaru Legacy 2.5 GT Limited Wagon
Review
Pros
Powerful engine, AWD, great in the snow, very comfortable, great cargo space, panoramic sunroof.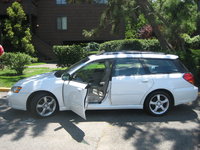 Great Family Car — This is my third Subaru and it did not disappoint. Well built and extremely reliable, very comfortable for long trips. The turbocharged engine is very powerful, although there is just a hint of lag at low revs with the automatic transmission. AWD is great in the snow and wet, however this is a road car, not an off road vehicle (ground clearance too low). Handling is very safe, with moderate understeering when pushed hard. Understated styling with a very light and airy cockpit. Panoramic sunroof offers great views and is draft free even at highway speeds but it becomes noisy at speeds above 50 mph.
Primary Use: Commuting to work
Dan

writes:
2005 Subaru Legacy
Review
Pros
Fast, Comfortable, handling, looks, space
Cons
Fuel consumption and bad factory radio
Subaru Legacy 3.0r Spec.b 6mt Wagon — Subaru Legacy 3.0R Spec.B 6MT Wagon Performance: 0-60 in 6.9 seconds Build quality: It´s a Subaru, not flashy but built to last. Appearance: Best Legacy so far. Cost of ownership: Fuel consumption is a bit on the high side. Fun factor: Killing "hot hatches" at stoplights and on winding roads in a wagon is priceless :)
Primary Use: Commuting to work
Kyle

writes:
2005 Subaru Legacy 2.5 GT Wagon
Review
Cons
the fact that i have a payment
Its A Sleeper — five stars across the board! Good on gas, plenty of get up and go. Enough room in the back for almost any outdoor activities. doesn't look like a 13 second car so your not as likely to get pulled over. very reliable. Oh and as long as you change the oil..they run forever!
Chuck

writes:
2005 Subaru Legacy 2.5i
Review
Cons
a little small on interior space and uncostomizeable head unit
Can't Beat It For The Money! — excellent! durable! inexpensive! awd standard! IIHS top safety pick! voted the safest car for that year! highest resale value of any brand! It advertises as 25mpg highway, but i bought it used with 50k and have been averaging between 27-28 without any mods.
Primary Use: Commuting to work
Displaying 1 - 10 of 40 2005 Subaru Legacy reviews.
Looking for a Used
Legacy
in your area?
CarGurus has
8,737
nationwide Legacy listings starting at
$1,521
.