2005 Saturn VUE
User Reviews
Average Ratings from

26

reviews
Performance:
Appearance:
Build Quality:
Overall:
Review Highlights
Click to filter reviews below
Displaying 1 - 10 of 26 2005 Saturn VUE reviews.
amaranth

writes:
2005 Saturn VUE Base
Review
Pros
Great gas mileage for an SUV. Great (Honda) engine and transmission. Spacious. Body style.
Cons
For other people: the power window controls are located on the center console instead of on the doors. Confuses everyone.

2005 Saturn Vue — This was the first car I bought myself, and I have never regretted it. Bought it used with about 30k miles, it's up to about 150k now and while I have had to put some money into it on routine repairs, it has help up wonderfully to the amount I drive it.
Looking for a Used
VUE
in your area?
CarGurus has
2,302
nationwide VUE listings starting at
$1,995
.
Paul

writes:
2005 Saturn VUE V6 AWD
Review
Dependable And Roomy — This is actually the first NEW car I've ever purchased, and it is by far my favorite... maybe for that reason. Being a rather large (read fat) man, I have few choices for vehicles to fit into. This fits with room to spare. Smooth and powerful to drive, yet doesn't suck down the gas as quickly as expected. With gas prices as they are, maybe the hybrid version would have been a better value, if it had been available in '05. I hear that the '06 version is even better, but I'll stick with this one.
wca

writes:
2005 Saturn VUE V6 AWD
Review
Pros
awd, fuel efficient, heated seats, plenty of power
Cons
can only fit 5 people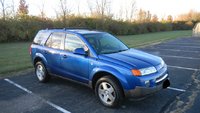 Impressed — good overall suv, cannot beat it for the money, has the features similar to those of more value, fuel efficient, the awd system isn't something you want to rock climb with but its suitable for rainy/wintery weather, sounds good, feels good
Kyle

writes:
2005 Saturn VUE V6 AWD
Review
Pros
Great power, could beat nearly anything from Mustangs to the Porsche Cayenne, had the Honda 3.5L V6, yes Honda! Great fuel economy, between 26-32 MPG HWY, 23 MPG combined. Smooth and responsive steering with electronic steering system.
Cons
Extremely cheap, low build quality on nearly every part of the vehicle except engine.
Bad rear-ends differentials,
Dirt cheap interior, everything you touch falls apart
Noisy ride
Looks pretty goofy.

Large Flying Piece Of Tupperware — I purchased this vehicle, believing it would have been a reliable vehicle, while achieving great fuel economy. Well, I am glad that Saturn has stopped manufacturing vehicles! My VUE was only nice for the first month of ownership, always did have great power, 250 horses from the stock V-6, so glad it was a Honda motor, not a GM motor! It always got great fuel economy, 30+MPG highway! The transmission was defective since I first bought it, the torque converter always had issues, finally after a few years of ownership, GM recalled the junker, and had it fixed. The rear differential failed at 92,000 miles, the drivers heated seat failed after 2 months of ownership, the leather seats seemed fake, like they were plastic. The front seats were too short for your butt and legs, and the rear seats were very hard, and cheap feeling. Parts of the dash would flake off just by rubbing your fingers across it, every part of the interior rattled especially when in the winter. The 6 disc CD Changer was awesome, until it broke when it was only 2 years old. The Sun/Moon-roof was cool, yet always leaked when it would rain, unless you flicked the switch a few times because it never closed completely. The AWD system was a complete joke! It would always be front wheel drive, until it would detect it was spinning out, sometimes taking up to 10 seconds before slamming the rear wheels into action, causing the vehicle to swerve, and it was a very noisy system. It did get me through snow about 5" deep on a mountain pass, it was scary, however it got me through it. I really strongly urge you to stay away from any GM product, after owning this piece of junk, never again will I purchase a GM EVER! I will stick to Chrysler, and Ford for american vehicles. I still have a '97 Dodge Dakota V-8 with 231,000 miles, and had a 2000 Grand Cherokee that lasted 316,000miles they both will go through anything, and where ever I want them to go, and has never ever broke down, nor has either needed any major work. The Dakota just loves its gas, but I would much rather spend money on fuel, and know I am going to get to my destination, than not have to spend much money, and be constantly worried about if it is going to fall apart. I would strongly suggest the Ford Edge if you are looking for a cross-over vehicle.
Primary Use: Commuting to work
rayjr14

writes:
2005 Saturn VUE Base
Review
Pros
I had originally leased the VUE but liked it so much I kept it for ten years. Still going strong when I sold it.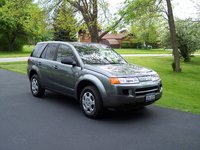 Great, Composit Body Panels Still Looked New After 10 Years. — Easy for car seat use, being a do-it-yourselfer I carried a lot when all seats went flat. Very comfortable and peppy. I always had a sports car and a truck, I liked this SUV much better than the trucks that I had.
Primary Use: Commuting to work
Aaron

writes:
2005 Saturn VUE Base
Review
Pros
Inexpensive, Reliable Drivetrain, Adequate Power, Guages look cool
Cons
Interior feels cheap, rattles. Electronic power steering too sensitive at speed.
Gets The Job Done — This is a FWD with the Eco-Tech 4 Cylinder Engine. While it won't burn up the road, the engine has adequate power for everyday driving. Gas mileage is good for a vehicle its size at 23mpg in town and 28mpg on the highway. Interior is spacious, and the fold down rear seats are nice. Interior trim feels cheap and has occasional rattle issues. Stock Bridgestone tires were terrible in the rain, hydroplaned all the time. Have since replaced with Toyo Eclipse tires which are a HUGE improvement. The electronic power steering is nice in parking lots, but is too sensitive at speed. Overall its been a reliable and comfortable vehicle, it doesn't excel at anything but doesn't really suck at anything either.
Greyson

writes:
2005 Saturn VUE V6 AWD
Review
Pros
I love this car. It handles great, it loves to get up and go, and it fits everyone inside comfortably.
Cons
With all the great things about it, something has to be sacrificed, that was gas mileage.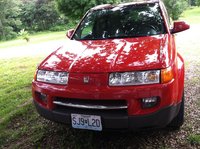 I Love It! — The SUV handled great, hugged the road really well for an SUV. I loved feeling the power of the V6 when I would pass someone, and I never had to worry about excelerating up hill and losing power. No blind spots that I ever noticed. Good braking, safe family car, and just fun to drive.
Primary Use: Commuting to work
mart75

writes:
2005 Saturn VUE V6
Review
Pros
More power than I ever thought possible in a gas-sipping family car
All the "extras" in an affordable package
Cons
Gets tight with three small children (multiple carseats)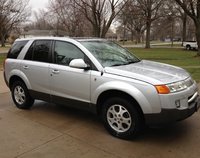 "total Package" For Middle Class Family — Liked everything - fuel economy, zip, reliability, affordability, everything. Silver is a great color for any vehicle, too - very "sleek" and doesn't show dirt. Unfortunately, needed to upgrade to vehicle with third row to accommodate a growing family. We are selling reluctantly. Really. LOVED this vehicle in every way.
Primary Use: Family transportation
kristenb234589

writes:
2005 Saturn VUE V6
Review
Pros
Runs well, Working AC, 6 CD changer, A lot of storage space/room, New back tires
Cons
Exterior damage on drivers side door.

Very Reliable — What I liked about this car was how dependable it is. It never broke down on me or wouldn't start. I loved how much room it had in the back seat and trunk, and the 18 MPG it gets. I did not like the exterior scratch
Primary Use: Commuting to work
Craig

writes:
2005 Saturn VUE Base
Review
Good Car To Own — its got alot of room, and it drive's like a car, problems, no aftermarket. ad its slow. i average 25 mpg . its dent restiance cause its plastic, so min to no rust, i love to drive by people and have them go thats saturn
Primary Use: Commuting to work
Displaying 1 - 10 of 26 2005 Saturn VUE reviews.
Looking for a Used
VUE
in your area?
CarGurus has
2,302
nationwide VUE listings starting at
$1,995
.