2005 Pontiac Grand Prix
User Reviews
2005 Pontiac Grand Prix Review Ratings
Average Ratings
from 41 reviews
Performance:
Appearance:
Build Quality:
Overall:
Review Highlights
Click to filter reviews below
Displaying 1 - 10 of 41 reviews
1
2
3
4
5
Next
jdebaker

writes:
2005 Pontiac Grand Prix Review
Pros
Cargo room is fantastic! Fold down rear seats + fold down passenger seat make this 4 door sedan an excellent choice for road trips.
Wide Track - makes for excellent stability & handling. Comes with GM's (almost bulletproof) 3800 V-6 engine as standard equipment.
Cons
If you're around 6' tall, it sucks getting in and out of this car. Legroom is an issue as well.
THE BIGGEST PEAVE - Bright Headlight indicator on instrument panel - When you turn on this car's brights, the indicator telling you your bright headlights are ON - IT IS A SERIOUS DISTRACTION! This in dash blue indicator light is SO BRIGHT - it's like an LED flashlight shining in your face while driving at night. Horrible design flaw!

She Loves It - I Don't — My fiancee owns this 05 Pontiac Grand Prix. Cargo Room: Fold Down Back Seats + the passenger seat folds down flat as well - (fits longer items), so she can stuff it full when traveling out of town (will hold an 8' ladder and be able to close the trunk lid. Adult sized bicycle fits too). The cargo space of this car is what sold her on it. She loves it - I don't - Why? GM designed a lower roof line to make this car more visually attractive, BUT I'm 6' tall at 240lbs, its a pain getting in and out of this car. In addition: even though the seat is slid all the way back, it's not comfortable for me to either drive nor ride in. On the plus side: Traction Control for winter driving. Wide Track technology provides excellent handling and stability for hugging the road in turns, and normal driving. Visibility is very good. It comes with the legendary 3800 engine as standard equipment - Believe me (as a retired ASE cert. mechanic for 20 yrs) - the 3800 lives up to it's reputation! Dependable, strong, and with plenty of power for this reasonably priced 4 door family sedan. The down side: Horrible design flaw when GM put the Bright Headlight indicator in the center of the instrument gauges - This bright blue indicator light is as bright as an LED flashlight being shined in your face! Serious driver distraction at night. I resolved this safety issue by taping a small piece of black electrical tape over the area (looks odd, but had to be done). Has started in 50 below weather (without an engine warmer or being plugged in) - doesn't run as well in very hot weather, but neither do I. Over all it's a good, affordable, family sedan. I would recommend it to anyone with kids + stuff to haul.. just make sure you're under 5' 10 tall and you'll be fine.
Primary Use: Commuting to work
Looking for a Used

Grand Prix

in your area?

CarGurus has

6,364

nationwide Grand Prix listings starting at

$2,495

.
Kimberly

writes:
2005 Pontiac Grand Prix Base Review
Pros
Looks Good, Drives Smooth.
Cons
Could get better gas mileage.
My Grand Prix — I like my car alot. There's nothing really special about it, but it's nice. It's got get-up-and-go, but before I got it I drove a 4 cyl and this is a 6 cyl. I like the large gauges on the inside of the car and the digital oil life meter. It gets pretty good gas mileage for a larger car. I'd say about 27 mpg highway.
Jacob

writes:
2005 Pontiac Grand Prix GTP Review
Pros
Fun to drive, powerful, decent design, reliable and serviceable drivetrain, sporty but functional
Cons
cheapish interior, very low ground clearance, cramped back seat
Exciting Balance Of Performance, Comfort, And Economy — Great balance of comfort, performance, and economy. These car's (GTP or GXP) are quick and handle well for a 4 door mid/full sized car. The fuel economy is better than average for a car in this performance bracket, however, don't expect it to get hybrid like MPG. The engine is a 3800 series III which has proven itself to be one of the most reliable motors on the market. The car has a fairly stiff suspension for better cornering performance but is still very drivable for long trips (for me, it is a good balance). The interior isn't luxurious (mine has grey leather), it is designed to have a sporty performance feel and has Pontiac distinctiveness. The instrument cluster is well designed and has a mean looking red backlight. Some of the other interior elements have a cheep plastic feel but it blends in well enough with the utilitarian performance look. I find the front bucket seats to be adequately comfortable but the back seat is very cramped for a car in this class. If that is a factor for you, look at the Impala SS. Overall a good car, functional, fun to drive, maintenance and repair costs are reasonable.
Antonio

writes:
2005 Pontiac Grand Prix GTP Review
Pros
Handling, speed, cold air, easy mod.
Cons
Traction control never shuts off, car weight.
Buy American! — The Base Pontiac Grand Prix 3.8L series III is not bad as most would think. THe fact is that the car gets flack as an under dog in the mod world. in fact Pontiac engines are so rare to find in its older ancestors (before 78') that pontiac just breeds rarity and thats why they are my favorite cars. Its so great to see the look on a honda/ ford owners face when i smoke them as at 120 miles per hour on the free way. its a great feeling.
jshoe21

writes:
2005 Pontiac Grand Prix Base Review
Pros
Very good pickup, looks awesome, good control at high speeds.
Cons
Plastic dash, overall not too impressed with the interior.

Fast, Fun Car — With this car, even the base model is really fast. I think that they tried too hard to make it perform good though, and didnt spend enough time on the interior. It has really good pickup for example if I'm gonna pass someone, and im going say 50 when i start to pass, by the time I get back over, I'm going 90 easily without even noticing.
Owner for 0 years, 3 months
shopgirl_136

writes:
2005 Pontiac Grand Prix Base Review
Pros
This car offers the benefits of a refined engine lineup, fine-tuned ride and handling characteristics and a more driver-friendly cockpit with large gauges and, for the most part, simple controls. 17" Wheels. I love the GT over the other trims because of its balance of power, fuel economy and handling.
Cons
Build and materials quality still needs some work, tight backseat, noisy engine.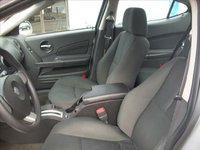 Fast And Fun To Drive — This Pontiac Grand Prix offers a sensibly sized family sedan, with plenty of performance on tap thanks to the availability of peppy, 260 horsepower, V6 engine. Styling continues to be a draw, with a sweeping roof line and the signature twin-grille nose. If performance is paramount, this car is for you!
Primary Use: Commuting to work
blkbox

writes:
2005 Pontiac Grand Prix GT Review
Pros
Great handling great look

Great Little Family Car, Or Even That First Ride — I like the extra space in the trunk as well as the Gt pull when pressing the gas is needed . Roomy rear seat area as well as the convenient trunk release on the drivers door the delayed door lock switch
Primary Use: Commuting to work
Sarah

writes:
2005 Pontiac Grand Prix Base Review
Pros
It's a nice car if you're on a budget. It'll treat you right as long as you buy one that has been well taken care of and continue to take good care of it.
Cons
Gas mileage, the fact that it's a Pontiac, and of course, with all older vehicles, you're going to run into having to fix wear and tear items.
05 Pontiac Grand Prix Base — It has a good amount of power, probably just what you would expect for a 3.8L V6, but you totally pay for it in city gas mileage. I've been getting under 20mpgs in the city, but I get slightly over 25 on the highway which is very good in my opinion. Cost to own is great, no complaints here... I bought it in 2009 with 85,000 miles on it, and right now it has 120,000 miles. I haven't had to do much work on it, other than oil changes, tire rotations, new tires, brakes, and wheel bearings. All of the mechanical work I've had to do to it is wear and tear. As far as appearance goes, I think it's a great looking car. The only complaint I have is the wheels. I bought mine with steel wheels and hubcabs and those are just about the ugliest things imaginable. The interior styling is great, but plasitc- y just like all GM's. The fabric interior and carpeting has held up very well. And yes, it's fun to drive. Don't get me wrong, it's not a fast car... it'll get up and going pretty well but I've play raced and had my ass kicked by Eclipses and Civics. I think in the end it's just too heavy, but off the line acceleration is good.
Primary Use: Commuting to work
blkbox

writes:
2005 Pontiac Grand Prix GT Review
Pros
I LOVE THIS LITTLE CAR AND ALL IT'S FEATURES GREAT HANDLING CAPABILITIES.
Cons
PARTS ARE A BIT COSTLY

P G P Gt — The only thing I dislike about this vehicle after owning it for such a short periord of time I replaced the transmission and not only was it an arm or leg to purchase but these mechanics are ridiculous their costs were more than the transmission with warranty cost. I am now thinking of taking up classes at an local tech college for automotive repair. But I love this car great with long distance traveling.good with these gas prices reaching unbelievable amounts.
Primary Use: Family transportation
Mavmeyer

writes:
2005 Pontiac Grand Prix GXP Review
Pros
A ton of power
Great brakes
Sounds amazing
Cons
Wide tires make Snow and Ice driving a little harry.

What Everybody Needs To Get The Groceries. — This Pontiac Grand Prix GXP has to be the best handling front wheel drive sedan in its class. With the 5.3L V8 it has all the power you need to have fun and it has factory Brembo designed brakes to bring it all to a halt. With the displacement on demand it doesn't get to bad of fuel mileage. I average 22-25 on my hilly 20 mile commute to work. Don't overlook this car when looking at other performance sedan cars.
Primary Use: Commuting to work
Displaying 1 - 10 of 41 reviews
1
2
3
4
5
Next
Ask CarGurus about the 2005 Pontiac Grand Prix
Average response time:
8.5 hours
,
# of Pontiac Grand Prix owners:
6,206
Looking for a Used

Grand Prix

in your area?

CarGurus has

6,364

nationwide Grand Prix listings starting at

$2,495

.