2005 Pontiac GTO
User Reviews
Average Ratings from

59

reviews
Performance:
Appearance:
Build Quality:
Overall:
Review Highlights
Click to filter reviews below
Displaying 1 - 10 of 60 2005 Pontiac GTO reviews.
retirednco

writes:
2005 Pontiac GTO Coupe
Review
Pros
Power and easily upgradable LS2 engine
Fast, Powerful, Fun And Demands Respect — I installed a small performance camshaft and valve springs when the engine only had 5500 miles on it. At 6200 miles I broke a valve spring and dropped a valve into the engine which hand grenaded. I put a Scoggin Dicky 416 CID engine with L92 heads. The new engine dyno'd at 515 HP / 501 TQ. But It had so much power that I had a hard time putting the power to the pavement; i.e. good traction in 1st & 2nd gear was only a pipe-dream. Loved the car though and would love to have another one.
Primary Use: Sport/fun (spirited driving, track racing, off-roading, etc.)
Looking for a Used
GTO
in your area?
CarGurus has
278
nationwide GTO listings starting at
$7,988
.
Justin

writes:
2005 Pontiac GTO Coupe
Review
Best Purchase Ever — I love the power. It is a monster. I love that it's a very rare car and I don't see one every day. The only downside so far for me is the gas. You have to put 93 octane in it. It is a 6.0L and it'll guzzle the gas if you have a lead foot. Bolt-ons are a little pricey but I don't plan on doing any for a little bit since I still have a warranty ;). If you can find one in decent shape with decent mileage, get it. It's a very solid car and best bang for your buck. Name another stock 400HP car you can get for 15-20k used. I used to have a 98 trans am and that car was falling apart in just a few years. The Aussies have really made this a solid car and it'll be hard to find a sports car in the 20-30K range with a great interior like this one.
Ryan

writes:
2005 Pontiac GTO Coupe
Review
Pros
Nice exhaust note, mean looking styling.
Cons
Mediocre interior, poor acceleration, poor handling.
Aussie Supercar Fails To Impress Us Buyers. — Here's a car that was dropped from GM's lineup for a reason: it stunk. The interior was nothing fabulous, the styling was kinda badass at most, and the performance was extremely lacklustre. I had a chance to drive one at GM's test track in Las Vegas, and my impression was less than amused. The car's 400hp did not propel it's heft, and thus, this car could easily be left behind by a base Mustang GT. The handling also left a lot to be desired, with quite a lot of body roll. The car looks good in red, but other than that, not anything I'd put money on.
GeorgeMontes

writes:
2005 Pontiac GTO Coupe
Review
Pros
Nice looking ride. great engine, runs very strong. looks sharp, the engine sounds great and the sound system is perfect, rear view camera, just nice all around.
Cons
Not the newest car with built in GPS but you could get a gps for it.
Gto Bobcat 455 Slp 2 — i love this car all around, i guess i want a new car a car that i have always wanted the shelby cobra or 1952 corvette. i dont like that its a bit common. But i think i am underestimating it.
Primary Use: Sport/fun (spirited driving, track racing, off-roading, etc.)
SandraGTO

writes:
2005 Pontiac GTO Coupe
Review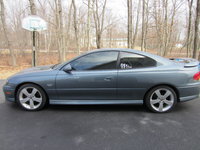 Awesome Care — I love my car. Nicknamed "Land Rocket". Impressive, but also a sleeper. Not many know the power behind this vehicle :) I do! The color is awesome too. Doesn't like snow, too much power and weight in rear, just spins and slides. Otherwise, fun, fun, fun!
Primary Use: Sport/fun (spirited driving, track racing, off-roading, etc.)
Anonymous bought one because:
These cars are real performers especially with 6 speed, gas miser if driven normally, incredible torgue, best perfoming goat ever! Awesome, awesome, awesomeness! !!!!!!!!!!
Mark

writes:
2005 Pontiac GTO Coupe
Review
Pros
horsepower to cost ratio
Cons
you can't control a real car.
Freakin Awesome — I love this car.... its powerful comfortable well built nice looking, rather rare, and cheap.... oh yeah its fast too. it accelerates hard, handles like a heavy rear wheel drive car, doesn't squeak at all. Gas mileage is about 18mpg but if you drive nice it can make 25 mpg... i have seen that with long trips on the highway.
reddota

writes:
2005 Pontiac GTO Coupe
Review
Pros
Can not beat the HP power and fun when wanted, to impress you or a friend.
Style that grows on you like moss. It gets better over time like a fine wine. Plus not everbody has one. Only one other in my town of 23000.
Cons
Getting in the back seat i guess, no one ever sits in the back. lol Keeping the tires to ground can be a challenge sometimes.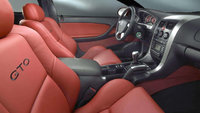 For The Money, Power, And Style, Plus Not Every Joe Has One, I Give It A 9 Out Of 10. — I would put a sunroof, heated and cool seats, illuminated steering wheel controls, and Aux.port outlet on radio, and somehow put some 40's under the wheel wheels. Power is fine, a little over steer but not bad. And the shifter must go if you plan on keeping the car. To loose and sloppy. just my 2 cents worth. If I sell her, I will get another one....
Primary Use: Commuting to work
magnumforc

writes:
2005 Pontiac GTO Coupe
Review
Pros
Fast, affordable, outstanding build quality, a sleeper, fun to drive
Cons
Fuel economy, no longer produced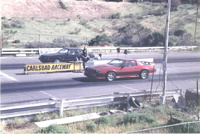 Fast, Excellent Build Quality, Eats Gas Like You Own The Refinery! — I purchased this GTO as my last high performance coupe. I always have that thought, one more high performance car, but it seems it's never really the last I own. Honestly, I was intrigued with the Australian beauty with the American badging, the Holden under the GTO marque. Perhaps the first thing you notice about the GTO is that it blends in with the crowd. Were it not for the hood scoops (a feature that can be deleted in ordering) it doesn't look much different than most other mundane coupes on the road. The rear also doesn't give much away, if you overlook the big exhaust pipes looming from under the redesigned rear valance for 2005. The big dual piston calipers painted and marked GTO don't really call much attention and frankly, a side view doesn't elicit a lot of excitement. It's not until you turn the key and that 400 HP LS2 comes to life that anyone really pays attention to what this car is really all about. Then the "Thunder from Down Under" has the streets under control and you're really in the drivers' seat for a great ride. Speaking of which, the interior is one that sets the standard for which all GM cars need to strive for. The leather buckets front and rear (Yes, it's really a 2+2 configuration) re comfortable and supportive. The workmanship is impeccible and the seats are extremely comfortable and adjustable. One con is the electric movement to allow entry into the rear seat and the seat movement is slow. That speed was improved on the 2006 model, but would still be better if it were free sliding to allow back seat entry and re-engaged after the seat was upright. But the seat does have a memory after it's upright and will return to your original setting with the push of a button. The controls are well laid out and the dash is colorful and easy to see, Colors are in line with the color and trim of the car. If you order a black car, as I did, the gauge cluster is red, not black. If you order a blue car, the cluster is blue, a yellow vehicle, the cluster is yellow, silver, it's silver, etc. There are some variations, but generally that's the norm. The stereo CD player is a Blaupunkt and is top line with a 6 CD changer and 10 speakers. Lots of bells and whistles with remore entry, trip minder, all sorts of message center and reminder gimmicks, and one to tell you how much fuel it's sucking from your wallet. Hey, the car is fun personified, so if you're going to sweat a few bucks in fuel, you'll not want this, but an econobox instead, right? Transmissions are choice of a 6 speed manual or a 4 speed automatic, (with overdrive)and the fuel economy, of course goes to the manual. The auto has a rating of 12 and 16 I believe and gets a gas guzzler tax added to the sales price. The auto is standard, but the gas guzzler tax will more than offset the additional cost of the six speed manual, so if you are a driving afficionado, go for the gusto and get the manual. Either transmission will allow you to smoke the tires at will and for as long as you wish. That is if you can afford replacing those beefy treads on a regular basis, as that torque can eat that rubber really fast! This car is freaky fast. Not just fast but truly fast. The engine winds effortlessly. remember, this is the Corvette engine and does what it's supposed to do and that's propel this vehicle to wherever you wish it to go and do it quickly. Reported speed limiter settings are in the neighborhood of 152 but I can't verify that. I've seen radar readings in excess of 160 but I can't verify them with troopers either. Suffice it to say this car will run with the big dogs in most any circle. Plus, I've seen several with aftermarket superchargers that not only run with the big dogs, but bite the big dogs in the tail on the way by. Sadly, the production of this car ended with the 2006 model year. From what I understand the dies were just worn out. Remember, this was a Holden Monaro from Australia and was rebadged and massaged for us here in the US as the GTO. Maybe we'll be seeing some more Thunder soon...
Owner for 2 years, 0 months
Miles Driven per Year:6
Megan

writes:
2005 Pontiac GTO Coupe
Review
Pros
Miss this goat terribly.
Cons
Parts are not cheap for this car when you are trying to mod it. But repairs here and there are not bad at all.
Australia Did Awesome. I Don't Care What They Say. — I absolutely loved this car but one thing I just could not believe was the size of the cab and how comfy the seats were. It was awesome! The only thing I did not like about this vehicle was the previous owner had done burnouts and wore out the rearend and I couldn't find a replacement differential without having to completely rebuild the differential center section with new gears which would cost me a romping $700-$1,000. Nooo, thank you. It was a fun little beast but in the process of selling it, it had been stolen and it is still under investigation. I would recommend this car to any gear head who can handle the power these LS2 throw at you. Be prepared for the car to break the tires loose a time or two! Lol THIS IS NOT A KIDS CAR! IT IS NOT MEANT TO BE DRIVEN BY A IDIOT EITHER... This car is not meant to be driven hard all the time. Open throttle when some dumb butt thinks it's cute to rev up in his homemade honda accord but driven like a cadillac for every day use.
Primary Use: Commuting to work
Displaying 1 - 10 of 60 2005 Pontiac GTO reviews.
Looking for a Used
GTO
in your area?
CarGurus has
278
nationwide GTO listings starting at
$7,988
.