2005 Nissan Sentra
User Reviews
2005 Nissan Sentra
Review Ratings
Average Ratings from

34

reviews
Performance:
Appearance:
Build Quality:
Overall:
Review Highlights
Click to filter reviews below
Displaying 1 - 10 of 34 2005 Nissan Sentra reviews.
bloodfeier

writes:
2005 Nissan Sentra 1.8 S
Review
Pros
Love the overall nimble feel and frugal costs of owning this sentra. Handles well, and stops quickly!
Cons
Impressively (Or depressingly) high costs of ownership, what with the new head gasket needed at only 65000 miles! Seems to be a very plastic car interior, but then, what cars in that price range aren't mostly plastic interiors?

A Good First Time Buyer's Car. — Didn't like the apparently common repair at 65000 miles of a new head gasket. Also, the interior is showing a lot of wear for a car with only (currently) 75000 miles of driving time. Colors used inside are very light and show dirt easily. Did appreciate the relatively high fuel economy (38 mpg on the highway!), and the otherwise low repair costs and ownership costs...I have comprehensive insurance for only 200 bucks a term (6 months)
Primary Use: Commuting to work
Looking for a Used
Sentra
in your area?
CarGurus has

36,822

nationwide Sentra listings starting at

$1,292

.
IronGoat

writes:
2005 Nissan Sentra SE-R Spec V
Review
Pros
quick car for a 4 door "economy" style will surprise most people. faster then it looks
easy to mod for more power. over 200HP can be achieved without turbos
Cons
engine managment system is iffy. O2 sensors. cam sensors. can be a problem exhaust manifold is crap and should be replaced if you want any real power. BUT many places wont inspect it without factory manifold so BEWARE.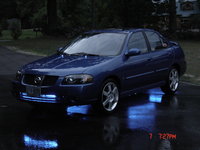 I Bought Cause I Liked It, And I Still Do — I bought this car as a "sleeper" a car people dont think of as fast and that the police tend to ignore. I needed 4 doors for my dogs. I've been modding it since 05 and am posting well over 210 HP now.( no turbo) that being said. i'm SICK of dead o2 sensors and cam sensors ( this happened before i started modding it.) to make it truly track worthy, some suspension work needs to be done or it gets a waggly tail when it loses grip in the rear. factory tires are JUNK they have no grip in any weather. prepare to buy decent tires bottom line- IF you want a car for your faimily needs but dont want it to be dog slow and with no options this is the car you want. you or or your spouse will have no problems passing and merging with this car but also plenty of room for 2 car seats in the back and darn big trunk. IF your a modder this car has potential. BUT look up its known issues and prepare to address them BEFORE you buy one. used B15s are in the 2000-5000 dollar range and that makes them pretty cheap
Primary Use: Sport/fun (spirited driving, track racing, off-roading, etc.)
2005Sentra

writes:
2005 Nissan Sentra 1.8
Review
Pros
Reliable, good looking, easy to care for. Also, great visibility. It pretty much has no blind spots.
Cons
Not very comfortable seats for longer trips, a little noisy and a bit underpowered.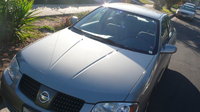 Great Little Car For Driving In The City With Traffic, Not Great For Highway Trips. — I've had this car for 8 years. I got it with 7,000 miles from a very good friend who got it brand new from the dealership. Up to that point I had only driven Nissan cars. This Sentra was my second Sentra, and my 5th Nissan. I love the way the Nissan handles. It's smooth to drive, even if it is underpowered. I love the fact that in the 8 years I had it I only had to call for assistance once, as my battery died in the middle of a very hot summer. Apart from that, it never ever had any engine trouble. The one thing I do not love is the gas mileage -- the 1997 Sentra I had before had much better mileage: this car usually gets 24-26 mpg, while my husband's Accord does between 28 and 31. What I love best about the car is its visibility and the way it handles -- it is very easy to drive, compact and you can pretty much fit it anywhere.
Primary Use: Family transportation
Mia

writes:
2005 Nissan Sentra 1.8 S
Review
Pros
great family starting car until multiple kids come along.
Cons
base model vehicle, some cheap interior designs.
Great Its What We Could Afford At The Time. — loved it the only problem we ever had out of this car was one wheel bearing went bad. The rest was smooth sailing. Did i forget to mention I tried jumping the car with the cables backwards. That was my fault not frankie's
Primary Use: Family transportation
Conway83

writes:
2005 Nissan Sentra SE-R Spec V
Review
Pros
Very fun car for non power adder car all N/a
Cons
tricky 6th gear , Reverse lockout broke and was not "transmission" problem so no warranty fix left it broke, terrible wheelhop / shudder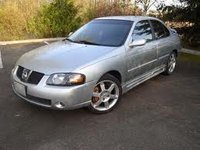 Very Nice Sharp Looking Car, Very Fun And Nimble(for A Sedan) To Drive — This was one of my favorite cars i've had untill my current LSJ saturn Redline, was a great car Untill Nissan came and repossesed it. Did not have the time to do any mods would have been fun to mod out Great Family + fun car
Primary Use: Commuting to work
Eric

writes:
2005 Nissan Sentra SE-R Spec V
Review
Pros
Large engine on small chasis. Six speed.
Cons
Transmission issues. Small back seat. Lower gas mileage.
Great Car To Tune, Especially When With Brembo Abs. — Good performance in acceleration and decent handling. Wheel spin is an issue when getting on the gas from a stop. Mileage less than other small cars. Back seat small for 4 door. Can use regular grade gasoline. Six speed transmission and shifter assembly could better. Very fun car to drive.
Sami Jo

writes:
2005 Nissan Sentra 1.8 S
Review
Cons
Hard to tell if your going fast.
Great Car. Very Safe. — Acceleration, braking, and handling all good. Has great maneuverability. The only repairs it ever needed were from hail damage and being rear ended. No interior or exterior problems. Appearance similar to SpecV. Gas milage varies. Usually get 300 miles out of 11 gallon tank. Maintenance...just oil changes so far. And the check-ups with the manufacturer. This car is very fun to drive. Great for racing. Got alot of torque for a little car.
Primary Use: Family transportation
Tadd

writes:
2005 Nissan Sentra SE-R Spec V
Review
Pros
Acceleration, 6spd, good mileage, fun to drive
Cons
Could have a more aggressive, sporty look. Powersteering went out and the steering wheel occasionally jerks.
I Love Almost Everything About My Spec.v — My Spec. V is my baby...I only wish I could afford to give it the care it deserves and needs. I love the 6 speed transmission, sometimes I swear the car just wants to go fast and doesn't give me a choice. The power steering has gone out and I need to get that fixed. Occasionally the steering wheel jerks when I am coming to a stop or if I accelerate during a turn. I'm not sure if this is torque steer or because of the power steering or possibly the alignment. Also, it doesn't look as sporty as it should.
John-Paul

writes:
2005 Nissan Sentra SE-R Spec V
Review
Pros
power:weight ratio, wide tires, trunk space
Cons
interior is not as quality as it could have been made.
Eh. — Peformance for the dollar. Gas milleage is 34/gal. The very best a Sentra can be... yeah, eaxactly,"So what?" But it's small, easy to park... has a good a/c... the front grill is cool... why does it havea rear spoiler???... the manual transmission clicks into 3rd gear... lots of drink holders... cool, sunglasses compartment by the rearview mirror...
KennethB

writes:
2005 Nissan Sentra 1.8 S
Review
Pros
Beautiful paint,everyone loves the color. Lots of front leg room for a 6' 1' driver. Great handling. Nice sound system. It looks so much like the larger Nissans that people assume that it is a much more expensive car.
Cons
Small gas tank. (12.3 gallons) No remote door locks or alarm.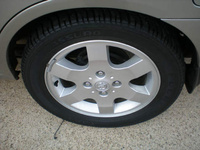 First Impressions Of My 'new' 2005 Sentra — Well, I traded my '89 Celica ST for this '05 Sentra. I have had the car for 4 days and so far have no regrets. The Sentra has beautiful metalflake silver/gray paint (Nissan calls it "Radium"). The body and paint are in near perfect condition except for where some jerk keyed the front of the hood. The car gas paper (temp) license plates and everyone mistakes it for a new car. The interior is also perfect. It has been well cared-for despite the 50K miles on the odometer. The 1.8 liter engine is OK power-wise and actually sounds fierce under full-throttle. I will check the gas mileage after my first full (12.3 gallon)tank. The car has good-looking 16 inch wheels with low-profile M&S tires. It rides very firm and corners like it is on rails, but there is considerable road noise from the tires. (No rattles though). The front seats have very firm padding and are adjustable for any taste. The stereo is the premium 300 watt, 9-speaker job with a 6 disk CD changer in-dash and an amp & sub-woofer in the trunk. E.L.O. and the Moody Blues sound pretty good on it. The car also has power locks, mirrors, and windows. Cruise control, tilt wheel, and A/C. There is a crude trip computer that has a digital MPG readout and the outside temp display. From the photos you can see that it also has a big wing on the back that has the 3rd brake-light built in it. It makes the car look considerably more aggressive than it really is.
Owner for 0 years, 1 months
Miles Driven per Year:6,000
Displaying 1 - 10 of 34 2005 Nissan Sentra reviews.
Looking for a Used
Sentra
in your area?
CarGurus has

36,822

nationwide Sentra listings starting at

$1,292

.