2005 Mazda RX-8
User Reviews
Average Ratings from

71

reviews
Performance:
Appearance:
Build Quality:
Overall:
Review Highlights
Click to filter reviews below
Displaying 1 - 10 of 71 2005 Mazda RX-8 reviews.
Matt

writes:
Pros
Looks, great fun to drive
Cons
Fuel consumption of 18mpg is nowehere near the 24mpg quoted by Mazda
Mazda Rx-8 — Main reason for purchaseing was the looks, just love the shape and styling. Reasonable performance is a bonus (this is the 192bhp version with 5 speed gearbox), though it is by no means the quickest / most powerful car in it's class. Build quality is good, though it has been back 3 times for product recall issues (all things that the owner wouldn't have been aware of). It's a really fun car to drive, the rotary engine sits low giving perfect 50:50 weight distribution, along with rear wheel drive it is a joy to throw about on country lanes. Fuel consumption atrocious though (about 18mpg), and the rotary engine gets through about 5 litres of oil a year.
Looking for a Used
RX-8
in your area?
CarGurus has
557
nationwide RX-8 listings starting at
$2,995
.
Pat

writes:
2005 Mazda RX-8 6-Speed
Review
Pros
It's fast, fun, easy to drive, the styling is amazing, 9,000-rpm redline ::drool::
Cons
The stock tires SUCK on wet pavement. Honestly, I'd be running all seasons up until winter and then snow tires are a must. Gas mileage. Let the engine warm up in lower temperatures (which you should anyways) instead of just getting in and driving off. The only other bad thing is that your face may ache from smiling so much; but that's just a trade-off.
My First Test Drive Of An Rx-8 — Okay so I'm going to be straight forwards with this, the gas mileage kinda sucks. It's not as bad as an SUV, but it's getting there. Although, for the way it's driven and the way it performs, it seems about right. With it's 1.3L rotary engine, you're getting 238hp. Yes, 238hp from a 1.3L engine. If you're driving the AT instead of the MT, it drops down to 197hp. You can seriously feel the difference with the MT. As far as interior and exterior styling, they're awesome. A sports car that's actually comfortable... amazing! The curves are sexy, the suicide doors are rather practical incase you need to load something large in from the side and it looks cool. I've driven the 3.2 Audi TT, Porsche Boxster S and the Nissan 350Z and I would STILL take the RX-8 over all of them. It's a true drivers car. Don't drive her gentle because you're only cheating yourself. Drive her hard and you'll have to have plastic surgery to remove the smile from your face.
Kenneth_6547

writes:
2005 Mazda RX-8 Sport AT
Review
Pros
GREAT Handling, FAST Acceleration, Comfortable, Ladies LOVE it!!! Great sound, ROTARY ENGINE! :D
Cons
Gas mileage, drinks oil, high maintenance.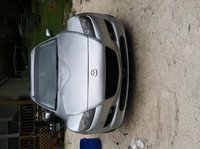 A Fast, Reliable, And Fun Car. Rx-8 Is The S**t — The car handles remarkably well. It's fast, lightweight, and overall just an amazing vehicle. The gas mileage isn't the best, but it's also not made to be taken on super long road trips. The interior is extremely comfortable. I've sat in the car for hours and couldn't complain. Because of the rotary engine, it drinks oil, but as long as you add a little every second time you fill up the gas tank, it's not an issue. The car definitely attracts a lot of attention. There's nothing else like it on the road. It's unique, well built, and I couldn't have asked for a better companion throughout my years of driving.
Seany2

writes:
Pros
great looks and handling, internal styling is fantastic, well speced car
Cons
poor mpg, very expensive tyres, needs regular oil top ups, needs a supercharger to make go!
Rx8 2005 190ps — I love this car although its not without issues! Had new alloys and fins under warranty as originals had corroded, the clutch packed in at 23,000 miles, tyres are very expensive, needs regular oil top ups, front suspension parts wear and its thirsty on fuel. Its still great fun but lacks the performance to match its looks. I love it to bits and would buy another for all its faults.
Scott

writes:
2005 Mazda RX-8 6-Speed
Review
Always Puts A Smile On My Face! — Excellent car and great fun, you'll get through lots of fuel, but you'll have a smile on your face. Keep an eye on the ignition coils though and don't buy a second hand one without a compression test! Also looks amazing :D
Primary Use: Sport/fun (spirited driving, track racing, off-roading, etc.)
Daniel

writes:
2005 Mazda RX-8 6-Speed
Review
Perfect For Experienced Drivers — PERFECT ALL AROUND!! great handling its a 50/50 weight car. tops out around 156 at least thats how fast i've gone so far. Looks slick, curves bring out the best. Gas mileage not so great but not horrible somewhere around 20 to the gallon i think. sound of the engine is amazing people always comment on it. It's affordable and great car for the summer!!
Primary Use: Commuting to work
Ipwnnoobs396

writes:
Pros
Nice amout of Power, nice Braking system. Pretty good handeling.
Cons
TERRIBLE MAINTANCE. 4,000 dollars just so you can have a rotary spinning again. A rotary will go out about once a year.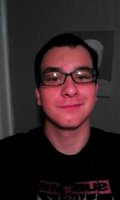 Fun But Expensive. — Liked the power/speed and the brakes were the best part. However like i said. Maintenance is a nightmare!!!! 4,000 a year because a rotary went out. Plus the car payment itself. it is expensive. i HIGHLY recommend to avoid buying this car. It is expensive!
Primary Use: Sport/fun (spirited driving, track racing, off-roading, etc.)
Sonny

writes:
2005 Mazda RX-8 Sport AT
Review
Pros
seats are amazingly comfy. the car has very tight handling. feels good behind the wheel.
Cons
alot of mods do not make an impact. look up rx-8 mods and do some research, the car isnt really a car to race, more luxury and a wow, to look at.
Looks And Beauty — The rx-8 is a nice car to drive around in if you can afford it. looks impressive, but not a speed boasting car. the design is unique, super light and little bit of space in the back unless you take the back seats out then you have more space to carry other things.
Primary Use: Commuting to work
Joshua

writes:
2005 Mazda RX-8 Sport AT
Review
Pros
GORGEOUS, fun to drive, awesome acceleration
Cons
base modle not worth getting.
My Beginning — This was my first car. got it when i was 16. It has awesome pick-up. it looked gorgeous and it was really fun to drive. i loved the rotary engine at the time but wanted a new car so i got this over a used rx-7. handling was superb since this is rear wheel drive you can drift.
Noel_22

writes:
2005 Mazda RX-8 6-Speed
Review
Pros
Red Sports car, appearance is great. Acceleration is fantastic, light weight with good HP. Low miles, only maintenance needed while I have had the car is an oil change. Car has awesome handling and control, very good stopping ability as well. Very fun car to drive.
Cons
Smaller car, compact spacing. For me, it is just too small as I am used to driving a truck. Not a lot of storage spacing, although I can fit my golf clubs in the trunk. Has a few scratches, but nothing too noticeable.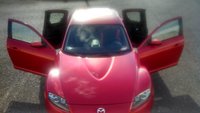 Fun, Red, Sports Car. — I liked this car a lot to drive, I am just looking to get a car that I can use back in the mainland as well. This is a RWD car, and from where I am from, it snows quite a bit. This car is really enjoyable to someone who wants the speed and good acceleration. It is an automatic transmission, but does have paddle shifters, and a manual stick. All in all though, great car for the price and miles on it.
Displaying 1 - 10 of 71 2005 Mazda RX-8 reviews.
Looking for a Used
RX-8
in your area?
CarGurus has
557
nationwide RX-8 listings starting at
$2,995
.