2005 MINI Cooper
User Reviews
Average Ratings from

70

reviews
Performance:
Appearance:
Build Quality:
Overall:
Review Highlights
Click to filter reviews below
Displaying 21 - 30 of 70 2005 MINI Cooper reviews.
wethree

writes:
2005 MINI Cooper S Convertible
Review
Pros
Bought brand new, this ragtop MINI S has proven up to be a superb handling, FUN to drive car with enough power to zip by many of the big boys- I kid you not! Acceleration is grrrreat and the transmission provides smooth and seamless gear changes. While Kms per Litre is excellent, that PLUS didn't enter into my buying decision. It's definitely a nice BONUS though as costlier 'premium' gas has to be used in the 'S' model. Minimal steering assist allows for a lot of "feel" in driving this car so any needed driving corrections can be readily effected. For me, this is one of the sweetest looking automobiles ever, and I can tell you it still gets lots of "oohs and ahhs" especially with the top down. People still express an interest in buying it. The earlier attitude of 'it's a 'girly car' seems to have, finally, disappeared. Both build & paint have proven up to be excellent over the 9 yrs I have owned this vehicle. I just can't seem to get over my love affair with this Chili Red exterior/black top & interior, MINI so I will perhaps add a '2013 something' to my garage to keep my much loved MINI S company…. :-) :-)
Cons
Aggravating & unsafe blind spots are evident on both sides even when the top is down. Maintenance/repair costs at dealerships are usually quite unrealistic when compared to similar type automobiles made by other brands. I have also discovered, at MY cost of course, that MINI mechanics appear LAX in their overall knowledge of HOW MINIs operate and HOW to fix them when they DON'T. In my case, they have been unable to properly diagnose a longstanding problem without requiring/taking an unusual length of time to poke about in attempts to determine, over and over again, what's wrong. As well, the dealer/service people do NOT listen well to their clients and seem to have a "know it all" attitude

A "looker" With Lots Of Get Up And Go-overall A Pretty Terrific Little Car! — With the exception of the noted 'blind' spots and the gouging of MINI dealerships for parts/servicing (incl. simple things like oil changes!) the MINI itself is a great looking and performing automobile. LET'S MOTOR Here are five more words
Looking for a Used
Cooper
in your area?
CarGurus has
14,639
nationwide Cooper listings starting at
$3,950
.
Matt

writes:
2005 MINI Cooper S Hatchback
Review
Pros
Good in traffic and handling was superb.
Cons
Too expensive and too much hype.
The S Is For Stupid — I didn't really like this car. Everything about it seemed stupid. Isn't the S supposed to be sporty? For as much as this car costs, I was expecing A LOT more performance. It isn't slow, but it isn't fast and all of the things tha tmake it "interesting" suck. The speedometer is in the MIDDLE of the car and it's huge. It's this big round thing with giant numbers that this car will never reach and a stupid gas gauge. Do you want to know where the tach is? It's right in front of the driver and about four feet away from the speedometer. WHY would anyone do this to a car? Maybe I would have liked this car if I had got the convertable and rented it for vacation. You know how you can rent mopeds to ride around islands? This should be the car version of that. Don't get me wrong I liked being in the little car... it felt cozy... but I didn't really gain much from driving it. It was more of a novelty than anything else. This is not the car for me.
Craig

writes:
2005 MINI Cooper S Hatchback
Review
05 Cooper S — No problems at all in 55,000 Km. The only time it sees the workshop is for oil changes and other regular maintenance. Drove it to fourth in group in this years CSSC Solo Sprint at Race City, drove it last winter in Autocross - the car gets driven hard and nothing has broken!
tralman

writes:
2005 MINI Cooper S Convertible
Review
Pros
Great looking car; great company supporting it; handles like its on rails; very reliable, good economy, marvelous engineering. Fun, fun, fun.
Cons
rough ride, especially on long trips. Very limited storage space, but hey, buy a Suburban if that's a big deal.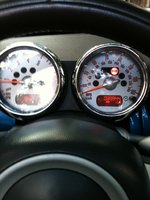 Best Overall Car That I Have Ever Owned. — Love this little sled-after 8 years and 90,000 miles I have only replaced a water pump. BMW service can be a littlle pricey, and its a hassle to get to a dealer unless you live in a major metro area, but what a great experience, all things considered.
Primary Use: Commuting to work
Lewis

writes:
2005 MINI Cooper Hatchback
Review
Pros
Everything except the gearboxes
Cons
Gearboxes are made of cheese. NEED SUPERCHARGER!
Mini Cooper Bmw R50 — It goes fast, it stops better, handles like a go-kart. Just like the classic. Build quality is actually decent...the drive train system however is pony. It's a definite head turner (which always helps when pickin up a head GIVER ;D ) Petrol is too expensive now but 500 miles on 70 GBP per tank, you can't complain... Possibly one of the best cars I'll ever own as a fun car. The mini never loses charm
Primary Use: Sport/fun (spirited driving, track racing, off-roading, etc.)
Mini_Convertibel

writes:
2005 MINI Cooper Convertible
Review
Pros
Fun, fun, fun! Nothing better than being able to put the top down (which is not manual), and driving the country back-roads.
Cons
Like so many of its brethren, the car had some minor issues, like the power steering assist going out while driving on a country road (surprise!) and the convertible roof didn't want to go up one day. All those things were repaired and we resumed having fun again. Recently the head warped and sent the temperature gauge to its limits. We have 2 cars already and cannot afford to thoroughly repair this Mini Cooper, which for us means replacing the engine. We would like to see it become someone's project car, someone who would replace the engine and put this fun little Mini back on the road again.

We Had Fun ! (that's Why She Bought It!) — Great gas mileage and loads of fun being able to put the top down anytime (mechanically, too, not manually!). The car handles best on a country back-road or on mountain roads where it really shines as the ideal automobile for those roads.
Primary Use: Family transportation
Daniel

writes:
2005 MINI Cooper S Hatchback
Review
Pros
If you can sacrifice a bit of economy, it's the most fun on four wheels! Banging & popping on the overrun and a whine & shout on acceleration brings the MINI to life!
Cons
Economy could be better - needs a remap if I'm being honest.
Milltek + Alta 15% 2005 Mini Cooper S — The standard Cooper S is potent enough but with a little fettling it really turns it up to eleven. Performance is pretty sudden. Going through the gears becomes a quick affair and is so surprising. The accompanying Milltek compliments the MINI's character and pace very well, with a pop and bang on the overrun. Around the corners it sticks like glue to the road, the lowering springs really make a valuable difference when winding through the bends. The ride is noticeably harder though, although my inclusion of run-flat tyres (Pirelli) really don't help the cause. From inside, the seats are comfortable on short trips but can become an aching pain if on a long journey. However the seats are fully adjustable with lumbar support, although I don't find the latter too helpful. Around town, where most of my driving takes place, the economy takes a real bashing. In the colder months it was returning around 21mpg in the city which has risen to about 24mpg as of late. On a longer trip you can expect to achieve 29-31mpg on a good day. Taking away the boring bit of economy however and this is the most fun you can have in a metal box without mega servicing costs and can't recommend these modifications enough!
Primary Use: Sport/fun (spirited driving, track racing, off-roading, etc.)
maine1972

writes:
2005 MINI Cooper Convertible
Review
Pros
Fun, terrific to drive, stylish
Cons
Expensive to repair, unreliable

Hasn't Aged Well -- Still Looks Good But Can't Stay Out Of The Shop — You can find this first-generation Mini for low money now, but do your homework: the 5-speed manual in this model is notorious for falling about after 60K miles. I've also had problems with the electrical system. It's a very fun car, gas mileage is decent, but its not well-made it'll cost you a ton to keep it on the road.
Primary Use: Commuting to work
clgregg1

writes:
2005 MINI Cooper S Convertible
Review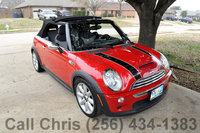 Great Sporty Little Car! — ZOOM ZOOM! Who could say no to a simply outstanding convertible like this gorgeous 2005 Mini Cooper S? I didn't know this kind of performance could be had with such a fuel-efficient engine. Muscle AND mileage. A really fun car.
Primary Use: Commuting to work
Andrew

writes:
2005 MINI Cooper S Hatchback
Review
Cool Car But Expensive To Own — super car for a drive Great style and handling checkmate version is unique Loved it but mini need to refine costs for repairs and fuel economy a hard ride but well worth the fun very expensive to own but would recommend
Primary Use: Commuting to work
Displaying 21 - 30 of 70 2005 MINI Cooper reviews.
Looking for a Used
Cooper
in your area?
CarGurus has
14,639
nationwide Cooper listings starting at
$3,950
.