2005 MINI Cooper
User Reviews
2005 MINI Cooper
Review Ratings
Average Ratings from

70

reviews
Performance:
Appearance:
Build Quality:
Overall:
Review Highlights
Click to filter reviews below
Displaying 1 - 10 of 70 2005 MINI Cooper reviews.
Marie

writes:
2005 MINI Cooper Hatchback
Review
Pros
great look, sleek design
Cons
expensive as hell to maintain, crappy transmission
A Huge Lesson In Let Downs! — i was thrilled when i got this car. i was in love with it for over 4 years, but when that changed, it changed fast. i broke down 4 times during a 30-day period, and the dealership kept replacing the transmission. the panic attacks i had behind the wheel lead me to get a new car. i am warning everyone who has a mini or knows someone who does, get rid of it now. this car is a timebomb... google it! i've talked to tons of people who have lost their transmissions between 47,000 and 75,000 miles. it's ridiculous.
Looking for a Used
Cooper
in your area?
CarGurus has

14,439

nationwide Cooper listings starting at

$3,900

.
Steve

writes:
2005 MINI Cooper S Hatchback
Review
Pros
Supercharged 4 cylinder power, torque, noise; Superb handling, Unique road presence
Cons
Not great in snow, harsh ride, short gearing, disappointing fuel economy
A Fun Little Pocket Rocket — As of the summer of 2005, my mom's A4 had racked up more than 100,000 miles. Time for her to switch out, my dad thought. And since it was her 50th birthday, and my parents' 25th wedding anniversary, he decided to get something special. Which is what he did. Since we lived in France and saw the iconic original Mini still roaming the streets in hoards, she always envisioned herself as an old lady in a Mini. Since she's not old, I told my dad to check out the Mini Cooper S, catering to her "Momma Leadfoot" nickname. Other "mandatory" options for my mother included the Premium pack (sunroof, heated seats, auto AC, Xenons), 6-speed manual, and harman/kardon stereo. The dealer, Mini of Fairfield County, had one in Red with White Roof and Racing Stripes, on order, and since Minis were a hot commodity, we snapped it right up. There were a couple extras, such as the Sport pkg, and driving lights, but all in all it was a very well-rounded sports car for $25k, a bargain compared to the MkII Cooper S. I'm not going to lie, the car looks ridiculous on first glance. People who don't know cars says its too girly, but how many girly cars do you know have racing stripes, driving lights (just like a 1960s rally Cooper), 2-piece wheels with 45-series run-flats, and a supercharged-4/6-speed Getrag manual combo that goes 0-60 in just over 6 seconds? I'm not trying to hit on my mother, but show me a 20-something girl with that kind of ride and I'll buy her dinner. The notion of a girly car is dispelled whenever you climb into the body-hugging seats. The car isn't terribly comfortable if you're over 6-ft, but that's not a problem for me. The diminutive 3-spoke multifunction wheel lets you know that you're driving 1/2 a normal-sized car. The upright windshield is definitely distinctive, as is the giant center-mounted speedometer. My advice: make sure the on-board computer, which resides in the tach housing in front of the steering wheel, is set to show speed, as you will quickly find yourself in trouble with the law if you're not accustomed to looking @ the center speedo - especially in an arrest-me red sports car. The car begs to be driven hard and fast. My attempts to drive it sedately are met with embarrassing jerkiness, and any attempts to go faster are met with a stern "Slow Down!" from my mother. Needless to say, the problem goes away if I am driving alone or with my dad. The ride is what you would expect of a short wheelbase car w/ stiff suspension, and 45-series runflats: harsh. And because of that, I am reminded that this $25k car was designed to be profitable at $15k, with a myriad of squeaks and rattles evident by 3.5 years and 30,000 miles of use. Fuel economy is supposed to be the point of a Mini, and the supercharger saps any efficiency that the Tritec had, which wasn't much. I averaged just 31 mpg on a trip to VT once in the summer time, barely better than the 10-year-old Audi I was driving at the time, which weights 700 lbs more with AWD and a 2.8L V6. And the short gearing of the car amounted to 3000 rpm at 70 mph, and you can hear the engine droning away all day long. Lastly, despite the snow tires, the throttle can be tricky in the snow, sometimes providing more power than intended, spinning the fronts and activating the stability control Still, not bad given the immense driving satisfaction that I get when I drive it. The supercharger whine and exhaust note are spine-tingling, and the steering and shift action both have a natural heft about their action. It remains to be seen whether or not I would consider getting a Mini of my own, but in the meantime I enjoy the drive whenever I get the chance to get behind the wheel of this one.
Christian

writes:
2005 MINI Cooper S Hatchback
Review
Pros
gas mileage, cornering speeds, bmw built, supercharged, you can park anywhere
Cons
peoples opinion that is a girls car, rims, front wheel drive, 1.6l
The Best Car In The World! — this is my car the 2005 mini cooper s. has been my dream car since i was 10, was hoping for a old school mini but parents thought this was safer. dont know why i listened it was my money but after the first week of driving it i was extremely pleased with the cars performance. any car that would beat me in a straight race i could beat them on gas mileage and still burn rubber around town. ive never spun out or lost control. even while trying to have fun in a parking lot the mini grabs the road with no intent of letting go (another pitbull comparison). when you do spin the tyres around a turn the suspension is so well tuned it doesn't feel like you've lost any control the car still does whatever you want. my brother bought a '03 cobra with his money already sick of driving it everyday, me id never trade my car in for anything. only car that would beat this in the handling aspect is the lotus elise. only thing that would make this car better would have been a 2.0 liter engine and a rear wheel drive system. however the last of the old school mini's came with a 1.6l and the 50/50 weight distribution with driver included would have been compromised and the front wheel drive was used on the old one's to reduce the overall size of the car for those tight parking spaces. so hate it or love it this car rocks.
AutoDude

writes:
2005 MINI Cooper S Hatchback
Review
Pros
Handle's like a go-kart. I'm 6'2" and plenty of room, pretty peppy, and decent MPG.
Cons
Rides like a go-kart, BUT that's why nothing can catch it on windy road. All BMW parts and service are atrociously over priced!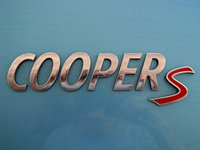 Jaw Drop Handling — This is an impressive car. All handling aspects, G-force acceleration, guled cornering, and stop on a dime breaking are there when you need them. The only problem I have with this car is when the free servicing runs out so then does your bank account. You need to learn to maintain the basic servicings yourself. For instance, change the oil yourself. Yes it requires synthetic oil, but you can obtain what is needed for about $25 (i.e. Mobil One) at a local store instead of having MINI/BMW do it for close to $100!
Primary Use: Sport/fun (spirited driving, track racing, off-roading, etc.)
wethree

writes:
2005 MINI Cooper S Convertible
Review
Pros
Bought brand new, this ragtop MINI S has proven up to be a superb handling, FUN to drive car with enough power to zip by many of the big boys- I kid you not! Acceleration is grrrreat and the transmission provides smooth and seamless gear changes. While Kms per Litre is excellent, that PLUS didn't enter into my buying decision. It's definitely a nice BONUS though as costlier 'premium' gas has to be used in the 'S' model. Minimal steering assist allows for a lot of "feel" in driving this car so any needed driving corrections can be readily effected. For me, this is one of the sweetest looking automobiles ever, and I can tell you it still gets lots of "oohs and ahhs" especially with the top down. People still express an interest in buying it. The earlier attitude of 'it's a 'girly car' seems to have, finally, disappeared. Both build & paint have proven up to be excellent over the 9 yrs I have owned this vehicle. I just can't seem to get over my love affair with this Chili Red exterior/black top & interior, MINI so I will perhaps add a '2013 something' to my garage to keep my much loved MINI S company…. :-) :-)
Cons
Aggravating & unsafe blind spots are evident on both sides even when the top is down. Maintenance/repair costs at dealerships are usually quite unrealistic when compared to similar type automobiles made by other brands. I have also discovered, at MY cost of course, that MINI mechanics appear LAX in their overall knowledge of HOW MINIs operate and HOW to fix them when they DON'T. In my case, they have been unable to properly diagnose a longstanding problem without requiring/taking an unusual length of time to poke about in attempts to determine, over and over again, what's wrong. As well, the dealer/service people do NOT listen well to their clients and seem to have a "know it all" attitude

A "looker" With Lots Of Get Up And Go-overall A Pretty Terrific Little Car! — With the exception of the noted 'blind' spots and the gouging of MINI dealerships for parts/servicing (incl. simple things like oil changes!) the MINI itself is a great looking and performing automobile. LET'S MOTOR Here are five more words
Francis

writes:
2005 MINI Cooper Convertible
Review
Pros
fun to drive, good on gas, fun to drive
Cons
decent visability when top is up
Mini Cooper Cabrio — it's a MINI. 'nuff said! It handles better than anything else I've driven. It accelerates well.Very few repairs so far.It has a very unique design inside and out. I've only paid for gas and new tires since I got it. Everything else has been ceovered by the maintenance agreement or warranty. This car is so much fun to drive! It's even better because of the cabrio roof.
Rudi

writes:
2005 MINI Cooper S Hatchback
Review
Pros
Great handling, light and nimble
Cons
Not much, oh - almost no boot.
Pocket Rocket!! — Have played around with the car since I bought it. Added a 15% reduction supercharger pulley, Unichip, Palo Uber hood scoop, modified the airbox and fitted a performance filter, sports exhaust, denso cooler plugs, and added imported ceramic brakes. 157kw and 309nm torque. Amazing for a 1.6l. OPC and GTI eater!!! Love it!!
tralman

writes:
2005 MINI Cooper S Convertible
Review
Pros
Great looking car; great company supporting it; handles like its on rails; very reliable, good economy, marvelous engineering. Fun, fun, fun.
Cons
rough ride, especially on long trips. Very limited storage space, but hey, buy a Suburban if that's a big deal.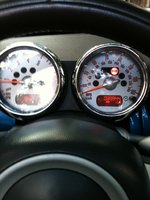 Best Overall Car That I Have Ever Owned. — Love this little sled-after 8 years and 90,000 miles I have only replaced a water pump. BMW service can be a littlle pricey, and its a hassle to get to a dealer unless you live in a major metro area, but what a great experience, all things considered.
Primary Use: Commuting to work
eculizar

writes:
2005 MINI Cooper S Hatchback
Review
Pros
Fun car to drive and handles well.
Cons
Only room for two adults.

Love The Mini Coopers!!! — The Mini Cooper S has great power and pick-up. There is plenty of cargo room when the back seats are folded down but there isnt much room for adults or grown-up kids when they are up. The fuel economy is fair unless you keep your foot in the gas pedal, which I do cause my foot is made of lead! The handling is almost equivalent of a go-kart and super responsive! All-in-all a great little car!
Primary Use: Commuting to work
Brad

writes:
2005 MINI Cooper S Hatchback
Review
Pros
Handling, looks, gas mileage
Cons
Back seat is too small, not much else
Its A Go-kart...for The Street. — Being made by BMW means build quality is superb. Go-kart quick steering response is great for on-ramps and twisties. Six speed Getrag transmission is extremely smooth shifting with a clutch on the lighter side in terms of effort. Turn the wheel and the car sticks. No power understeer; slight off power oversteer, but that's a good thing and rare for a FWD car. All in all its a fun little car that gets great gas mileage while also delivering awesome performance.
Displaying 1 - 10 of 70 2005 MINI Cooper reviews.
Looking for a Used
Cooper
in your area?
CarGurus has

14,439

nationwide Cooper listings starting at

$3,900

.