2005 Kia Sorento
User Reviews
2005 Kia Sorento
Review Ratings
Average Ratings from

12

reviews
Performance:
Appearance:
Build Quality:
Overall:
Review Highlights
Click to filter reviews below
Displaying 1 - 10 of 12 2005 Kia Sorento reviews.
dsppspc123

writes:
2005 Kia Sorento LX
Review
Pros
The looks of the car are really what got me to buy it.
Cons
Very expensive to work on, nothing lasted on the car. Dealer plays games with warranty. Nothing is easy to maintain on the car.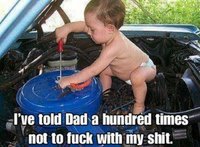 Not Worth Getting Into — Before the year was up, I had to have the engine replaced. The dealership set the timing incorrectly when they replaced the engine. It took over 5 years to get the timing set correctly, and it ended up coming out of my own pocket. It cost over $1300 just to have the spark plugs replaced. The dealership shop manager tried lying about my warranty, to the point I had to get third party intervention. The electric system had to be completely replaced in the car. There were more sensor problems than I would care to talk about. The first 5 years there was a check engine light on, almost all the time. The dealership would just clear the code and send me home, and it would just come back on. I would not recommend this car to anyone.
Looking for a Used
Sorento
in your area?
CarGurus has

26,275

nationwide Sorento listings starting at

$1,250

.
Schulz33

writes:
2005 Kia Sorento EX
Review
Pros
Great leather interior with wood trim; Adequate power,; Size makes it so easy to get in and out of any parking lot/space,
Cons
A little noisy at highway speed

Great Value! — I bought this 2005 Sorento a year ago (2012) for $ 8,900 including TTL and so far, I may as well have bought a brand new vehicle as I have had no repair or maintenance costs. It's our family's second car so I occasionally pile my 3 kids in it but it's mostly for back and forth to work. It's a really nice looking vehicle inside and out for the price and drives very well with the exception of a little road noise at higher speeds. I would highly recommend this to anybody based on what you get for the money. For reference, I previously owned a Toyota 4runner and Tundra which were both great vehicles as well.
Primary Use: Commuting to work
rodi63

writes:
2005 Kia Sorento EX 4WD
Review
Pros
Bought my '05 as a leftover on 1/2/2006. Got an excellent price on it. The '05 EX 4wd was there top model Sorento. Other than purchasing the "luxury package" (which I don't have and don't miss). The leather seats are the package's major plug. I'm a fabric seating type of guy. In a car and at home. Anyway, I paid 21,000 for it. Sticker was almost 27k. You get a lot of vehicle and options for a more than fair price.
Cons
If I had to pick on a few things. The ride is a little bouncy, but for a short wheelbase vehicle, it's not as bad as some vehicles I've rode in. One note: If you want to keep the ride as smooth and quiet as possible. Then use All Weather Radials.....Wind noise gets pronounced once you hit the 60 mph mark. But, not intolerable. Not sure the Kia dealership or the company uses lower quality brakes in general. They seem to wear quicker. You really notice it when you drop from 16K miles to 6K miles a year.

At The Time (and Now) I Feel I Got A Lot Of Vehicle And Above Average Quality For My Money — I've heard praise and nightmare stories concerning this era of Sorentos. But my personal experience has been above average at least. It currently (as of 20-Nov-2014) has almost 107k miles. And it runs like the day I bought it. If I had the money, I'd buy an '07-'09 with creampuff (low) miles as a secondary one. These years had the option of 2 engines. Both of higher horsepower. Regardless of the package ordered. My first repair (other than usual maintenance) since purchase was the A/C unit. Based on mileage, I have no issue with this. I can remember past years and makes of cars I've had that I had to repair it. Long before 100k miles. In some cases, more than once. Also, as a quick note....My Kia has been the 1st car I've owned that "didn't" leak/drip any kind of fluid. Body/paint is still secure, no rust or paint fade. Still solid, no squeaks, etc. with the body or frame. Due to early retirement (@ 45 in 2009). With gas prices I've cut out the proverbial "Sunday drives" out of the budget. I don't run anywhere near the 16K miles
Primary Use: Family transportation
101chris

writes:
2005 Kia Sorento LX
Review
Pros
Has gotten me where I need to go but with a cost!
Cons
Has needed way to much work done to it and has expensive parts

I Wouldn't Buy Another One. — This vehicle has more of a truck ride to it. We've had lots of problems mechanically. Cheaply made parts with a huge price tag. Not many mechanics will work on them. Parts are hard to find unless you go to dealer and that cost big time $$$$.
Primary Use: Commuting to work
maddogkia

writes:
2005 Kia Sorento LX 4WD
Review
Pros
Stay tune for more updates.....
Cons
Stay thirsty my friends!!!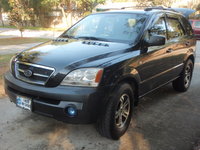 One Of The Best Suv's.... — Like I mentioned before, I purchased my Kia about 4 yrs. ago and don't have any major complaints. The only thing I can say that is a PITA is the engine layout. I usually do my own tune-ups, timing belt, ect on must of the cars I've own but this one is very complicated and it takes a lot of work and money to do it by a licensed mechanic. Don't get me wrong, the car still runs almost like new and still feels solid on the road. Love the body style and interiors. Off road it can take on some of the best 4X4's out there and it is definitely fun to drive. Gas mileage is average but not bad. Personally, I love my SORENTO, is all a matter of maintenance and TLC... besides 2005 has no recalls.
Primary Use: Family transportation
Alexey

writes:
2005 Kia Sorento EX 4WD
Review
Pros
True 4WD, body-on-frame, low transfer case
Excellent Suv In Terms Of Money/value! — Reliable enough, despite of Korean origin. I'm using it 1.5 year and had no any trouble with the car. Slightly slow at accelaration, but ok for everyday city driving. Great for off-road. Exterior & interior is not of the cutting edge, but are solid enough.
Ted

writes:
2005 Kia Sorento LX
Review
Pros
Duh, the review says it all.
Drive One, 05 And Newer, You Won't Be Disappointed — 110k miles and no problems. Pulled a tandem axle trailer from OK to TN with 2 motorcycles on it, still got nearly 270 miles to a tank. I can't say enough good about this vehicle. Hauls the family of 5 with ease.
Primary Use: Family transportation
Rich

writes:
2005 Kia Sorento EX 4WD
Review
Cons
bad in snow without 4WD
Kia — never had a problem and has over 100.000 miles the quality is great and is great on gas and we r soon getting a new one this car is great to drive but when it is slippery use 4 wheel drive this car also has the best steering i have ever used it also looks beautiful in and out and it has power but also great breaking
Primary Use: Family transportation
KimiHadley

writes:
2005 Kia Sorento LX
Review
Pros
The engine and transmission are in excellent working condition.
Cons
The fuel mileage is low which is typical of an SUV.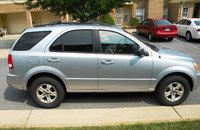 Excellent Used Kia Sorento - Great Buy! — I bought this car brand new and have been the only owner of the vehicle. Since I have owned this car it has always proven to be very reliable and I have found the scheduled maintenance on the vehicle to always be very affordable.
Primary Use: Commuting to work
MaChelle

writes:
2005 Kia Sorento LX
Review
Pros
Handles easy, great for a small family or college student. Maintenance cost are low and it does not take more than about $40 to fill up.
Cons
Smaller than I would like. Needs compressor for AC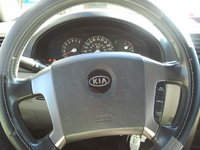 Great Reliable And Dependable Truck — Great for a small family. It is really great for a college student. It is reliable and does not use a lot of gas. It does not drive like a heavy truck. It is easily manageable and maintenance is not an issue.
Primary Use: Commuting to work
Displaying 1 - 10 of 12 2005 Kia Sorento reviews.
Looking for a Used
Sorento
in your area?
CarGurus has

26,275

nationwide Sorento listings starting at

$1,250

.