2005 Honda Odyssey
User Reviews
Average Ratings from

30

reviews
Performance:
Appearance:
Build Quality:
Overall:
Review Highlights
Click to filter reviews below
Displaying 1 - 10 of 30 2005 Honda Odyssey reviews.
Pete

writes:
2005 Honda Odyssey EX
Review
Pros
Great power and handling (for a minivan)
Cons
Design details around doors is lacking and some of the plastics in interior mar easily.
Looking for a Used
Odyssey
in your area?
CarGurus has
24,836
nationwide Odyssey listings starting at
$1,500
.
SiRavi

writes:
2005 Honda Odyssey Touring w/ Nav and DVD
Review
Pros
Spacious Convenient Smooth versatile Comfortable Safe Family Ride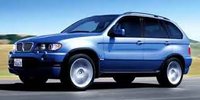 We All Can Go Together! — Its a Honda + everything you need in a minivan all your family is in one vehicle its designed to make every one feel so comfortable the Longest journey does feel that long actually! Roomy entertaining Enjoy Better with All your Family!
Primary Use: Family transportation
rick27607

writes:
2005 Honda Odyssey EX-L
Review
Pros
Great ride, comfortable, easy to get in and out, tight turning radius, cargo space, 8 passenger
Cons
air conditioner has had issues (2 times 2 years apart - rear condenser and then evaporator core), hard to balance tires, had fuel pump issues (dealer said bad gas, but research showed an issue with the fuel pump that I believe was my issue), DVD player failed after 4 years (extended warranty replaced), both control arm bushings cracked (extended warranty replacement)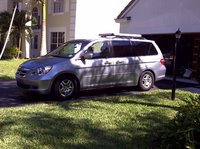 Versatile Local And Highway ( For Trips) Cruiser — I really enjoy this minivan, even with it's issues. It is comfortable, drives like a car, great turning radius, responsive engine, smooth transmission.. For my purposes, it has and continues to be an easy vehicle to drive. I am not one for buying extended warranties, but since I decided to buy and keep this van, I rolled the dice and invested in an 84 month / 100,000 mile AAA (Mercury Insurance) extended warranty ($1,500)..and it paid for itself after the first air conditioner repair and DVD player replacement .
Primary Use: Family transportation
SDLamnek

writes:
2005 Honda Odyssey EX-L
Review
Pros
lots of room and features. Safe family van.
Cons
after 100K, they get expensive to repair.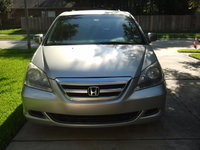 Older Hondas, Meh — In and out of the repair shop with little kids gets frustrating. I think Hondas are great, but after 100K they need tender love and care that a busy mom doesn't have time for. My interior, leather held up nicely. Overall I had a good experience with Honda. gas mileage was ok, handling was fine. Never had a problem with going or stopping. Lots of blind spots
Primary Use: Family transportation
beholdtheman

writes:
2005 Honda Odyssey EX-L w/ DVD
Review
Pros
Excellent family mini van with Honda uncomprimised reputation
Cons
Only using it for one person - it is more of a family vehicle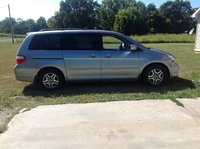 Great Family Mini Van — Nice to have a DVD player in the van for long trips or to keep family members occupied. Nice heated front seats and plenty of room. Runs excellent in the snow. Both side doors are automatic open with key operation.
Primary Use: Commuting to work
Isaac

writes:
2005 Honda Odyssey EX-L w/ DVD
Review
Pros
beauty in and out, a wonder to drive, drives likes a car, hauls like a truck, with fold in rear seats, can handle most family loads.
Cons
Gas consumption, haven't found a way to tweak it
Would Be A Great Addition To Any Family More Than 3 With Infants — Performance is great with powerful braking system, interior makes u want to sit in it and drive all day though gas consumption will make u change ur mind. it is built stylishly with an aerodynamic shape which gives it a superb look. The 2005 Odeyssey actually drives like a car and is far lower than other minivans.
Primary Use: Family transportation
jbry035

writes:
2005 Honda Odyssey EX
Review
Pros
seats 8, roomy, extra cargo and rides great
Cons
none that I can think of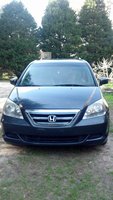 Great Overall Family Vehicle — This vehicle is great for anyone who has a big family. It is very reliable, good on gas and runs great. It has a lot of storage under the seat and in the floor, 14 cup holders and the second row seat has a removable jump seat.
Primary Use: Family transportation
vob

writes:
2005 Honda Odyssey Touring
Review

Pax Tires Are A Huge Mistake, Honda Will Not Step Up And Correct This Disaster — This is my second Odyssey. There will not be a third. The PAX tires are horrible, I have 18,000 miles on these tires, and I am almost ready for another set of four. I have had 12 tires on the vehicle. Sears now offer PAX tires, they will not give any warranty for the tires, the sales person just laughed when I asked. I have asked Honda to change the rims and I will purchase regular tires, they will not even do that. PAX tires are a money pit, deep pit. Honda needs to step up, like Toyota. Toyota corrected their tire problem, so I was told. Why should the customer pay for Honda's mistakes.
Honda2005

writes:
2005 Honda Odyssey EX-L w/ Nav and DVD
Review
Pros
excellent condition with no machanical defects.
Cons
The car has few paint tear on the bumper.

Very Clean Title Title With No Accidents — very comfortable, reliable and great family car with lots of storage. Accelaration, braking and handling is exellent. Very safe to drive with kids. Maintainence cost is very low. I had this car with 2005 I had no issues with any of the system in the car.
Primary Use: Family transportation
jsaun

writes:
2005 Honda Odyssey Touring
Review

Great Family Car. Pax Tires Suck. No Bluetooth And Ipod In Touring Is A Sin. — We had been looking for a new family vehicle for about 2 years, and with the full redesign of the Odyssey, it looked like a no brainer. We are both short, and I absolutely wanted the adjustable pedals, so the Touring was it. We got it fully loaded with DVD and NAV and added a towing package and the optional 3rd row sun shades. The Good - Adjustable pedals. Why doesn't every car have these as standard now? We're not all 6' tall in the USA. - Navigation systems are awesome. With screaming kids in the car, you can find lunch or a potty in short order. - Rear DVD which is controllable from the front. The 2005 Sienna only allowed loading and control from the second row seats. Our kids are too young for that, so front controls are really nice. - Lots of storage, lots of cup holders, easy to clean interior. - Rear entertainment system gives the parents some peace on trips. Yay! The Bad - Honda missed putting a telescoping steering wheel in. - No iPod dock, integrated to display data on the in dash display. This was a no brainer. - No Bluetooth - No HD Digital radio. - The location of the dash dimmer is insane. You have to reach through the steering wheel to get it. - The location of the seat heater switches seems to be an afterthought. They are hard to reach and not at all in an intuitive location. On the seat or on the door would have been better. - Power window lockout switch. If you lock out the rear windows, the driver also does not have control from the front switch. Inexcusable mistake. If the kids have already rolled the windows down, now I can't lock them out and then roll them back up. - The Navigation system database sucks. If I type in "Target", I should be able to say "show me all the stores that match in distance order". I should not have to decide if it's a department store or a mall or anything else. If you choose the wrong one, you end up getting one listing for some other state, and then when you go back you might end up back at the top of the last list that you had scrolled and scrolled through, instead of on the entry that you had last selected. Major miss on the user interface. - Navigation screen sometimes hard to read in sun glare. Not that big a problem, but somewhat annoying. - Steering wheel controls are poorly lit, hard to read, and don't dim with the dash lights. Larger fonts and brighter (dimmable) lights would be a big plus. - PAX tires: We were lucky to get 38,000 miles out of ours before tread separation. That was in 24 months. Tire-only replacement (if you can find it) is around $200 per tire plus mounting, balancing, alignment, etc. Most dealers will only do full wheel swaps at around $550 per wheel. Your best bet it to get a bunch of road hazards at 23 months, which will be covered by warranty. Most people online are only getting about 20,000 miles out of theirs, and facing the same costs. - Overall quality: We have been very disappointed in Honda on this one. In 2 years and 40,000 miles, here's a partial list of issues: Bad power steering pump; Non-recall on defective brakes (you have to know to ask about the TSB); Replace 2 hazard light switches; Replace faulty heater control unit; Replace driver and passenger door trim; Replace both slider door trims twice; Replace failed engine mount; Replace failed left rear strut; - The optional third row sun shades we purchased are a bit of a joke. The clips they latch on to just slide between the window glass and the rubber window trim. Since the shades are spring loaded and the clips are high gloss powder coated, the clips just slide right out and get lost. Eventually (5th or 6th replacement by the dealer), they used some silicone caulk to adhere the clips in place. - The headphones for the entertainment system are very fragile, and cost $100 each. The car comes with 2. We purchased an additional pair. Our kids have toasted 3 of the 4 in 2 years. Yes, they're young kids, but Honda should have engineered the headphones to be beefier. I don't plan to continue to spend $150 per year for this.
Owner for 2 years, 0 months
Miles Driven per Year:20,000
Displaying 1 - 10 of 30 2005 Honda Odyssey reviews.
Looking for a Used
Odyssey
in your area?
CarGurus has
24,836
nationwide Odyssey listings starting at
$1,500
.