2005 Honda Accord
User Reviews
2005 Honda Accord
Review Ratings
Average Ratings from

59

reviews
Performance:
Appearance:
Build Quality:
Overall:
Review Highlights
Click to filter reviews below
Displaying 1 - 10 of 59 2005 Honda Accord reviews.
6spdaccorder

writes:
2005 Honda Accord EX V6 Coupe
Review
Pros
Interior is very comfortable and the layout of all controls and equipment fits the driver's needs. The exterior is sharp and sleek. The performance is much improved over older Accords and makes for a very fun drive.
Cons
Limited visability out the rear window also larger blindspots than on other cars. The electronic touchscreen controls are confusing at first. Has dual mufflers but not true dual exhaust. 17" rims make it expensive to replace tires. When setting the alarm the horn honks loudly, instead of a quieter, more subtle electronic beep.

Have To Check The Badge On The Back To Make Sure This Is Really An Accord — After owning my '05 Accord EX V6 Coupe for just a very short time, I am already very impressed. The overall styling, comfort, safety, and performance is up to par with cars priced thousands of dollars more. The exterior of the Accord, in my opinion, is very sleak and sexy, without attracting lots of extra attention as a Subaru WRX, or Honda's Prelude. The lines of the car flow perfectly, and the headlights are angled to match the lines of the car. The 17 inch stock rims fill the wheel well perfectly, and the fog lights upfront provide more than ample light on dark backroads at night. The only downfall I can think of on the coupe's exterior is that although the dual mufflers look very nice, it does nothing for perfomance, and just adds extra parts that could rust or possibly need to be replaced someday. The interior of the coupe is near perfect. The heated, power, leather seats are very stylish and comfortable, and are great for long roadtrips. The touchscreen controls for things such as a/c and audio controls are a little confusing at first, but once you get the hang of it, they are very convienent. The steering wheel, besides having cruise control control on the right, also has audio controls on the left, as well as a voice activation for the GPS navigation system. The guages in the dashboard are big and easy to read, and are electronically illuminated providing crystal clear readings in any light. The rear seats are easy to get in and out of for a coupe, and have a surprising amount of legroom ( I am 6'2" with long legs and fit fine). The seats also fold down allowing for storage of long items. All of this with a nice sounding premium audio system and 6 disc changer make the accord's interior very conveinent and comfy. The only complaint i have is that the blind spots are a little bigger than in other four door sedans, but not bad for a coupe. The performance in the EX coupe comes from a 3.0 liter, v6 engine kicking out 240hp and 212 lb ft of torque. The engine is equipped with Honda's iVtec variable valve timing technology. This kicks in some time around 5,000rpm's, and gives a nice little power boost along with an engine growl that is to die for. This engine is matted up with a 6 speed manual transmission. The shifts are very tight and precise. The engine loves the high rev, and doesn't mind when you downshift at all. With the traction control on, the coupe takes off fairly fast, especially for an Accord. The only cons about the performance are that the 6 speed gearbox is a little tight, which took me about a week or two to get used to when shifting. And I'm not sure if it is just my particular car or not, but sometimes it doesn't like it when i shift into third, and either seems to not click into gear, or sometimes it grinds while going in?? OTher than that I am very satisfied with the overall performance.
Owner for 0 years, 3 months
Looking for a Used
Accord
in your area?
CarGurus has

61,664

nationwide Accord listings starting at

$999

.
Jayakumar

writes:
2005 Honda Accord EX
Review
Pros
Ample of leg room, solid build with good road handling
Cons
Difficult to park due to large turning circle
Accord 2005 — Its going to be almost 3 years since I owned this Accord but each time I get in it, it feels like driving it for the first time. The handling and build of the Accord is simply exceptional compare to cars of its class. I love everything about this car especially the bright instrument panel that lights up when the door is unlocked.
Eli Corina

writes:
2005 Honda Accord LX
Review
Pros
Great fuel economy car and reliable.
Cons
4 cylinder, not a lot of power.
Great Looking Car With Great Reliability. — We loved this car, we just upgraded to a larger vehicle. It had great fuel economy and was very reliable to and from work. We always kept up on maintenance schedules and oil changes, recently changing all the coils and spark plugs and replaced brakes and tires. Great car for work or student.
Primary Use: Commuting to work
Jonathan

writes:
2005 Honda Accord LX
Review
Pros
Great family car with ample room, reliable, holds it's value, low maintenence cost.
Cons
Lacking some horsepower, braking could use some upgrades
Overall A Great Car To Own — Comfortable car to drive. Not too gutsy but enough to get what you need. Gas milage is fair to good, highway mpg is nice. I've had this car for nearly three years and so far it has held up to my driving style. Braking is marginal and the abs is kind of touchy sometimes, makinig braking uncomfortable. The car handles well, just about what you would expect from a stock model. The Accord has always been an attractive car, and the interior is fairly neutral, not flashy, but not ugly. I wouldn't say the car is fun to drive, maybe with an upgrade to the suspention, tires and exhaust system. I own an automatic, wish it was a manual transmission.
Primary Use: Family transportation
Joe

writes:
2005 Honda Accord EX Coupe
Review
Car — I like the car it does great on gas. It feels very solid when driving. The interior is spacious and very good looking. The sunroof is a little loud when in use but works great.I have only owned it for a month so not much else to report as of now.
Nick

writes:
2005 Honda Accord Hybrid
Review
Cons
brakes were too sensitive
Great On The Environment — Our 05 accord hybrid got 32 to 35 mpg. We got 4 cylinder mpg out of a v6 which is good in this awful economy. The payments were $400.000 a month. It was one of the best decisions we ever made. Too bad we had to get rid of it. I'd own it again.
Primary Use: Commuting to work
gdirst

writes:
2005 Honda Accord EX PZEV w/ Leather
Review
Pros
Very reliable and good gas mileage. Great build quality, no squeaks after 50,000 miles.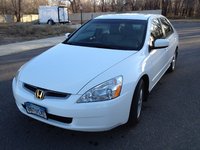 Honda Value And Dependability — Great car, mileage ~ 33 mpg on the highway, ~ 24 in the city. Very comfortable for long trips, handles well and smoooth to drive. 7 years old and I have absolutely NO problems with this car. Could use just a bit more room in the trunk is all.
Primary Use: Family transportation
Zachary

writes:
2005 Honda Accord LX
Review
Its A Honda!! — My Honda Accord LX was black with peanut butter intieror! It was just a LX but it rode like a Cadi!! Drove like a Porche! The 4 cylinder got up like a 6 cylinder!! Just a all together great car!! Just don't ever have ur mom co-sign!!
Primary Use: Family transportation
Soraw

writes:
2005 Honda Accord EX V6
Review
Pros
The performance, practicallity, the look is not bad
Cons
fuel consumption, cabin noise can be an issue (could be the rims that I had on though)
Honda Accord 3.0 V6 — Very good everyday car. The performance is very good especially on the straight when you are overtaking. I can even hear some tire squeeching when I floored it from a low speed. The car build is quite solid the leather seat is very comfortable. The trunk is adequate and the interior is simple and make sense. The fuel consumption however is not the best thing about this car. The handling is very good and the steering does give a little feedback at higher speed.
Primary Use: Commuting to work
Denis343

writes:
Pros
engine, performance,style
Very Nice And Sport Car — Performace - acceleratin very good Build Quality – everything very good Appearance – beautiful car and stilying, interior not very well Cost of Ownership – maintenance not bad, gas consumption low for engine power and performance Fun Factor – very fun to drive and confortable car
Displaying 1 - 10 of 59 2005 Honda Accord reviews.
Looking for a Used
Accord
in your area?
CarGurus has

61,664

nationwide Accord listings starting at

$999

.